She conspired with her bigamist husband to kill his estranged pregnant wife and her entire family. Now, she heads to prison.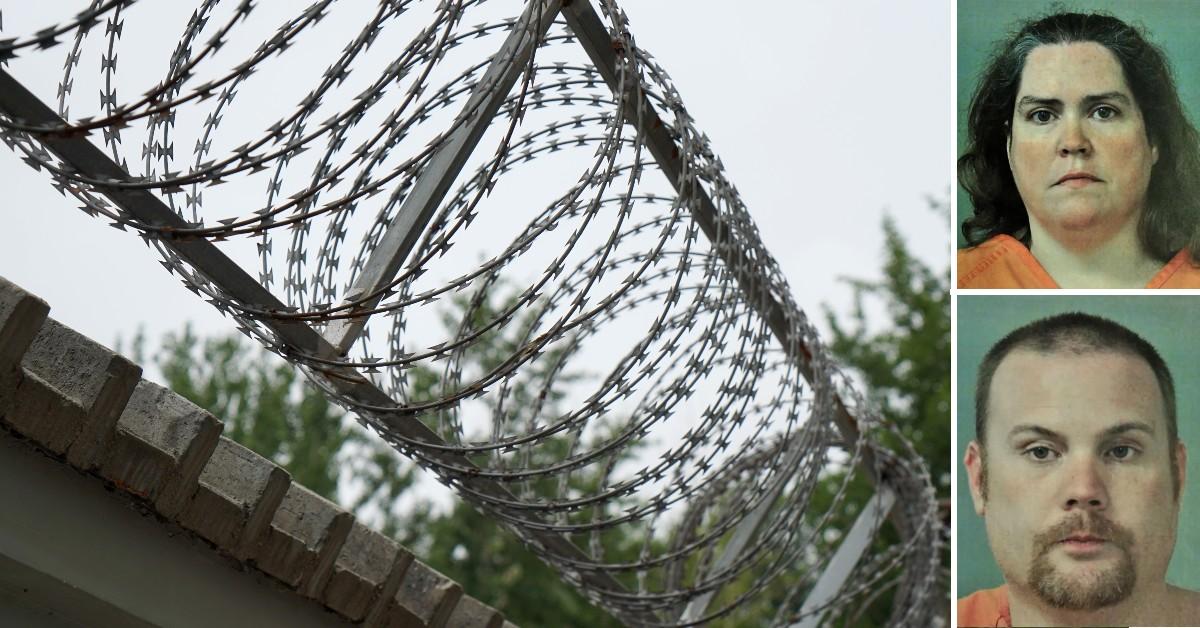 A woman in Alabama was sentenced to prison for her role in killing an entire family. She and her bigamist husband conspired to kill his estranged wife and her family.
Article continues below advertisement
Last week, a judge sentenced Rhoda Carlson to life in prison without the possibility of parole for the brutal stabbing death of pregnant Kristin Smallwood Henderson, her unborn child, Loryn Brooke Smallwood, her mother, Jean Smallwood, her 8-year-old son, Clayton Daniel Chambers, and her 1-year-old nephew, Eli Sokolowski.
Carlson was charged with 18 counts of capital murder. However, the defendant pleaded guilty to avoid the death penalty.
Article continues below advertisement
As a condition of her plea, she agreed to testify against her husband, Christopher Henderson, accepting responsibility for her role in the murders. Henderson married Carlson while still married to the victim.
Smallwood filed for a protective court order to keep Henderson from the residence. However, a week after, on Aug. 5, 2015, the defendant and Henderson went to the New Market, Alabama, home of his father-in-law after Smallwood left the residence to pick up her son from school.
Article continues below advertisement
While Carlson served as a lookout, Henderson gained access to the home and stabbed Jean Smallwood and Sokolowski. Next, he waited for Smallwood to arrive with her son, then he stabbed her and Chambers multiple times in the garage. Next, Henderson cut the baby out of Smallwood's stomach and stabbed it.
Authorities believed the 1-year-old died from carbon monoxide poisoning after the home was lit on fire.
"[Rhonda] was assuming the two would resume their marriage, but Kristin was pregnant – only a few weeks from delivery, and he was tied up with the divorce and possibly having to pay child support. I think this was an easy fix for them just to kill everybody. They kind of thought they would walk away. It was as bad as you could ever imagine. It is really unspeakable," said Madison County Chief Deputy District Attorney Tim Gann, according to Complexcon.
Article continues below advertisement
Video footage of the carnage was shown to jurors during Henderson's trial. The footage showed Carlson's attempt to enter the home through a door close to the garage. Later, she was seen driving back to the residence with a can of gasoline.
The couple's initial motive was only to kill his father-in-law. Henderson had held a grudge against Smallwood's father since he took her and his grandchildren in to live with him at his home. In addition, the former maintenance worker was angry he had to pay child support and lose visitation rights for the children.
"They had originally planned to just kill the father, but he felt like it would be worse on the father if he killed the rest of the family and the father had to live with it. So he killed everybody else in the family while the father was gone to work," Gann said, according to People.
Henderson was sentenced to death last month.
Become a Front Page Detective
Sign up to receive breaking
Front Page Detectives
news and exclusive investigations.
More Stories