The case of Amanda Knox: 15 years, 4 trials and 2 countries, but is she a cold-blooded murderer?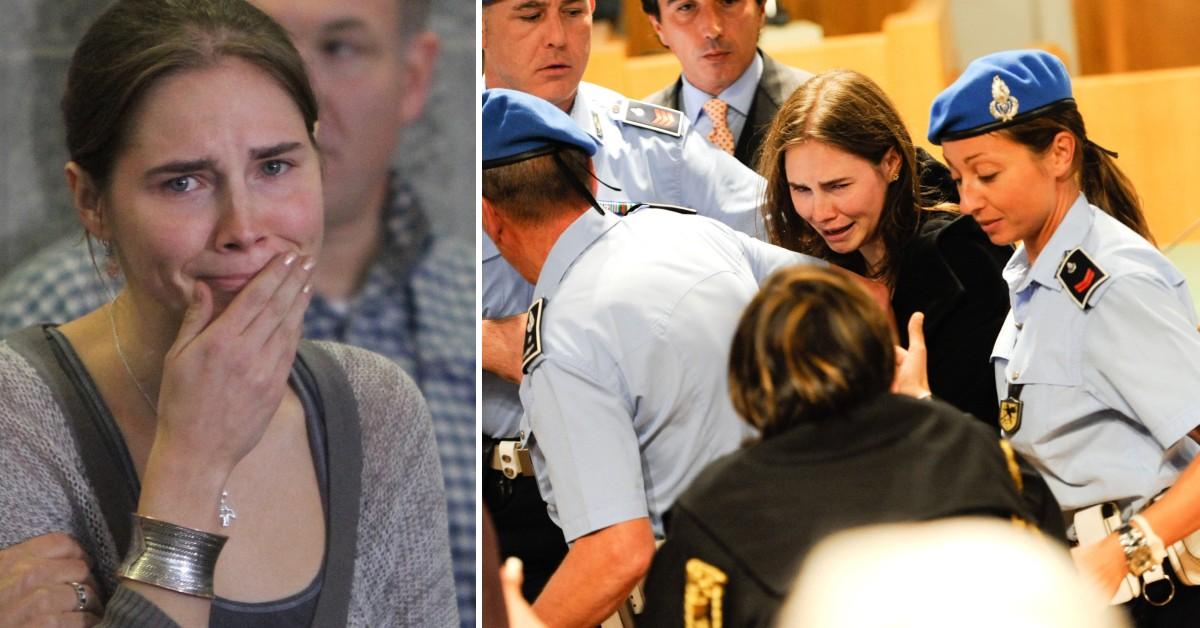 Amanda Knox grew up in a comfortable upper-middle-class household in Seattle, Washington. Her father, Curt Knox, worked as a Macy's finance Vice President, and her German-born mother, Edda, was a math teacher. Early in life, her parents divorced and her mother remarried Chris Mellas within a few years.
Article continues below advertisement
At 15, Amanda took her first trip to Italy and fell in love with the country. She graduated high school three years later in 2005, and set off for the University of Washington to study linguistics. She was an excellent student who made the Dean's List while working part-time jobs. Her intention was to fund an academic year of study abroad and her destination was Italy.
Despite the reservations of her stepfather Chris, who felt Amanda was too naïve for a year on her own in a foreign country, Amanda Knox boarded a plane and took off for an overseas adventure at the age of 20, during her first semester as a junior in college.
Article continues below advertisement
What happened in the central Italian province of Umbria as the school year got started would turn not only Amanda's life upside down, but spread rumors about her through Italy and across the globe.
PERUGIA, UMBRIA
In the new town Amanda called home—a city that had been settled since at least 300 B.C.—she began the rituals of college life in the early fall of 2007. She found a house and three roommates, all women. They included a British exchange student named Meredith Kercher and two trainee attorneys in their late twenties. Amanda held down a part-time job at a bar but was ready to quit because she wasn't getting her wages.
Article continues below advertisement
The cottage basement housed four Italian men in their 20s, on good terms with all four females living above, but closer in age to Amanda and Kercher
The cottage was a small four-bedroom two-story in a sketchy neighborhood.
Perugia was a bustling city of 165,000 people with a large university presence and a vibrant nightlife driven by young adults. Amanda preferred socializing with Italians, so she and her roommates weren't best friends, but they were friendly.
Article continues below advertisement
During the second half of October, various relationships came into play leading up to the death of Kercher. Her death and the case against the possible suspects is told through various media coverage over the last 15 years.
In mid-October 2007, the young men living in the basement invited a friend, Rudy Guede, 20, back to their place. They knew him from playing street basketball. The guys were up late one night drinking and socializing when they invited Meredith and Amanda downstairs to have cocktails and smoke weed. At 4:30 a.m., both women left to go to bed. Guede slept downstairs with his new friends.
Guede was a known criminal who was recently arrested for burglary.
Article continues below advertisement
Within the next few days, there was another meetup that included Guede, again in the basement, where Amanda and Meredith attended. At no time did they invite Guede upstairs.
On Oct. 20, Kercher and one of the basement-dwellers, Giacomo Silenzi, became romantically involved. By coincidence, a few days after that, Amanda met someone when she and Kercher attended a concert together.
Amanda and Raffaele Sollecito, 23, a software engineering student, began spending most of their time together—in fact, she often stayed over at his house a short walk away. They hung out at Le Chic, the bar where Amanda worked, and both knew her boss, Diya "Patrick" Lumumba, who would later become entangled in the drama to come.
Article continues below advertisement
THE LAST 24 HOURS
Kercher was alive on Nov. 1 and was seen returning to her house around 9 p.m. The place was empty since Amanda was away with her new boyfriend and the Italian roommates were out celebrating the public holiday.
Amanda called Kercher the next morning, but couldn't reach her by phone, which was unusual. She returned to the house anyway to take a shower. Seeing that Kercher's bedroom door was shut tight, she assumed her roommate was sleeping in.
Article continues below advertisement
Later, after Amanda returned to Sollecito's, she phoned one of her Italian roommates, Filomena Romanelli, and told her she'd visited the house and was concerned because the front door had been open, and she'd seen a bloody footprint. Also, she couldn't get in touch with Kercher. After making the phone call to her Romanelli, her worry increased enough to return with Sollecito to the cottage.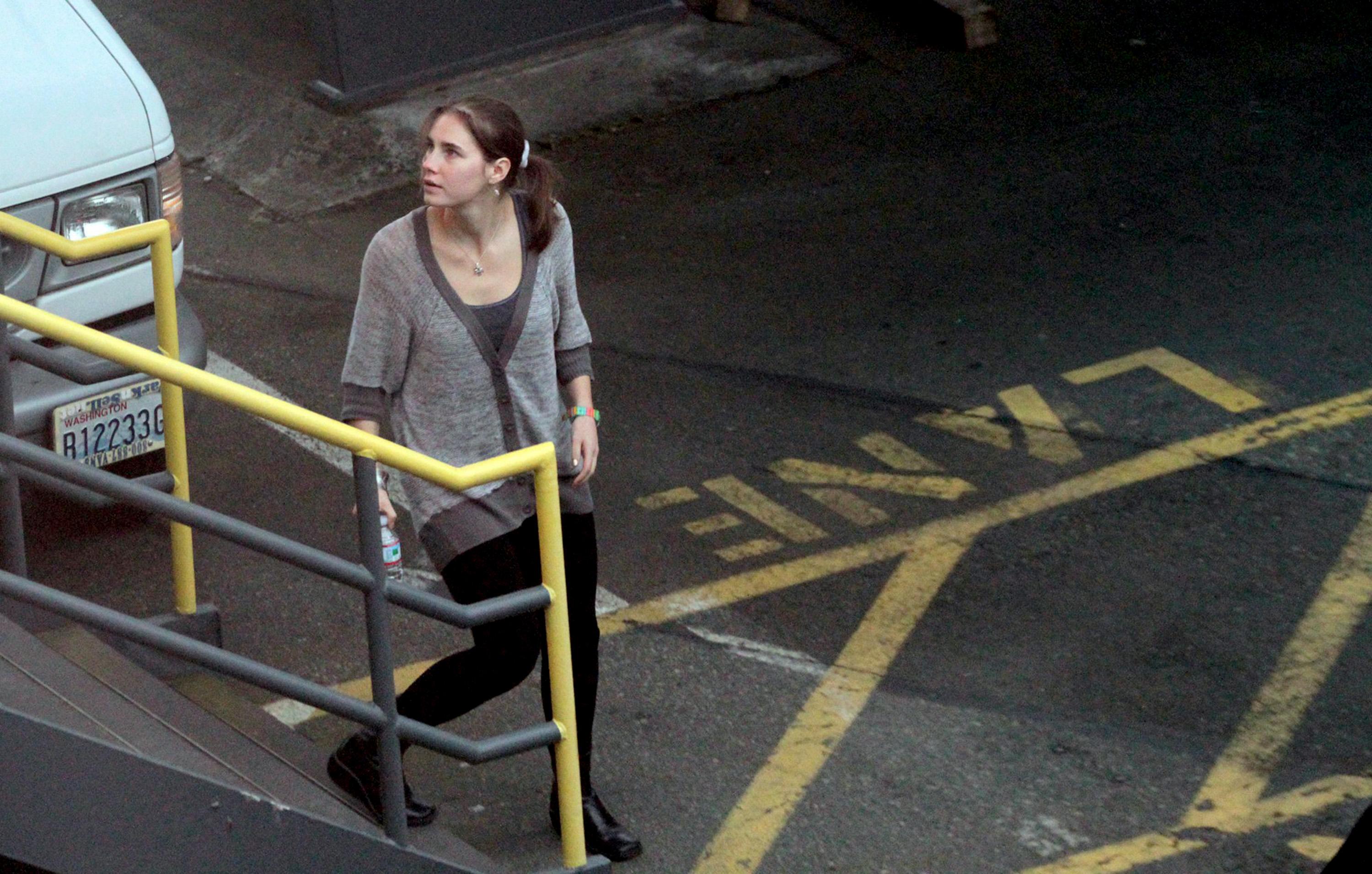 Article continues below advertisement
They entered, tried unsuccessfully to break down Kercher's door, and then Amanda called her mother. Her mom told her to call the police, which she did at 12:47 p.m.
Within a half hour, police and Romanelli arrived, and the latter helped translate between English and Italian. They discovered Kercher's phone was dumped and Romanelli told police she wanted them to break down the bedroom door. The police—in what was the first of many poor decisions—refused, believing there wasn't enough cause for concern to damage property.
Amanda and her boyfriend, neither of whom had a hint of past criminal behavior or violence, were about to become the prime suspects in the first murder in Perugia in 20 years.
Article continues below advertisement
AMANDA'S SUSPICIOUS BEHAVIOR
A male friend of Romanelli's arrived and rammed the door open, where all four found Kercher stabbed in the neck. She died due to loss of blood. She had been sexually assaulted.
Amanda found herself ensnared in an increasingly complex, corrupt and foreign round of police and court procedures. Her new boyfriend — who'd known her less than a week — was dragged alongside her.
After Kercher's body was found, two detectives arrived. When they interviewed Amanda, both distrusted her because it seemed she had taken too long to contact the police.
Article continues below advertisement
In retrospect, there were several reasonable explanations for why Amanda didn't contact authorities right away. She was distracted by her recent fling with Sollecito, she was unsure what to do — evidenced by calling both Romanelli and her mother before contacting police — and she was scared.
However, the police immediately viewed Amanda under a cloud of suspicion. Thus began a harrowing nightmare for Knox and her family, along with the families of Sollecito and Kercher.
Article continues below advertisement
THE MURDER INVESTIGATION AND TRIALS
On Nov. 6, Amanda, Sollecito, and Lumumba were arrested for murder. Amanda signed a confession after two days of interrogation, saying she was at the cottage while her boss, Lumumba, killed Kercher.
She stated on her blog:
"I was interrogated for 53 hours over five days, without a lawyer, in a language I understood maybe as well as a ten-year-old. When I told the police I had no idea who had killed Meredith, I was slapped in the back of the head and told to 'Remember!'"
Article continues below advertisement
The police become more suspicious when they discovered Amanda and Sollecito went shopping for lingerie shortly after Kercher's body was found. (In retrospect, it's important to remember they were newly in love, and Amanda and Kercher, while friendly, had only known each other for two months.)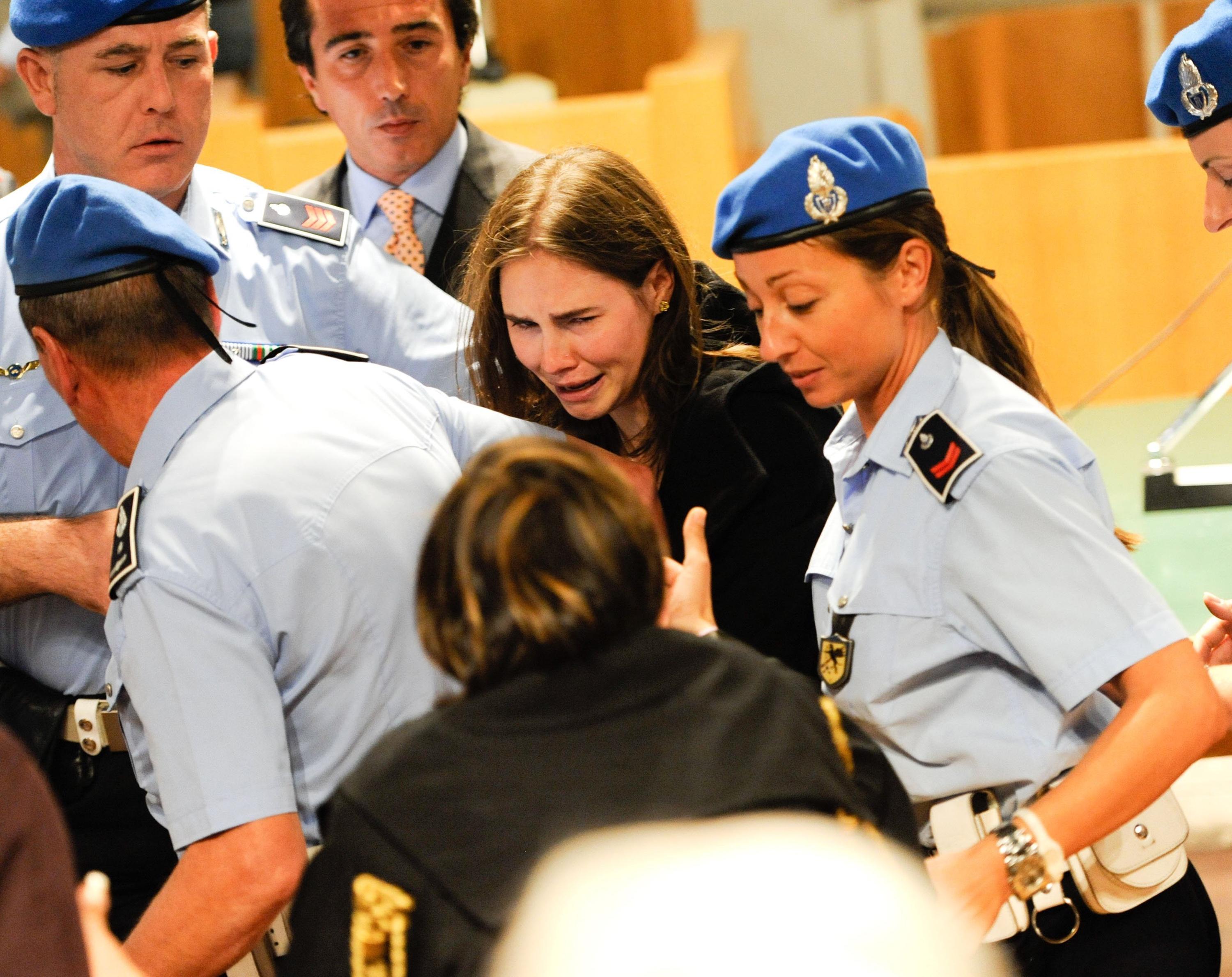 Article continues below advertisement
On Nov. 15, Sollecito was implicated when an 8-inch knife with Kercher's blood was found in his kitchen.
Five days later, Rudy Guede was traced through Facebook to Germany, where he was taken into custody after being tracked down illegally boarding a train.
Around the time, Guede was brought back to Italy, Lumumba was released for lack of evidence. Amanda implicated him during her confession, in which she'd also confessed — under long, grueling interviews — that they murdered Kercher during what the media later dubs "extreme sex games" gone wrong.
On Jan. 10, 2008, more evidence tying Sollecito to Kercher was uncovered when police found his DNA on Kercher's bra clasp.
Article continues below advertisement
THE FIRST TRIALS OF KNOX, SOLLECITO AND GUEDE
On Oct. 28, 2008, Guede was sentenced after choosing a "fast track" trial separate from Knox and Sollecito. He was ordered to spend 30 years in prison, which was later reduced to 16 years.
A judge ruled that Amanda and Sollecito should stand trial based on the evidence, which includes a confession and DNA tied to the victim.
The trial of Amanda Knox and her unlucky boyfriend begins on Jan. 16, 2009. Both were languishing in an Italian jail for 14 months, during which a nationwide media frenzy has begun using Amanda's high school nickname of "Foxy Knoxy" — which she got for her prowess as a soccer player but has now taken on sexual overtones — while rumors of tawdry sex parties involving the victim and the alleged murderers were taken as fact throughout Italy.
Article continues below advertisement
The story received international coverage.
The trial lasted an incredible 11 months. Knox testified in June that she spent the night of Nov. 1 with her boyfriend. They stayed in, smoked some pot, had sex and went to sleep. She stated she implicated her boss, Lumumba, because she was under pressure during police interrogation.
Guede testified at her trial in November, saying Amanda was at the crime scene.
On Dec. 4, 2009, both Sollecito and Knox were convicted. Amanda was given a sentence of 26 years in an Italian prison, while Raffaele got 25 years. She was ordered to pay millions to the victim's family and $60,000 to Lumumba for defamation of character.
Article continues below advertisement
AMANDA'S NEVER-ENDING TRIALS
In June 2011, Knox appealed her conviction. With a month, two forensics experts testified that Kercher's DNA was not connected to Sollecito via the kitchen knife or her bra clasp.
On Oct. 3, 2011, the convictions of both Knox and Sollecito were overturned. Amanda returned to her family in Seattle. She has been in Italy for over four years, living as a student then a convict.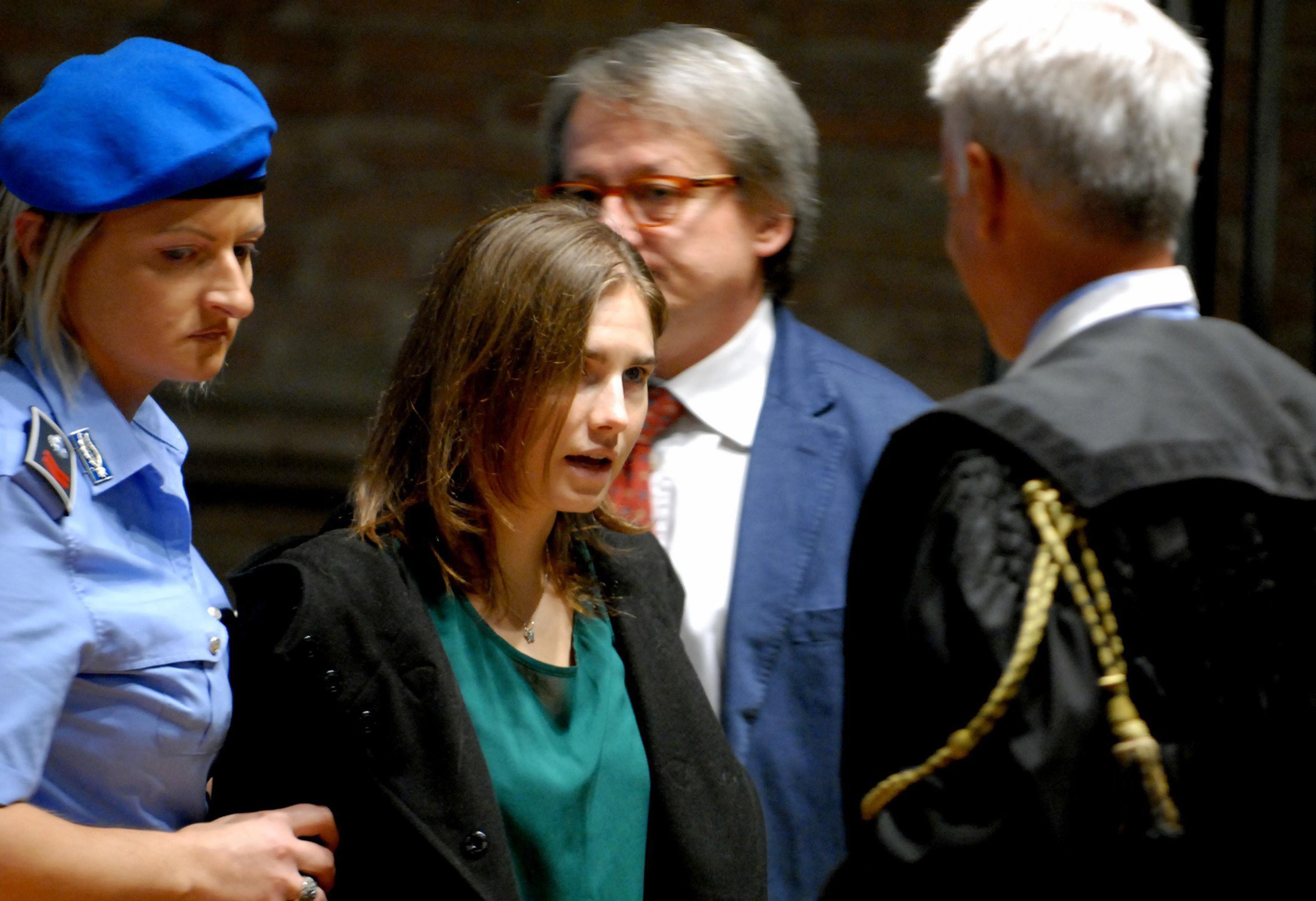 Article continues below advertisement
On March 26, 2013, the highest court in Italy reopened the case.
Nearly six years after Kercher was found raped and stabbed to death in Perugia, the Italian high court retries Knox and Sollecito and upholds their 2009 conviction. Amanda was back in the U.S. and not present at the trial, while Sollecito attended some of the hearings.
On Jan. 30, 2014, both were found guilty of murder and Sollecito was ordered to surrender his Italian passport.
On March 27, 2015, the court overturns the second conviction, although they ruled that Amanda was still guilty of defaming Lumumba in 2007 by implicating him. He then sued Amanda. She was given a 3-year sentence, but it's reduced to time already served.
Article continues below advertisement
OUT OF JAIL BUT NOT OUT OF THE LIMELIGHT
When she moved back to the US in 2011 after her first acquittal, Amanda was 24 years old. She returned to school at the University of Washington to pursue her college degree. She was hired as a freelance journalist through the West Seattle Herald and got a contract with HarperCollins publishers to write a memoir.
To this day, the Kercher's family believes Amanda was involved in their daughter's death. The DNA evidence left little doubt that Guede raped Kercher.
Knox published her memoir, "Amanda Knox: Waiting to Be Heard," in May 2013. The press reported she closed a deal worth $4 million for the book.
Article continues below advertisement
Guede was released from prison in June 2016 after serving nine years for the rape and murder of Kercher.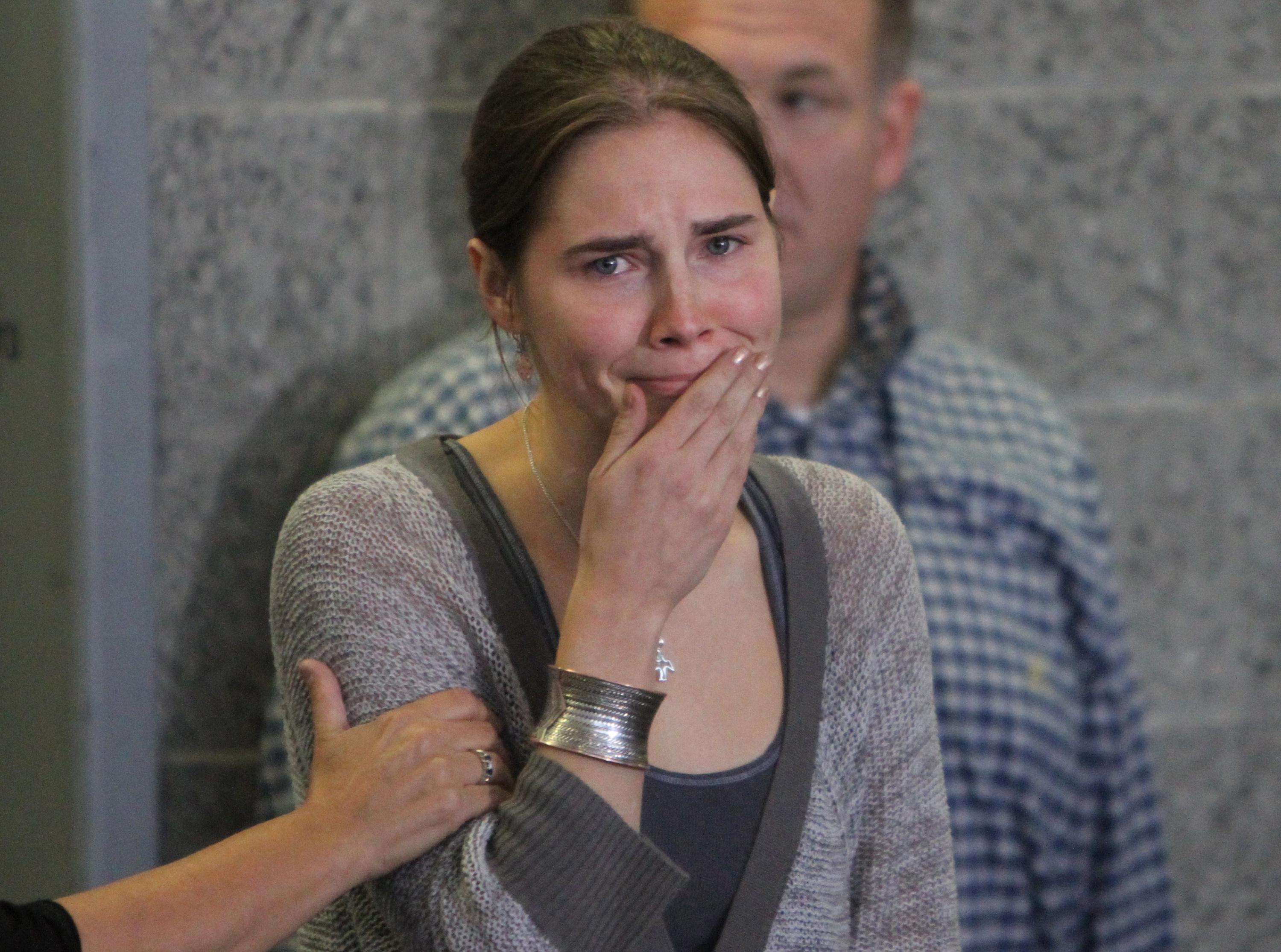 Article continues below advertisement
Amanda's guilt has, at various times over the years, become confounded with pot-smoking, sex and shoddy police work. Her guilt was based entirely on a coerced confession and her youth and inexperience, along with DNA evidence that was thrown out at the second trial.
In January 2019, the European Court of Human rights ruled Knox's slander conviction as unjust and ordered Italy to pay her $20,000 in for wrongful police interrogation. In June, she returned to Italy for the first time after once publicly vowing never to return to the country.
Article continues below advertisement
Amanda Knox earned a bachelor's degree in creative writer, and today works as a writer who maintains her own blog, while she continues advocating for criminal justice system reforms.
On Feb. 29, 2020, Amanda married her longtime boyfriend, Christopher Robinson, in a Star Wars and Renaissance-themed wedding in Seattle. Despite the fact, they were technically wed two years earlier.
Article continues below advertisement
They asked for crowdfunding donations from "friends and fans", which resulted in an online backlash. Knox asserted she was short on cash due to a recent trip to Italy (paid for by The Innocence Project), her request of her 40,000 twitter followers to send money for a wedding party received mostly outrage.
Now, after multiple trials and more than a decade after Kercher was found dead, Amanda Knox continues to stir up controversy and engage in a love-hate relationship with the media
Become a Front Page Detective
Sign up to receive breaking
Front Page Detectives
news and exclusive investigations.
More Stories