Nazi, Manson artifacts set for auction. Here's how you can bid on a piece of morbid memorabilia.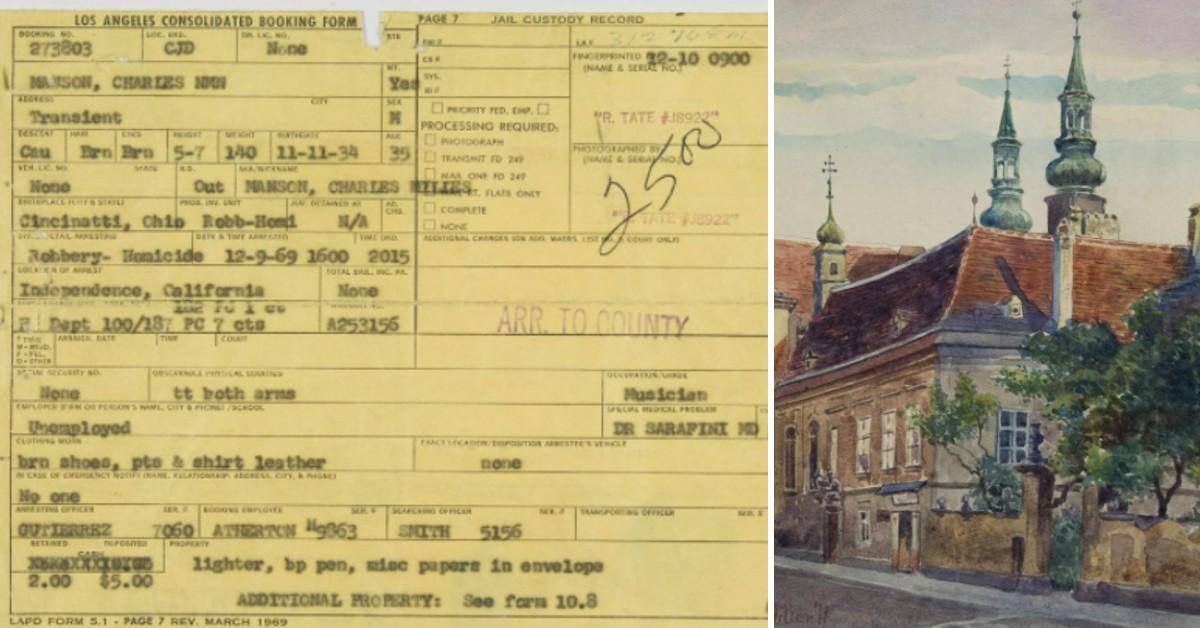 Charles Manson has been known to express admiration for Adolf Hitler and, according to the biography "Helter Skelter," feels they shared a number of similarities. They included being vegetarians as well as rejected, frustrated artists.
Article continues below advertisement
It seems perversely fitting that artifacts from both men feature prominently in "Fall Historical Militaria & Autographs Auction," a slate of 2,200 items being offered up for bid Dec. 7-9 by Maryland's Alexander Historical Auctions.
There is already an $11,000 bid for an early-day original watercolor painting done by Hitler, which is believed to have been given to Rudolf Hoess and passed down subsequently to Hess' son. There is also the original LAPD booking sheet for Manson, which will be available for live bid on Dec. 9, the anniversary date of Manson's arrest on robbery and homicide charges in 1969.
Article continues below advertisement
Much like the Hitler watercolor painting, Manson's arrest sheet has one of the highest pre-auction bids at $10,000. Manson listed his occupation as 'musician,' did not provide a social security number and wrote that there was 'NO ONE' who could be contacted about him in the case of an emergency.
Another item in the 23 overall offerings involving Charles Mason is a set of photos of the cult leader and associates taken by a Los Angeles Herald-Examiner photographer at Spahn Ranch, shortly before his arrest. They are fascinating to look at in light of the substantial part played by that location in Quentin Tarantino's "Once Upon a Time in Hollywood."
Article continues below advertisement
Many of the other items up for bid on the Manson side are personal correspondence, including letters to "Manson Family" members Sandra Good and Lynette Fromme, who was convicted of attempting to assassinate President Gerald Ford in 1975.
Another chilling Nazi-era artifact is a presentation pistol carried on formal occasions by Hoess, an Auschwitz death camp commandant. An American Jewish G.I. kept the pistol as a World War II souvenir for decades before it was finally sold to another party five years ago. The pre-auction bid for the Hoess's Walther Model PP 7.65 mm semi-automatic pistol stands at $14,000.
Become a Front Page Detective
Sign up to receive breaking
Front Page Detectives
news and exclusive investigations.
More Stories