IMPRISONED DAYCARE WORKER MELISSA CALUSINSKI MAINTAINS HER INNOCENCE IN BABY BENJAMIN KINGAN'S DEATH: WATCH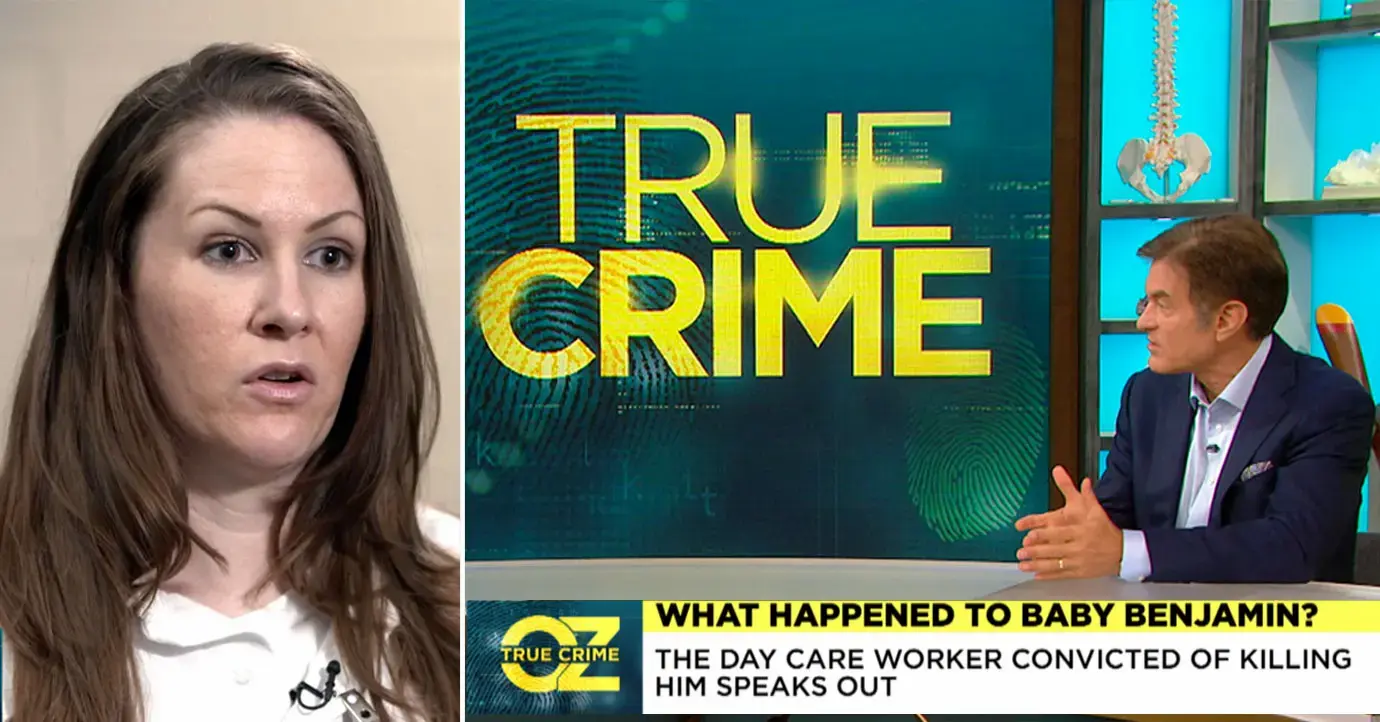 More than a decade has passed since 16-month-old Benjamin Kingan abruptly passed away in 2009 while at a daycare center — but in a new interview for The Dr.Oz Show, convicted caregiver Melissa Calusinski still maintains her innocence as she sits behind bars.
At the trial, the daycare worker was ruled responsible for the tragedy, partly due to a presented X-ray that seemed to show a fracture in Kingan's skull. According to reports, the X-ray was of low quality and a fracture couldn't be confirmed, but Calusinski's prior confession to the crime did her in.
Article continues below advertisement
Then in 2015, new evidence came to light that could have been Calusinksi's saving grace: a clear X-ray of Kingan's skull was investigated by a radiologist, who found no sign of a fracture, meaning the child's death could have stemmed from a preexisting condition.
Despite the new findings, the daycare worker remains locked up. In a clip from The Dr. Oz Show episode, Calusinski recalls the details of the terrifying day to senior investigative correspondent Mara Schiavocampo.
Article continues below advertisement
"And then all of a sudden, when I saw him and I noticed he wasn't moving, I called out his name and he didn't answer. So then my immediate instinct kicked in and I went over to him, touched his hand and he still wouldn't wake up. He looked lifeless." She says she then called for help.
While recounting her story to Schiavocampo, Calusinski broke down in tears, declaring that she truly cared for Benjamin, and was devastated by what happened.
Article continues below advertisement
Elsewhere in the episode, Schiavocampo discusses the updated X-ray with Dr. Mehemet Oz himself. "The coroner said that this revealed evidence of existing injuries, but that's not the only thing that he looked at," she explains. "He also went back and looked at Benjamin's blood samples and found evidence of iron. Why does this matter? Why is this important?"
NIKKI & BRIE BELLA REVEAL THE 'SCARY' MOMENT BEFORE THEIR MOM'S BRAIN SURGERY: WATCH
"Well, iron would only be present in his blood if he had an existing injury," she concluded. "It wouldn't be there if the injury was fresh." The pair then discuss more aspects of the case throughout the episode, including why the newfound information wasn't enough to exonerate Calusinski.
Become a Front Page Detective
Sign up to receive breaking
Front Page Detectives
news and exclusive investigations.
More Stories