The probation-era St. Valentine's Day Massacre changed the perception of the mob. But, it also remains unsolved.
Valentine's Day is supposed to be a day of love. The St. Valentine's Day Massacre in Chicago will always taint that holiday, as it remains one of the biggest unsolved crimes in history.
Article continues below advertisement
Gang warfare ruled the streets of Chicago during the late 1920s. One of the big reasons was because of chief gangster Al Capone and Capone wanting to consolidate control by eliminating his rivals in the bootlegging, gambling and prostitution arenas.
All of the gang violence seemed to reach its bloody climax in a garage on Chicago's North Side on Feb. 14, 1929. On that date, seven men associated with the Irish gangster George "Bugs" Moran, a longtime enemy of Capone, were shot to death by several men dressed as policemen.
To this day, the St. Valentine's Day Massacre is still an unsolved crime and it was never officially linked to Capone. However, many people believe he was considered to have been the one responsible for the murders, History reported.
Article continues below advertisement
From 1924 to 1930, Chicago was becoming more and more known for its lawlessness and violence. This also happened to be around the time Al "Scarface" Capone reigned as the chief crime lord. Capone took over from his boss Johnny Torrio in 1925, History stated.
Thanks to the passage of the 18th Amendment in 1920 and the start of prohibition, American gangsters started earning more money thanks to bootlegging and speakeasies, as well as gambling and prostitution. According to History, Capone was making about $60 million per year from these activities and his net worth was around $100 million in 1927.
Article continues below advertisement
Capone wanted to take control of Chicago's crime rackets, so he was trying to consolidate control over the years by gunning down his rivals. In 1924, there were about 16 gang-related murders, which continued until 1929 when it reached a high of 64 murders that year, History reported.
Capone's longtime enemy, Irish gangster Moran, ran his bootlegging operations out of a garage at North Clark Street in Chicago.
On Feb. 14, 1929, the members of Moran's operation were gunned down while they were standing lined up, facing the wall of the garage, History said. There were about 70 rounds of ammunition fired.
Article continues below advertisement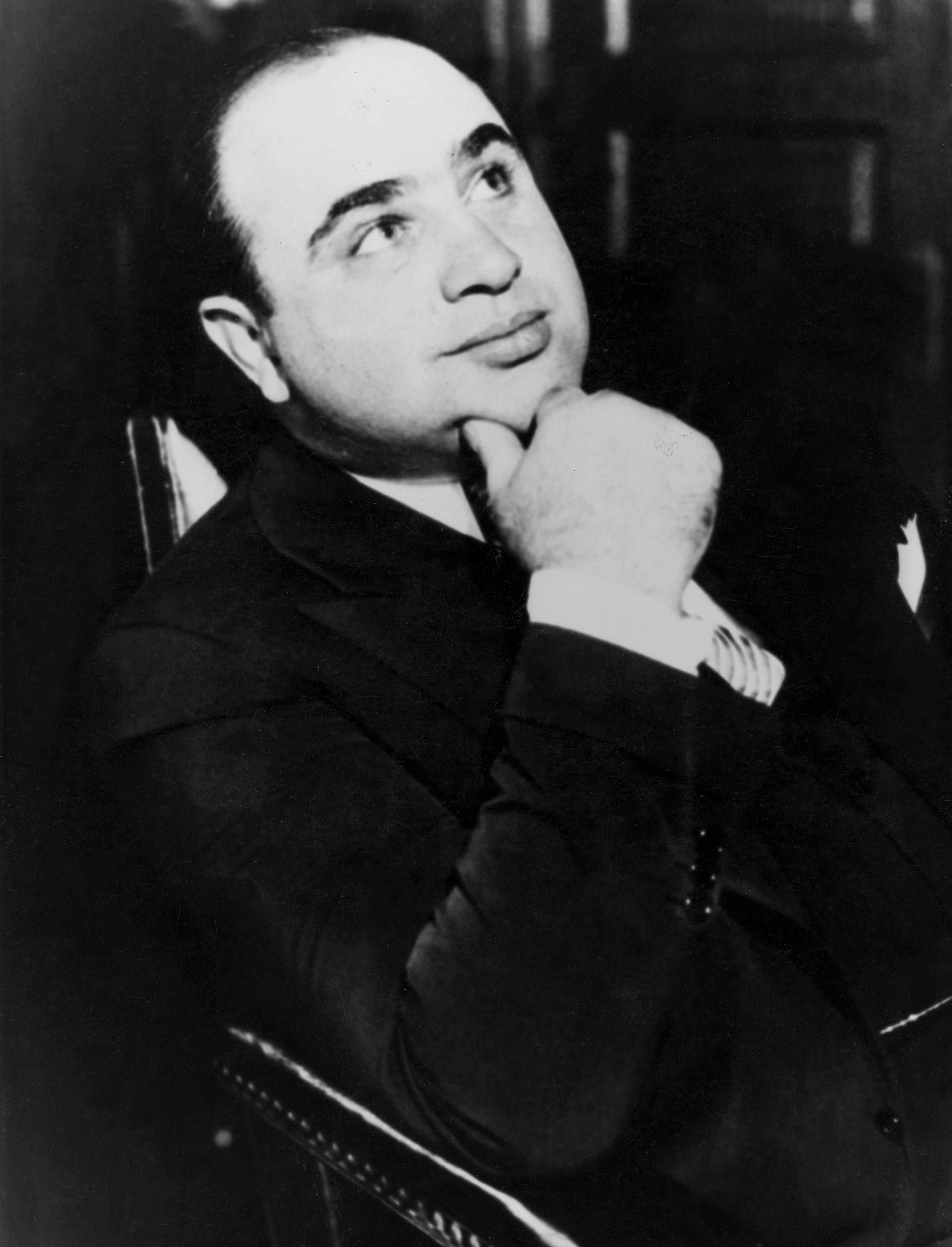 When police arrived on the scene, one of the gang members, Frank Gusenberg, was barely alive. Police tried to press him to give details on what happened, but Gusenberg would not talk.
Investigators could only find a few eyewitnesses and eventually came up with the idea that gunmen dressed up as police officers entered the garage and pretended to be arresting the men.
Article continues below advertisement
According to History, Moran was actually on his way to the garage in Chicago at the time the massacre happened.
He missed getting killed by minutes.
Most people immediately blamed the massacre on Capone's gang. However, Capone claimed to have been at his home in Florida at the time of the massacre, History stated.
Article continues below advertisement
While the Valentine's Day Massacre allowed Capone to have no real gang opposition to his rule in Chicago, it was also believed to be the beginning of his downfall. Because of his impressive income and his actions, he became the country's most notorious gangster and he was dubbed "Public Enemy No. 1," History reported.
Capone was subpoenaed in March 1929 by a federal grand jury, but failed to show up. He finally showed up to testify, but federal agents arrested him for contempt of court, officials said. He posted bond and got out, but he was arrested in Philadelphia in May on charges of carrying concealed weapons. He served nine months in prison and was released for good behavior.
Article continues below advertisement
He was found guilty on the contempt charge in February 1931 and spent six months in jail. He was also being investigated for income tax evasion, History reported. A case was put together against Capone and in June 1931, he was indicted for federal income tax evasion.
He was sentenced to 11 years in prison and was released in 1939. He died in his Florida home in 1947, History reported.
With Capone dead, investigations into the Valentine's Day Massacre seemed to stop.
Seven people were killed and no one can officially be linked to the case. Many believe it was Capone, but no official charges were filed and no trial was held to find justice.
Become a Front Page Detective
Sign up to receive breaking
Front Page Detectives
news and exclusive investigations.
More Stories