Kerry Patterson Vanished from her California Home in 1980. Her Skull Was Later Found, But Her Killer Was Not.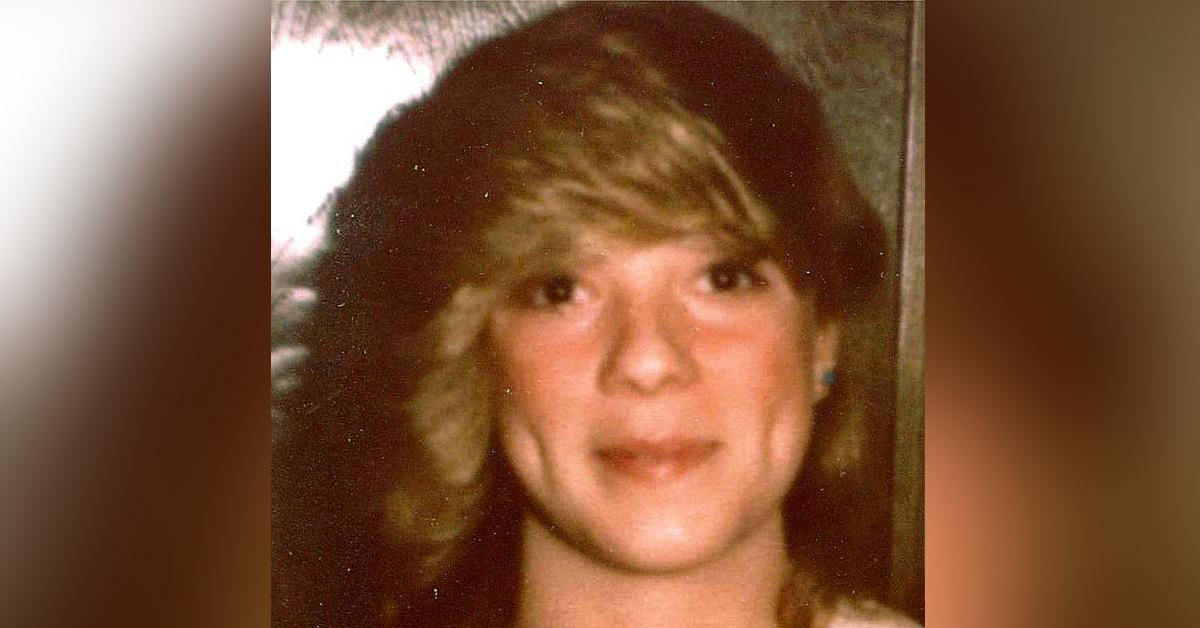 The summer of 1980 was a memorable one.
As a famous heatwave bore down across the country, Ted Kennedy won the Democratic presidential primary over Jimmy Carter in California, the "Unabomber" struck again in Illinois and the face of news broadcasting was changed forever as Ted Turner launched CNN. "The Empire Strikes Back" was in theaters, and the likes of Paul McCartney and Billy Joel were the songs everyone was playing. It was the dawn of a new era, including for the Patterson family in Fullerton, California, who had just moved into their new home, having left Cerritos, California.
Article continues below advertisement
Fullerton is a small city in Orange Country, California, that, back in 1980, had a population of slightly more than 100,000 people. A traditional center for agriculture, Fullerton became an industrial hub following the Second World War as veterans migrated in, expanding the city and sending the population soaring. Fullerton became home to aerospace contractors and other industries, and in 1949 Leo Fender invented the first successful electric guitar there, the Fender Telecaster.
The city's development created class divisions between the affluent northern and western areas and the south bordering Anaheim. The Patterson family moved into a well-kept neighborhood that had only recently been developed. The Peacock Lane lawns were neatly mowed, the hedges neatly cut and a smattering of American flags flew proudly from porches, with Ronald Reagan's warnings on the campaign trail over the threat from the U.S.S.R. ringing true for many.
Article continues below advertisement
Their time in Cerritos had not been a happy one. 15-year-old Kerry Patterson attended Cerritos High for her freshman year and been a popular girl, noted for her athleticism and ability at softball. There was plenty of interest from boys and, in turn, jealously from girls, with this even turning to violence. Such was the fear from Kerry's mother, Chrystal Patterson, that the entire family moved to Fullerton, intending to enroll Kerry at Sunny Hills High, which was just a stone's throw from Peacock Lane.
Speaking to The Orange County Register in 2019, Kerry's sister, Michelle Patterson, said, "She was really pretty and had a lot of boyfriends. She got hassled by a lot of girls. She was getting in fights. Someone ripped a gold necklace off her."
Article continues below advertisement
Peacock Lane and the surrounding area were an active neighborhood, with plenty of people enjoying the sun. There were kids on bikes, others would walk their dogs, more would roller-skate by, with shorts and mustaches still the fashion. The family had only moved into their new home two weeks before and were likely still unpacking and settling in when on June 26, Kerry Patterson asked her mother about taking the bus to Huntington Beach, California, with Michelle.
They had new boogie boards and wanted to try them out.
Expecting the moving firm to be dropping off more furniture, Chrystal needed to leave for work and asked her daughter to stay at home until they had arrived and unloaded. Tragically, Kerry decided to ignore the request and, after watching soap operas with her sister, went out anyway around 1 p.m. She agreed to meet her friend Daniel "Danny" Wozab at the ice cream parlor and left her younger sister at home to deal with the furniture, telling her she'd bring back a candy bar.
Article continues below advertisement
Alongside Wozab, Kerry met with two other male friends that she had known from the family's time in Cerritos, the friends having also moved to Fullerton. They were Michael Cruz and Troy LeClear. Together, they visited Ice Cream Castle at the corner of Euclid and Roscrans, a small strip mall area in the city, and after a time, Kerry told her friends that she wanted to return home to wash her shoes, a white pair of Vans. She said that she may go and visit the local horse stables afterward.
Kerry rode on the handlebars of Wozab's bike back home, being said to have had a huge crush on the young man. Perhaps Wozab felt protective of her, with Kerry telling him that a "creep" had been following her. Wozab dropped her off at the corner of Parks Rd and Peacock Lane around 4 p.m., within viewing distance of the Patterson home.
She was never seen alive again.
Article continues below advertisement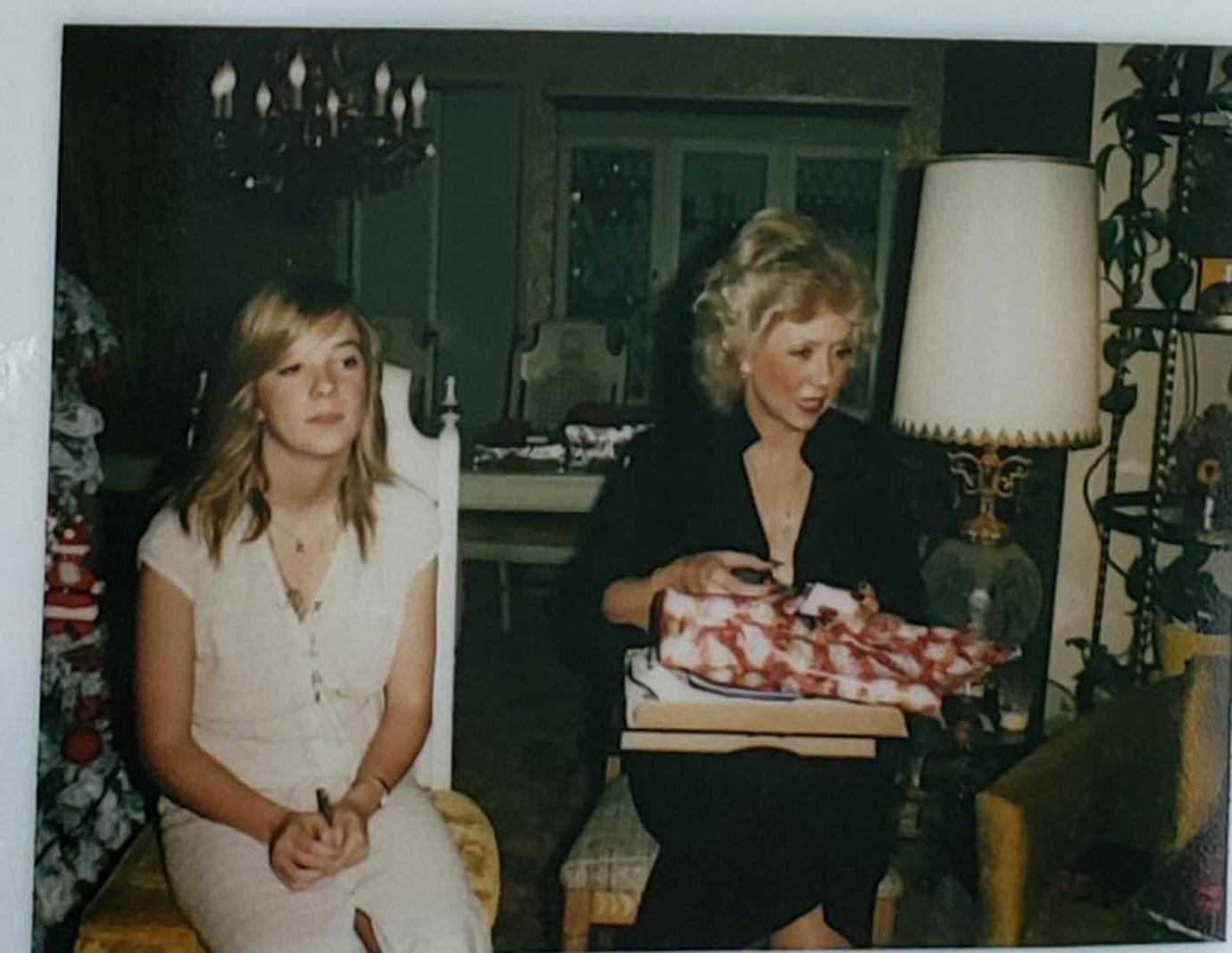 WHAT HAPPENED TO KERRY?
Interestingly, many early press reports on the disappearance tell a different story. Police said Kerry had walked with two friends to the ice cream parlor before she was walked by them halfway home — Kerry continuing on alone. Another report stated Wozab met Kery near the ice cream parlor before giving her the lift home.
Article continues below advertisement
When Kerry didn't return home that evening by 7:30 pm, Chrystal "was freaking out," and police, explorer scouts, neighbors and family initiated a search, raking both the local area and Cerritos as home-made posters went up pleading for information. The official police line was that Kerry had likely run away from home, saying that inquiries with friends and acquaintances revealed that she wasn't happy in the new neighborhood. They also received claims that she had borrowed money and believed they would find her at the more popular hangouts in Cerritos. The family disagreed.
Chrystal insisted to the police that her daughter wasn't the type to run away and would certainly not have blanked her friends over such plans. Kerry had been excited for a weekend trip to the mountains she'd planned with a friend for the next day, being already packed. There was money on her dresser, only having a small purse with her when she vanished.
Newspaper reports said that no police officer ever came to the Patterson home to talk with her parents, and nobody came to look through her room until an officer looked over her belongings a week later. The house and neighborhood were not searched for clues. Construction workers in the area went ignored, as did the furniture company that was delivering that day. The missing person's report wasn't accepted until a day after Kerry had vanished.
Article continues below advertisement
Police deny these reports and say there were interviews with the boys Kerry had met, Kerry's family and an unnamed boyfriend that day. Whether her boyfriend was one of the boys she'd met is uncertain, but we do know it wasn't Wozab. Her family had no idea that she had a boyfriend, including her sister.
After coming under increasing criticism from the family for their inactivity, Chrystal called the mayor. She was invited to join the police in a cruiser the next day as they searched for her missing daughter. She ended up disgusted as she joined police and sat in a bowling alley coffee shop for three hours on a vague tip that somebody had seen Kerry there. The officers then headed to a drive-through to get pizza.
Later speaking to the Independent Press-Telegram Chrystal said that "I knew she hadn't run away, but the police said kids that age run away. [I think] they had put [ the case] in their bottom drawer as a runaway." She added "Kerry had no reason to run away. It is inconceivable to us that she could just chalk off her parents, sister, brother, dogs, cat, etc., without a word."
Article continues below advertisement
When she vanished, Kerry was described by a police department bulletin as being 5-feet-2-inches tall and 105 lbs with brown-blond hair and brown eyes. She was wearing light blue cotton trousers, a white cotton t-shirt and white Vans tennis shoes. He had yellow metal bracelets on each wrist, a Timex watch and a yellow metal chain with a No. 1 small pendant.
What happened to Kerry in the minutes and hours afterward is entirely open to speculation. Being apparently dropped right at the corner of her street, and having told her friend she was returning home, she would undoubtedly have entered Peacock Lane. The circumstances hang on two questions; was it true that she was really going home? And was the witness statement from the boys true?
Article continues below advertisement
If she had indeed been returning home, then what happened must have happened on Peacock Lane. A broad daylight kidnapping in such a neighborhood, with no disturbance noted, is unlikely. Whether she would have agreed to enter a house if invited is debatable, with the family unlikely to have forged such close friendships so soon. The neighborhood was buzzing with activity at the time, with developers and landscapers still putting the finishing touches on the houses.
If, however, she'd been making her excuses to leave, the possibilities open up. It would mean she likely left Peacock Lane again once her friend had gone or never even entered it. Interestingly, the side of the road that Wozab dropped her on was the one opposite the road to her house where at the time, there was an open field, perhaps suggesting that she indeed had other plans.
Where she might have gone is unknown, but with no form of transport, the possibility arises that she may have accepted a lift in a vehicle or walked to another destination such as the horse stables she mentioned. There were several alleged "sightings" of Kerry after her official disappearance. While unconfirmed, it may suggest that whatever happened to her may have occurred well away from the neighborhood.
Article continues below advertisement
The testimony from the three boys is unclear in press reports, yet this seems likely to have been poor reporting rather than anything more suspicious. Bob Taft, the Orange County Sheriff's Department cold-case detective, insisted to the Orange County Register that "They're not suspects, but they were the last to see her alive," with the police seemingly satisfied that their story is true. With only Wozab's bicycle, a kidnapping would be virtually impossible, and the boys have recently been active with Taft in rewalking the bike route home.
With no suspects and no witnesses, we simply don't know what happened.
THE BONES IN THE CANYON
Six months later, on Dec. 27, 1980, a Union Oil worker found a skull at the bottom of an embankment in the middle of an oil field at Tonner Canyon just adjacent to the 57 Freeway. It was around 50 feet from a derrick, and a subsequent investigation of the area revealed more bones at the top of the embankment, a tibia, femur and humerus.
The find was featured in the local press, and Chrystal, fearing the worst, cut out the article, carrying it with her for weeks, perhaps frightened of her worst fears being confirmed. Finally, she contacted the police, and dental records were matched — the skull and bones belonged to her daughter.
Article continues below advertisement
The location of the find was 10 miles from the last confirmed sighting and suggests the body had been dumped there by a killer, with no likelihood that Kerry would have wanted to voluntarily visit the site or could have suffered an accident there.
The proximity of the 57 Freeway is telling and suggests her remains may have been brought in a vehicle. However, Tonner Canyon is also a well-known "lovers lane" giving rise to the possibility that Kerry had gone there voluntarily to meet a boy. If she did indeed have a crush on Wozab, her heading to meet another boy at a lover's lane would explain why she may have not been honest about heading home.
Article continues below advertisement
Equally, many local legends about Tonner Canyon being haunted might interest teenagers, with the stretch of road from Diamond Bar to Brea noted how dangerous it is. Little crosses mark the place that many died, and there are urban legends about spirits walking the highway. The road is located next to the 57 freeway, and late-night trips to Tonner Canyon are frequent.
It also raises the possibility that Kerry may have simply been hit by a car, and the driver panicked. However, the found remains show no signs of impact injury, all be it with only a small number of bones for analysis. Such an impact would also likely leave blood or car debris on the road.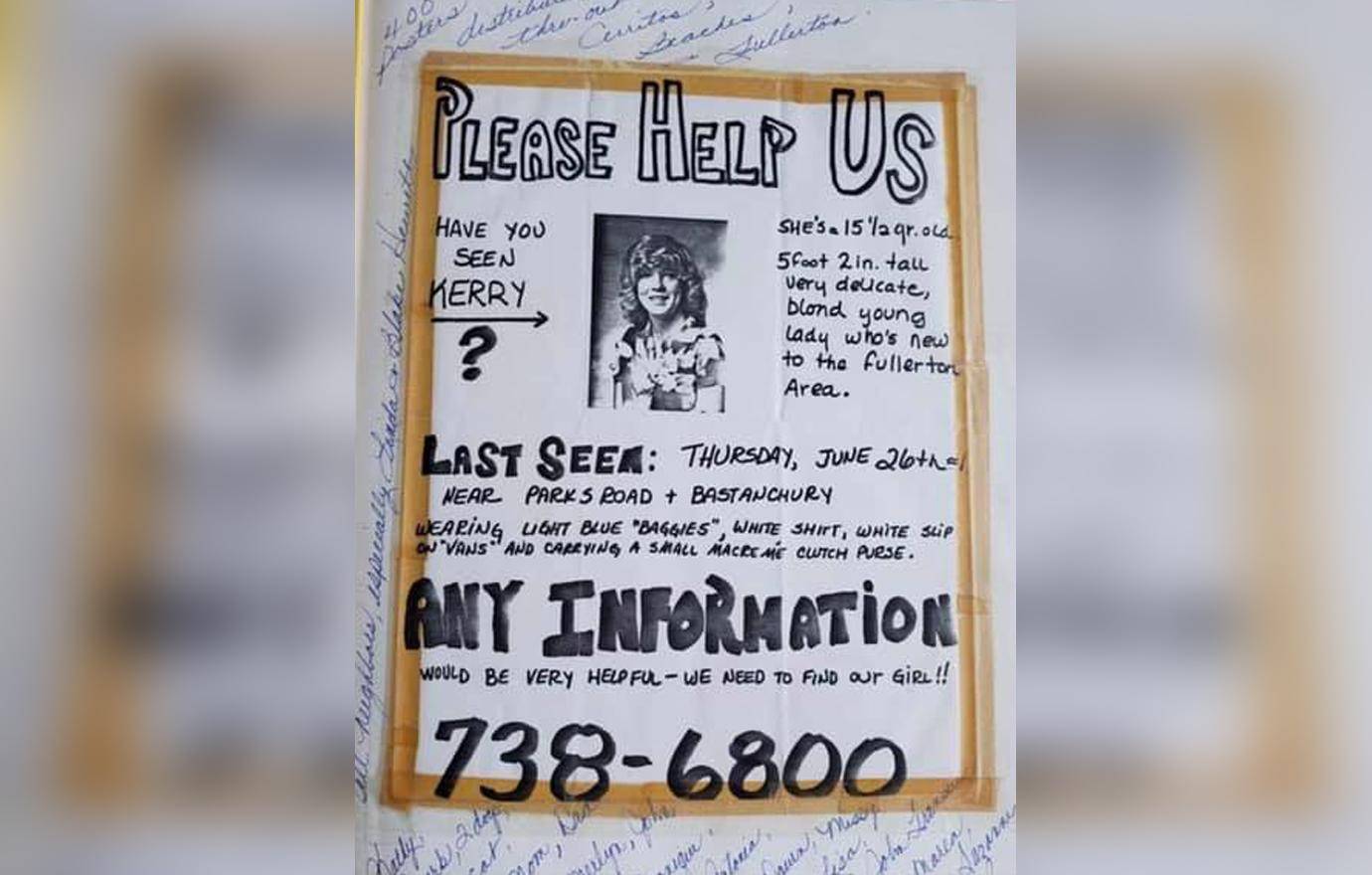 Article continues below advertisement
There is no mention in reports that clothing or personal effects were found, suggesting she may have been nude with everything else disposed of elsewhere, also discounting the possibility of an accident. Importantly, it appears the body had been above ground and not buried, the killer not fearing its discovery as is more usual in cases where the murderer is known to the victim.
Equally, the possibility exists that Kerry was killed at that spot, and the killer left her in a panic. Reports made no mention of dismemberment, and the bone showed no trauma, suggesting animal predation to be the cause of only partial remains being found.
Article continues below advertisement
Judy Suchey, an anthropologist at Fullerton State University, was called to examine the bones and ascertained they had been in the canyon for between six months and two years. Kerry had been missing six months and one day at that point, indicating that her death came soon or immediately after her disappearance.
Kerry Patterson was laid to rest in March of 1981 at a ceremony full of flowers and music that she may have selected. A family friend remembered a fun-loving girl who exhibited "the love, the hope, the faith of a child who had not yet sought out her place in the world."
Article continues below advertisement
MAYHEM IN ORANGE COUNTY
Kerry's remains weren't the first found in the area during that time frame. On April 16, 1979, 14-year-old Vicky Lynne Caskwick was abducted on her way to Cerritos High, the same school that Kerry Patterson then attended. Thirteen months later, in May of 1980, her skeletonized remains were found by a hiker south of the Pomona Freeway in Rowland Heights, California.
The same month, on May 1, 1980, the remains of a still-unidentified man were found in the creek bed of a heavily wooded area at a Shell Oil Field. It was not far from Tonner Canyon Road. The man was Black and between the ages of 17 and 23 years old. He had been murdered, and his remains had been undiscovered for between six and 12 months.
The case took an unusual turn at Halloween 1981 when David Richard Campbell shot and beheaded his friend William Kimble Raber of Buena Park, cutting off his hands with a hacksaw. Campbell had convinced himself that Raber had been responsible for killing several women in Orange County, including Kerry Patterson.
Campbell confessed that Raber never admitted that he had killed the girl, but he "got the idea he would dump me where he dumped Kerry Patterson."
Article continues below advertisement
A month later, Campbell struck again when his neighbor John Fischer went missing on Dec. 30, leaving his home in the family car. The vehicle was found abandoned in Hiltscher Park, Fullerton, and it wouldn't beuntil February 1985 that his skull was found at Hurkey Creek. Like Raber, he'd been shot in the head, with Campbell having suspected that he knew he'd murdered Raber.
Already serving a 27-year sentence for the first killing, the bullet recovered from Fischer's skull guaranteed that Campbell would never be released. Ballistics experts confirmed it came from the same weapon Campbell had used on Raber.
Article continues below advertisement
However, Fischer's skull wasn't the only one found in 1985, with hikers near Big Bear making such a recovery, police believing that the remains belonged to Frank "Bart" Marshall, having questioned Campbell over his disappearance three years before. The technology didn't exist to prove the theory at the time. In 2011, Marshall's foster sister Kathy Tessanne approached the Fullerton Police Department, and the skull was subsequently confirmed as belonging to Marshall.
Marshall was 26 years old when he went missing on Jan. 2, 1982, saying he was going for a motorcycle ride. He had traveled to his old neighborhood and began to ask Campbell the whereabouts of their mutual friend William Raber. It was a death sentence, and like the others, he was shot, beheaded and then dumped. Campbell called this a "Tibetan sky burial," whereby the body is left in the open and exposed to the elements to decay naturally.
Why Campbell initially believed that his friend had murdered Kerry isn't exactly clear, describing himself to police as a "citizen investigator." A schizophrenic, his subsequent actions show he may have been suffering from paranoia and delusions, claiming at his trial to be not guilty by way of insanity, a plea that was rejected. Campbell had on occasion stated he believed himself to be the reincarnation of Adolf Hitler or General George Custer, and aside from his claims about Raber killing Patterson, he also claimed his friend had been a reincarnated Sitting Bull.
Article continues below advertisement
While Taft says that he doesn't "believe that account" regarding Campbell's claims, adding, "He's not credible," there remains one other possibility; that Campbell himself killed Kerry Patterson. Not only did he live in the area, but he had a link to the stables and carried out the "Tibetan sky burial" with his known victims. Perhaps the truth was that Raber had uncovered he killed Kerry or that Campbell shifted responsibility to his friend after a mental break. We will probably never know, though most believe Campbell's involvement is unlikely.
While the case has been cold almost since its inception, it remains active, with Taft keeping interest alive at the Orange County Sheriff's Department. Taft came onto the case quite accidentally, seeking legal advice and finding that his Anaheim attorney was Michelle Patterson Ludwig, Kerry's sister. Kerry explained the matter to him and how the lack of police interest in 1980 had angered and upset the family. "I can't say I blame them," Taft told the Orange County Register "She didn't fit the profile [of a runaway]."
Article continues below advertisement
Taft is the only cold case investigator at the Sheriff's Department and has appealed for the public's help to finally solve one of the most mysterious and underreported cases in Orange County. The detective has 153 open cases dating back to 1965, working on 10 at any one time.
"Somebody knows something," Taft told local media. "I hope someone comes forward and says, 'I have that piece of the puzzle.'"
Become a Front Page Detective
Sign up to receive breaking
Front Page Detectives
news and exclusive investigations.
More Stories