Florida mom accused of washing blood from teenage son's jeans in connection to cheerleader's brutal death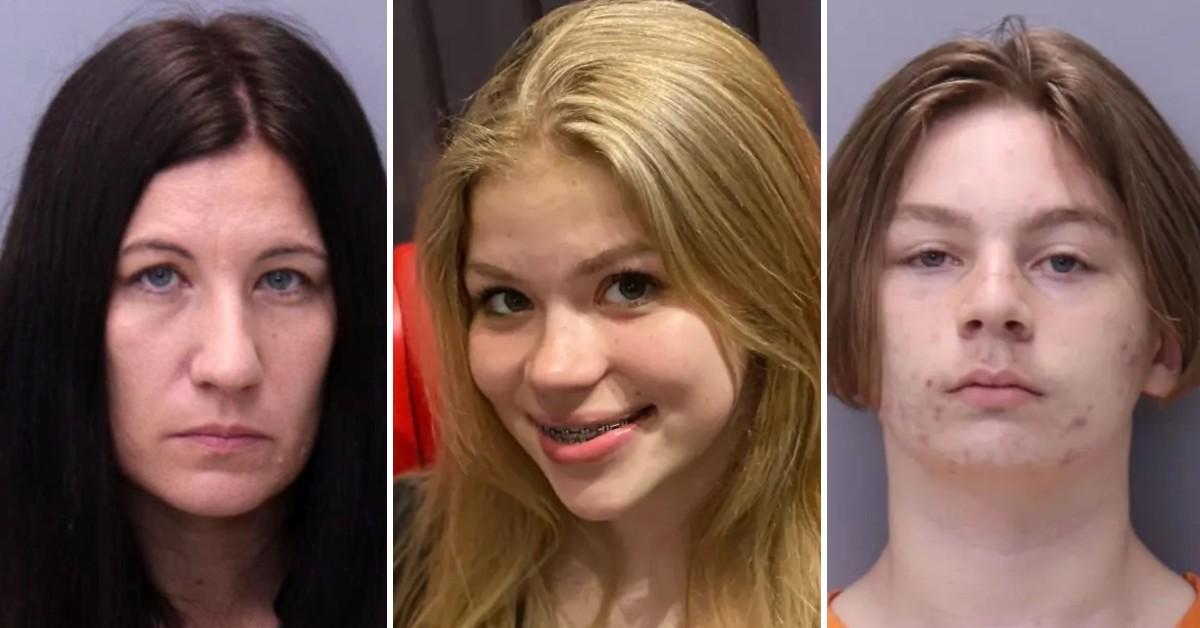 The mother of a 14-year-old Florida boy accused of fatally stabbing a 13-year-old girl more than 100 times is accused of helping to cover up the alleged crime.
Article continues below advertisement
The St. Johns County Sheriff's Department stated Crystal Smith, 35, was seen on her home surveillance video recording removing a pair of jeans from her son's bedroom and allegedly washing them in a bathroom sink before returning the jeans to his room.
Authorities believe that Aiden Fucci wore these jeans while he allegedly butchered missing cheerleader Tristyn Bailey.
Investigators later found the jeans, which they say tested positive for blood residue.
Bailey was reported missing in the Durbin Crossing area, about 25 miles south of Jacksonville, on May 9. She was last seen at Durbin Amenity Center. Her friends and family said she was last seen wearing a white cheerleading skirt and a dark-colored shirt around 1:15 a.m.
Article continues below advertisement
Bailey's family reported her missing at 10 a.m. that day.
The Florida Department of Law Enforcement issued a Missing Child Alert for Bailey that evening. The Florida Missing Child Alert is an official distress alert to let the public know that a child is missing and believed to be in life-threatening danger. It is different from an AMBER Alert because the Missing Child Alert can be released when there is no indication of an abduction.
Article continues below advertisement
Fucci, a schoolmate who lived in the same neighborhood as Bailey, was initially charged with second-degree murder and was placed in the custody of the Department of Juvenile Assistance on May 10, Front Page Detectives reported.
Fucci appeared in court on May 11, and reportedly seem to "fight back tears as the judge formally charged him with second-degree murder," according to Action News JAX.
He was reportedly held for 21 days until the Florida State Attorney decided to charge Fuci as an adult.
Article continues below advertisement
Later, the Florida State Attorney's Office upped his charges from second-degree murder to premeditated first-degree murder, a capital felony punishable by life in prison or the death penalty, after an autopsy revealed Bailey reportedly sustained at least 114 stab wounds, according to media reports.
"Every time that arm went back and every time that arm went down, that was premeditation," State Attorney R.J. Larizza said in a press conference.
He said 49 of Bailey's wounds were found on her hands, arm and head. The medical examiner reportedly found the tip of a knife embedded in Bailey's scalp.
Article continues below advertisement
"There were defensive wounds on this young lady and she was fighting for her life," Larizza said in a statement.
Court documents showed police found video surveillance from the Durbin Amenity Center, which reportedly showed Bailey walking with Fucci shortly after 1 a.m. on May 9.
Investigators said a video shot from a nearby home's security camera reportedly showed the two walking together at about 1:45 a.m. The same video reportedly showed Fucci walking alone at about 3:27 a.m.
Article continues below advertisement
Detectives reportedly found the presence of blood on Fucci's clothes that were seen on home security surveillance videos recorded inside the boy's bedroom.
Investigators said Smith was with her son when authorities interviewed Fucci about Bailey's death.
Become a Front Page Detective
Sign up to receive breaking
Front Page Detectives
news and exclusive investigations.
More Stories