FPD INVESTIGATION: DUMPSTER SLASHER — IS THERE A SERIAL KILLER TARGETING BLACKS IN CHICAGO?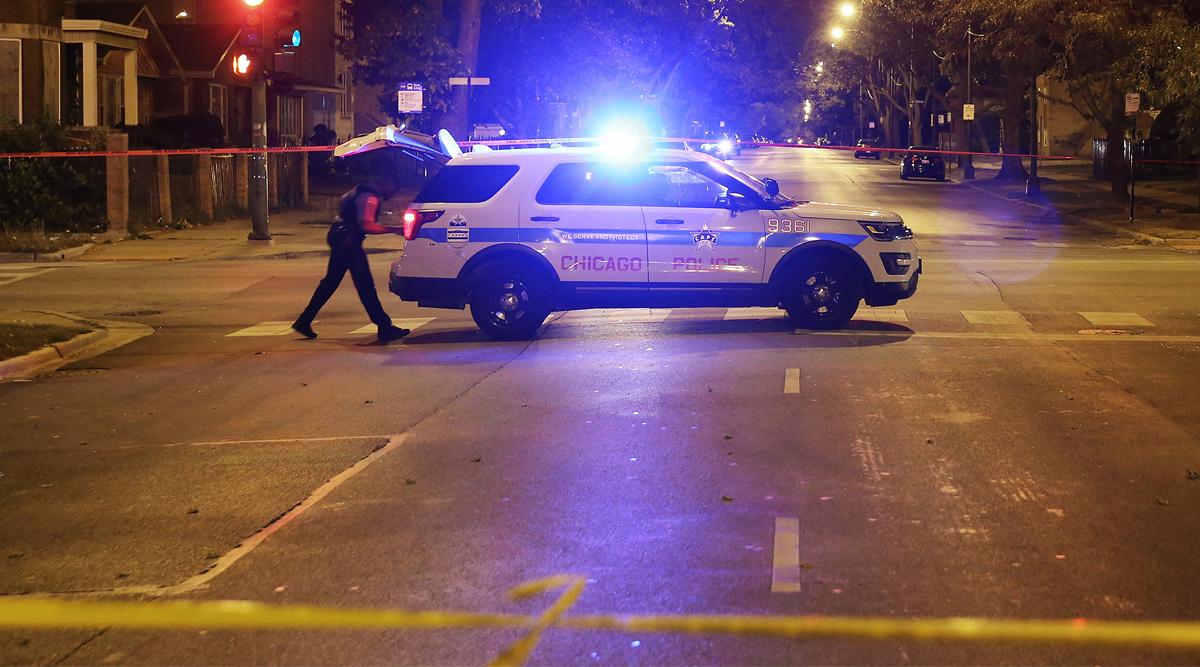 A harrowing pattern of dumpster-burning murders have led the citizens of Chicago to question whether a serial killer may be at play in the city. These murders involve both male and female victims. Often, gangs were believed to be involved.
Article continues below advertisement
Yet, as in the cases of Demetrius Griffin Jr. and Theresa Bunn, the crimes were not solved. The Chicago police and Mayor's Office failed to satisfactorily answer the demands for community justice and some among the local area where these incidents occurred failed to come forward. To eliminate inaccurate theories, one must exhaust all possibilities. So, in truth, is there a serial pattern in Chicago that has the criminal signature of burning the victim or the victim's corpse?
Of the similar murder patterns the Telegraph Local observed, there was no signature that indicated the murders were sexually motivated. Police had stated in the case of Theresa Bunn that they did not believe her death was connected to a serial murder based on DNA they had collected.
The trouble with that statement is the fact on record that Theresa Bunn was burned beyond recognition when she was discovered.
Article continues below advertisement
The Murder of Theresa Bunn
Theresa Bunn was a 21-year-old expectant mother at the time of her murder, citing the blog Our Black Girls. She was found dead on November 12, 2007.
She was found badly burned and strangled in a dumpster in Washington Park, Chicago. Theresa Bunn was African-American. She had a mental condition that made her family worry when she would go places alone.
The Chicago Tribune reported on November 16, 2007, that two other women were found within the same week as Theresa Bunn, murdered in a similar fashion as she had been. Bunn's body was identified through dental records. Her badly charred remains were discovered in a garbage bin in the 6100 block of South Prairie Avenue.
This area is shown to be a rundown area, whereas of 2020 there are no residential addresses in the vicinity. Google satellite capture from June 2019 shows that some buildings are missing, though it was unclear for how long. This area has been an area that has appeared on record for repeat homicides over the years. If it was as secluded or as criminally challenged in 2007 as it is now, then it served as the perfect scene to deposit a victim.
Article continues below advertisement
The Chicago Tribune also reported at that date that a little more than 24 hours after Bunn was killed, an unidentified woman was found two miles away in the 800 block of East 50th Street.
The Tribune stated that an accelerant was found on Bunn's body. There was no accelerant used on the body of the second victim. The second victim was likewise African American.
Bunn was a petite woman. She was 5 feet tall and weighed 135 pounds, citing the Tribune. Characteristics that may have made her easier to capture by a single suspect.
The blog also identified a pattern of 51 female strangulations between 2001 and 2007 in Chicago. Of all of these only 16 were ever closed or solved.
Article continues below advertisement
The Murder of Demetrius Griffin Jr.
He was 15 years old. The only son of his mother. A mild-mannered and small-framed boy who was on his way to college, schooling at the Steinmetz College Prep school, as was reported by a story on his life posted to ABC 6. Griffin was not affiliated with gangs, although local gangs had attempted to recruit him.
He was also not known to rebel against his curfew. This is why when he went missing on the night of September 16, 2016, his family was immediately alarmed.
Homicide Watch and the Laura Ingraham Show on Fox News both reported that Griffin Jr. met his end in a trash receptacle. The boy was burned alive in the bottom of a 55-gallon drum in an alley of the 5500 block of West Cortez Avenue, in Austin, Chicago, Il.
The current White Pages data states that there is currently no known residents or owners of the Unit #CO36 in this exact approximate location, which is also a mere two blocks from where young Mr. Griffin once lived.
Was the unit left empty after the grave celebrity of Griffin Jr.'s murder? Or could an empty residence imply a landing place for criminal activity in the area?
Article continues below advertisement
It is difficult to say because over the years there have been no leads in the investigation of the Griffin case. Fox News' Laura Ingraham shared a Town Hall on September 27, 2019, where the victim's mother, Polly Sykes, was interviewed. The Town Hall addressed that only 1 in 6 murders are actually solved in Chicago, as of 2019.
This is believed to be the worst homicide investigation clearance rate in the United States. For this reason, one may assume that any speculation from law enforcement regarding the murder of Demetrius Griffin Jr. can be subject to further review. Therefore, it is not entirely impossible that Griffin was murdered by suspects of higher criminology. One or more that may have fit the criminal profile of a serial murderer.
There are some details of the murder of Demetrius Griffin Jr. that could be noted to fit the criminal pattern of those others mentioned on this record. Aside from his gender, Griffin was a teenager and African American. The other victims who were found burned in this fashion were likewise predominately minorities, although the majority of these victims were female.
Article continues below advertisement
However, there may be a unique quality of Griffin that could have contributed to his victimology. Griffin's aunt, Rochelle Sykes, stated on Fox News Town Hall in 2018 that he was relatively small for his age, standing at approximately 4'7" and weighing roughly 97 pounds. Griffin's smaller stature may have made him more susceptible to having been overpowered by a single suspect, rather than a group.
Sykes likewise stated that no one in the community came forward, and so it is not known with total certainty if a group was seen at the site of the 5500 block of West Cortez Avenue on the night of the boy's murder.
Likewise, citing a later Fox News Town Hall with the family, Rochelle Sykes speaking on behalf of the boy's distraught mother who was also present, stated that he had been burned beyond recognition. She stated that she had to order dental records to identify that he was, in fact, Demetrius Griffin Jr.
Due to the condition of the body, the boy did not have a funeral service. He was transported from the morgue and directly to the burial. The family later held a memorial service.
Article continues below advertisement
Because of the nature of his remains, it is a possibility that any defensive markings that may have arisen from a struggle were no longer discernible from other damage on the body. Because no information regarding a toxicology report was quoted directly on record, it is unknown if Griffin could have been exposed to a substance and therefore rendered compliant.
The Facebook blog "Today in Horror History" made a note that the coroner's office took over a month to determine the cause of his death. He had died as a result of the burns. For this reason, it is safe to assume that his remains could have been altered enough by fire damage that the medical examiners would have great difficulty determining whether or not he had been compliant or unconscious and therefore offered no struggle to be seen or overheard.
If the boy's murder fits the criminal pattern of the others on this list, then there may have been some instances of strangulation. Even partial strangulation may have led to his being incapacitated. The lack of information regarding other potential injuries on Griffin's remains due to the degree at which he was burned would eliminate any facts surrounding that from the official record. If we infer the possibility, then we could group Griffin with the other murders on this list.
Article continues below advertisement
The fact that no one came forward regarding the murder scene is also a bit odd. It could imply that other members of the community did not wish to be associated with the crime for not stepping forward. Yet, it is entirely possible, that some means of incapacitating the teenager would have made the murder less drawing of local attention.
Likewise, even though Griffin did die as a result of the burns, there is no clear indication based on the investigation's public record whether the fire was lit inside the 55-gallon barrel or whether he was partially burned and then disposed of in the barrel. This fact could alter the scene of his murder, thus detracting from the potential of witnesses.
It requires further statistical comparison based on the Federal Bureau of Investigation's behavioral analysis of crimes in this category to confirm or deny the validity of this inference.
The site where Demetrius Griffin Jr. was found and the site where Theresa Bunn was found is an area 23-minutes drive apart. It is also 23 minutes from the site where the second female victim was found in November 2007. This implies a murder pattern spanning between 2007-2016 at least. The offender does not appear to be a sexual murderer, as there are no reports of sexual assault. That, however, may have been difficult to determine by the amount of fire damage to the victims in these two cases.
Likewise, the victims don't fit a gender pattern, as two are female and one is male. Yet, at least two of these victims were small of build, and they were all African American, which could imply a preferential pattern for race and size.
Article continues below advertisement
The Murder of Kelena Hamilton
Kelena Hamilton was 37 at the time of her death. She was found dead in a trash can in the 2700 block of N. Laramie Avenue. She differs from the pattern in that she was not known to have been lit on fire at the time.
Her exact injuries were also not stated clearly on record when NBC reported this story on May 20, 2017. Hamilton's body was discovered in an area that is six minutes' drive from where Demetrius Griffin, Jr. was discovered in September 2016.
Note, Chicago Sun-Times and CBS Local reported that Hamilton was 33 at death. However, this might be incorrect. There are public records in the form of arrest records for one Kelena Hamilton in Chicago who would have been 32 in 2012. If this was the same Hamilton, then the first recorded age of 37 at the time of death in 2017 is factual.
From other recorded arrest records, assuming this is the same Kelena Hamilton as the one who was found, we know that she was African American. Citing Mugshots.com description, Hamilton would have also been petite, at 5'5". Size and race fit the victim pattern of the other murders.
Article continues below advertisement
The Murder of Rachel Catledge
In September 2019, almost precisely three years after the murder of Demetrius Griffin Jr., an unidentified female victim was found partially burned and strangulated in the 14000 block of Atlantic Avenue in Riverdale, Chicago, citing CBS Local. The female was suspected to have been a missing person's case.
The distance between the dumpsite of the woman murdered on Atlantic Avenue and the site where the body of Demetrius Griffin Jr. was found is an area of 35-minute drive time, citing Google satellite data. While it may not indicate a pattern, Whitepages lists no known residents of the 14000 block of South Atlantic Avenue.
Article continues below advertisement
Based upon satellite imagery, there are no residents on this street, which is flush with a wooded area. However, there are residential properties on the nearby corner of West 141st Street and the surrounding area. There are no listed residents in this immediate area, though no zoning information could be found to determine if these properties had been torn down, reconstructed, or evicted.
The nearby 14014 S. Atlantic Avenue apartments show at least two empty units, Unit 1 and Unit 2. Empty residences would possibly provide the right cover for isolation of elaborate crime.
The Riverdale murder victim was later identified as Rachel Catledge, aged 34 at the time of death. Rachel Catledge, like others on this list, was pregnant at the time of her murder, citing NBC Chicago on September 9, 2019. A person of interest was arrested in her murder. He was not officially charged with her murder, stated NBC Chicago. T
he man arrested was the father of Catledge's unborn child. Yet, because no official charges were filed against him, it is unclear if the prosecutors knew with absolute certainty that he was the one who victimized Catledge.
Article continues below advertisement
The record states that Catledge was strangulated and then set on fire. She was not alive at the time of the fire. This would deviate from the death of Demetrius Griffin Jr. who was alive when he was burned and was not officially reported to have been strangled.
The area where Catledge's remains were found was a 20-minute drive from the area where Theresa Bunn's remains were found in 2007.
Murder of Park Forest Woman, 1997
If one continues to observe the pattern, one finds that the same criminal pattern dates all the way back to 1997, as reported by the Chicago Tribune. An 18-year-old Park Forest woman was found set ablaze in a plastic, black city-issued garbage can in the 9000 block of South Luella Avenue. This area was surrounded by single-family homes in 1997.
Article continues below advertisement
Where the woman fits the pattern is her size and race. She was a petite African American woman between 5'1" and 5'4" tall. She was also a missing person at the time she was found dead. The police had been in contact with her family and stated that she had gone to visit friends when she never came home.
Likewise, her pattern fits the victimology of the others - she was clothed at the time of death and burned beyond recognition. Likewise, there were no arrests in her case, at least as of 1997. Where she differs from the pattern is that she was believed to have died of blunt trauma to the head.
It was unclear if the woman's body had an accelerant used on it. The record stated that the garbage cans used by the city of Chicago in 1997 were petroleum-based and as such were highly flammable.
It is unclear if anyone was ever arrested in this murder post-1997 era.
The area where this victim was found was 29 minutes drive from the area where Demetrius Griffin Jr. was found nearly 20 years later.
Article continues below advertisement
Possible patterns regarding "serial killer X"
If this is the same offender, in most of the cases, save for the murder of Demetrius Griffin, Jr. and older victims of the 51 strangulations Our Black Girls noted, the victims have also aged in a natural progression.
The Park Forest Woman was 18. If we assumed that the same offender is choosing these victims and that he is choosing from a pool roughly his own age, then one could assume he was roughly 18-20 at the time of the Park Forest murder.
Ten years later, when 21-year-old Theresa Bunn was killed, that would make the potential killer 28 approximately. In 2017, Kelena Hamilton would have been 37. If the same offender was choosing the victims, he would have age-progressed to approximately 37-38 years at this date as well. In 2019, when Rachel Catledge, age 34 was killed, the same offender could be approximately 40 years old, if he aged along with his victims, making him within the same six-years of age as Catledge.
We say "he" because it is statistically more likely, based on data from the Federal Bureau of Investigation, that the offender would be male. But the true identity of the victims' killer is still very much unknown.
Become a Front Page Detective
Sign up to receive breaking
Front Page Detectives
news and exclusive investigations.
More Stories