MONTHS AFTER A FEDERAL JUDGE'S SON WAS GUNNED DOWN, HERE'S HOW OFFICIALS ARE TRYING TO PREVENT IT FROM HAPPENING AGAIN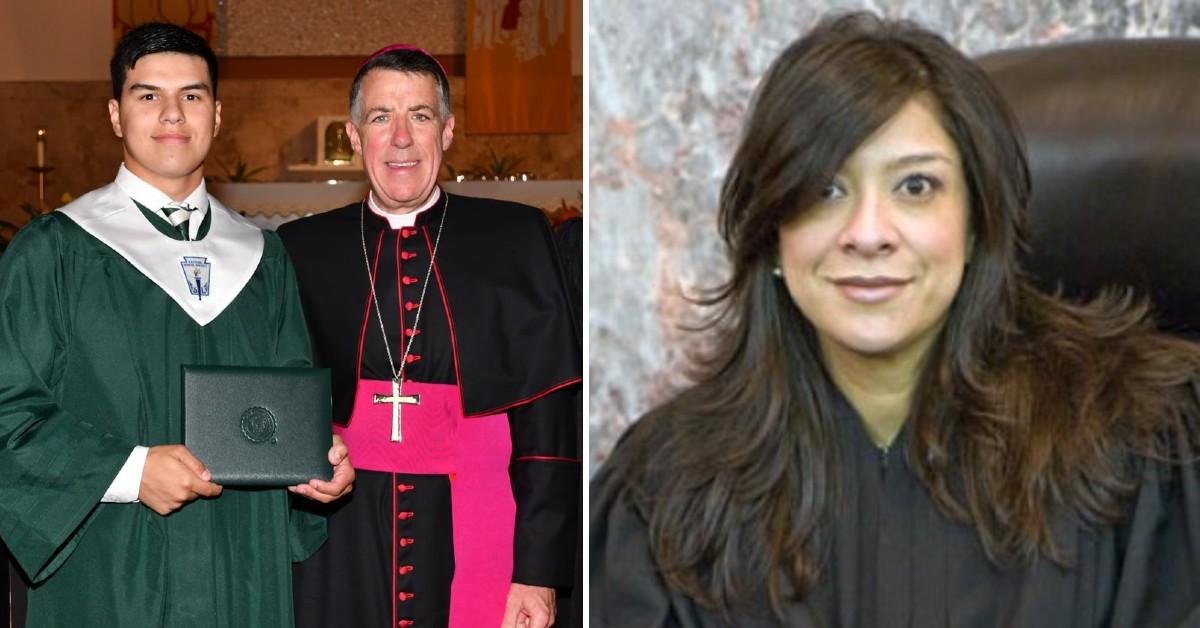 A fake-FedEx delivery driver approached the home of U.S District Judge Esther Salas' home in Brunswick, New Jersey, on a warm July evening. The doorbell rang, and Mark Anderl, the husband of federal Judge Esther Salas, opened the door and was shot immediately.
Article continues below advertisement
Running to help his dad, Daniel Anderl, 20, was also shot in the chest. According to the New York Daily News, he died on the scene while Mark was critically wounded and taken to the hospital. Judge Salas was in the basement during the attack and was not injured.
Authorities later identified the gunman as Roy Den Hollander, a self-proclaimed anti-feminist advocate, notorious for his rage-filled description of women in his books. He had dressed up a delivery driver to approach the judge's home and pull off his attack.
Article continues below advertisement
According to NBC New York, Den Hollander blasted Judge Salas in one of his books. He described her as lazy and incompetent, and her only achievement was being a cheerleader. Fixated on Salas' life, he further described her childhood as a product of being raised by a poor, single mother and abandoned by her father.
Salas was appointed to the federal bench ten years ago by President Barack Obama. She became the first Latina woman federal judge in the district of New Jersey. Den Hollander had appeared before her in a suit challenging the military's only male draft law, which he claimed was an attack and violation of men's rights.
His anger apparently led him to kill.
Article continues below advertisement
Authorities also identified Den Hollander as the gunman in Marc Angelucci's assassination, in California, on July 11, 2020; nine days before the attack on Judge Salas' family, according to media reports.
Article continues below advertisement
The motive for the killing of Angelucci was not known initially since Angelucci was also a men's rights activist and had represented the National Coalition for Men in its challenge of the military's only male draft law.
However, a friend of Angelucci and fellow men's rights activist, Paul Elam, believed Den Hollander acted in a jealous rage. Den Hollander saw Angelucci's successful representation for the organization as an encroachment.
"He viewed it as something proprietary to him and an intrusion into his space. He was livid," Elam said, according to CNN.
Article continues below advertisement
A week later, Den Hollander went and attacked the judge and her family at their home. His spree gained national headlines. Den Hollander,72, was found dead in his car with a self-inflicted gunshot wound in North New York a day after the attack on the judge's family.
LEGISLATIVE CHANGES
Months after the shootings, state legislatures hoped to offer more protection to officials so others don't fall to a fate similar to Judge Salas.
On Nov. 11, 2020, New Jersey Gov. Phil Murphey signed into law legislation called 'Daniel's Law" in honor of Daniel Anderl.
Article continues below advertisement
According to the governor's office, the bill prohibits government agencies, individuals or businesses from publishing on the internet the home address or unpublished home telephone number of any active or retired judge or any active or former prosecutor in New Jersey.
Though the bill does not protect federal judges, Salas was present at the signing and thanked the governor and the state legislature. She hoped the law would be a stepping stone towards the protection of federal judges in the country.
Article continues below advertisement
In that regard, New Jersey Sen. Bob Menendez (D-N.J.) and Cory Booker (D-N.J.) also introduced "The Daniel Anderl Judicial Security and Privacy Act of 2020" bill in the U.S. Congress.
The bill, which covered similar and broader privacy protection for federal judges, included immediate family who share their residence, including home addresses, Social Security numbers, contact information, home or other address displayed on property tax records, vehicle information, photos of their vehicle and home, and the name of the schools and employers of their immediate family members.
The bill was co-sponsored by Sen. Lindsey Graham (R-S.C.), the chairman of the senate judiciary committee. It had expected to receive bipartisan support but had met opposition from Senator Rand Paul (R-Kent.) and some senate members.
The bill has yet to gain any traction in Congress and appears to have stalled at the committee level.
Become a Front Page Detective
Sign up to receive breaking
Front Page Detectives
news and exclusive investigations.
More Stories