He became known as the 'Hot Felon' because of a mugshot. But, what happened afterward?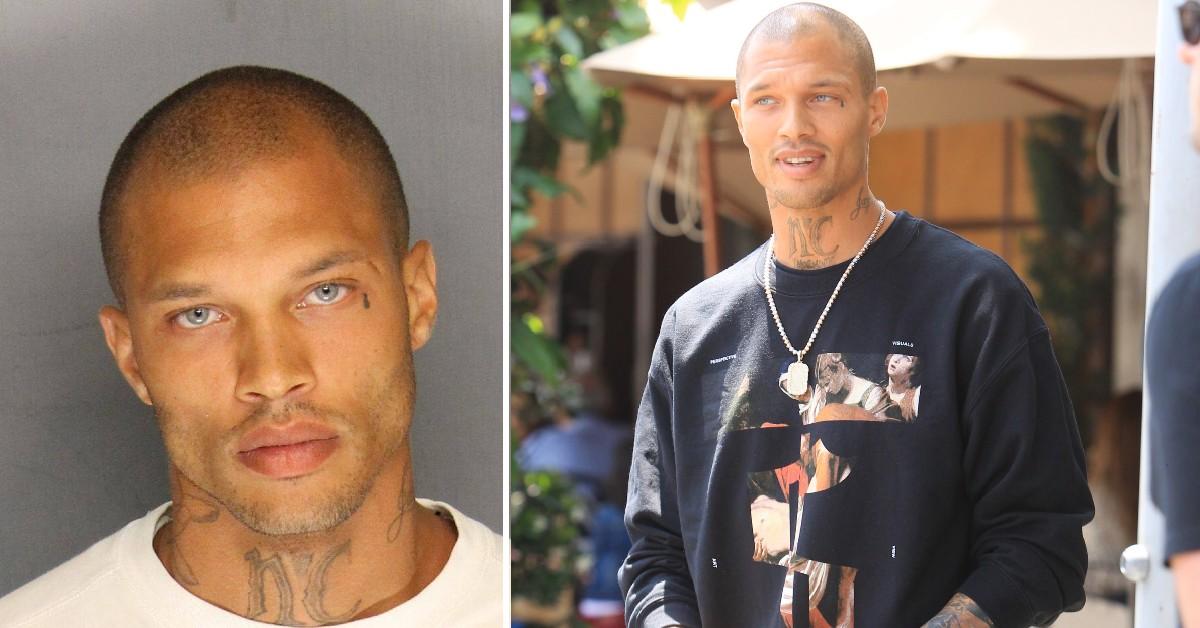 Since the explosion of social media in the last decade, just about anyone can become famous from a picture or video. For Jeremy Meeks, his viral mugshot led him to receive several modeling opportunities and a heavily publicized relationship with an heiress.
Here's how Meeks became known as the "Hot Felon."
Article continues below advertisement
According to ABC News, since 2002, Meeks has been arrested several times for theft and gun-related charges, even receiving a two-year prison sentence for grand theft of a person.
In 2002, Meeks was charged with robbery and assault after attacking a 16-year-old when he was 18 years old. Police arrested Meeks for alleged identity theft in 2005, but he did not face any jail time. In the same year, a court convicted Meeks for theft and later in 2007 for forgery. He served less than 75 days in total for both charges.
Seven years later, Meeks became viral over his mugshot.
Article continues below advertisement
On June 18, 2014, the FBI and the U.S. Bureau of Alcohol, Tobacco, Firearms & Explosives arrested the convicted felon as part of a gang sweep in Stockton, California. Before arresting Meeks and associate Terry Bailey, authorities executed a search warrant in the home, finding an illegal handgun and extended magazines for the weapon. According to the LA Times, the district attorney's office believed both Meeks and Terry were a part of the Northside Gangster Crips.
Following the arrests, the Stockton Police Department posted Meeks's mugshot to their Facebook page. The felon became famous overnight, as the picture gained several thousands likes and comments, with many women offering to pay his $1 million bond.
While still in jail, Meeks conducted several interviews, in which he stated that his wife, Melissa Meeks, wasn't too happy about the attention he received from the Facebook post.
Article continues below advertisement
A federal judge sentenced Meeks to 27 months in prison for one count of possessing a gun as a felon on Feb. 5, 2015. The judge ordered the convict to serve 500 hours in the Bureaus of Prisons Substance Abuse Treatment Program. According to several reports, while serving his time in prison, Meeks received several offers from modeling agencies.
After serving 13 months of his sentence, Meeks was released from prison on March 8, 2016. However, after his release, he was ordered to live in a halfway house for several weeks before returning to society.
Article continues below advertisement
Since his release from the halfway house four years ago, Meeks has become an international fashion model, traveling across the globe to attend fashion shows. However, his marriage to his wife and mother of his kids ended in 2018.
A court allowed for joint custody of the couple's kids and ordered Jeremy to pay $1,000 per month in child support. Melissa waived spousal support and was allowed to keep the house and her vehicles.
The divorce came shortly after Meeks's new fiancee, Chloe Green, gave birth to their son, Jayden. Many sources allege that his relationship with the Topshop heiress led to the end of his marriage.
In August 2019, Meeks and Green ended their two-year relationship for unknown reasons.
Today, Meeks tries to stay out of the limelight but continues to pursue his modeling career. Meeks has mentioned in several interviews that he's put his criminal history in the past and looks forward to more modeling and even acting opportunities in the future.
Become a Front Page Detective
Sign up to receive breaking
Front Page Detectives
news and exclusive investigations.
More Stories