Suspect out on bail for murder back in jail after Bengal tiger escapes Texas home. Feline still at large.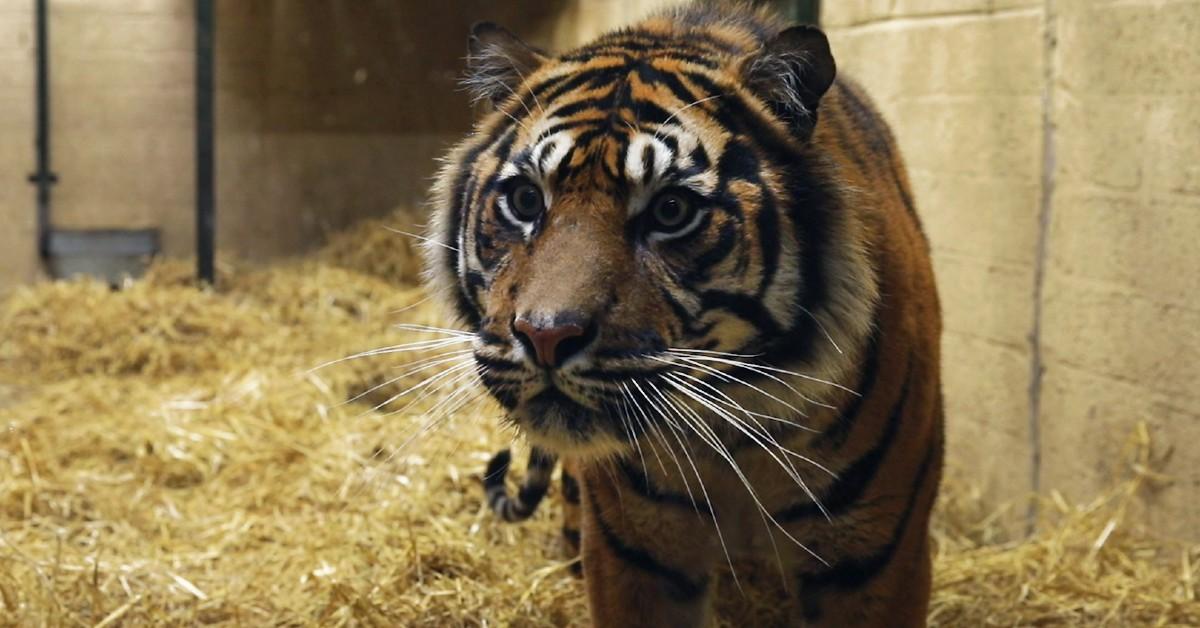 Police involved in a day-long search for a man out on bond for a 2017 murder nabbed the suspect and arrested him not in connection with that crime, but rather for a bizarre incident involving a Bengal tiger.
Around 8 p.m. May 9, the tiger was spotted roaming free in a West Houston neighborhood.
Article continues below advertisement
"It was very scary because this is a very family-oriented community, and you see lots of kids and [babies] strolling, and people taking their pets, dogs, and walking them," Jose Ramos told KHOU. "So … the first thing I thought was to alert the community so everybody would stay home."
Waller County Sheriff's Deputy Wes Manion saw the alert about the tiger and headed to the neighborhood to verify if it was real. On the scene, Manion drew his weapon and attempted to move the animal.
Article continues below advertisement
"Last thing I wanted to do was shoot the tiger," Manion told KHOU. "It didn't seem super aggressive."
During the dramatic standoff, Victor Hugo Cuevas, 26, left his home and told onlookers he would "get him."
He then allegedly put the tiger into a white Jeep Cherokee and drove away before police could question him about the feline, which appeared to be boarded at the residence Cuevas was renting.
"There was a brief pursuit and the man got away with the tiger," Ronald Borza, a commander with the Houston Police Department's major offenders division, said at a press conference shared on social media.
Article continues below advertisement
Borza noted the tiger "looked like he was living pretty well" and was "taken care of" but cautioned that "you never know when that animal is going to turn on you."
The next day, May 10, authorities caught and arrested Cuevas, charging him with felony evading arrest and fleeing from police, The Washington Post reported.
The tiger is still at large.
Houston bans the ownership of some wild animals, including tigers, but the rules aren't always followed.
"It's not just that enforcement is lax; the owners of those animals make great strides to keep their presence secret," noted Patti Mercer, president of the Houston Society for the Prevention of Cruelty to Animals.
Article continues below advertisement
The suspect's lawyer, Michael Elliot, denied his client owned the Bengal tiger. "He is not guilty of any crimes, he hasn't done anything wrong," Elliott said at a press conference covered by KHOU, claiming there were a "lot of misunderstandings" and "miscommunications" regarding the incident.
Online records show Cuevas is currently being held in Fort Bend County Jail in Richmond, Texas.
Become a Front Page Detective
Sign up to receive breaking
Front Page Detectives
news and exclusive investigations.
More Stories