EX-PRESIDENT DONALD TRUMP CLAIMS ANTI-TRUMP RIOT STORMED CAPITOL AS HE LAYS OUT IMPEACHMENT DEFENSE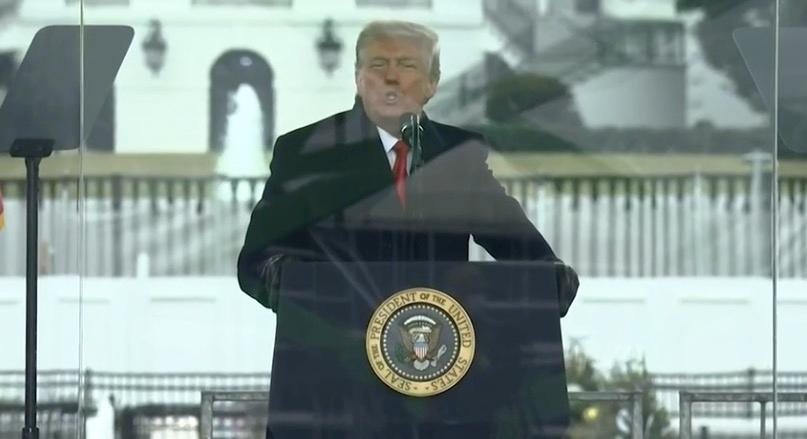 Former President Donald Trump and his lawyers claim in a new legal filing that a number of the rioters who stormed the Capitol on Jan. 6 were anti-Trump and anti-government.
This is just one of the defenses that President Trump's legal team put forward in a pre-trial brief submitted on Monday morning just one day before the former commander-in-chief faces his second impeachment trial in the Senate.
Article continues below advertisement
The trial is expected to start on Tuesday just weeks after the U.S. House impeached Trump on a charge of incitement of insurrection. It was the second time Trump was impeached during his presidency. This last trial did not end with Trump being removed from office as Republicans held the majority in the Senate. This trial, however, the Democrats hold the majority.
Trump's brief attempts to back up the claim of anti-Trump and anti-government protestors - which were sourced from Gateway Pundit - by laying out a questionable timeline. The filing states the Capitol was already been breached 19 minutes before President Trump finished speaking at The Elipse. It goes on to state that the Elipse is 1.6 miles from the Capitol, when in fact it is less than 1.5 miles.
The filing also fails to note that President Trump urged those in attendance to start making their way to the Capitol at around 12:17 p.m., a full hour before he finished his speech. The first barricades were then broken at around 12:53 p.m., just before a joint session of Congress convened in the House chamber to start the process of certifying the election that would eventually declare Joe Biden as the new president.
Article continues below advertisement
The Gateway Pundit piece which the defense is drawing from claims that one man organized multiple groups inside the Capitol that day. "Contrary to allegations leveled by the political left and their allies in the mainstream media, anti-Trump groups primarily perpetrated insurrection on the U.S. Capitol on Jan. 6," that piece reads.
Lawyers for President Trump also scoffed at the notion that his rhetoric was delivered with the aim of citing an attack on the Capitol.
"President Trump did not direct anyone to commit lawless actions, and the claim that he could be responsible if a small group of criminals (who had come to the capital of their own accord armed and ready for a fight) completely misunderstood him, were so enamored with him and inspired by his words that they left his speech early, and then walked a mile and a half away to 'imminently' do the opposite of what he had just asked for, is simply absurd," reads the memorandum.
Article continues below advertisement
The key defense that the former president and his legal team preview in their pre-trial filing is that Congress has no power to impeach an individual who is no longer in public office. This is already what many of the senators have stated in interviews over the past few weeks, sharing their beliefs with the public on a near-daily basis since both sides are not even attempting to play the role of impartial jurors.
Article continues below advertisement
A vote on the constitutionality of impeaching a former president is likely to come up for a vote early in the proceedings. Democrats will be able to move the trial along at which point both sides will have 16 hours to deliver their arguments. President Trump is being represented by Bruce Castor, David Schoen, and Michael T. van der Veen.
On the other side, arguing for the impeachment of the president will be Representatives: Jamie Raskin (D-MD), Diana DeGette (D-CO), David Cicilline (D-RI), Joaquin Castro (D-TX), Eric Swalwell (D-CA), Ted Lieu (D-CA), Stacey Plaskett (D-VI), Joe Neguse (D-CO) and Madeleine Dean (D-PA). The trial should wrap up early next week, and there will be a small break in between out of respect for Mr. Schoen so that he may observe the Sabbath.
Become a Front Page Detective
Sign up to receive breaking
Front Page Detectives
news and exclusive investigations.
More Stories