He Killed An Iowa Cop After Refusing To Pull Over. He Claimed Self-defense, But The Jury Didn't Buy It.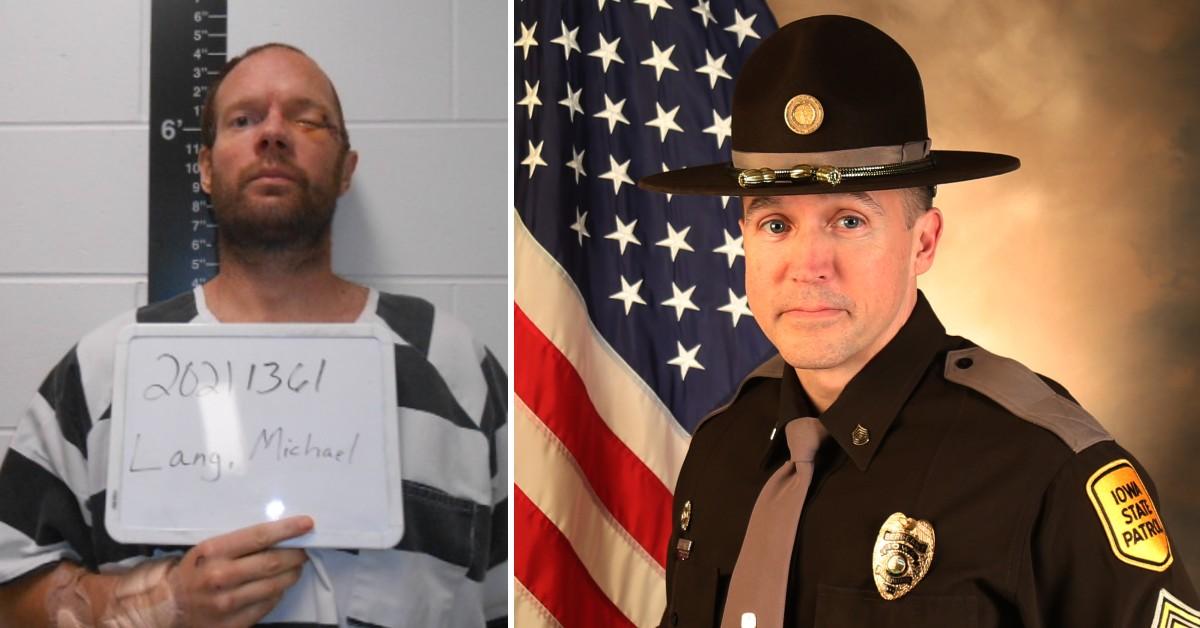 An Iowa man killed a cop after refusing to pull over and then claimed self-defense. The judge threw the book at him instead.
Recently, Hamilton County District Court Judge Joel Dalrymple sentenced Michael Lang, 42, to a mandatory life sentence without the possibility of parole for the shooting death of Iowa State Patrol Sgt. Jim Smith.
Article continues below advertisement
Lang was found guilty and convicted of first-degree murder, attempted murder and assaulting a peace officer.
On April 9, 2021, Grundy Center Reserve Officer Cody Niehaus tried to pull the defendant over after speeding through town. Then, the 27-year patrol veteran joined Niehaus on a chase after Lang to his home, where he barricaded himself. Initially, Smith tried to arrest the defendant by gaining entrance through his kitchen from the home's garage.
Article continues below advertisement
Then, Lang fatally shot Smith with a shotgun. Soon, authorities exchanged several gunshots with Lang after failed attempts to negotiate his surrender. As a result, Lang was critically wounded and taken into custody.
Despite the move of Lang's trial from Gundy Center, Iowa, to Webster City, Iowa, due to the intense publicity garnered by the case, his defense lawyer Aaron Hawbaker filed a motion for a new trial, and the verdict vacated. He argued the defendant was not allowed to claim self-defense based on the "Stand Your Ground" law.
Hawbaker intended to argue that his client was justified in using deadly force.
Article continues below advertisement
Dalrymple dismissed the motion for lack of evidence to support the claim. In addition, the judge expressed his discretion to sentence Lang to the harshest penalty possible after describing how the defendant laughed and joked over Smith's body before his arrest.
"You demonstrated evil and malicious intent and you did that with every victim," said Dalrymple, according to the Des Moines Register.
Article continues below advertisement
The judge sentenced Lang to additional 30 years in prison for the attempted murder and assault charges. The defendant was ordered to serve the sentences consecutively.
At the sentencing hearing, Smith's family addressed Lang by extending God's mercy and forgiveness to him, despite their struggle to forgive him.
"This level of mercy is beyond our comprehension. God loves you, and just as my dad lived out, each of you deserves to accept it, and that includes Mr. Lang. As my dad said there still remains consequences for your actions on earth, you do deserve to be punished for your evil, but I know, and my dad knew, that eternally after life on earth God's grace was given to all who choose to accept it," said the victim's son, Zander Smith during the victim impact statement, according to KHQA.
"If you quit pursuing evil and instead pursue Jesus, you can avoid the eternal punishment that is hell. I know without hesitation that my dad is in heaven now and that I will one day see him again. And that does bring me peace. I am trying to learn how to forgive you, but I know if you repent, God will forgive you in an instant. For the sake of my dad, each of you have a choice to make today. And that includes you, Mr. Lang. Each of you can choose to turn to God, or continue to sit in the judgment seat. Thank you."
Become a Front Page Detective
Sign up to receive breaking
Front Page Detectives
news and exclusive investigations.
More Stories