The many arrests of legendary singer James Brown — and an infmaous mugshot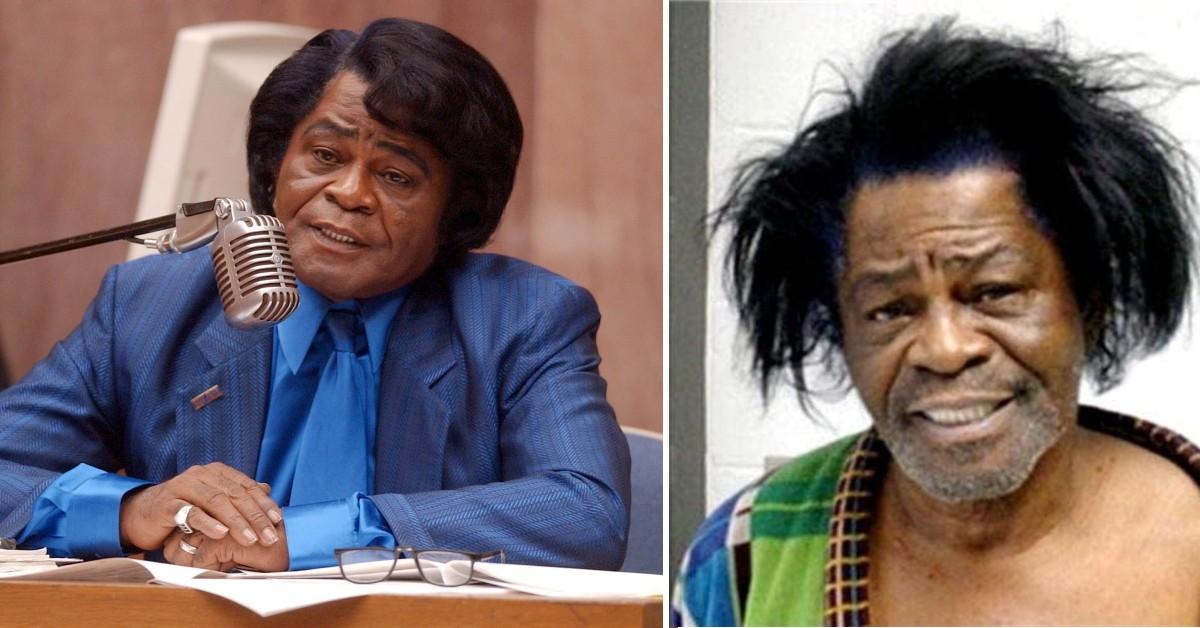 A legend in the music industry, James Brown was an eclectic yet troubled soul singer. While he made timeless hits, such as "I Feel Good," "It's A Man's World" and "Get Up Offa That Thing," Brown's constant troubles with authorities often overlooked his successful career.
A look back at the soul singer's past shows several infamous arrests and legal battles before his death.
Article continues below advertisement
They started early in Brown's life. At 15 years old, the singer ran into trouble for breaking into vehicles, marking his first known arrest.
Decades later, in September 1988, police arrested Brown in connection to an aggravated assault. While high on PCP, Brown entered an insurance seminar, accusing the attendees of using the restroom in his office. Wielding a shotgun and a pistol, Brown told everyone to leave the building.
Article continues below advertisement
Shortly after entering the building, Brown took off in his pickup truck in an attempt to flee the police. According to the New York Times, the car chase crossed over two states, ending when police shot out three of his tires, causing Brown to crash into a ditch. Brown claimed he did not stop because he feared for his life.
For that incident, a court sentenced Brown to six years and six months in prison on charges of failing to stop for police, aggravated assault and possession of drugs, as reported by HISTORY. Halfway into his prison stint, Brown was released, staying out of trouble for a few years.
The incident did little to end his music career or his legacy.
Article continues below advertisement
In 1998, police discovered marijuana and weapons in Brown's home when deputies came to get the singer for a "mental transport" on a South Carolina's judge's order. Police charged him with the use of a weapon while under the influence of drugs. Brown completed a 90-day drug program as a result of that arrest.
In 2003, Brown was pardoned on the charges related to the 1988 and 1998 cases.
A former employee of Brown's, Lisa Agbalaya, sued the singer in 2000 for sexual harassment and wrongful termination. While the jury at the trial ruled against the harassment charges, they believed Agbalaya was wrongfully terminated in retaliation due to Brown's previous claim of sexual harassment.
Article continues below advertisement
A judge ordered Brown's company, the New James Brown Enterprises Inc., to pay Agbalaya $40,000.
On Jan. 28, 2004, police arrested then 70-year-old Brown on domestic violence charges against his fourth wife. According to Women's eNews, Brown pushed his 34-year-old wife, Tomi Rae Brown, during an argument in their shared home in Beech Island, South Carolina. Brown shoved Toni, a former back-singer for him, to the bedroom floor.
Article continues below advertisement
Emergency services took Tomi to a nearby hospital to be treated for scratches and bruises on her arm, as well as a hip injury, according to Rolling Stone. It wasn't the only time he was accused of domestic violence in his life, accusations that may have prevented him from receiving some of entertainment's top awards.
Brown's most infamous mugshot comes from the 2004 arrest, showing the disheveled singer with a messy head of hair and what seems to be a forced smile. It's a mugshot that comes up when the singer's name is typed into search engines.
Some results are from him on stage. More common, though, is Brown in front of a police camera.
Brown's tumultuous life filled with music, drugs and violence ended on Dec. 25, 2006, when the legendary singer died from heart failure at 73. His obituary discussed his life, including his music journey, as well as his multiple run-ins with authorities.
Become a Front Page Detective
Sign up to receive breaking
Front Page Detectives
news and exclusive investigations.
More Stories