Hollywood Mystery: The Baffling Disappearance of a Young Starlet and the Search to Find Her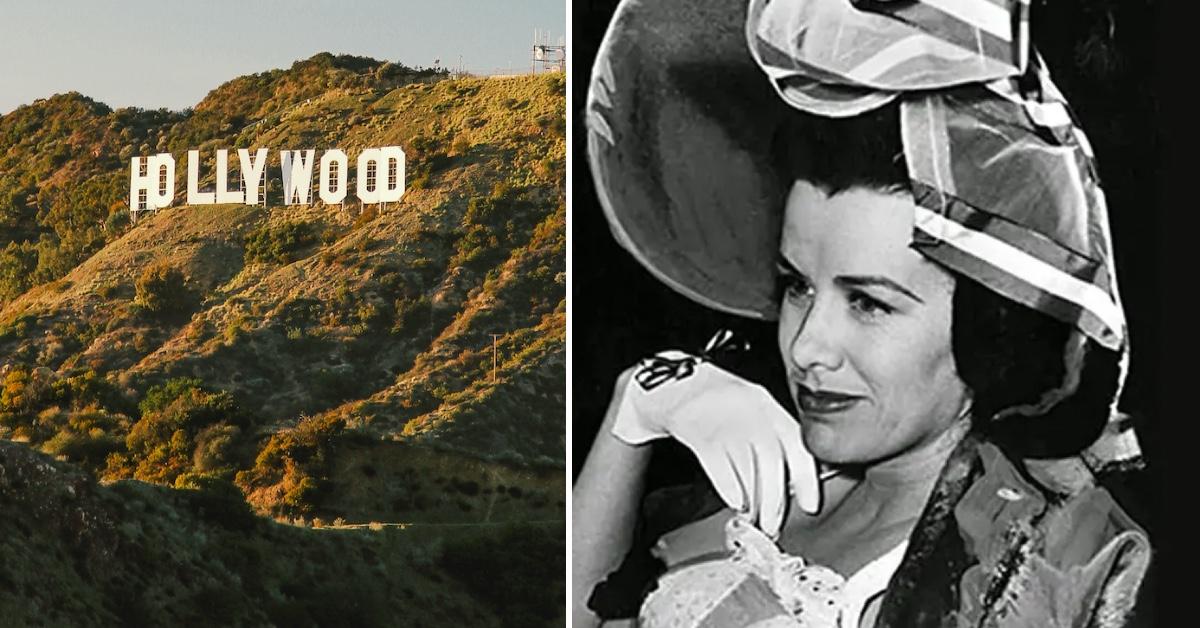 Los Angeles is the city of broken dreams. For every vision of silver screen fame, there are a thousand stories of those same dreams being shattered, talent cast aside, or never even getting the one-shot that they crave. Hollywood is littered with tragedy and haunted by death, none more so during the golden age of film noir.
The 1940s were a dark time in Hollywood and Los Angeles at large, with crime running rampant and a corrupt Los Angeles Police Department seemingly unable or unwilling to put a stop to the senseless violence that had cost innumerable lives, many of them women.
Article continues below advertisement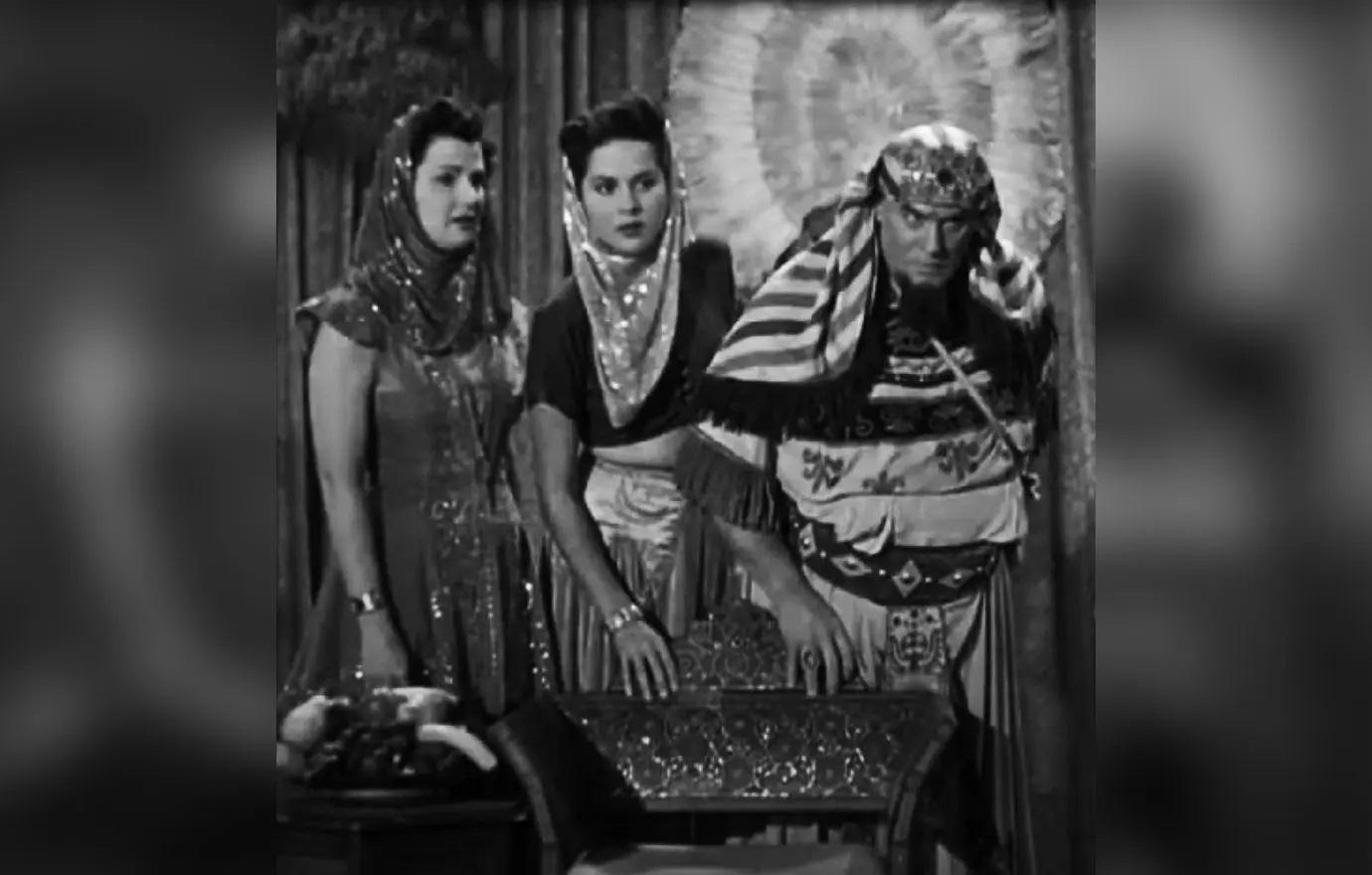 World War II caused weapons and broken men to flood the streets alongside pimps, gangsters and anyone willing to pay a bribe. The underworld ruled the roost. That is not to say this dark underbelly completely enveloped the city, with many citizens going unhindered about their daily lives and some actually finding the success that many craved.
One of these women was Jean Spangler, who at 26 was finding her feet amongst the stars, appearing with the likes of Kirk Douglas and Betty Grable. However, one fateful day in October of 1949, she would vanish into thin air, never to be seen again.
Article continues below advertisement
With Douglas' name raised in investigations alongside the specter of back-alley abortions, the vanishing of Spangler is one of the biggest mysteries in Hollywood's long history.
WHO WAS JEAN SPANGLER?
Spangler was born on Sept. 2, 1923, in Seattle before her family moved to Los Angeles. She attended Benjamin Franklin High School just seven miles from downtown and during her teenage years, she danced at the Earl Carroll Theatre and Florentine Gardens, a club where the Black Dahlia, Elizabeth Short, would one day work.
In 1942, she married Dexter Benner, and they had a daughter together in 1944, Christine. The marriage was not a happy one, and the couple divorced in 1946, Spangler accusing her husband of cruelty.
Article continues below advertisement
Despite this, Benner gained temporary custody of their daughter and claimed that his now ex-wife "preferred parties to priorities." He denied Spangler access to the child on 23 occasions and even threatened that he would "fix it so you'll never get to see her."
After a long battle that only ended in 1948, Spangler was awarded custody.
That same year, Spangler made her movie debut with a part as an extra in "The Miracle of the Bells," produced by RKO and starring Frederick MacMurray. More roles as an extra would follow over the coming years as she began to establish herself, appearing in scenes for "When My Baby Smiles at Me" and "Chicken Every Sunday."
She finished filming for "Young Man with a Horn," during which she appeared in a scene with the young Kirk Douglas. The ensemble cast also included Lauren Bacall, Doris Day and Hoagy Carmichael.
Article continues below advertisement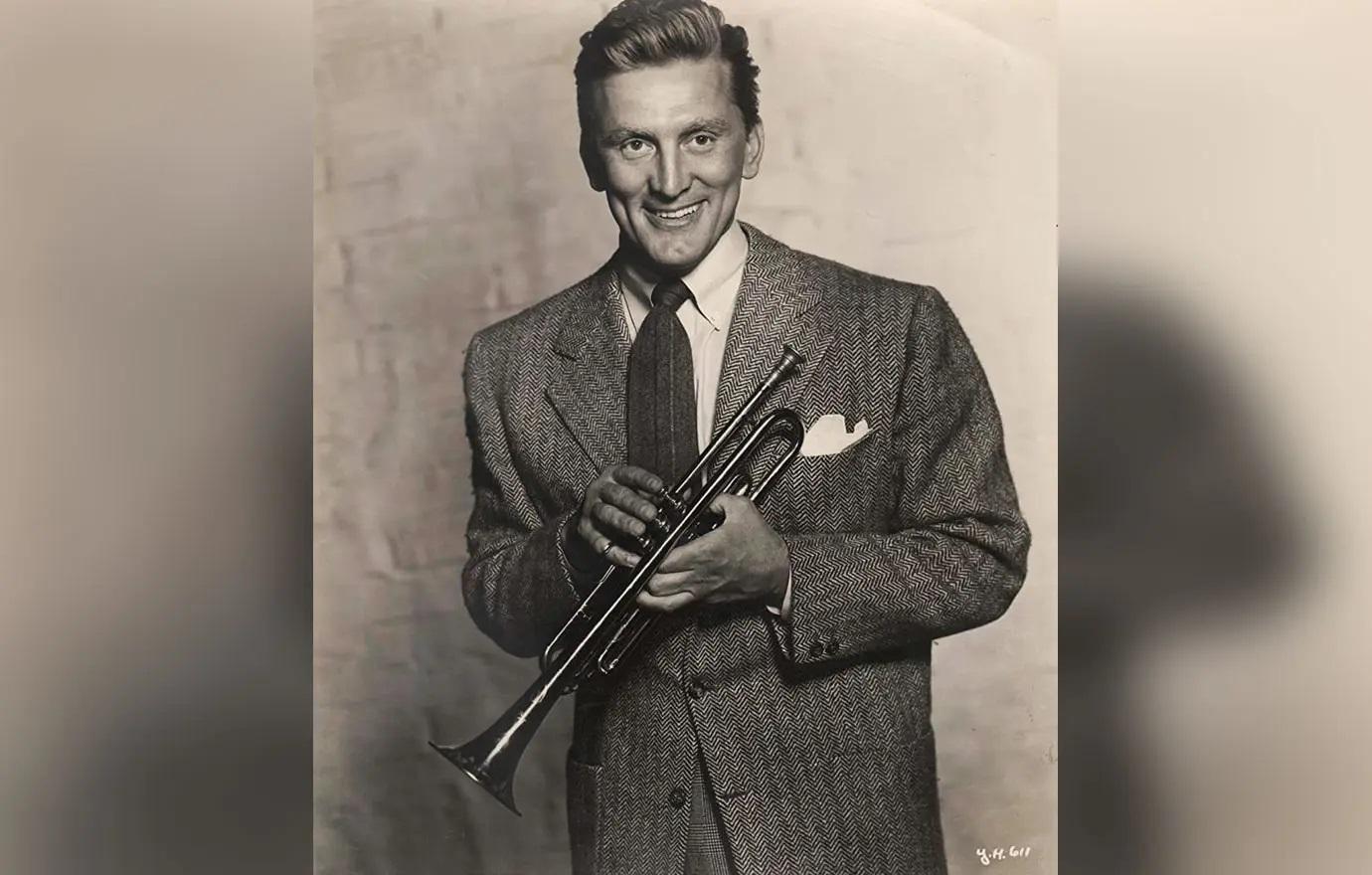 She also appeared in "The Petty Girl." The film commenced shooting on Sept. 6, 1949, and starred Robert Cummings and Joan Caulfield. Spangler made quite an impression on Cummings, and the two exchanged pleasant exchanges. While her career had only been bit parts until that point, she gained a new agent, and it seemed like the sky was the limit for Spangler.
During this period, Spangler lived with her daughter and her mother, Florence. Her sister-in-law Sophie also visited; her brother died during the war. They lived at the sprawling Park La Brea complex near Wilshire Boulevard, one of the country's largest housing developments.
Article continues below advertisement
SPANGLER GOES MISSING
It was from this home that on Oct. 7, 1949, Spangler left to meet her ex-husband around 5:30 p.m. She placed her daughter in her sister-in-law's care, her mother being out of the city. Benner was late with child support, and it seems the bad blood from the divorce and custody battle lingered. Spangler said she would be heading for work on a night shoot for a new film after meeting her former husband to discuss the money issue.
Spangler called home just two hours later and said she would be out all night — the shoot taking a full eight hours. She spoke with both her sister-in-law and daughter during the call.
It would be the last anyone heard from Spangler, and the next day she failed to return home. Worried, Sophie contacted the police.
Article continues below advertisement
The first point of investigation was finding out where Spangler had been filming on the night of her disappearance.
The foul play alarm was raised when it was soon revealed that she hadn't worked for any studio that night anywhere in Los Angeles. Both studios and the Screen Extras Guild denying there was anywhere she could have worked.
Questioning her ex-husband Benner claimed to have no knowledge of a scheduled meeting and he hadn't seen Spangler for several weeks. He stated he was home all evening on the night she vanished and his new wife, Lynn, confirmed his account.
Police soon found a witness who swore he had seen Spangler at the Farmers Market not far from her home around 6 p.m. The witness, a store clerk, said she appeared to be waiting to meet somebody, suggesting perhaps she had used the location as a rendezvous and didn't wish to be picked up outside her own house.
Spangler waited for two hours, during which time she seemingly used a phone to make the call home.
Article continues below advertisement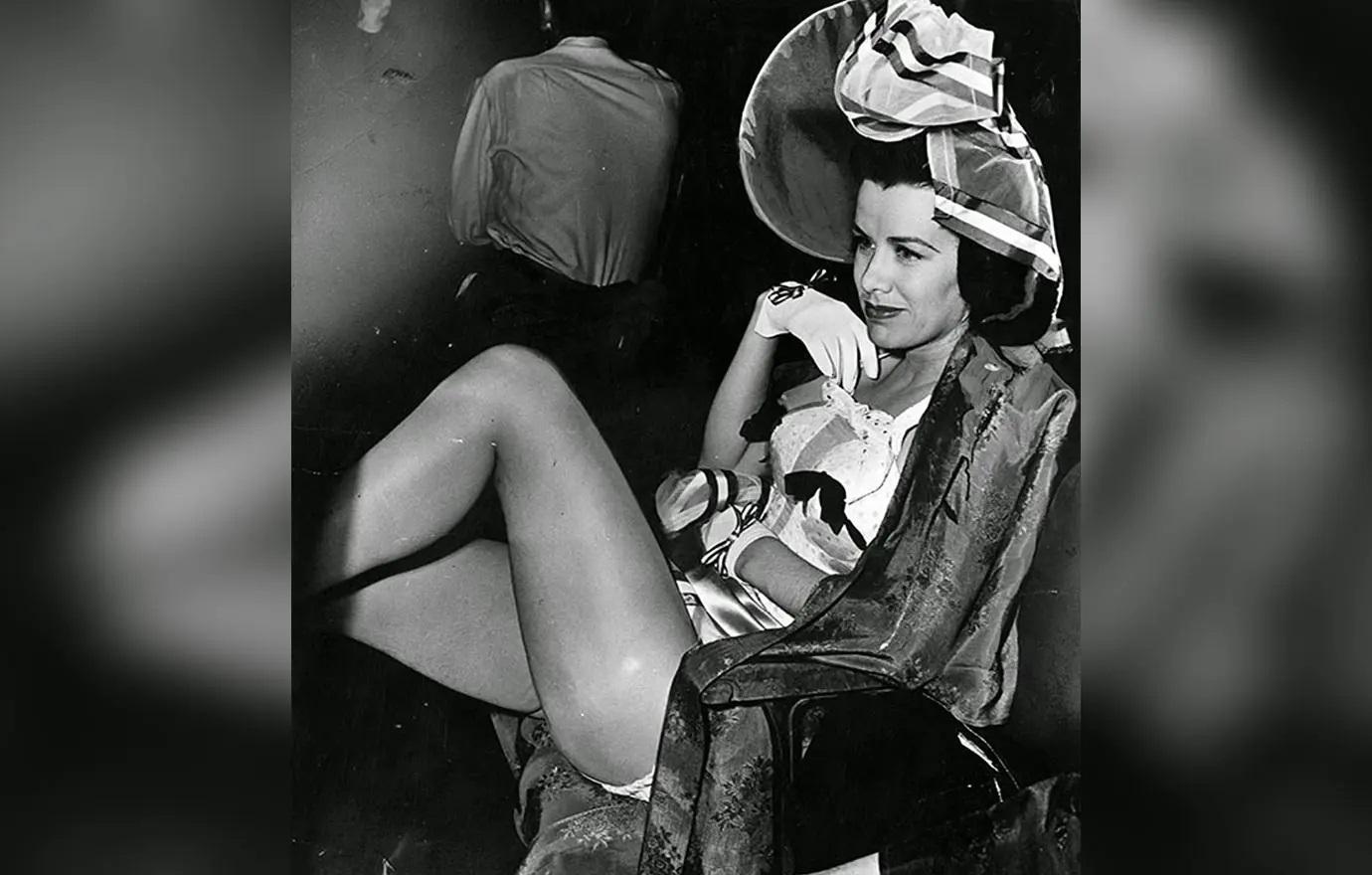 While this was the last confirmed sighting, some believed they saw Spangler around 10 p.m. eating hot dogs with a clean-cut looking man on Vine Street. She appeared in good spirits and not under any distress.
However, those witnesses decided they had been incorrect after questioning by police and they actually saw her on Oct. 6.
Article continues below advertisement
However, another witness placed her in the company of a clean-cut man at the Cheesebox restaurant around 1:30 a.m. on Oct. 8, and Al Lazaar, a popular DJ on the Sunset Strip, stated Spangler argued with two men at the establishment at around 2:30 a.m.
Terry Taylor, the proprietor, also placed her in the company of this "clean-cut" man, as did a newsboy.
THEORIES ABOUND
Two days later, Spangler's purse was found in Griffith Park, around five-and-a-half miles from her home. The purse strap was torn as was typical in a bag snatching. Police immediately descended on the park to hunt for further clues yet found nothing.
There was chatter that Spangler became the victim of a serial killer that was being hypothesized in the L.A. press, mainly without foundation. The papers proposed this serial killer was responsible for Elizabeth Short's death alongside many other killings of women over the past decade, mostly young, brunette, and attractive, just like Spangler.
Article continues below advertisement
Nothing seemed to be missing inside the purse, though investigators discovered a curious and seemingly unfinished note. Addressed to a "Kirk," the message spoke of a trip to see a "Dr. Scott" and was seemingly unfinished, ending with a comma.
"Kirk: Can't wait any longer, Going to see Dr. Scott. It will work best this way while mother is away," — unfinished note found in Jean Spangler's purse.
Article continues below advertisement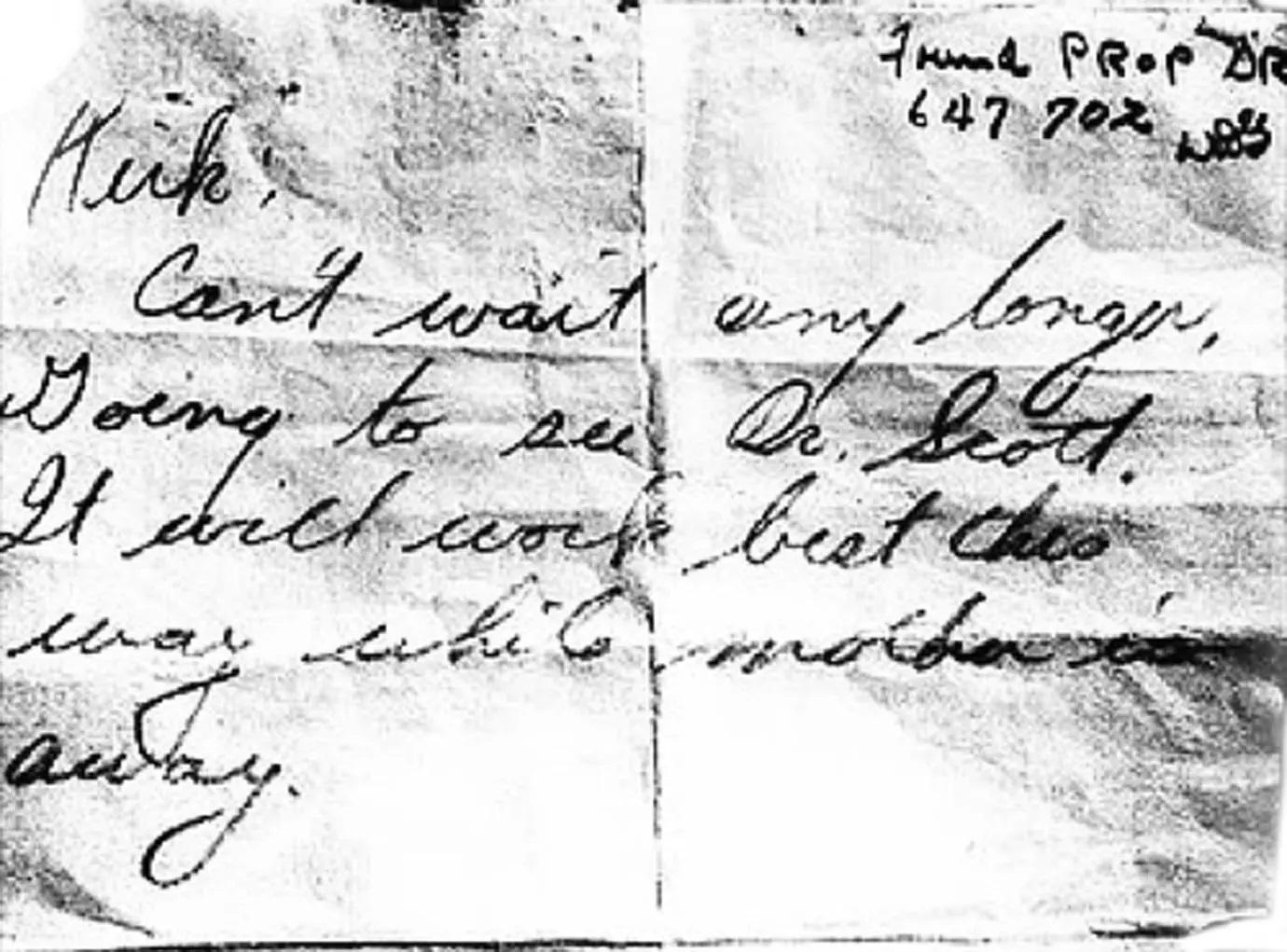 Nobody in Spangler's family knew of a Kirk or Dr. Scott until Spangler's mother Florence returned, and she reported that somebody named Kirk picked her daughter up from the house on two occasions, staying outside in the car when he did.
However, Spangler had recently finished her filming as an extra on Michael Curtiz's musical drama "Young Man with a Horn," and during filming, she had shared a scene with the star of the film, Kirk Douglas. Police could find no other "Kirk" associated with her.
Article continues below advertisement
Reading about the note in the press, Douglas immediately contacted the police to eliminate himself from the inquiry, denying he knew Spangler.
Which raised the question, if he didn't know her, how did he link himself to the name "Kirk"? Thoroughly interviewed by telephone, Douglas stated he'd "talked and kidded with her a bit" on the set of "Young Man with a Horn." Douglas denied he ever met her off-set and said he was in Palm Springs when Spangler disappeared.
"I told Detective Chief Thad Brown that I didn't remember the girl or the name until a friend recalled it was she who worked as an extra in a scene with me in my picture 'Young Man with a Horn' ... then I recalled that she was a tall girl in a green dress. I talked and kidded with her a bit on the set ... But I never saw her before or after that and have never been out with her." — Kirk Douglas press statement, Oct. 12, 1949.
Article continues below advertisement
Ruling Douglas out, police expanded the search for the actual "Kirk" in her life, and after questioning friends, it appeared that he may have been engaged in a secret affair.
Robert Cummings told police Spangler said she was engaged in a casual relationship at the time, not revealing the man's name but saying she was "having the time of [her] life." It would later be determined this man was a writer by the name of Peter Brooks, seemingly nothing to do with the case.
The hunt for Kirk continued.
However, police would gain a new hypothesis when one of Spangler's friends said she was pregnant, three months along, and thought about an abortion. Other friends denied this account, but, understandably, the matter isn't something a woman would have talked openly about in 1949.
Police believed the entire story of meeting her ex-husband and working late might have been a ruse as Spangler sought an abortion, potentially even involving traveling for the procedure.
Article continues below advertisement
Illegal at the time, police soon connected "Dr. Scott" to the claims, the letter now believed to be informing "Kirk" that she would have an abortion while her mother was out of town. Police checked every Dr. Scott in Los Angeles and all denied knowing Spangler, as they naturally would have if the theory that she'd been killed during a botched abortion was correct.
If that had been the case, it seems likely that the name "Dr. Scott" was merely a pseudonym, as few would be willing to attach their real names to such an enterprise. Indeed, it was tough to find an actual doctor ready to carry out an abortion, with not many willing to risk their reputations and freedom.
However, others were unsatisfied with the explanation. If Spangler fell victim to a botched abortion and her body subsequently disposed of, why was her purse found in Griffith Park? Particularly with the note that was inside.
Article continues below advertisement
A second theory sprang up that linked Spangler to Hollywood's underworld and even the killing of the Black Dahlia, given she once worked at the Florentine Gardens nightclub, owned by Danish businessman Mark Hansen. Hansen often allowed the women who worked for him to stay at his home, with some saying that he made sexual advances toward them, including against Short, who was found mutilated and bisected in 1947.
Those who frequented the Florentine Gardens included the gangster Mickey Cohen. While there was never any indication of organized crime being linked to the club, it is believed that bribes were regularly paid to the LAPD for officers to look the other way.
Still Spangler hadn't worked at the Gardens since her teenage years, and there is no evidence that Hansen was in any way violent or involved in the murder of the Black Dahlia. The club was a trendy spot, with all manner of patrons beyond the likes of Cohen, including Hollywood stars.
One line of inquiry that raised police interest was the talk of a man known only as "Doc" who was said to frequent the same clubs as Spangler. Rumors existed that "Doc" was willing to perform abortions for free. Police wondered if this could be the same "Dr. Scott" as named in the unfinished note.
Article continues below advertisement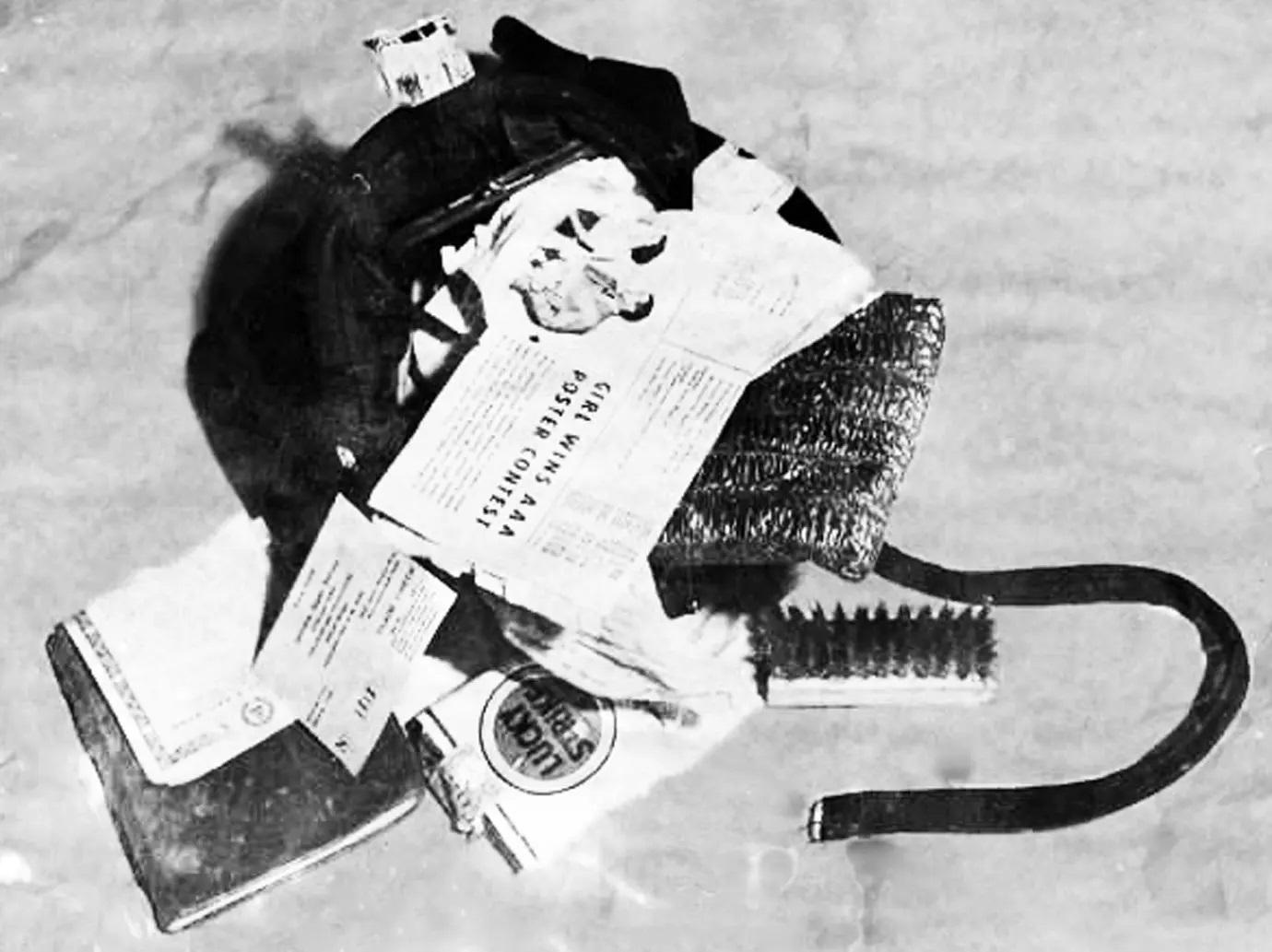 The man was never identified. While some have tried to link the man to the proposed Black Dahlia suspect Dr. George Hodel, the mysterious "Doc" was actually said to be an ex-medical student and the son of a wealthy family.
Article continues below advertisement
Another theory died to the disappearance of Davy Ogul. He went missing the same day Spangler's purse was found. Ogul was an associate of Cohen, and there were rumors he was another secret boyfriend of Spangler.
Eyewitnesses placed Spangler and Ogul together in both Palm Springs and Las Vegas, the duo being in the company of another Cohen associate Frank Niccoli.
Ogul was under indictment for conspiracy at the time of his vanishing, and some believe the two fled to avoid the charge and expected conviction. Niccoli had also mysteriously vanished on Sept. 2.
In 1950, a customs agent in El Paso, Texas, reported that he saw Spangler and Ogul at a hotel, identifying Spangler from a photo. However, Spangler's mother, Florence, rejected the idea she was still alive, stating: "I'm sure she would have communicated with us if she was alive and free. And nobody can tell me should have left her baby unless she was forced to."
Article continues below advertisement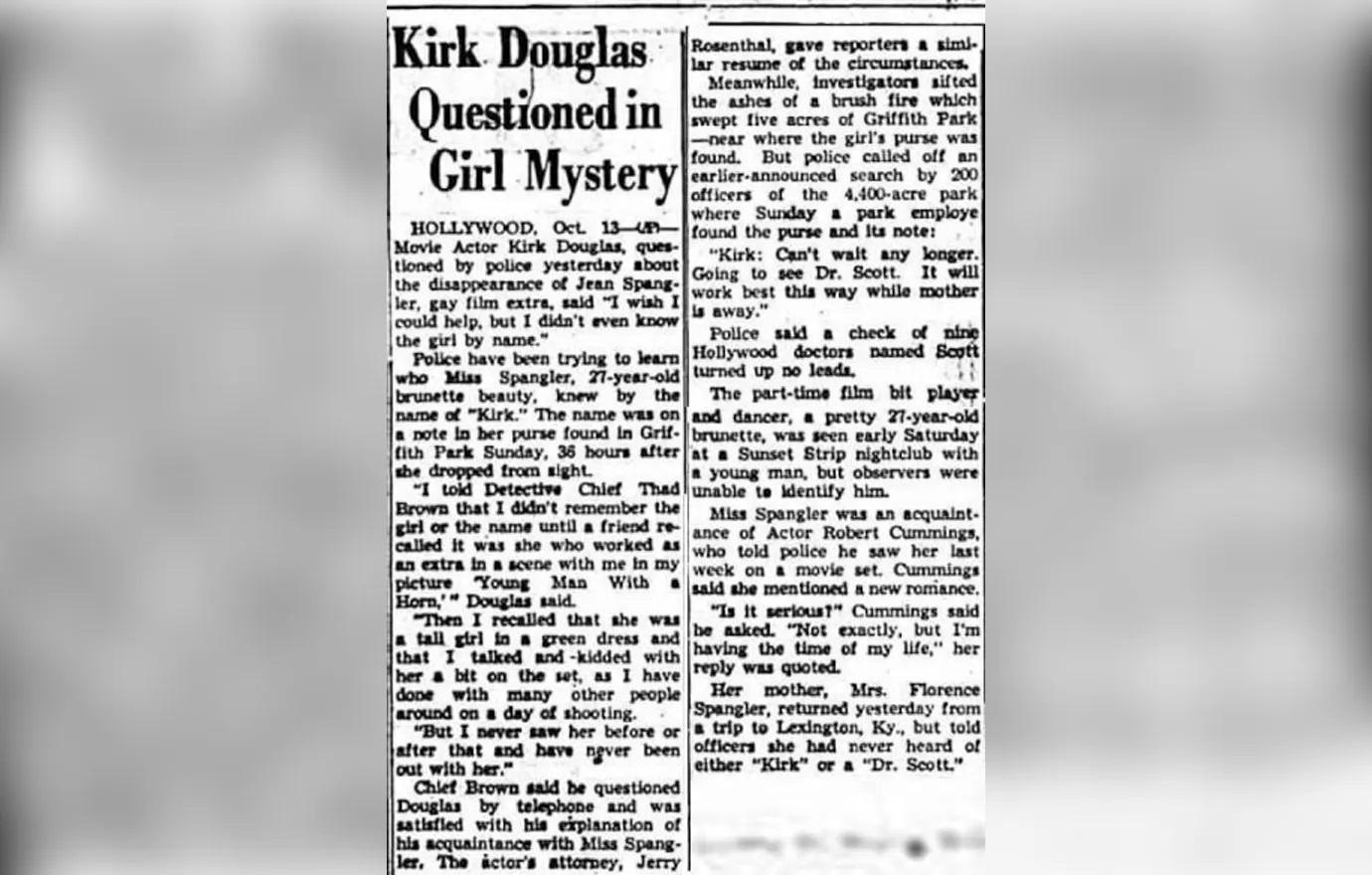 FEW ANSWERS
In the years after her disappearance, custody of Christine was once again given to Benner. He fought another custody battle, this time with Florence. After refusing visitation, he was sentenced to 15 days in jail and fled the state with his daughter, settling in Florida.
Spangler, meanwhile, was signed throughout California, Arizona, and Mexico City. All the reports were unconfirmed, and the case remains open.
Spangler's disappearance is intriguing for the sheer number of possibilities that exist in the case, with evidence pointing in every direction.
Article continues below advertisement
She may have been pregnant and died at the hands of an abortionist. Equally, she may have fallen prey to a serial killer or a simple mugger who effectively disposed of the body. Some believe her ex-husband held murderous intent, while others look toward Hollywood or the Los Angeles underworld.
Evidence may even suggest that Spangler gave up her dreams of stardom to run away with a hoodlum boyfriend, potentially living to old age in Mexico.
The theories are endless, and those involved in the case are no longer alive to tell anyone the truth. Unless bodies are found, or new evidence comes to light, it seems that Spangler will remain one of the millions of missing people who have vanished without a trace.
Become a Front Page Detective
Sign up to receive breaking
Front Page Detectives
news and exclusive investigations.
More Stories