JEFFREY EPSTEIN DEMANDED VICTIMS' EMAIL PASSWORDS, ACCESS TO MEDICAL RECORDS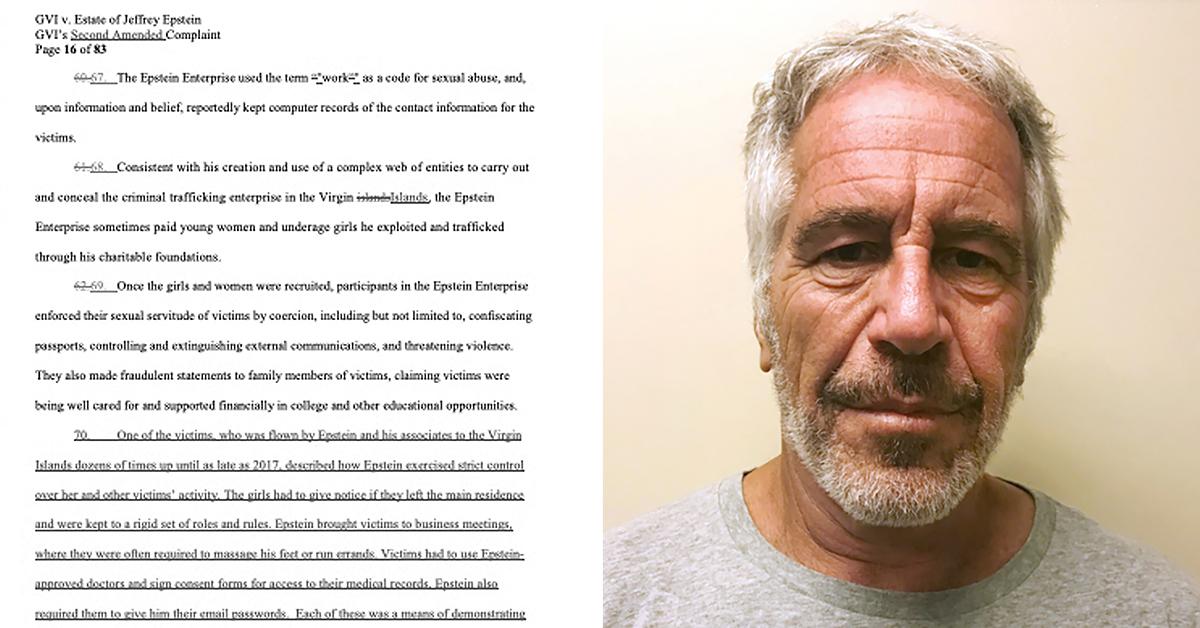 Jeffrey Epstein could access his victims' email exchanges as well as their medical records, according to one young woman who detailed the pedophile's abuse in a new court document.
Article continues below advertisement
"The girls had to give notice if they left the main residence and were kept to a rigid set of roles and rules," the victim told prosecutors in the Virgin Islands. "Epstein brought victims to business meetings, where they were often required to massage his feet or run errands."
The victim went on to explain how far Epstein went to assert his control over the women he flew out to his island, many if not most of whom were underage minors.
"Victims had to use Epstein approved doctors and sign consent forms for access to their medical records. Epstein also required [his victims] to give him their email passwords."
Article continues below advertisement
The victim is not named in the amended complaint which was obtained by Front Page Detectives, but was described as an individual who "was flown by Epstein and his associates to the Virgin Islands dozens of times up until as late as 2017."
That same victim also said during her time on the island she "observed a succession of girls and young women who were transported to Little St. James and while there were called into Epstein's office or sauna to engage in sexual acts."
Article continues below advertisement
Another victim told prosecutors she "observed a large number of young women and girls around Epstein at Little St. James," adding "many of them did not speak English, which was Epstein's preference since they spoke less."
That victim added the women would be sent "out to night clubs or on shopping trips to try to identify and recruit other young women and girls, at times paying them a fee for each recruit."
Article continues below advertisement
That victim was also not named in the court filing, but was described as an individual who "was brought to Little St. James more than 50 times during the years 2000 to 2002, when she was 17 to 19 years old, was required to have sexual relations with 'guests" of Epstein, and was subjected to sexual abuse virtually every day, and on some days, multiple times a day by Epstein or his guests."
Records obtained by Front Page Detective reveal that over 150 women have submitted claims to the Victim Compensation Fund set up by the executors of his estate, and more than $50 million has been paid to these women.
Article continues below advertisement
The executors of Epstein's estate state detailed the financial breakdown in a court filing submitted in the Virgin Islands, which read: "The Estate has already funded the Program with over $87 million specifically to pay claimants, in addition to regular payments the Estate has made to cover the Program's administration and operations. Of that more than $87 million, $57,750,000 has to date been paid out to claimants."
Become a Front Page Detective
Sign up to receive breaking
Front Page Detectives
news and exclusive investigations.
More Stories