JEFFREY EPSTEIN FLEW VICTIMS AS YOUNG AS 11 TO PRIVATE ISLAND BEFORE ARREST: COURT DOCS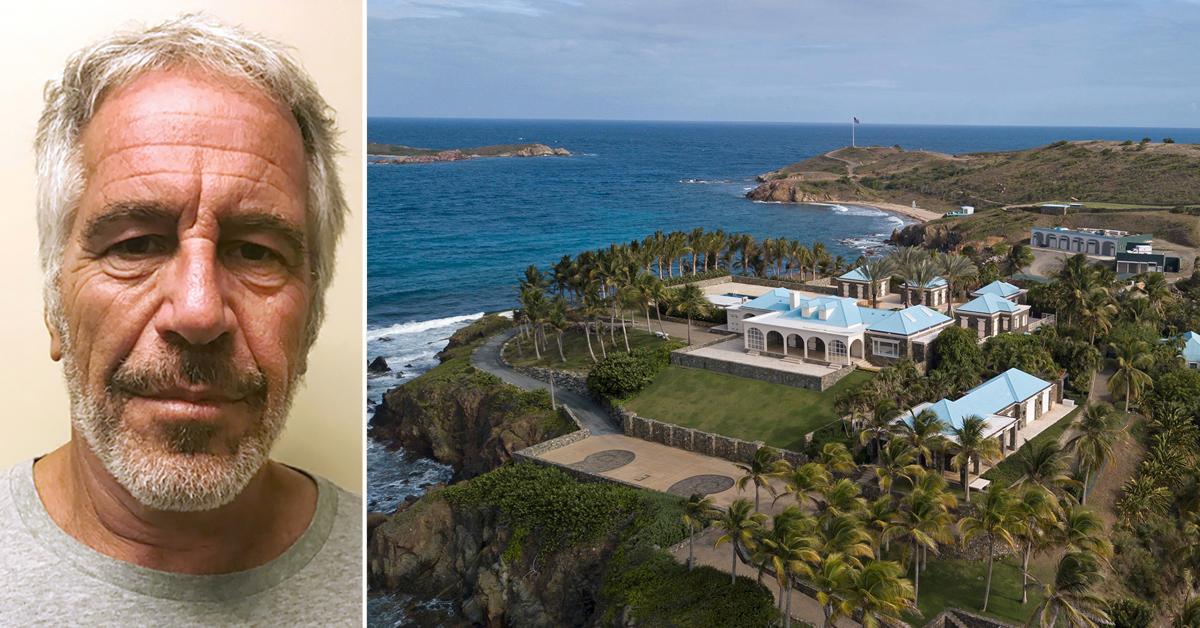 Pedophile Jeffrey Epstein flew young girls to his island hideaway in the Caribbean Sea as recently as 2018, according to court documents.
Article continues below advertisement
Front Page Detectives obtained a copy of the Second Amended Complaint that was filed against Epstein's estate and executors Darren Indyke and Richard Kahn, which suggests that Epstein did not change his illegal activities after serving time for soliciting a minor back in 2008, and instead opted to target victims who were far more vulnerable.
"Upon information and belief, after his guilty plea in Florida for soliciting prostitution from a minor, Epstein began to focus on procuring and abusing women from Eastern Europe," states the complaint. "These women's immigration status and language barriers made them more isolated, dependent, and vulnerable to Epstein's abuse and manipulation."
Article continues below advertisement
The "language barriers" were a plus for Epstein according to one victim, who said it "was Epstein's preference since they spoke less." This woman, "who was brought to Little St. James more than 50 times during the years 2000 to 2002...have sexual relations with "guests" of Epstein, and "was subjected to sexual abuse virtually every day, and on some days, multiple times a day by Epstein or his guests."
Article continues below advertisement
Epstein also appears to have gone after some girls who were not yet teenagers. "Air traffic controllers and airport personnel have reported seeing, as recently as 2018, Epstein leaving his private jet with young girls who appeared to be between the ages of 11 and 18 years," reads the amended complaint.
MORE ON:
Ghislaine Maxwell
"In furtherance of its criminal activities, the Epstein Enterprise used its aircrafts to transport the young women and underage girls to the Virgin Islands for purposes of sexual abuse and exploitation," notes Assistant Attorney General Carol Thomas-Jacobs in the filing. "The Epstein Enterprise facilitated and participated in the sexual molestation and exploitation of numerous girls between the age of 12 and 17 years old."
Article continues below advertisement
She further shares one final chilling fact, "Upon information and belief, the Epstein Enterprise kept a computerized list of underage girls who were in or proximate to the Virgin Islands, and able to be transported to Epstein's residence at Little St. James in the Virgin Islands.."
Article continues below advertisement
Indyke and Kahn meanwhile are accused of "criminal conspiracy by using or facilitating the use of force or coercion to accomplish sexual contact or engaging in sexual contact with a minor between 13 and 16 years of age."
The two men are also revealed in the court documents to have handled millions in cash which they carefully withdrew so as to not draw suspicion.
Prosecutors claim this was the money that "fueled the Epstein Enterprise's sex trafficking, including payments to women who were forced to have sex with Epstein and/or recruited others to be victimized."
This money went towards flights, visas, tuition and other expenses incurred in trafficking the pedophile's victims, according to the complaint.
The allegations that Indyke and Kahan engaged in a pattern of criminal activity related to sex trafficking, forced labor, sexual assault, child abuse and sexual servitude of young women and children may have huge repercussions for the men.
After more than a year spent fighting in court over the estate's exorbitant finances, these two soon might be fighting for their freedom.
Become a Front Page Detective
Sign up to receive breaking
Front Page Detectives
news and exclusive investigations.
More Stories