Too many lies: The story of murderess Jodi Arias and her dead lover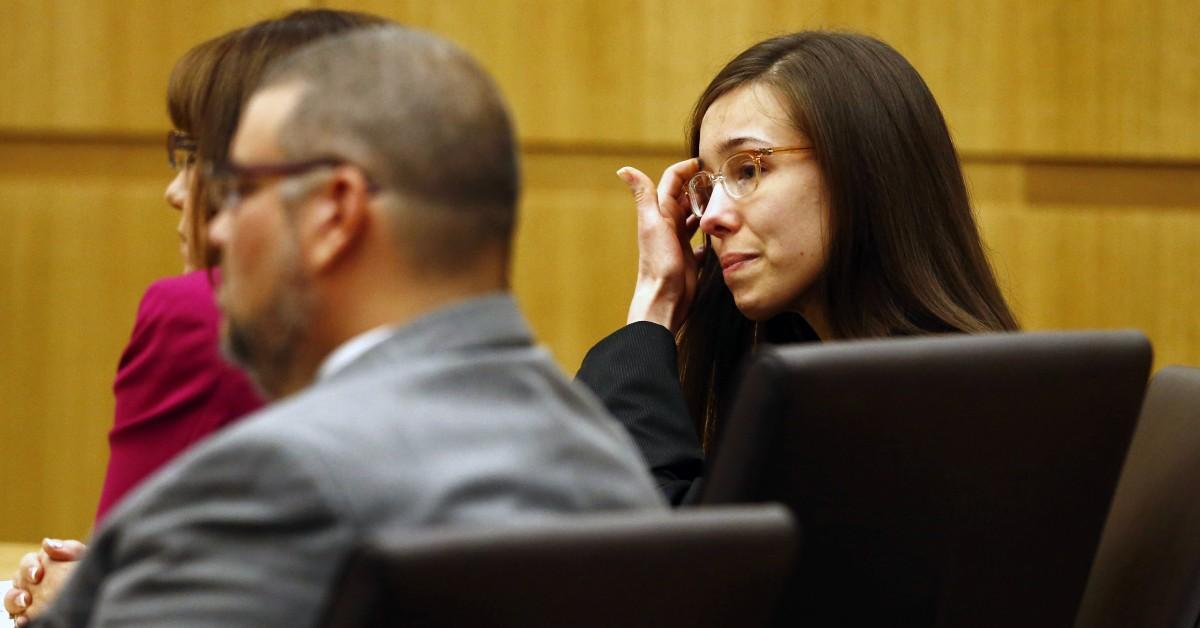 Earlier this year, a new documentary was released examining the life and crimes of Jodi Arias. She's serving a life sentence for the murder of her ex-boyfriend in his Phoenix home in 2008.
Article continues below advertisement
Arias had straight blond hair and a sweet smile. She was only 27 years old when she was arrested. In custody, she made multiple conflicting statements about where she was the night her ex was murdered. By the time she came up with the third story, the public was glued to their televisions and Twitter feeds. Arias seemed to be a media darling, never failing to generate headlines.
In 2019, Arias announced she had a boyfriend in prison. In addition to romance, she stays busy selling her homemade drawings online and answering fan mail.
Article continues below advertisement
Should we feel sorry for her? Was she beaten and abused? Were her public statements weak excuses at best and heinous lies at worst?
Does Arias have a mental health condition — or is she simply evil?
The question of her guilt swirled among her supporters and detractors. The family of her victim, 30-year-old Travis Alexander, sobbed and held each other close during the protracted trial. They never doubted her guilt.
Article continues below advertisement
Alexander died in what was a planned, unprovoked and violent attack. It is unusual for a man to die at the hands of a female killer. While men are far more likely to be the victims of violence, with three out of four murder victims men — only 10 to 11 percent of murders are committed by women.
Alexander was found in the shower in his home, stabbed 27 times with his throat cut. His killer shot him in the head at point-blank range for good measure.
He was found by his friends five days after dying from his wounds.
Article continues below advertisement
FROM LAS VEGAS TO MESA, ARIZONA
Arias was a 26-year-old aspiring photographer when she met the man of her dreams at a Las Vegas business convention in September 2006. After she accepted a dinner invitation from Alexander, three years her senior, they talked until 4 a.m.
Alexander was a devout Mormon. Arias discovered he liked his work as a salesman but had a second calling as a motivational speaker. One of the basic tenets of Mormonism is that premarital sex is prohibited, but the two were lovers early in their relationship. Alexander felt guilty and conflicted, according to friends, about breaking that vow. But he was deeply in love and almost magnetically drawn to this woman.
Arias converted to Mormonism within a month of meeting Alexander. Her lover baptized her into the faith.
Article continues below advertisement
Although Alexander felt Arias would be the perfect wife, by having sex with her she immediately became a non-contender. The tug of war between his faith and their future widened a gap between them as the first few months of their relationship played out.
Arias acted oddly in the company of Alexander's friends, showing possessive tendencies.
Since he lived in Mesa, Arizona, and Arias lived in Palm Desert, California, Alexander's friends who lived in Murrieta, California, would sometimes host the couple. These friends, Sky and Chris Hughes, took time to sit down with Alexander and tell him about their concerns regarding Arias.
According to an ABC News interview with Sky Lovingier Hughes who is now divorced from Chris, it was a long-distance relationship that seems harmless and cute at first.
Article continues below advertisement
Within a few meetings, however, the Hughes' began to notice Arias was "completely obsessed" with Alexander and told him so. Some of it could be chalked up to new love, but something else seemed to be going on.
Alexander broke up with Arias after five months. He was still drawn to her, however, and they continued having a sexual relationship.
Shortly after he officially broke it off, Arias moved to Mesa. She began displaying signs of stalker behavior, such as letting herself into his house and even breaking in through the doggy door. Alexander reacted to these strange displays unpredictably, sometimes getting angry and other times getting back into bed with her.
The intermittent rewards seemed to escalate her pursuit of Alexander.
Article continues below advertisement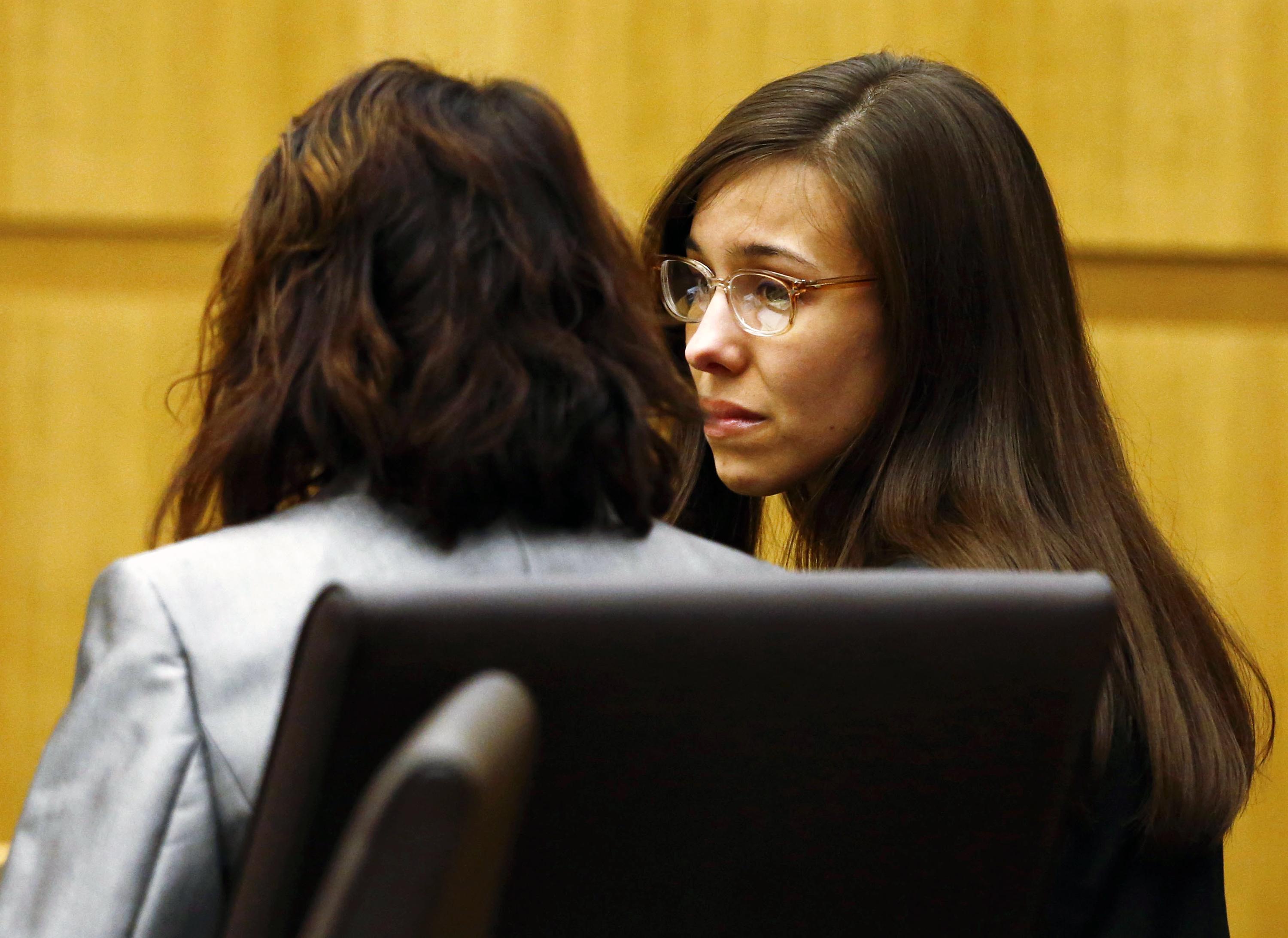 He had moved on and was actively dating other women. Continuing to have sex with Arias, Alexander began seeing another woman named Lisa. Arias stalked both members of the new couple. His friends reported that he told them his tires had been slashed—twice. Yet, Alexander wasn't convinced Arias was the culprit. To everyone else in his life, it seemed obvious Jodi Arias was trouble, and troubled.
Article continues below advertisement
Arias only lived in Mesa for eight months. When she left, she went to Yreka, California, to be close to family, she and Alexander continued having a sexual relationship. They moved to texting and phone sex.
By May 2008, the on-again, off-again couple began arguing via text.
Alexander was pursuing another woman. He'd always wanted to marry and have children, and he was looking for a partner who shared his faith and valued. His newest interest was named Mimi and she was also a Mormon. As part of a company retreat, he'd planned to meet Mimi to Cancun, Mexico, where they would be joined by his friends, the Hughes'.
Article continues below advertisement
WHERE'S ALEXANDER?
The Hughes's were in Mexico, looking forward to Alexander's arrival. But they didn't hear from their friend, and he soon became overdue. After numerous texts, they grew worried. As Mimi hadn't left Mesa yet, they asked her to stop in and check up on him on June 9, 2008. Along with two of his other friends, she drove to Alexander's home and knocked on the door.
Alexander's roommate let them in, telling them he was sure Alexander already left for Mexico. They convinced his roommate to check his room anyway, and after opening the bedroom door, the four of them were immediately met with a large bloodstain on the carpet. The roommate followed the stain into the bathroom.
Alexander was dead and bloodied, folded into the shower stall. The group called 911.
Article continues below advertisement
His throat was slashed from one ear to the other. He had 27 stab wounds, and whoever committed the murder shot him in the head. It was clear his assailant wanted to make sure he would die.
Alexander's friends were consumed with grief but had few doubts about who murdered him.
ONE THEME: I'M THE VICTIM
Based on interviews, Mesa police immediately contacted Arias. When questioned, she stated she wasn't even in Arizona when Alexander was murdered.
Investigators found a memory card for a camera at the scene of the crime. It was discovered inside the washing machine, and it told a different story. Photos revealed Arias wasn't only in Arizona but in Alexander's home the day of the crime and the hour he was murdered.
Article continues below advertisement
Her next version of events came out after she'd spent 24 hours locked up in jail. Investigators had enough evidence to detain her: her hairs were found at the scene, the photo evidence showed she was with Alexander, and she didn't have a credible alibi.
She admitted she'd arrived in the middle of the night and after the two made love, she was taking photos of him in the shower. Just then, two masked, armed intruders appeared out of nowhere. They murdered Alexander, then threatened her. Tell anyone, they said, and you'll die, too.
Her story didn't impress detectives, who filed first-degree murder charges.
Article continues below advertisement
The third version came out at trial. This time, she told the jury that, in fact, she murdered her lover. This story included showing up in the middle of the night at his place, having sex, then when he was in the shower, he became enraged and threatening when she dropped his camera. She stabbed and shot him in self-defense.
Arias also noted he'd abused her before, and she found him engaged in sexual behavior using child pornography.
The jury, like the police, didn't buy any of it.
THE DEATH PENALTY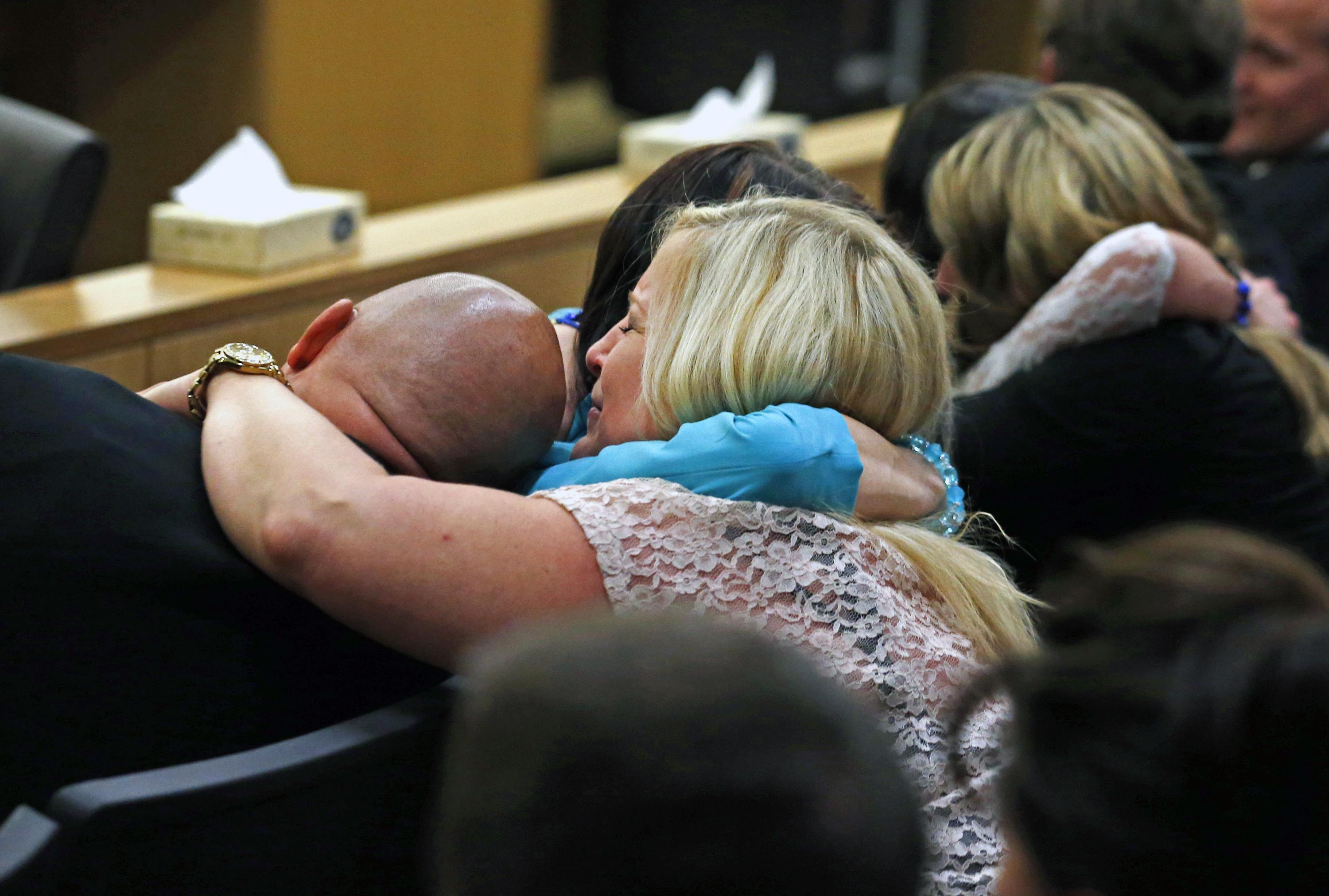 It took four years to bring Arias to trial in Maricopa County Superior Court in Phoenix, Arizona. But it didn't take long to convict her. After a 38-day trial, the jury reached a unanimous verdict: guilty of first-degree murder.
Article continues below advertisement
During her trial, Arias claimed Alexander started kind but became physically abusive the last few months of their relationship. She took the stand to testify on her own behalf for an astonishing 18 days. She gave a detailed account of an abusive childhood, a series of disappointing jobs, multiple unfaithful boyfriends and provided the jury and court with details of her dramatic and salacious sexual relationship with Alexander.
Arias stated, without proof, that he showed interest in young boys, and she once caught him with child porn. She also claimed he owned a gun, and this was part of what made him so physically threatening. No evidence has ever surfaced to support any of these allegations.
The question for the jury to decide was whether the murder was provoked or in any way justified.
Article continues below advertisement
The evidence showed Arias murdered Alexander and dragged his body from the bedroom to the shower. Additional facts, such as a gas can in her car and a gun she stole from her grandfather, cemented her fate. The crime was premeditated.
The possibility of being sentenced to death with a first-degree murder conviction hung over the court proceedings. Ultimately, two juries were unable to decide if death was the appropriate punishment. When neither could reach a consensus about imposing the death penalty, she was sentenced by a judge to life imprisonment in 2013, without any possibility of parole.
Article continues below advertisement
WHO IS JODI ARIAS?
During the trial, onlookers were able to get a better sense of who Arias was, although many remained confused as her stories continued to shift. Her appearance, too, changed markedly. She went from a light, fresh-faced blonde to a serious, bespectacled brunette.
She lied continuously. She never showed an ounce of remorse or expressed sorrow over the loss of her lover, Alexander.
Psychologists diagnosed Arias with borderline personality disorder, anti-social personality disorder or narcissistic personality disorder. Although there were differing opinions, all agreed that no matter what personality disorder fit best, Arias shows signs of significant psychological impairment. Most experts asserted she was either borderline or narcissistic. Both diagnoses carry with them difficulty telling the truth, manipulation of others, exploiting people for personal gain, and a history of intense and unstable relationships.
The defense asserted she suffered from PTSD, a diagnosis that prosecutors took issue with.
Article continues below advertisement
As noted in an article from Psychology Today about narcissistic personality disorder, Arias continues after her conviction and imprisonment to display traits of a self-absorbed, attention-craving individual who exploits others.
She continues to show signs of not only enjoying but needing to be in the spotlight. During her trial, she proposed representing herself during the sentencing, a decision that could have resulted in the death penalty. At the time, she announced that she welcomed death.
Article continues below advertisement
She manipulated everyone around her, including the jury and the press, but she also became a huge media hit as she spun the drama. Her craving for attention never waned. She got sympathy, even though there was no evidence she was ever abused by Alexander, provoked in any way, or committed the crime for any reason other than viciousness.
Arias manipulated Alexander throughout their relationship, primarily with sex.
In 2017, Arias filed a lawsuit against her former attorney, Kirk Nurmi, and lost. She claimed he profited from her case by writing a memoir called "Trapped with Ms. Arias."
Arias has seen the inside of several Arizona prisons and currently lives in the Perryville Prison in Goodyear, Arizona. She talks to her "fans" using the prison phone or by responding to letters and has a website from which she sells her drawings. She began putting up her dubious artwork for sale on eBay shortly after she found herself behind bars in 2008.
She maintains a website called Justice4Jodi where she solicits donations to help with her appeals. She has 733 followers and has raised more than $1,500. But, today remains behind bars for the brutal murder.
Become a Front Page Detective
Sign up to receive breaking
Front Page Detectives
news and exclusive investigations.
More Stories