KEVIN SPACEY FIGHTS TO OUT UNDERAGE ACCUSER, DISMISS EXPERTS AS EVIDENCE MOUNTS IN SEX ASSAULT CASE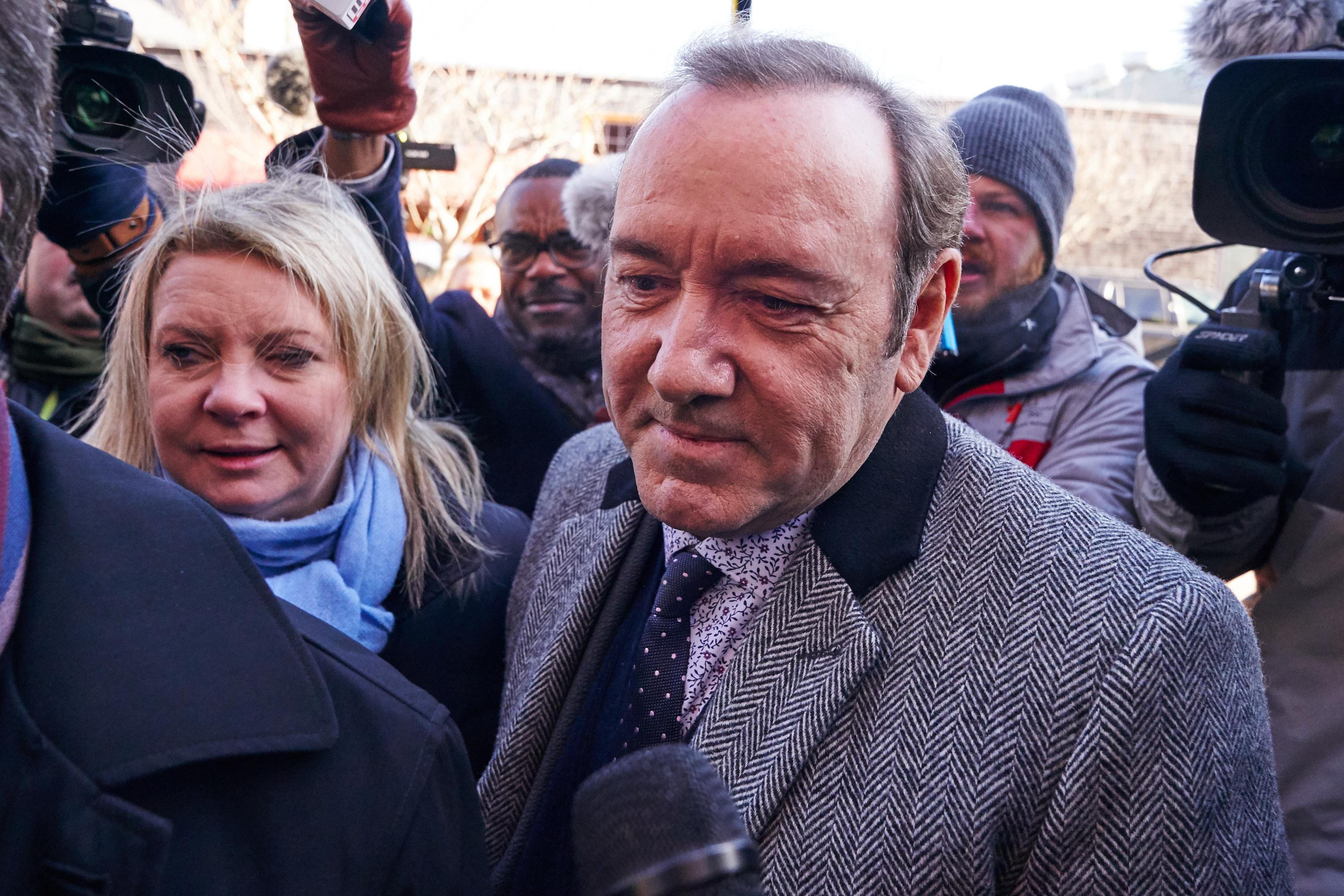 Kevin Spacey and his lawyers are frantically working to reveal the identity of the underage victim who says the Oscar-winning actor sexually assaulted him when he was just 14.
They are also trying to dismiss the defense's medical experts who have agreed to back the victim's claims under oath.
Article continues below advertisement
Spacey has been accused of sexually assaulting Rent star Antony Rapp and attempting to rape a 14-year-old boy identified as only C.D. Both C.D. and Rapp filed a lawsuit against the Oscar-winning actor, saying he attacked them.
Spacey recently addressed the allegations in court filings in response to the suit.
The details of C.D's allegations were given additional credence this week after the social worker who conducted psychotherapy sessions for the past six years submitted a court filing sin which he stated he would testify on behalf of C.D. The worker also stated they knew about the Spacey claims since 2015, when he first started meeting the victim.
Spacey fired back and said the social worker was not a medically licensed professional, and therefore should not give testimony.
C.D.'s legal team then sought a medically licensed psychologist who met with the victim and looked over his records before coming to the same conclusion as the social worker.
Spacey's team responded by stating that the expert was not added to the case in a timely manner.
Article continues below advertisement
The two experts also agreed about the idea to reveal C.D's identity and said it could cause psychological harm. That is of no concern to Spacey and his team.
Spacey has repeatedly asked the court to reveal the name C.D. and deny his request to proceed anonymously, which was previously approved under New York's Child Victims Act.
Spacey hoped to combat that regulation when he got a change of venue for his case from state to federal court.
Article continues below advertisement
"Spacey objects to Plaintiff C.D.'s use of a pseudonym and failure to disclose his identity, even to Spacey. Despite this improper withholding of his identity, and Spacey's resulting inability to fully investigate and address the allegations, Spacey nonetheless makes a good faith attempt to answer the allegations in the Complaint," read one of Spacey's first filings the case, "By providing this answer, Spacey in no way suggests he has not been, and does not continue to be, prejudiced by Plaintiff C.D.'s anonymity. Spacey reserves the right to amend this Answer as deemed necessary or appropriate, including once Plaintiff C.D.'s identity is disclosed."
Spacey has demanded a jury trial in the case and stated the court should deny the plaintiffs' request for any monetary damages, require his two accusers to cover his legal fees and award him "such other and further relief as the Court may deem just and proper."
At the same time, he has also used his affinity for young actors as an example of his altruistic spirit in court filings.
Article continues below advertisement
Spacey detailed his desire to work with emerging actors in a previous filing, revealing that he even bought a private theater in his initial response to the complaint.
"He has worked to develop the arts and culture scene in Maryland, especially in his home city of Baltimore," noted Spacey's lawyer Chase Scolnick. "He has planted roots in Maryland that extend far beyond his recent work on the Netflix television show 'House of Cards.' Maryland has been his home for many years and the place to which he always has intended to return when traveling elsewhere."
Scolnick revealed that Spacey "has contacted Maryland businesses and universities about providing assistance to community development projects, especially in cultivating performing arts in Baltimore. For example, Mr. [Spacey] Fowler entered into a contract in 2017 to buy a historic building in Baltimore, intending to renovate it into a 300-seat theater and home for his charitable foundation."
Article continues below advertisement
The Kevin Spacey Foundation is an organization that aims to "identify emerging artists who have a unique voice and artistic vision and give them the training and resources they need to fully express themselves."
The lawsuit — which was initially filed in New York Supreme Court in Manhattan before it was changed to federal court— alleges that Spacey sexually assaulted C.D. on multiple occasions after the two met in an acting class in Westchester County in the 1980s.
According to the suit, Spacey invited his acting student to his apartment and "engaged in sexual acts" with him on different occasions. During their final time seeing each other, Spacey assaulted the student, even though he made it clear he didn't want to be touched by Spacey.
Article continues below advertisement
"Kevin Spacey, through his words and acts, intentionally caused the plaintiff, C.D., to become apprehensive that a harmful and/or offensive bodily contact was about to occur," reads the complaint.
Rapp's lawyer stated in the initial complaint that Spacey "intentionally and voluntarily and without plaintiff's consent engaged in an unwanted sexual advance with a 14-year-old and grabbed then infant plaintiff, Anthony Rapp's, buttocks, lifted him onto a bed and laid on plaintiff's body." He goes on to note that the event led to "sustained psychological injuries, including but not limited to, severe emotional distress, humiliation, fright, anger, depression and anxiety."
Spacey and his legal team responded to that allegation by stating: "Defendant admits he was in the audience for a production of Precious Sons in approximately the late 1980s in which Plaintiff Rapp was a cast member. Defendant admits he briefly met Plaintiff Rapp on a few occasions at most, but Defendant's interactions with him were peripheral and limited...Defendant denies he invited Plaintiff Rapp to any party at his home...Defendant denies Plaintiff Rapp attended any alleged party at Defendant's home...Defendant denies that the alleged incident or any other wrongdoing alleged by Plaintiff Rapp occurred."
Become a Front Page Detective
Sign up to receive breaking
Front Page Detectives
news and exclusive investigations.
More Stories