Inside the criminal mind: Does Kyle Rittenhouse's upbringing explain why he was in Kenosha that fateful night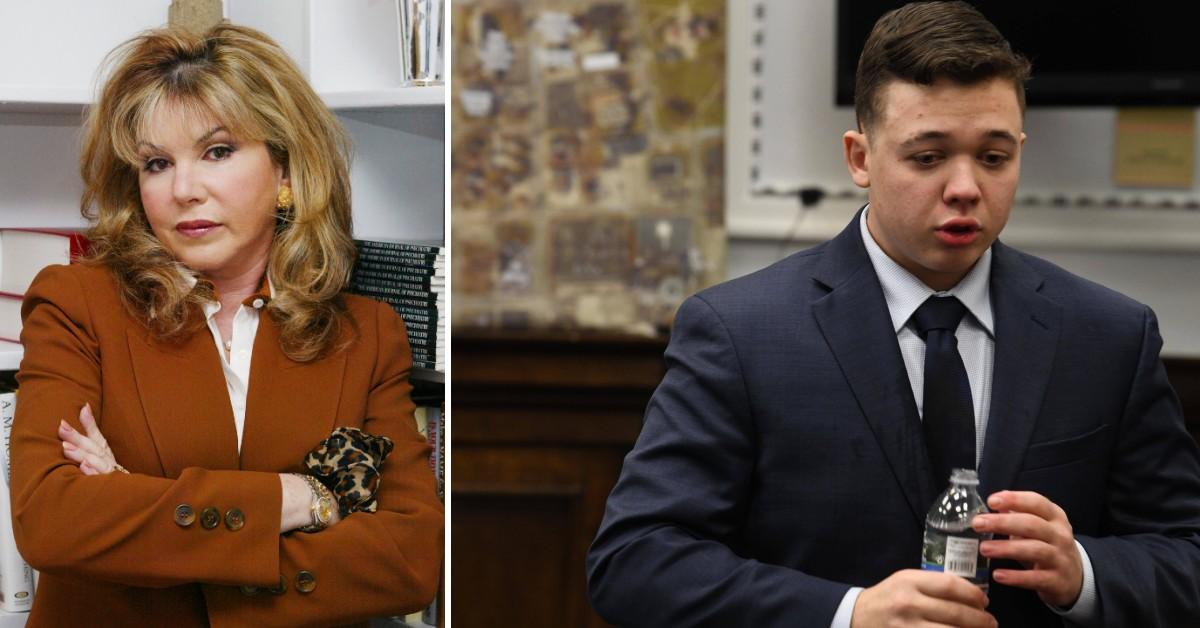 The unsequestered jury is still out in the Kyle Rittenhouse case. The defense has requested a mistrial, claiming prosecutorial misconduct, including withholding evidence. The judge has been barraged by threats of violence towards his family and himself.
Article continues below advertisement
Jurors are being serenaded by protestors' foreboding chants of "no justice, no peace," audible even inside the courthouse and at least one protester brought a gun. Yet, if there had only been testimony helping them to get to the bottom of what made Kyle tick, they would have found him not guilty by now. \
Here's why.
When Kyle Rittenhouse cried on the stand, some people thought he was sad or scared or faking it – perhaps even having a panic attack or a symptom of post-traumatic-stress disorder. But his psychiatric problems go deeper. They began long before he headed to Kenosha, Wisconsin, where rioters were protesting the police shooting of Jacob Blake, a black man who'd resisted arrest. As you will understand, crying was the last thing Kyle wanted to do because he never wanted to seem weak.
Article continues below advertisement
At 17 years old, Kyle's fantasy of being a hero, on the night of Aug. 25, 2020, went terribly wrong. Patrolling the streets with a barely-used rifle and cobbled-together medical kit, he soon found himself in over his head and charged with fatally shooting two rioters and injuring a third. At trial, the question was: self-defense or first-degree intentional homicide (or lesser charges). Rittenhouse potentially faces life in prison.
Judge Bruce Schroeder instructed the attorneys and jury to keep politics out of the courtroom. But was that possible after the media incessantly portrayed Rittenhouse as either a patriotic do-gooder or white supremacist, depending upon their political slant? In fact, he was far more complex. If the defense had included a forensic psychiatrist, who could explain to the jury who Rittenhouse was, and what his mental state was at the time of the incident, it would have garnered sympathy.
Article continues below advertisement
Rittenhouse was born on Jan. 3, 2003, to Wendy and Michael Rittenhouse and was raised in Illinois. His parents intermittently worked various lower-end jobs, except when his father's struggle with alcohol and drugs caused him to be unemployed for years.When Rittenhouse was 4 years old, his father was charged with domestic battery, after allegedly punching his mother in the stomach. The charges were dismissed, but on at least two occasions Wendy and the children lived in a shelter.
Kyle's parents divorced and he and his two sisters grew up living with their single mom. She became a certified nursing assistant, but her earnings and his father's meager child support were not enough to stop them from repeatedly being evicted.
Article continues below advertisement
In 2017, when Rittenhouse was 14, his mom sought a temporary restraining order against Rittenhouse's classmates who had been threatening him and calling him "dumb and stupid." That same year, he joined the Police Department's Explorers program, where they wear uniforms, train with harmless replicas of weapons, go on police ride-alongs and help with tasks like managing parade traffic.
He was taught that Explorers must be ready to help in any emergency situation. Rittenhouse participated in a similar cadet program through the Fire Department.
Rittenhouse's family struggled with serious problems and, in 2018, his mother filed for bankruptcy. Overwhelmed, she developed a gastrointestinal bleed and was hospitalized. His older sister was also hospitalized, after an attempted overdose. When a girl started a fight with his younger sister, Rittenhouse punched the girl to protect his sister.
Article continues below advertisement
It was this succession of one trauma after another, throughout his life – with no father to protect the family – that unconsciously spurred Rittenhouse on to learn how to protect them himself. He felt that if he became a policeman or fireman, he could protect his family from harm, and if he became an EMT or nurse, he could protect them from getting sick.
Rittenhouse identified with people feeling helpless and needing to be rescued because inside, he was feeling helpless himself. His social media – replete with pictures of him growing up in various uniforms, along with his support of "Blue Lives Matter" – tells the story.
Article continues below advertisement
Rittenhouse also tried to rescue his family financially by working at such jobs as a fry cook and janitor until he then became certified and worked as a lifeguard. He continued his schooling online, hoping to graduate from high school and ultimately follow his dreams to become a police officer, firefighter, paramedic or nurse like his mom. When he turned 17 years old, in January 2020, he tried to join the Marines, but was rejected for undisclosed reasons.
Rittenhouse cut an incongruous figure as he strode into Kenosha that fateful dark night, looking like a little chubby-cheeked toy soldier on a background of fire, looting, chaos and destruction. In his mind, it was "his moment to shine," a chance to finally put all his training to good use. He had been striving to rescue his family and be their protector. Now, he could prove himself to be "Kenosha's Protector," with his rifle and first aid kit. But he looked lost and may have even made some people wonder if they should try to call his mom to come get him before he gets hurt.
Article continues below advertisement
A witness who spoke with Rittenhouse after the shootings testified that he was nervous, pale, sweating, and repeatedly saying, "I just shot someone," with incredulity.
It was as if Rittenhouse suddenly awakened from his fairytale and discovered they don't all have happy endings! Indeed, even if Rittenhouse is found "not guilty," he will be haunted by nightmares of the night he tried to protect Kenosha — if not hunted by those who still think he should have been found "guilty."
Carole Lieberman, M.D., M.P.H., is a Board Certified Beverly Hills Forensic Psychiatrist/Expert Witness who has worked on hundreds of criminal (and civil) cases. She's a bestselling/award-winning author and her upcoming book, Murder By TV: A Descent Into Madness, is the story of the Jenny Jones Talk Show Murder for which she was the defense psychiatrist. Dr. Lieberman is an Emmy-honored News-Talk commentator. She's appeared on Oprah, Today, Good Morning America, CNN, FOX, HLN, ABC, CBS, NBC, Court TV, Law and Crime and many more. She was trained in Forensic Psychiatry at NYU-Bellevue. (www.expertwitnessforensicpsychiatrist.com)
Become a Front Page Detective
Sign up to receive breaking
Front Page Detectives
news and exclusive investigations.
More Stories