BOSTON LATIN KINGS GANG LEADER ADMITS TO CRIMES, FACES DECADES IN FEDERAL PRISON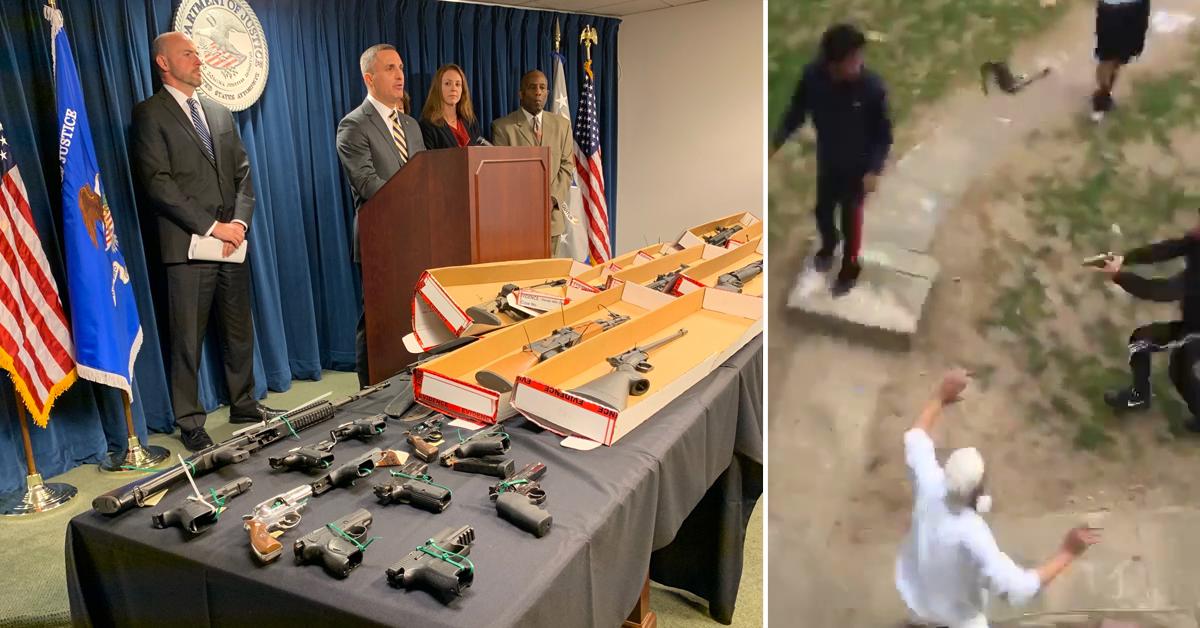 A former official in the Latin Kings admitted to racketeering charges and will soon learn if he will spend the next two decades behind bars.
Article continues below advertisement
Rodriguez faces up to 20 years in prison, a fine of no more than $250,000, and up to three years of supervised release.
Article continues below advertisement
The announcement comes after 62 members of the Latin Kings were named in an indictment in December 2019, accusing them of drug conspiracy, racketeering conspiracy and firearms charges. Rodriguez is the 28th member of the Latin Kings named in the indictment to enter a guilty plea in the case, known as Operation Throne Down, which was a four-year operation conducted by the FBI.
Rodriguez served as the Chairman of the Devon Street Kings, also known as the D5K Chapter, of the Latin Kings in December 2019. The Crown Council is an independent body of the Latin Kings that offers guidance to the leaders of the gang and helps to resolve disputes within the gang.
The Devon Street Kings reported to the head of the Massachusetts Latin Kings, providing information, funds and other resources to further the operations of the gang throughout the state and Boston area.
Evidence against Rodriguez's included a video of Rodriguez bagging cocaine to be sold. There was also evidence against the gang related to witness intimidation, stabbings, multiple robberies, conspiring to murder 10 people, shootings and drug trafficking.
Article continues below advertisement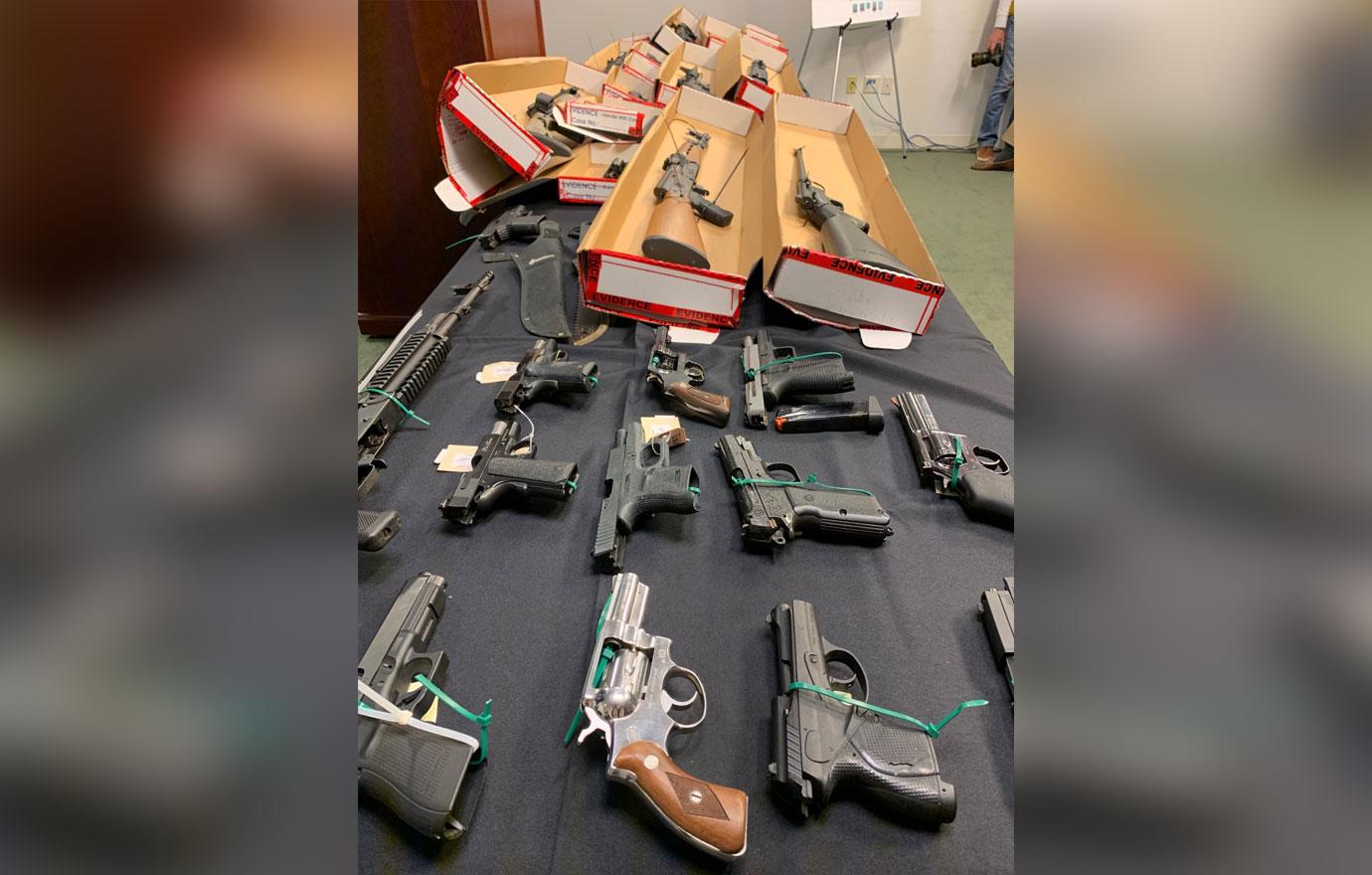 "Under the calculating leadership of Michael Cecchetelli, a 40-year-old Italian man from Springfield with blood ties to the Genovese crime family, the Latin Kings and Queens adopted a level of structure and order that's traditionally used by the mafia," said Joseph Bonavolonta, a special agent with the Boston division of the FBI.
Article continues below advertisement
"Cecchetelli ordered Latin Kings members to aggressively increase gang influence in Massachusetts and along the east coast, including ordering the murder of those who questioned his authority and authorizing various levels of violence against anyone cooperating with law enforcement," United States Attorney Andrew E. Lelling said.
When the arrests were made, agents seized dozens of guns, six motorcycles, six cars, an ATV, three jet skis, $38,000 and drugs. Among the firearms seized were a MAC-10, an AR-15 and an MP-5 sub-machine gun.
Article continues below advertisement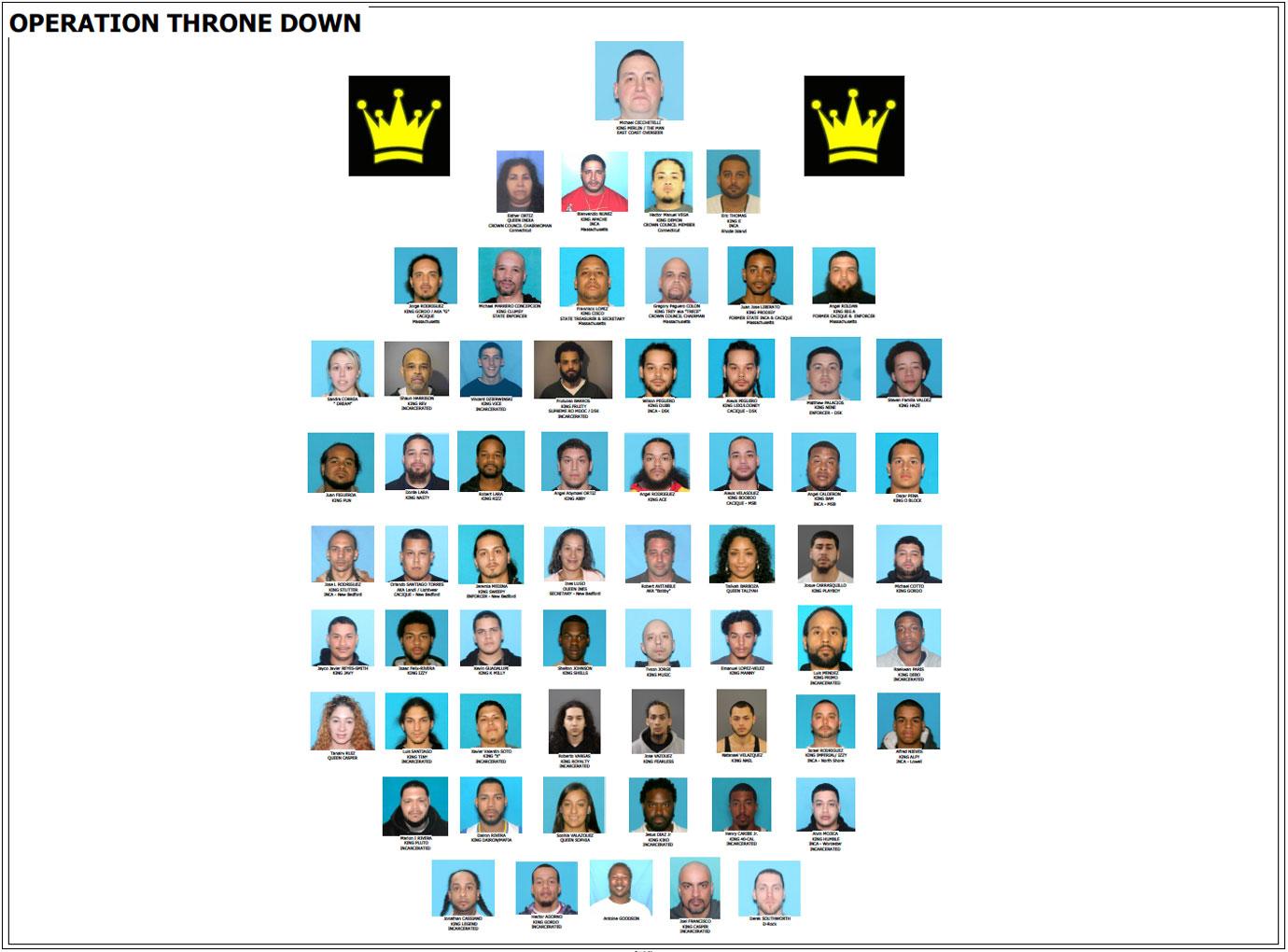 The complete list of the 62 gang members charged in Operation Throne Down is as follows:
Article continues below advertisement
● Michael Cecchetelli, King Merlin (East Coast Team, East Coast Overseer)
● Esther Ortiz, Queen India, Meriden, CT (East Coast Team, East Coast Crown Council Chairwoman)
● Hector Manuel Vega, King Demon, Britian, CT (East Coast Team, Crown Council Member, CT)
● Jorge Rodriguez, King G (State Team, Cacique, Enforcer (Former))
● Michael Marrero, King Clumsy (State Team, Enforcer, Regional Officer (Former))
● Francisco Lopez, King Cisco, Chelsea, Mass. (State Team, Treasurer/Secretary)
● Gregory Peguero-Colon, King Trece, Springfield, Mass. (State Team, Crown Council Chairman)
● Juan Liberato, King Prodigy, Haverhill, Mass. (State Team, Inca (Former))
● Angel Roldan, King Big-A and Nelty, Lowell, Mass. (State Team, Cacique (Former), Enforcer (Former))
● Frutuoso Barros, King Fruity (DOC, Supreme Regional Officer)
● Sandra Correa, Queen Dream, Peabody, Mass. (DOC, Secretary (Former))
● Shaun Harrison Rev (DOC, Member)
● Vincent Dzierwinski, King Vice (DOC, Member)
● Wilson Peguero, King Dubb, Dorchester, Mass. (D5K, Inca)
● Alexis Peguero, King Lexi/Looney, Dorchester, Mass. (D5K, Cacique)
● Matthew Palacios, King Nene (D5K, Enforcer)
● Steven Familia-Valdez, King Haze, Mattapan, Mass. (D5K, Member)
● Dante Lara, King Nasty, Providence, RI (D5K, Member)
● Robert Lara, King Rizz, Chelsea, Mass. (D5K, Member)
● Angel Abymael Ortiz, King Abby, Randolph, Mass. (D5K, Member)
● Angel Rodriguez, King Ace, Dorchester, Mass. (D5K, Member, Crown Council Chairman for Boston)
● Alexis Velasquez, King Booboo, Dorchester, Mass. (MSB, Inca)
● Angel Calderon, King Bam (MSB, (Former) State Team Head of Security)
● Oscar Pena, King O-Block (D5K, Member)
● Jose Rodriguez, King Stutter, New Bedford, Mass. (New Bedford, Inca)
● Orlando Santiago-Torres, King Landi, (New Bedford, Cacique)
● Robert Avitabile a/k/a Bobby (New Bedford, Associate)
● Taliyah Barboza, Queen Taliyah, New Bedford, Mass. (New Bedford, Member)
● Josue Carrasquillo, King Playboy, Springfield, Mass. (New Bedford, Member)
● Michael Cotto, King Gordo, New Bedford, Mass. (New Bedford, (Former) Regional Officer)
● Juan Figueroa, King Pun, Dorchester, Mass. (New Bedford, Member)
● Issac Felix-Rivera, King Izzy (New Bedford, Member)
● Kevin Guadalupe, King Milly, New Bedford, Mass. (New Bedford, Member)
● Shelton Johnson, King Shells, New Bedford, Mass. (New Bedford, Member)
● Tyson Jorge, King Music (New Bedford, Member)
● Emanuel Lopez-Velez, King Manny (New Bedford, Probationary Member)
● Luis Mendez, King Primo (New Bedford, Member, Incarcerated)
● Raekwan Paris, King D-Bo (New Bedford, Member)
● Jayco Reyes-Smith, King Javy (Former New Bedford Member, now in North Carolina)
● Luis Santiago, King Tiny (New Bedford, Member, Incarcerated)
● Roberto Vargas, King Royalty (New Bedford, Member)
● Jose Vasquez, King Fearless (New Bedford, Member)
● Natanel Velazquez, King Nael, New Bedford, Mass. (New Bedford, Member)
● Israel Rodriguez, King Imperial, Lynn, Mass. (North Shore, Inca)
● Alfred Nieves, King Alfy, Lowell, Mass. (Lowell, Inca)
● Marlon Rivera, King Pluto (Fitchburg, Member, D5K, Founder)
● Ines Lugo, Queen China, New Bedford, Mass. (New Bedford, Secretary)
● Jeremia Medina, King Sweepy, New Bedford, Mass. (New Bedford, Enforcer)
● Bienvenido Nunez, King Apache, Enfield, CT (State Team, Inca)50
● Tanairy Ruiz, Queen Tanairy, New Bedford, Mass. (New Bedford, Member)
● Xavier Valentin-Soto, King X (New Bedford, Member, (Former) Cascique, Incarcerated)
● Joel Francisco, King Casper (Rhode Island, Member)
● Eric Thomas, King E (Rhode Island, Inca)
● Alvin Mojica, King Humble (Worcester, Inca)
● Sophia Velasquez, Queen Sophia (Fitchburg, Member)
● Dairon Rivera, King Mafia (Fitchburg, Member)
● Hector Adorno, King Gordo (Springfield, Member)
● Jesus Diaz, King Kiko (N. Shore, Member)
● Henry Caribe, King 40cal (N. Shore, Member)
● Jonathan Cassiano, King Legend (Springfield, Member)
● Antoine Goodson (Associate, gun supplier to gang)
● Derek Southworth (Associate, gun supplier to gang)