A nightmare day in Massachusetts: Suspect, K-9 die in Boston area shootout. Cop dies trying to save drowning teens.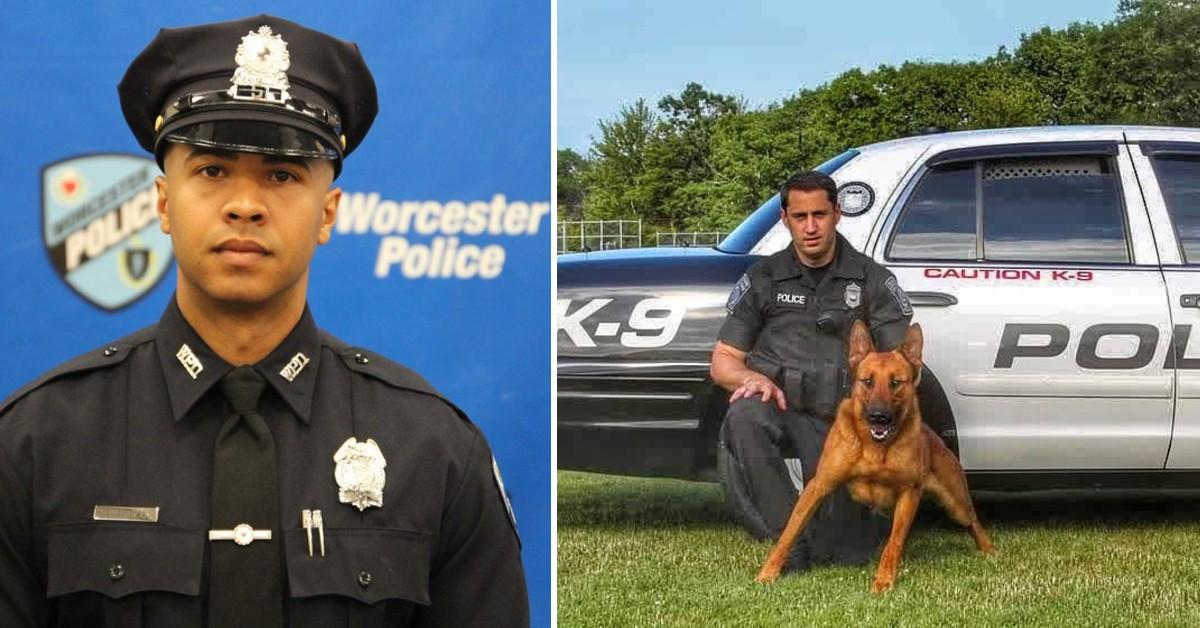 Massachusetts had a heartbreaking day on June 4 with an officer drowning trying to save teenagers, and in a separate incident, police were involved in a shootout where a K-9 and the suspect died.
Article continues below advertisement
BRAINTREE SHOOTOUT
Authorities in Massachusetts said two police officers were shot during a mid-day encounter with a suspect. Officers in Braintree responded to a domestic violence call around 12:45 p.m. Braintree is less than 15 miles south of Boston.
The caller reportedly told police a suspect was "armed with multiple handguns" when he fled into the woods next to an apartment complex.
Article continues below advertisement
Multiple cops, including a K-9 officer and his search dog Kitt, established a perimeter and began combing the woods.
The officers and their K-9 made it about 75 yards into the woods when they were allegedly ambushed. Two officers suffered multiple gunshot wounds, but returned fire.
"They came under fire from someone in a defensive position," Norfolk County District Attorney Michael Morrissey told The Patriot Ledger.
Article continues below advertisement
Initial reports suggested the police apprehended the suspect, but it was later confirmed that the alleged gunman, Andrew Homen, 34, of Brockton, was killed during the exchange.
The dog, Kitt, was fatally hit as well.
Article continues below advertisement
Kitt's body was carried out of the woods wrapped in an American flag as officers saluted him in a somber procession.
"Going through K9 patrol school, you came out…guns blazing…during your service you apprehended countless criminals, often in the dead of night…through thick brush, and insane weather. You found bad guys, wandered elderly, firearms and other ballistic evidence," a tribute posted on the Braintree Police's Facebook page read.
A police motorcade procession escorted Kitt to an animal hospital in the nearby town of Weymouth, where officers from Franklin to Mashpee waited to stand in salute and honor the K-9's courage.
Article continues below advertisement
"It is tragic for us and our K9. That dog was incredible, a 12-year veteran of the force and with the same handler all those years," Braintree Police Chief Mark Dubois said at a press conference.
"It shows you, in the middle of the afternoon, how dangerous this job is."
Officials said Homen was a wanted man and had previous run-ins with the police.
He was arrested for breaking into cars in Quincy, a city sandwiched between Boston and Braintree, on April 1, 2010. About a month and a half later, Homen was one of three men arrested after several cars were broken into in the Quincy Point and Wollaston neighborhoods.
Article continues below advertisement
Police said they found two handguns with Homen in the woods.
The two wounded officers, Kitt, and Homen were reportedly carried from the woods, given first aid and transported to area hospitals, Morrissey said in a statement.
The two wounded officers are said to be in stable condition as of June 5.
Article continues below advertisement
WORCESTER COP DROWNS
Reports indicated Familia drowned while he and four other officers attempted to rescue three teens struggling in the water at Green Hill Pond. A 14-year-old boy did not survive.
Article continues below advertisement
His body was recovered about two hours after the 911 call was made.
Divers from the Worcester Fire Department recovered Familia's body. The 38-year-old was a member of the Worcester Police Department for five years. He leaves behind a wife and two children, according to the Worcester Telegram.
"Officer Familia is a hero who made the ultimate sacrifice while attempting to save the young man," Gov. Charlie Baker said in a tweet. "We are thinking of all those grieving tonight, and of Manny's brothers and sisters at the [Worchester police]."
Article continues below advertisement
Baker went on to offer well-wishes to the two wounded Braintree officers and honored Kitt for his courage.
"Tonight our thoughts are with the two @BraintreePolice officers who were injured and their families as we pray for a speedy recovery," Baker tweeted.
"We are also grateful to K9 Kitt for his 12-years of decorated and courageous service to the Commonwealth, and we offer our heartfelt condolences to his partner and the Braintree Police."
Become a Front Page Detective
Sign up to receive breaking
Front Page Detectives
news and exclusive investigations.
More Stories