Man steals police cruiser, leads car chase that ends with police killing the suspect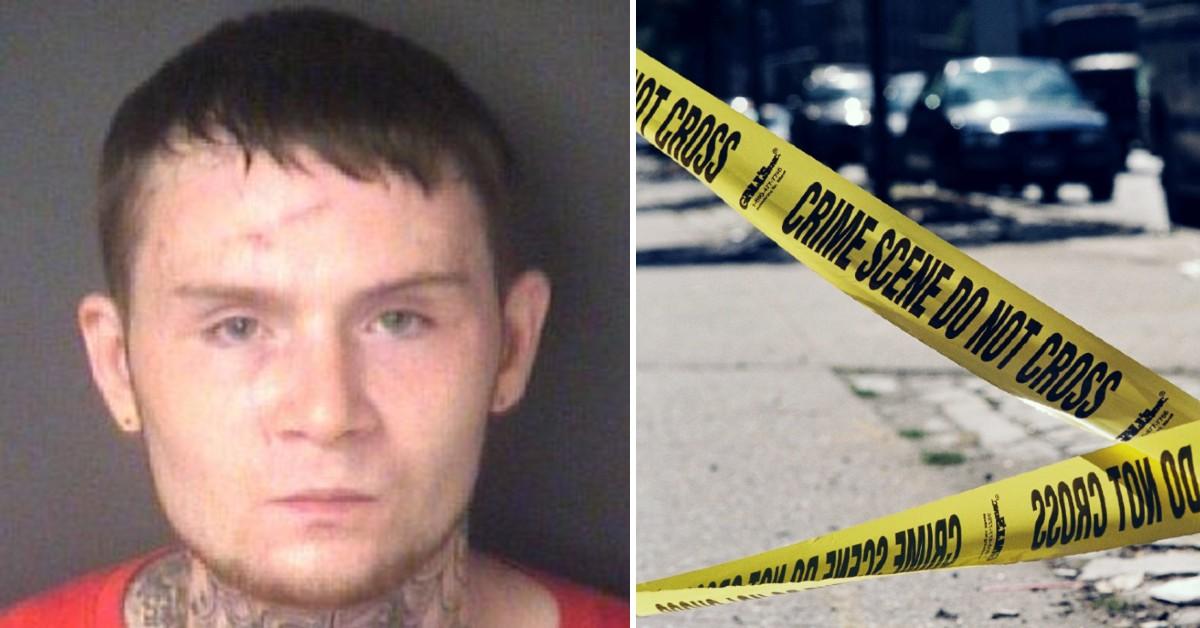 Massachusetts police shot and killed a suspect who allegedly robbed a store, fled in a boosted police cruiser and led a car chase outside of Boston.
Article continues below advertisement
Erich Leach, 36, reportedly made off with $334 from a 7-Eleven in Rockland, a town about 23 miles south of Boston, after holding up two women behind the counter at gunpoint on March 26.
Rockland Police Chief John Llewellyn said responding officers chased Leach on foot to a neighborhood, where two different residents reported he tried to get into their homes.
Article continues below advertisement
Llewellyn said an officer caught up to Leach, drew his service weapon, but opted to try tasing Leach, who reportedly yelled "shoot me" several times. The officer later said the attempted tasing was unsuccessful due to the thickness of Leach's sweatshirt.
At this point, an officer got out of his cruiser to chase Leach and forgot to lock the door. That's when officials said Leach made a brazen move by jumping into the cruiser and driving off with a standard-issue, semi-automatic patrol rifle still inside the vehicle.
"[Leach] opened the driver side door and jumped in," Llewellyn said in a statement. "Unfortunately, trying to catch an armed robbery suspect, the officer left the door unlocked. I don't fault him."
Article continues below advertisement
Around 7:10 a.m., an Abington Police officer reportedly "lost control of his vehicle, striking a utility pole in Rockland and subsequently rolled over."
The officer was taken to a local hospital and was released a short time later.
"The suspect was able to enter a Rockland police cruiser and he fled the scene toward Weymouth and Abington," District Attorney Michael Morrissey said in a statement. "During that chase, the suspect struck a number of police cruisers of local departments."
Article continues below advertisement
The Massachusetts State Police joined the pursuit after the suspect reportedly hit two cars at a Mobil gas station.
Article continues below advertisement
Authorities said the stolen cruiser stopped on a ramp on Burgin Parkway and was surrounded by several police vehicles and an armored vehicle, who were waiting in the area.
"Police had deployed Stop Sticks on Burgin Parkway and helped bring the car to a slow stop," Morrissey said.
State Police Tweeted, "Suspect still in vehicle, has moved vehicle to Burgin Parkway in area of Quincy St. Vehicle blocked by MSP STOP Team and negotiations ongoing. We will continue to talk to the suspect. We are prepared for a lengthy negotiation."
Article continues below advertisement
Crisis negotiators arrived on the scene to talk to Leach, who reportedly refused to exit the cruiser.
After an hour of attempted negotiations, Leach managed to maneuver the damaged cruiser, and made another run.
Police shut down the on- and off-ramps at Exit 42 of Interstate-93, and the MBTA suspended Red Line service once authorities were able to corner Leach, who hadn't made it too far from the initial stopping point.
Article continues below advertisement
Officials said a State Police trooper fatally shot Leach as he climbed out of the mangled cruiser with the service rifle in hand around 9:30 a.m.
"During the verbal negotiations, the police observed the suspect in control of a police patrol rifle," Morrissey said at a press conference.
"Despite numerous requests to surrender, the suspect started to come out of the passenger door armed with a patrol rifle."
Article continues below advertisement
Police said the rifle was locked in its proper holster, but Leach managed to break the weapon loose.
Leach was well-known to the authorities.
"I can tell you once his name comes out that you'll Google it, you'll see that there was a rather famous incident not that long ago," Llewellyn told the press in the immediate aftermath of the shooting.
"He does have an extensive criminal record. He's done time in jail."
Leach had a lengthy rap sheet, and even earned himself a spot on the state's Most Wanted list. His previous charges include unlawfully carrying a firearm, unlawful discharge and assault and battery on a child under 14.
Become a Front Page Detective
Sign up to receive breaking
Front Page Detectives
news and exclusive investigations.
More Stories