Found dead in a cornfield: Lawyers give opening statements in trial over Mollie Tibbetts' death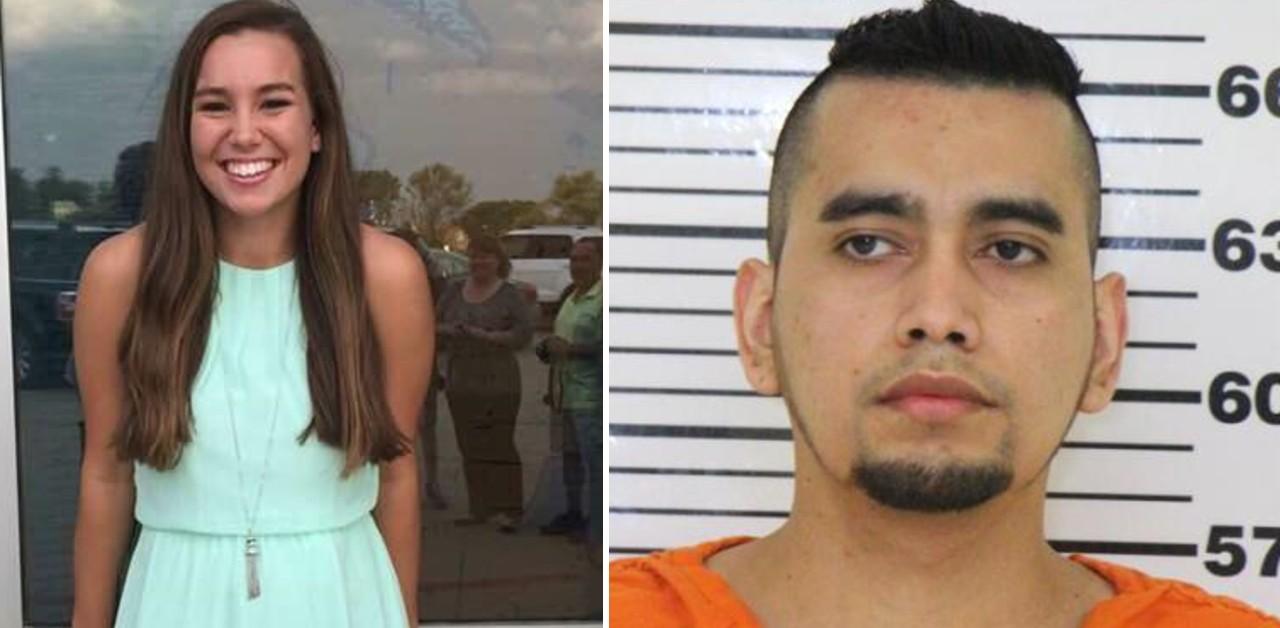 It's been three years since Mollie Tibbetts' body had been found in an Iowa cornfield. Now, prosecutors are trying to convince a jury the man who allegedly killed her should be found guilty.
Opening statements for the murder trial of Christhian Bahena Rivera started on May 19.
Article continues below advertisement
The case had garnered much public attention, especially after former President Donald Trump expressed his frustration with the issue of illegal immigration, as Rivera is an illegal imigrant. Due to Iowa being a republican stronghold, the defense team requested the case to be moved to Scott County from Poweshiek County to find an impartial jury.
The 20-year-old University of Iowa student was declared missing after she disappeared on July 18, 2018, from her hometown of Brooklyn, Iowa. Tibbetts was last seen jogging. Her boyfriend had been the last recipient of her communication via Snapchat around 10 p.m. the same day.
Tibbetts's family made the initial report a day after she failed to resume at her childcare center job.
Article continues below advertisement
According to a media report, Investigators got hold of a surveillance video a month after the incident, which showed Rivera's car driving by Tibbetts as she jogged. After being interviewed, Rivera led investigators to the location where her body had been found. However, he allegedly claimed to have approached Tibbetts, who ran after she threatened to call the police.
Rivera then chased her and later claimed not to have any recollection of the murder. Rivera alleged he only realized her body had been in the back of his car.
Prosecutor Bart Klaver took the jury on a line-by-line depiction of the events leading to the death of Tibbetts. They were told how she had been an avid runner.
Article continues below advertisement
It was Tibbetts' habit to run in the evenings on the gravel roads. Christina Stewart, a hairstylist in town who knew Tibbetts all her life, drove past her later that night. Steward was the last person to see Tibbetts before her path crossed with Rivera.
Klaver described Tibbett's family anxiety after Tibbetts never returned home. They contacted law enforcement, which led to about five weeks of a massive search for Tibbetts. The hunt involved local and federal agencies.
Klaver continued to tell the jury how a deputy accosted Rivera, after recalling Rivera's Black Chevy Malibu from the surveillance camera. Klaver told the jury how Rivera lied at first until investigators showed the suspect the video from the surveillance camera.
Then, he admitted seeing Tibbetts.
Article continues below advertisement
"In his own words, he claimed she was hot and had made a turn for a second look," Klaver told the jury.
The state highlighted to the jury that Rivera was the only one who drove the Black Chevy Malibu. The jury was also informed how Rivera later led authorities to the cornfield where authorities found her body. Klaver informed the jury that Tibbet was stabbed about seven times and her blood was found in the Malibu.
Article continues below advertisement
Klaver asked the jury to focus on three things – the video from the surveillance camera, evidence recovered from Rivera's car with Tibbetts' blood it and his admissions to authorities.
He asked the jury to find Rivera guilty for the charge of first-degree murder.
Unlike prosecutors, Rivera's attorney Jennifer Frese declined to make an opening statement on May 19. She will have the chance to make once, once the state finishes presenting the evidence.
Article continues below advertisement
FIRST WITNESSES
The first witnesses also took the witness stand on May 19.
Blake Jack's brother, Dolton, was in a relationship with Tibbets and had lived with Blake and his girlfriend, Allie. Blake knew Tibbets ever since she started dating Dolton. They had dinner together often. Tibbets had been housesitting for Blake and Dolton while they were away on business.
Assistant Iowa Attorney General Scott Brown asked how Blake entered his home upon his return and if everything had been in order. The state's question was to dispel any attempt by the defense's claim Tibbetts could have been kidnapped and murdered by an intruder.
Article continues below advertisement
During cross-examination, Frese asked Blake about his claim of searching for Tibbetts with Snapchat. She asked if his Snapchat showed Tibbetts location. Frese also asked if authorities had ever taken his DNA to eliminate him as a suspect.
Blake shuddered and replied, "No."
Frese asked Blake if he knew about Dolton's anger problem, again, he replied, "No."
Article continues below advertisement
The state also called Dolton Jack, a sergeant with the 82nd airborne division of the U.S. Army. Brown asked Dolton's whereabouts on the day Tibbetts disappeared. He claimed to be working at Dubuque, Iowa, for Jasper Construction.
State prosecutors attempted to dispel any doubt that Rivera was the sole suspect with a motive and opportunity to murder Tibbetts.
During cross-examination, the defense tried to shift the juror's focus on Dolton's character with a trail of lies and omissions to investigators after Tibbetts's disappearance. The defense team further highlighted Dolton's affair with another woman, indicating a tumultuous relationship with Tibbetts, which could be considered as a motive for murder.
Become a Front Page Detective
Sign up to receive breaking
Front Page Detectives
news and exclusive investigations.
More Stories