A 6-year-old went missing in small-town Arkansas 26 years ago. Today, police continue to hunt for her abductor.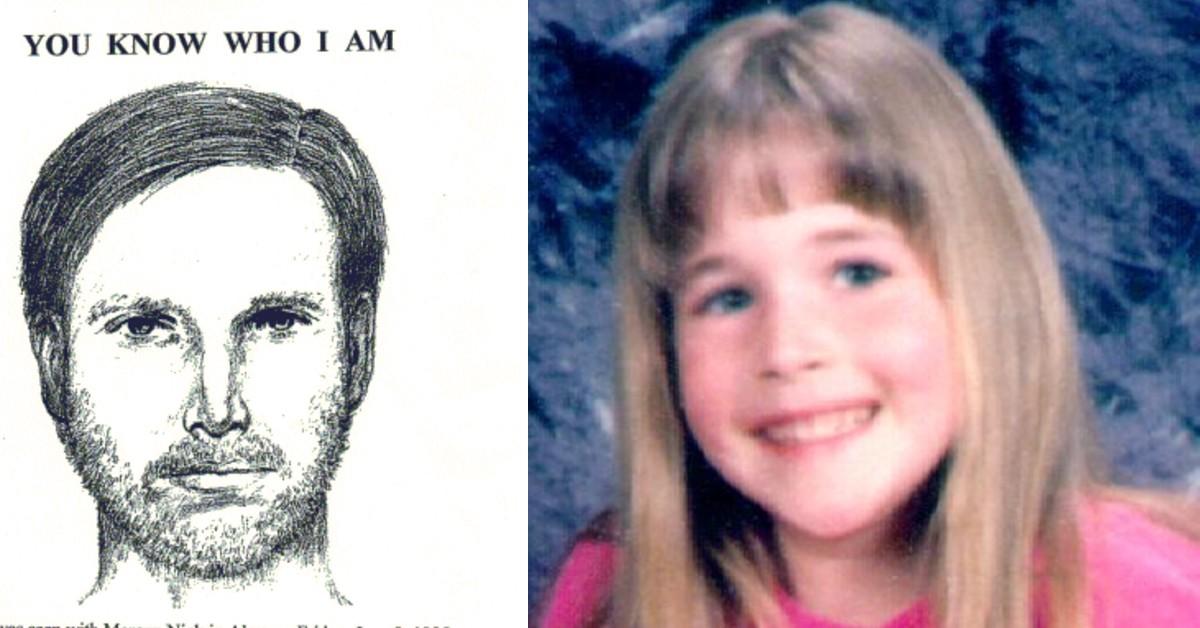 Morgan Nick, 6, lived in Ozark, Arkansas, with her mother, Colleen, and her two younger siblings. The territory comes from 'aux arcs' and refers not to the famous Ozark Mountains but to the wide bend of the Arkansas River the first French explorers witnessed.
Article continues below advertisement
One June day in 1995, when Morgan was attending a Little League baseball game away from home, in the nearby town of Alma, she vanished after following two friends to catch fireflies. Her friends told her mom they thought Morgan was behind, in the parking area, but when Colleen went to collect her daughter, the lot was emptying out and her daughter was nowhere to be seen.
It was every parent's worst nightmare.
The kids told Colleen they last saw Morgan shoeless, dumping sand out of her white sneakers, and talking with a man. The friends called the man "creepy," and Colleen was left with this single clue as to where Morgan went.
On April 14, 2021, authorities released information about 150 new leads they've received in recent months. Alma Police Chief Jeff Pointer told 4029 News, "I think someone knows something and maybe multiple people. Twenty-six years is a long time to hold something in."
Article continues below advertisement
A PERFECT SUMMER EVENING
In Alma, Little League baseball is a community event that draws in a big crowd. Parents show up, usually herding multiple children up into the stands. It was commonplace for local kids to explore the nearby area, and on June 9, 1995, it was a beautiful, warm summer night when the baseball lights came on to light up the last innings.
Morgan was a shy child who usually stayed close to her mom, and this night was no different. As the games were wrapping up around 10:30 p.m., two of Morgan's friends were hanging out in the nearby parking lot. They wanted to trap fireflies. Catch them and watch the glow escape from cupped hands, between the fingers — then letting them fly off.
Article continues below advertisement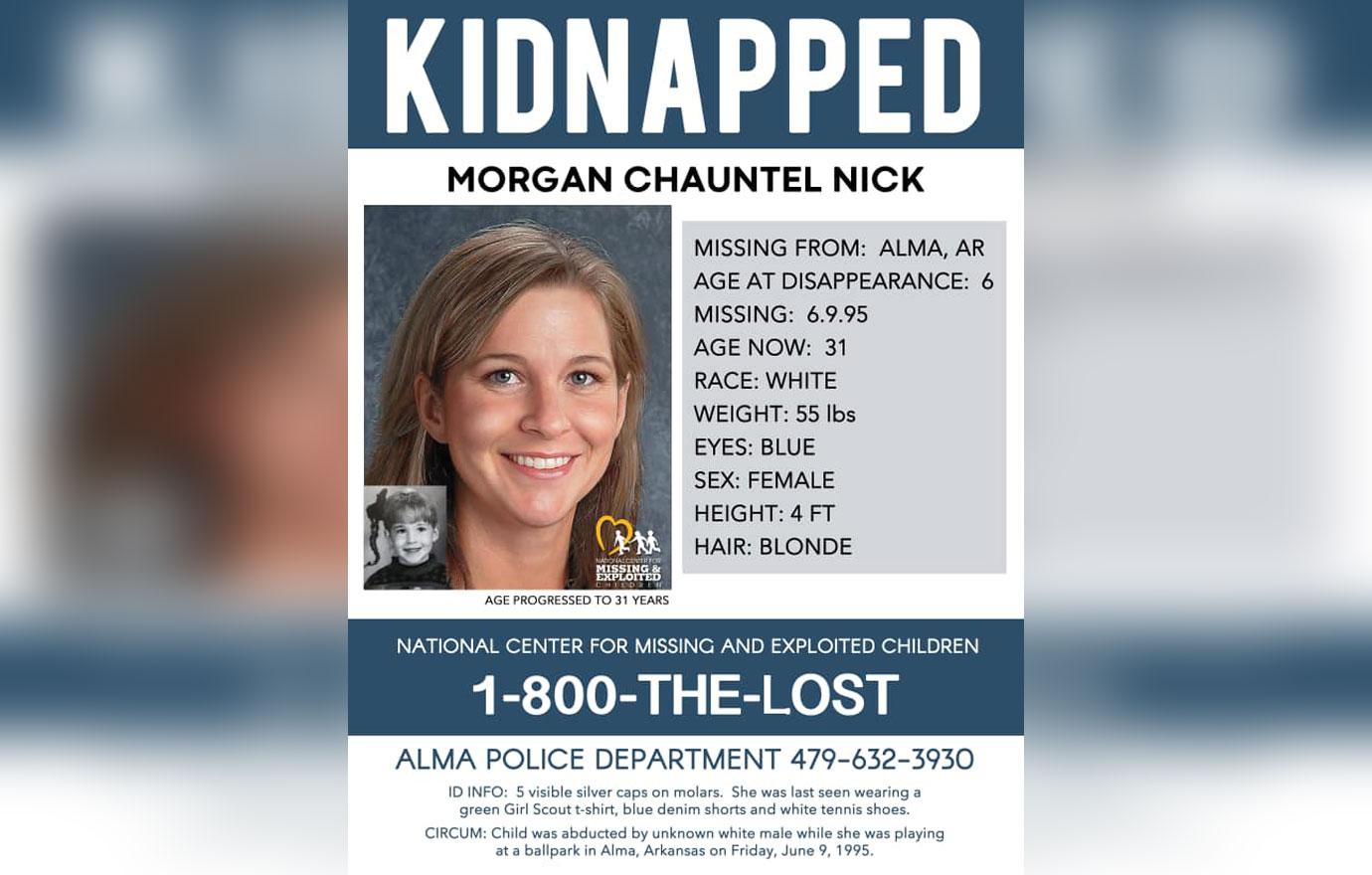 Her two friends, 8 years old and 10 years old, told Morgan how much fun it was, and the little girl got permission, hugged her mother, then stepped down the bleachers to follow her older girlfriends. The parking area and field adjacent to it were 300 feet from the stands, dark enough to find fireflies but within sight, next to rows of vehicles.
Article continues below advertisement
Colleen watched Morgan leave, careful to keep an eye on her girl. Morgan was gone for 15 minutes when the game ended. As Colleen looked over at the field, she saw only two girls running back to the stands.
PANIC CHANGES EVERYTHING
Like a sudden gust of wind, the mood at the baseball game turned threatening when Colleen couldn't didn't see her daughter walking back. The friends returned, but only a space remained where Morgan should've been. The parking lot, minutes ago a playground for giggling children, was quieter as families left and the field filled with fireflies was dark. In the stands, Colleen had no cell phone. Another spectator dialed 911 for her.
Article continues below advertisement
Within minutes, Alma Police officers arrived. They interviewed Colleen and spoke with the children who were playing with Morgan. No one could describe exactly when it happened, but they saw a man talking with Morgan, and they did their best to describe what he looked like and what he wore to the first officers on the scene.
Morgan was average height for her age, about 4-feet tall, a typical 6-year-old. She had dark blonde hair, blue eyes and a hint of freckles. She wore denim shorts and a green Girl Scout T-shirt. By nature, she was trusting and cautious. It only took a moment for her to seemingly leave with a stranger.
Article continues below advertisement
Police continue to make this case a priority. Colleen has gone to extraordinary lengths to find Morgan, while raising her two younger children. In Arkansas, the AMBER alert program is named for Morgan Chauntel Nick.
Morgan would be 32 years today. The police have not stopped working to solve the mystery of what happened to her 26 years ago, but their progress until recently has reflected a frozen moment in time.
"Basically everything we knew," Alma Police Chief Russell White told Blytheville Courier News in 2000, "in the first 24 hours is what we know now."
Article continues below advertisement
THE FIRST LEADS
Morgan disappeared sometime between 10:30 p.m., when she trotted off with her two older friends, and 10:45 p.m., when the game ended and Colleen watched the two girls return to the bleachers without her daughter. Hundreds of people, including players, parents, families and other onlookers, covered the area that night.
As the game broke up, the police began identifying who was there and conducted interviews with adults who saw Morgan.
Article continues below advertisement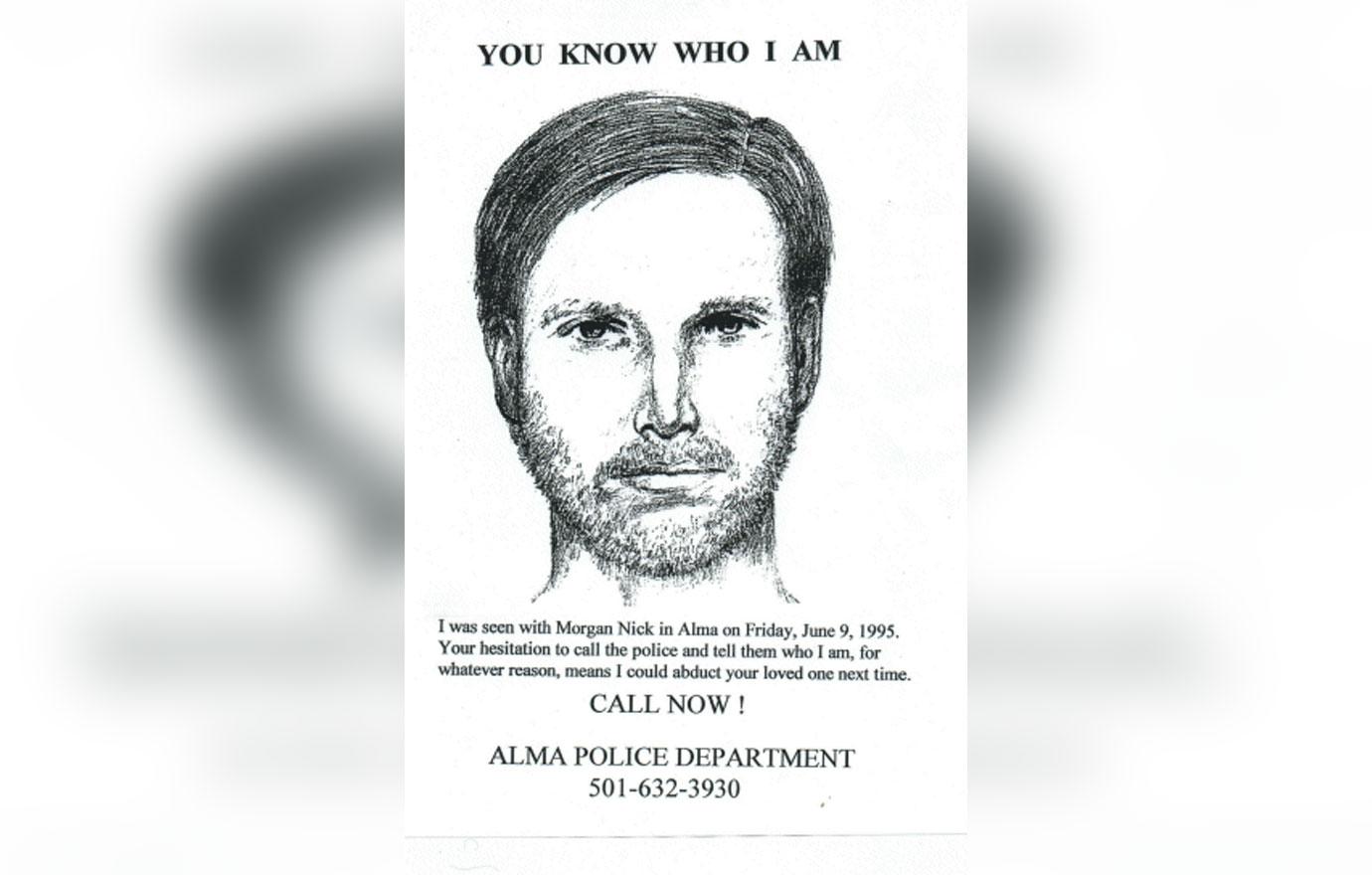 Morgan was not an adventurous child, and Colleen knew right away as she watched the two girls return without her daughter that something was "horribly wrong." Morgan didn't like the outdoors and was afraid of the dark.
She wouldn't have strayed.
Article continues below advertisement
The two little girls told Colleen her daughter was right next to their car, getting sand out of her shoes, when they last saw her. They described the man they'd seen talking with Morgan in their last glimpse of her.
He was a white man, on the tall side, with a scruffy beard about an inch long. He didn't stand out from the crowd, with light brown hair and an average build, but authorities quickly determined he was driving a distinctive red pickup truck with a camper shell.
Article continues below advertisement
ONE SUSPECT, MANY LIVES
Because child abductions are far more common within families, the initial suspect was Colleen's ex-husband. He was ruled out within a few hours. He wasn't at the game, and witness reports from the scene indicated several individuals saw the "creepy" man described by the two children. The bearded man, who by most accounts was estimated in his 20's or 30's, was observing Morgan.
The most promising lead in finding this individual remains his distinctive vehicle. A grainy photograph emerged later, the product of hundreds of parents snapping photos of their kids during the game.
According to "The Charley Project," onlookers recalled several details about the vehicle:
Article continues below advertisement
The unidentified man may have been driving a red Ford pickup truck with a white camper, which had windows covered with curtains. The vehicle left the field's parking lot at approximately the same time Morgan disappeared. The truck had a dull paint job due to age, and a short wheel base. The camper was possibly damaged on its right rear end. Witnesses stated that the camper appeared to be four to five inches shorter than the truck.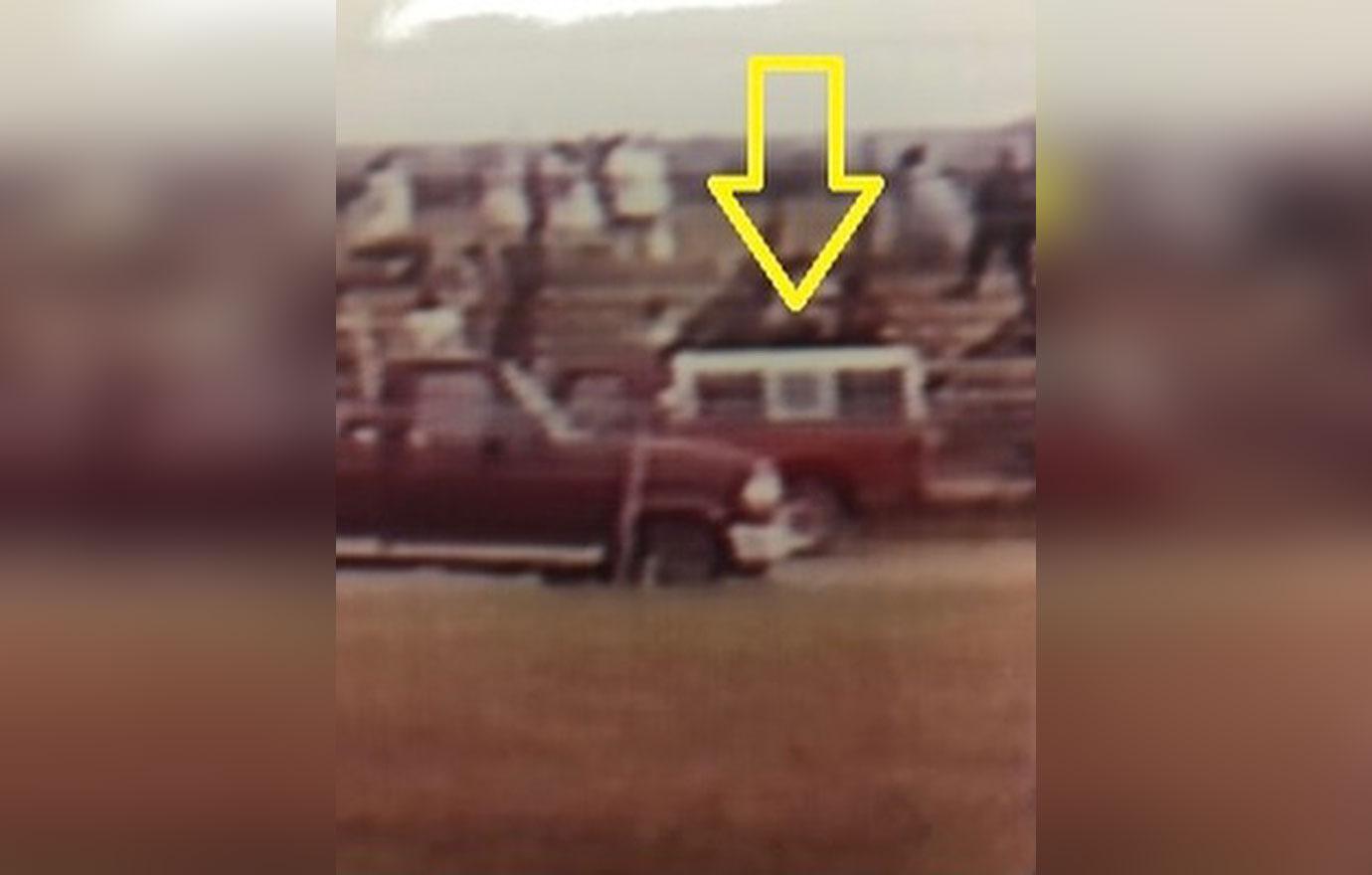 Article continues below advertisement
Social media has generated useful leads relating to this vehicle. On the Alma Arkansas Police Department Facebook page, law enforcement has followed up on reputable posts like this one:
That was my grandfather's truck and my uncle was driving it. Sadly, my grandparents got rid of the evidence as they always had. My uncle's history is full of accusations of molestation and rape. I have half a dozen direct family members that will vouch for this. Our family has tried to reach out in the past, but no one has ever contacted any of us. The man in your description is undoubtedly my uncle.
Article continues below advertisement
The post originally came from a resident of Benton, Arkansas, named Joe Tollet, who also posted a photo of his uncle next to the sketch of the prime suspect in Morgan's disappearance.
In 2021, Alma Police re-released a photograph of the pickup. They believe it is the vehicle used to kidnap Morgan and if it is not the exact one — because of the possibility there could have been two red trucks with camper shells at the game that night — it is a close look-alike.
ALMA TODAY
In 1995, the town of Alma had about 3,000 residents. Today, it's grown to nearly 6,000 and the baseball field is long gone. It's been replaced by a newer, larger sports complex. The scene of Morgan's disappearance is a fading memory for townspeople, even though Colleen now lives in Alma. Little League is back to normal, but the town keeps Morgan's memory alive.
Article continues below advertisement
On the same day Morgan was taken, two separate and frightening abduction attempts occurred in the vicinity. That morning, a woman doing laundry at a downtown laundromat had her 4-year-old with her. A man in a red pickup truck tried to pull the child into his vehicle, but the mother was nearby and swiftly intervened. The next day, according to The Charley Project, a similar incident occurred 10-miles away in Fort Smith, Arkansas. A strange man attempted to lead a 9-year-old girl into the men's restroom of a convenience store. She successfully resisted his assault.
Authorities reported the same individual, driving the same vehicle, was involved in both incidents and he closely resembled the suspect in Morgan's abduction. Witnesses told law enforcement he drove a red pickup truck with a white camper shell.
Article continues below advertisement
After Morgan vanished, Colleen decided to wait three days, and on the fourth day, she would tell her younger kids their sister was gone. The kids wanted to know how she could've lost Morgan, but they were too young to understand the depths of evil in the adult world. Colleen moved to Alma in 1997 and set up a new home, keeping Morgan's bedroom mostly the same.
She has never given up hope that her daughter could someday return.
The Alma Police Department found help from the FBI, from state police, and from hundreds of tips. None have led anywhere new, yet, but circle around to the few clues of June 9, 1995: a man, a fading red pickup truck with white camper shell, a girl gone in seconds.
If you know who owned or operated the red truck in this photograph, or have any information related to this case, the Alma Police Department requests you call the National Center for Missing and Exploited Children at 1-800-THE-LOST, or 1-800-843-5678.
Authorities who continue to work on this active investigation include:
Alma Police Department (501) 632-3930
Arkansas State Police (501) 783-5195
Federal Bureau of Investigation (202) 324-3000
Become a Front Page Detective
Sign up to receive breaking
Front Page Detectives
news and exclusive investigations.
More Stories