Earth 2.0? Astronomers Discover Planet Nearly 9 Times Size of Ours with Possible Oceans and Habitable Conditions 120 Light Years Away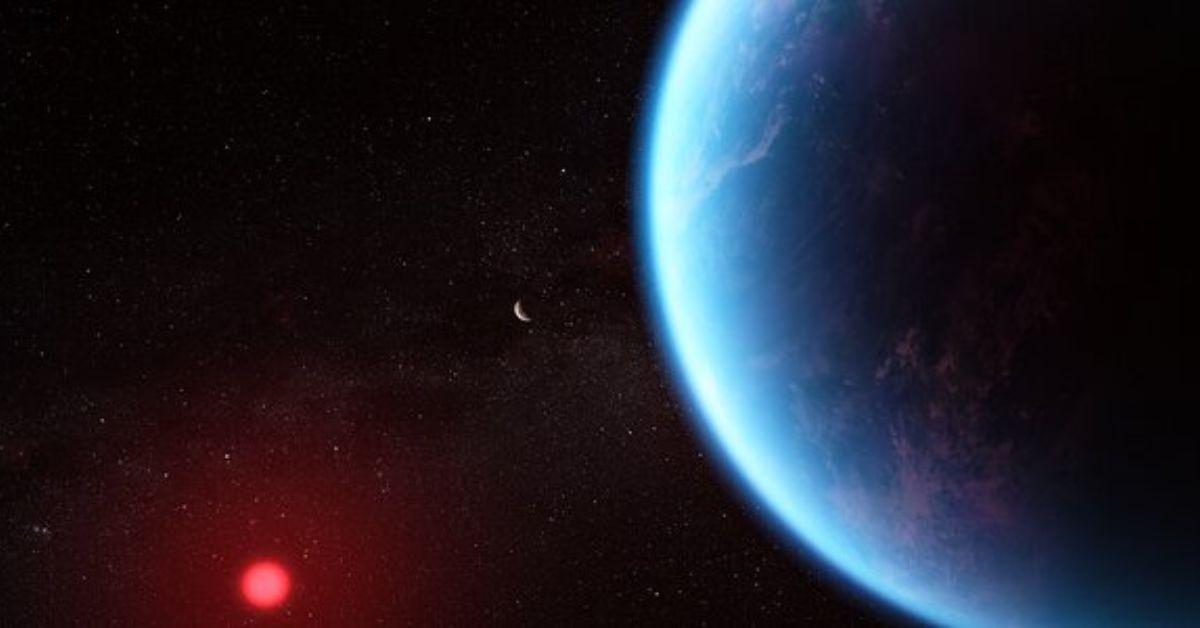 Article continues below advertisement
The astronomers first began their research of the exoplanet using the NASA/ESA Hubble Space Telescope, whose findings prompted further studies that have given them a better understanding of the system.
Still, NASA notes that K2-18 b, which is 120 light years away from Earth, is unlike anything in our solar system. Because of that, astronomers caution that there is much debate among the understanding of such exoplanets.
But the findings do show some promise in finding out more about potential life in space.
"Our findings underscore the importance of considering diverse habitable environments in the search for life elsewhere," explained Nikku Madhusudhan, an astronomer at the University of Cambridge and lead author of the paper announcing these results. "Traditionally, the search for life on exoplanets has focused primarily on smaller rocky planets, but the larger Hycean worlds are significantly more conducive to atmospheric observations."
According to NASA, the abundance of methane and carbon dioxide - along with a shortage of ammonia - suggest there may be an ocean below the hydrogen-rich atmosphere on K2-18 b. Astronomers also found evidence of a molecule called dimethyl sulphide, which is only produced by life on Earth. That molecule is emitted by phytoplankton in marine environments on Earth.
Article continues below advertisement
The discovery of potential dimethyl sulphide, however, is less robust and "requires further validation," NASA states. "Upcoming Webb observations should be able to confirm if DMS is indeed present in the atmosphere of K2-18 b at significant levels," Madhusudhan said.
NASA also cautions that just because K2-18 b has carbon-bearing molecules, that doesn't necessarily mean the planet can support life. The agency also notes that the planet's massive size likely means its interior likely includes high-pressure ice like Neptune but a hydrogen-rich atmosphere and an ocean surface.
Hycean bodies are believed to have ocean of water, but it's also possible the ocean is too hot to be habitable, NASA states.
"Although this kind of planet does not exist in our solar system, sub-Neptunes are the most common type of planet known so far in the galaxy," team member Subhajit Sarkar of Cardiff University said. "We have obtained the most detailed spectrum of a habitable-zone sub-Neptune to date, and this allowed us to work out the molecules that exist in its atmosphere."
NASA also notes that the glare of much larger parent stars makes the exploration of exoplanet atmospheres difficult. However, the team was able to overcome the obstacle by analyzing light from K2-18 b's parent star as it passed through the exoplanet's atmosphere.
"This result was only possible because of the extended wavelength range and unprecedented sensitivity of Webb, which enabled robust detection of spectral features with just two transits," Madhusudhan said. "For comparison, one transit observation with Webb provided comparable precision to eight observations with Hubble conducted over a few years and in a relatively narrow wavelength range."
The team suggested that the most recent findings are likely just the tip of the iceberg when it comes to understanding such celestial bodies.
Article continues below advertisement
Never miss a story — sign up for the Front Page Detectives newsletter. Be on the scene the moment news breaks.
"These results are the product of just two observations of K2-18 b, with many more on the way," explained team member Savvas Constantinou of the University of Cambridge. "This means our work here is but an early demonstration of what Webb can observe in habitable-zone exoplanets."
The team is already planning its next step of using the telescope's Mid-InfraRed Instrument spectrograph with hopes of further validating the initial findings.
"Our ultimate goal is the identification of life on a habitable exoplanet, which would transform our understanding of our place in the Universe," concluded Madhusudhan. "Our findings are a promising step towards a deeper understanding of Hycean worlds in this quest."
Become a Front Page Detective
Sign up to receive breaking
Front Page Detectives
news and exclusive investigations.
More Stories