An NBA player seemed to disappear from the earth. Is an African dictator to blame?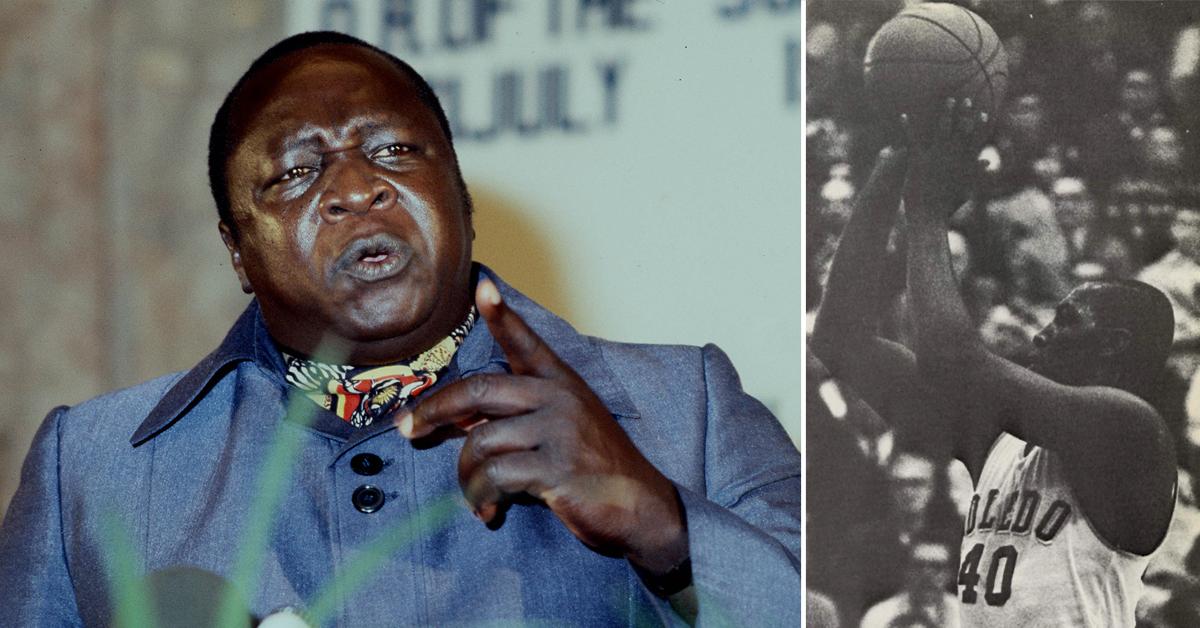 Sports are filled with stories of brilliant young men succumbing to their inner demons and the pressures of fame. From Oscar Pistorius to Aaron Hernandez, these tales often end tragically for others as these individuals' demons lead them to commit terrible crimes.
Article continues below advertisement
Occasionally it is the star themselves who becomes the victim. In the case of the Seattle SuperSonics' John Brisker, once a bright NBA prospect, the notorious dictator Idi Amin may very well be the one responsible for a killing that can never be proven.
Founded in 1967, the Seattle Supersonics had achieved their first winning season in 1971-72 at 47–35. There was the sense that the team was on the up, having finished sixth and then fifth in the Western Division between 1968 and 1970 and then fourth and third in the Pacific Division of the Western Conference between 1970 and 1972.
The next year would surely be their year to make the playoffs, and on August 15, they enlisted forward/guard John Brisker against the ABA's Pittsburgh Condors to help them do it. He was given a six-year, $1 million contract.
Article continues below advertisement
It was a staggering rise for Brisker. He grew up in a single-parent family in the working-class city of Hamtramck near Detroit, he had been a highly-regarded prospect early and averaged 24 points and 20 rebounds as a high school senior.
Despite his basketball abilities, it's easy to wonder if his heart was indeed in the game. He was intelligent and loved jazz music, considering himself more of an artist than anything else. He was well-read and interested in his African heritage and culture, loving music and at one point playing the tuba. Brisker was personally charming and noted for his good looks. He was a star in the making, yet few would understand the demons that lurked behind the handsome face and athletic physique. Brisker already battled a drug problem before he even signed with Seattle.
For many troubled young sports stars, sport can serve as an outlet, allowing them to put their energies into training and the productivity that comes with being an athlete. However, preferential treatment from teams and the public can backfire, allowing the star to become engrossed in their own world, mentally disconnected from an ordinary citizen's expected behavior.
Article continues below advertisement
However, Brisker was known to be trouble long before the NBA and was a man you didn't mess with. Standing 6-feet-5-inches and weighing 210lbs, he was an imposing presence both on and off the basketball court. SuperSonics teammate Charlie Williams later said there was "something wrong to the guy." Such was the fear that Brisker provoked amongst opponents and his own team alike that Williams would also say that "you had this feeling he would reach into his bag, take out his gun, and shoot you."
AN ENFORCER
The Pittsburgh Condors utilized Brisker's volitive nature to their advantage, promoting him as an enforcer following several on-court fights during his time in the ABA.
That included one infamous incident where he was ejected after just two minutes for a nasty elbow on the Denver Rockets' Art Becker. Seemingly with a vendetta, Brisker charged onto the court at Becker three more times. A group of police officers had to become involved before Brisker would return to the locker room. It wasn't a new development either.
Article continues below advertisement
The player was thrown out of the University of Toledo varsity hoops team for insubordination during his college days and with the Condors he brought a gun to courtside. In one incident, he had waved the weapon around during practice.
In another, Dallas Chaparrals coach Tom Nissalke put a $500 bounty on Brisker and watched him get knocked all over the court. Ironically, Nissalke would later be Brisker's first coach at Seattle, feeling he needed a man of such a reputation on his team. For his part, Brisker seemed to have been entertained by the whole incident.
Article continues below advertisement
Brisker would play 70 games for the Sonics in the season after his arrival and racked up an average of 12.8 points a game, down significantly from the 28.9 during his last season at the Condors. At 26-56, the season was flawed from the start, having traded future Hall of Fame Lenny Wilkens to the Cleveland Cavaliers. The hiring of the iconic Bill Russell as coach would show the first signs of improvement in 1973-74 when the Sonics went 36-46, again finishing third, despite their much worse record than they had enjoyed in 1971-72. By this time, Brisker was warming the bench and only played 35 times and averaged 12.5 points per game. There was significant tension in the air, and the two men rarely saw eye to eye; Brisker finally being held accountable for his tendency to explosive and sudden violence.
This violence was on full display in September of 1973 when after a brief argument at the basket during practice, Brisker struck teammate Joby Wright in the face with such force that he was knocked unconscious, losing teeth in the process. Some say that Wright threw the first punch, but after another incident where Brisker punched another teammate, Slick Watts, the writing was on the wall.
The tension with Russell was such that in February of 1974, the coach banished Brisker to the lowly Cherry Hill Rookies in the Eastern Basketball Association (EBA) for three games. From the NBA to the minor leagues was quite the comedown for a player with so much potential, and there can be little doubt that Brisker harbored resentment toward his coach afterward.
Article continues below advertisement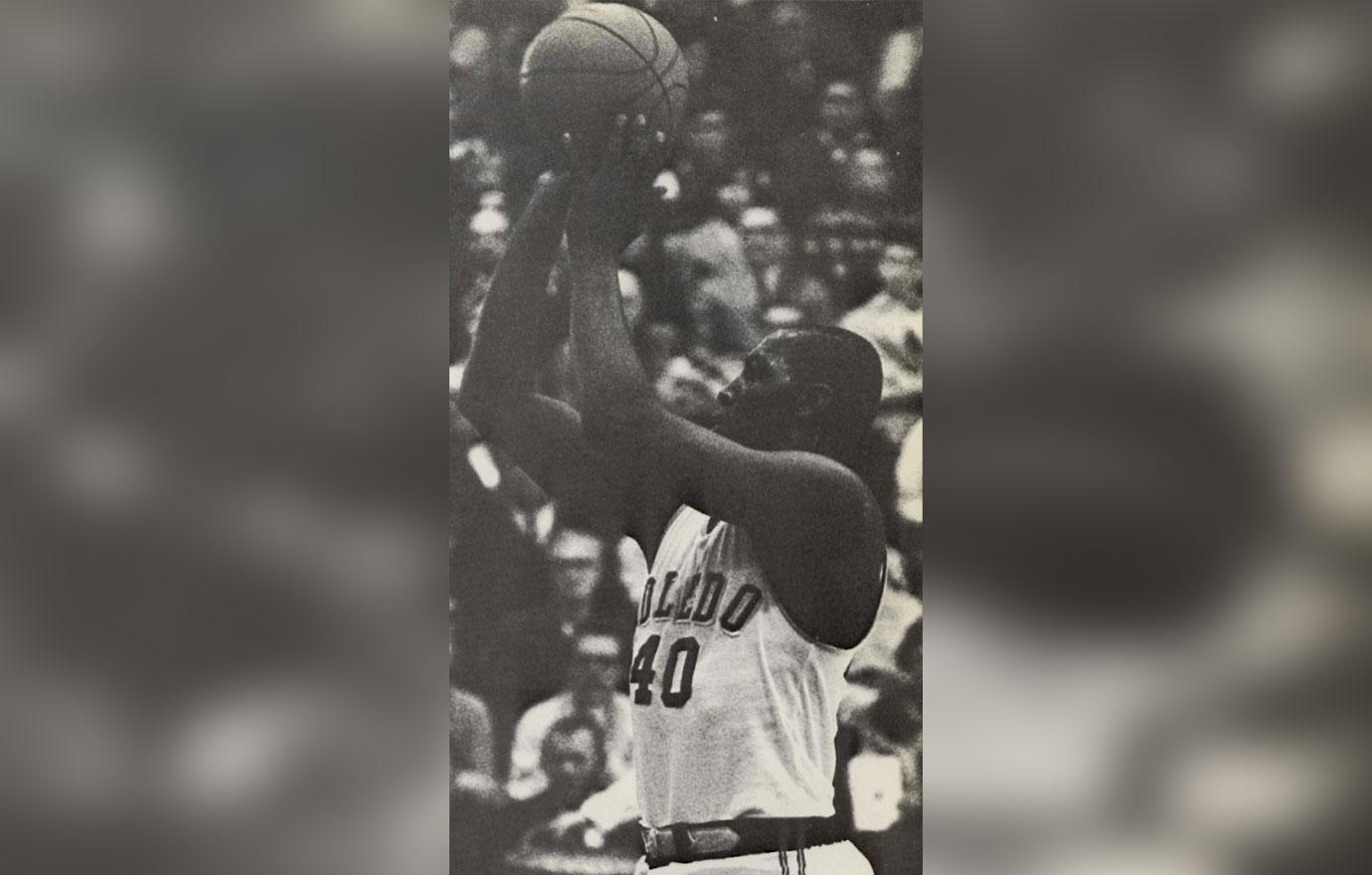 As the season ended, Brisker would become a new father, and his daughter's birth allowed him some reflection. He told the Philadelphia Inquirer he planned to turn his life around, saying, "I been carryin' a big chip, felt it was me' against the world. I got a bad rep, but I'm gonna live it down."
Under Russell's coaching, the SuperSonics would have their most successful season yet in 1974-75, finally reaching the playoffs. However, there would be little celebration from Brisker as the tension with Russell came to breaking point, the coach ignoring his pricy wage and keeping him benched.
Article continues below advertisement
Russell felt Brisker didn't play team basketball and was more interested in himself. The final straw between the two men likely came on Jan. 31 when Brisker scored 28 points and rallied the Sonics against the Blazers to win 106-103. Brisker had only played 13 games so far that season, and after the game, he took aim at his coach, having already provoked fury by telling the press that the Sonics had "done everything possible to demean me."
Watts said he "thought he was gonna kill [Russell]" and that Brisker "was ready to attack."
A consummate professional, Russell played Brisker eight more times that season before the SuperSonics defeated the Detroit Pistons in a three-game mini-series and then fell to eventual champions the Golden State Warriors over six games.
Article continues below advertisement
The season marked Brisker's last in the NBA, and in October of 1975, Russell refused to give him the uniform, and team owner Sam Schulman agreed, having had enough of the "dissension" being created.
Brisker was cut from the team, the buyout being $325,000.
RISE TO POWER
Despite the severance, without an income, Brisker's money soon began to fade. A club he opened soon closed with debts of $100,000. Yet the spending didn't stop, and the now-former NBA star enjoyed entertaining his former teammates and other players from across the country.
Article continues below advertisement
During this time, Brisker became violent at home, beating his wife Michele so severely that she became deaf in one ear. Michele would tell the Pittsburgh Press that "He bounced me around the wall and threw me on the bed. He smothered me until I couldn't breathe."
Given the violent history, it seemed it was only a matter of time before a death, yet few would suspect that Brisker himself would be the victim.
Indeed, what happened next isn't entirely clear, and it seems that Brisker traveled to Africa in 1975 to initially connect with his roots, with most sources stating this was in Uganda. However, his brother Ralph would later tell the Associated Press that Brisker had, in fact, gone to purchase land in Nigeria and had traveled with a Nigerian by the name of Udu Gray.
Article continues below advertisement
The two talked about buying a soccer team in the country. Ralph wouldn't see his brother again until after Christmas 1976, and that same year Brisker returned to America to visit New York, paying a visit to old teammate Spencer Haywood with a gift of conga drums.
Brisker stayed for an entire week, and Heywood became increasingly concerned for his friend's welfare. Brisker was still obsessed with Russell and regularly displayed his anger every time his name was mentioned. Heywood was worried for his friend's mental health and would say he had become involved in "dark, shady places."
Showing him photos of his time in Africa, Heywood would say that one seemingly showed Brisker alongside Ugandan dictator Amin.
Amin was a former lieutenant in the British Army and only one of two Ugandans to be commissioned officers under colonial rule. After independence, he was promoted quickly, going from captain to commander of the entire Ugandan military in just seven years.
Article continues below advertisement
After a rift developed with then-president Milton Obote, Amin launched a military coup in Uganda in 1971, seizing power and ruling with an iron fist. Estimates from Amnesty International suggest around 500,000 people were murdered during a rule that saw significant ethnic cleansing.
With Obote having been making overtures toward the Soviet Union, Amin was initially supported by the West, primarily Great Britain, who had been secretly supporting his ambitions ever since 1969. The U.K. was angered by Obote's plans to nationalize British businesses in the country. The blowback would be swift, and in 1972 Amin began a nationalization program all the same, breaking ties with Britain and declaring that he had "defeated" the old colonial empire, and was the uncrowned King of Scotland.
Article continues below advertisement
This claim was met with derision, and lurid tales of Amin's insanity were regular news features in the 1970s, allegations that Amin was a cannibal being the most infamous.
It was a reputation that Amin himself reveled in, telling foreign dignitaries that he kept heads in his freezer, but generally found the taste to be "too salty."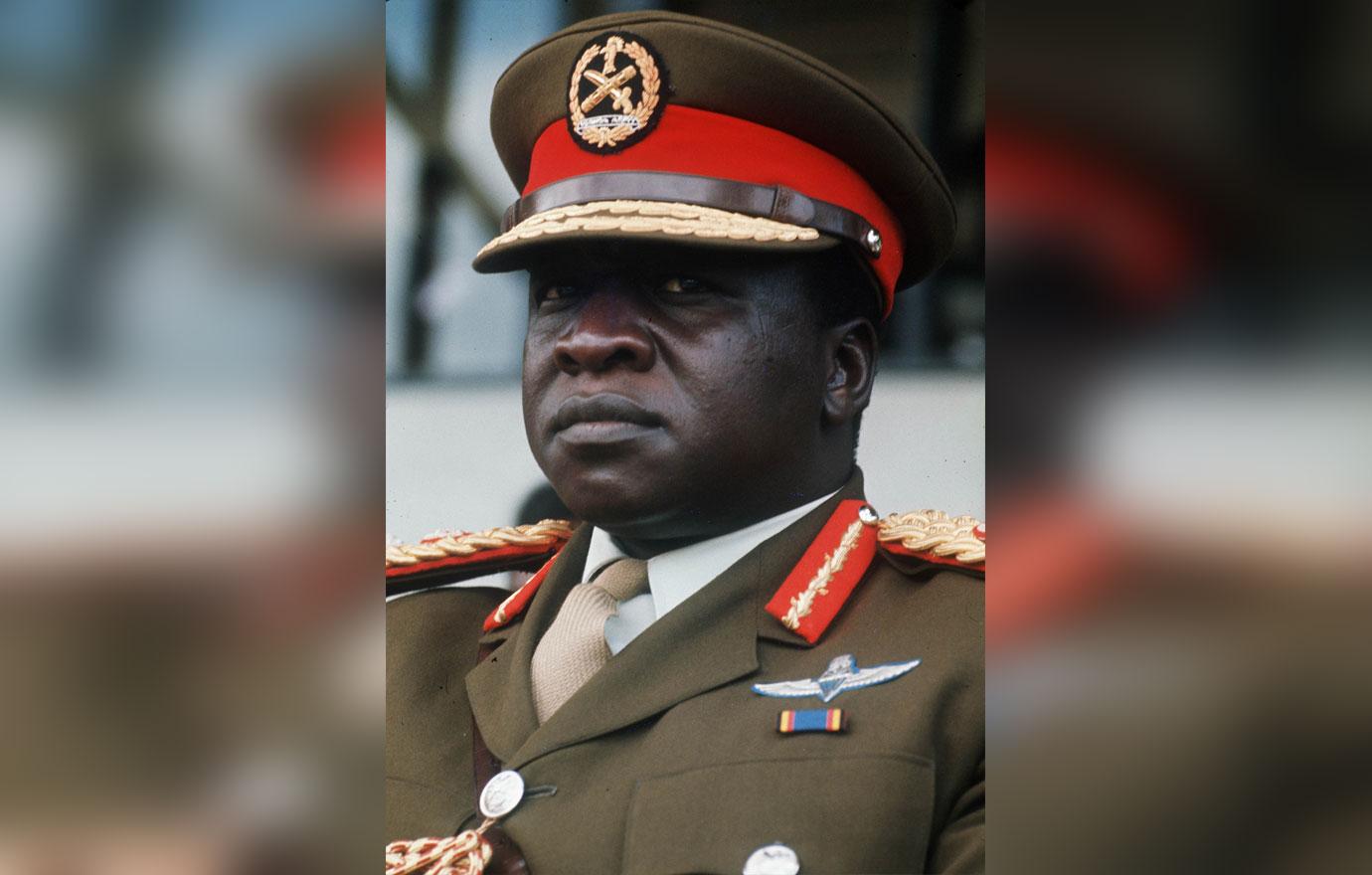 Article continues below advertisement
How much truth there was in these rumors is a matter of historical debate, with some suggesting they were merely a combination of propaganda and Amin attempting to instill fear in his enemies.
In a parallel with North Korea's Kim Jong-Un, Amin was noted as a fan of basketball and encouraged the development of the sport in Uganda, having been a sportsman in his youth. It was something the CIA used to its advantage, with Amin pictured enjoying games with various diplomats.
Article continues below advertisement
The Agency sent Jay Mullen to the country in the first year after Amin seized power, posing as a professor. His enjoyment for basketball lent itself well to a position as coach of the fledgling Ugandan national team, and Mullen soon frequented the same social club as Amin. He was pulled out of the country in 1973, but it seems possible that the CIA and other foreign agencies such as MI6 may have continued to try and exploit how close they'd got to the dictator.
A WORLD TRAVELER?
Amin's reputation was undoubtedly well known by February of 1978 when Brisker is said to have traveled to Uganda alongside a friend from Seattle, Ben Taylor, to start an import-export business. Brisker had become disillusioned with race relations in America during his time at the University of Toledo, noting that whites rarely wished to associate with him in the era of Black Power and the Black Panthers.
Article continues below advertisement
Improving relations during the 1970s seemed to have little effect on Brisker.It's possible Brisker may have felt attracted to the strongman politics of Amin, who regularly spoke out against the United States and the former colonial powers for their abuses in Africa. In turn, it could very well be that Amin welcomed Brisker through his love of basketball.
Michele filed for divorce in 1977, and Brisker left behind two children in America alongside his house and $29,000 in the bank. While it was far from the cash that might be expected, it was still healthy. Brisker's mother last saw him that same year.
The last anyone ever heard was six weeks after he arrived in Uganda, calling his then-partner Melvis Diane Williamson from Kampala on April 11, 1978, to say that he would soon send for her and their daughter.
Brisker was never seen again and seemed to disappear from the world.
Article continues below advertisement
In 1980, the Associated Press would write a story on rumors circulating that Brisker had been shot by the new government in Uganda after serving as a bodyguard for Amin. The dictator had been overthrown in April 1979 following a war with Tanzania.
Other rumors suggested Brisker may have been welcomed into the home of Amin, the dictator enlisting him as a mercenary before Brisker was killed in the war.
However, it seems unlikely that Amin would have wasted Brisker's talents on war, his presence likely to have served as a minor propaganda coup if he could have been encouraged to speak for the regime. Equally, as an American, he would have been of value as a hostage for either Amin or the new government, as would Taylor, who also remains missing to this day.
Article continues below advertisement
The theory that Brisker's possible death resulted from the war with Tanzania and the overthrow of the regime seems unlikely as the timeline hardly fits. The last alleged contact with Brisker came around April of 1978 when he informed his partner he would send for her,
Amin did not lose power until a full year later.
Equally, the war with Tanzania didn't break out until October. However, given Brisker's tendency toward sudden anger and explosive violence, it seems possible that he may have fought with the wrong person in Uganda and ended up dead. It is entirely possible he was the victim of a simple street murder lost to records in the coming chaos.
Investigations in Uganda have yielded few results. Nobody remembered Brisker, and most said if he had fallen victim to Amin, his body would have simply been discarded in Kampala's jungles.
Article continues below advertisement
Another theory suggested Brisker had never been in Africa and instead was killed at the Jonestown massacre in Guyana, with one of his great aunts having relocated there under cult leader Jim Jones. The aunt had reportedly tried to recruit Brisker on several occasions, but he had declined. While the relative was found dead in the aftermath of the tragedy, no trace of Brisker was found there, and few believe the theory.
There were other rumors about Brisker. Some said he was dead on American soil; others said he had gone on the run from the mob or even the police. A few even suggested he was still alive. However, a medical examiner in Kings County, Washington, disagreed, and in May of 1985, John Brisker was declared legally dead. Yet, the State Department disagreed, having investigated the case and being unable to even say for certainty that Brisker left the country.
It seems astounding in 2021 that a former NBA star could simply vanish without a trace. Still, these are the days long before cellphones and the internet, and the chaos of Amin's fall meant that many bodies simply vanished into the jungles or were buried in unmarked graves.
The Brisker story is one that began with so much potential and ended in mystery. Unable or unwilling to overcome his personal demons, he likely died as violently as he often lived. Yet, while so much uncertainty exists, not least from the State Department, a question mark will forever hang over what truly happened in the final days of Brisker and indeed whether he even died at all.
Become a Front Page Detective
Sign up to receive breaking
Front Page Detectives
news and exclusive investigations.
More Stories