COURT DOCUMENTS: BARRY & HONEY SHERMAN'S SON CLAIMS HIS MURDERED PARENTS WERE 'COMPLICATED PEOPLE' WHO HAD ENEMIES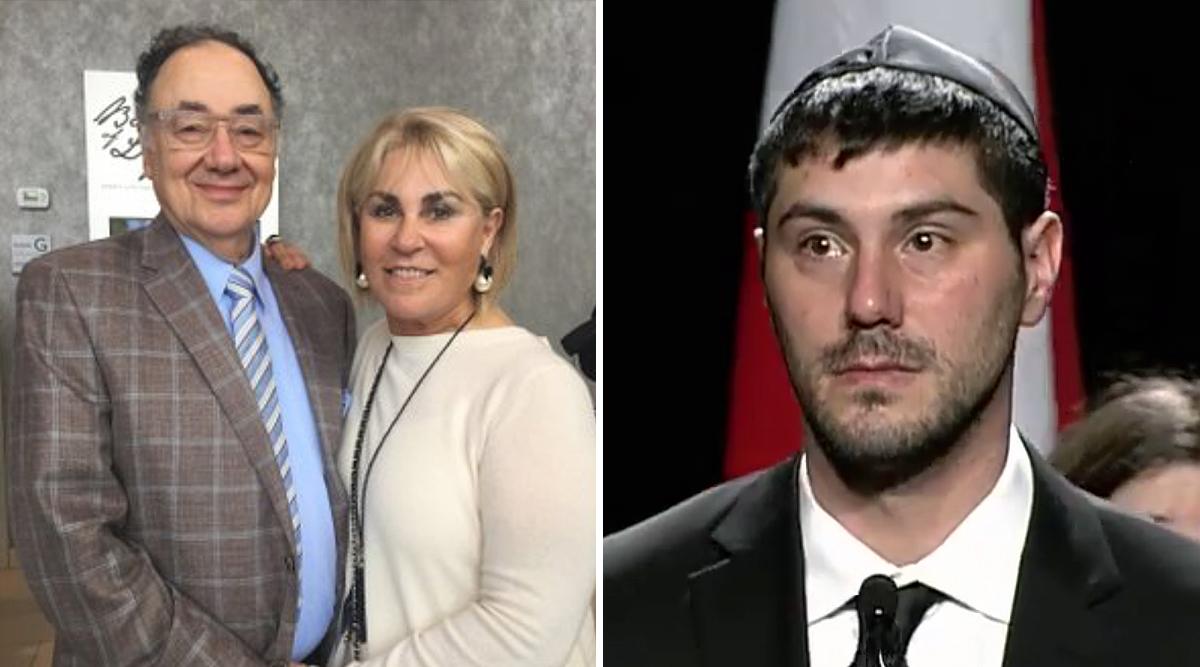 It's been just over three years since billionaires Barry and Honey Sherman's lifeless bodies were found in their Toronto home, but new details surrounding their unsolved death are now coming to light. In recently released court documents, it was revealed that the pair's son Jonathan told police that despite their seemingly perfect life, his deceased parents did indeed have a few enemies.
Article continues below advertisement
According to reports, their son shared that his parents "were complicated people and that there are people out there who would have a grudge against them and would have a reason to hurt them." He described his father, the founder and chairman on the board of drug giant Apotex, as "brilliant but lacking in emotional and social intelligence" and said his mother was "smart, abrasive [and] high-energy."
The court docs didn't identify any suspects by name, but Toronto Police spokesperson Connie Osborne stated they do have a few people of interest.
"The investigative team has had a high level of co-operation throughout this very active and ongoing investigation and investigative steps are being taken every single day," she declared. "We are committed to bringing closure and justice to the family and the community."
Article continues below advertisement
On December 15, 2017, Sherman, then 75, was found alongside his wife, 70, in the basement of their home, where their indoor pool was located. The killer positioned them so that they were sitting up with their legs outstretched, and the belts that were around their necks were also tied to a pool railing.
They died from ligature neck compressions, a type of strangulation.
The crime left their neighborhood in shock, as the wealthy couple of 40 years had no history of abuse or violence. Instead, they were known for their generosity, often donating millions to charities.
The family offered a $10 million reward for anyone that divulged information that would lead to an arrest.
Article continues below advertisement
Since that day, not much information surrounding the case has been publicized, but the new documents show that police had obtained warrants to search through the Shermans' phone, bank and health records, as well as their computers.
One document revealed that the killing may have stemmed from financial motives, as Sherman's company Apotex had recently lost $500 million in a drug patent case. There were also multiple layoffs at the company, and even more cuts were being expected.
However, business partner Jack Kay told police it's unlikely that situation contributed to their death.
"[Barry] would not be fazed by Apotex's financial situation, as Apotex was only one part of Sherman's holdings, and they have other money," Kay claimed, per the docs.
Police were also trying to paint a picture as to how the Shermans spent their fortune, as they were reportedly worth between $5 and $10 billion.
Article continues below advertisement
The discovery of their bodies was made by their real estate agent Elise Stern, who called 9-1-1 after she and her realtor Weidong Zhao, along with two of his clients, were touring the home, which was on the market for $6.7 million.
"Stern says it was very weird. They were far away and their heads were elevated and hanging on the railing leading into the pool," police recalled. It was also reported that Stern thought the pair were engaging in "some weird yoga thing" before she moved closer to their bodies and realized they were dead.
Zhao also thought the setup was strange, admitting he thought it was a twisted display of "fake murders."
Prior to the realtors, there were only three people who reportedly entered the home: the family's housekeeper, personal trainer and a furnace technician. They all claimed they didn't come across the bodies, but the housekeeper and trainer noted that when they arrived at 8:25 a.m. that morning, their house alarm was off, which they had never experienced before.
Article continues below advertisement
The documents state that the spouses were likely murdered 36 hours before their bodies were discovered. As of now, it's believed that a team of home contractors were the last people to interact with them, doing so in Sherman's office on the early evening on December 13.
After discussing plans for a new $20 million home they wanted to build, Sherman's wife left the meeting around 5:30 p.m to go back home, while he stayed behind to continue working. About an hour later, Honey took a phone call, which would end up being her last.
The huse that the duo had put on the market was demolished in May 2019, and the land was transferred to their children in August 2020. Two days later, the property was sold.
Become a Front Page Detective
Sign up to receive breaking
Front Page Detectives
news and exclusive investigations.
More Stories