Inside The Criminal Mind: Rap Star Nipsey Hussle's Killer Sentenced To Life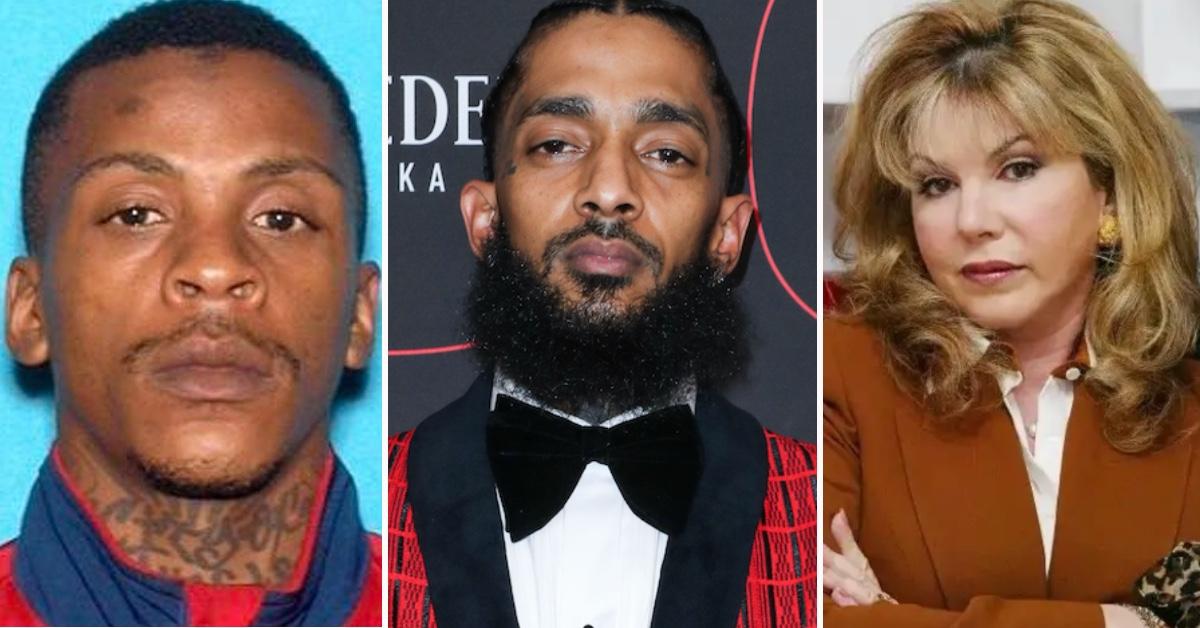 Eric Holder, 33, was just sentenced to life imprisonment for the murder of rap star Nipsey Hussle, a deadly shooting that took place in Los Angeles on March 31, 2019. Technically, Eric was sentenced to "60 years to life," but he will die in prison long before he's eligible for parole – either at the hands of other inmates out to avenge Nipsey's death, or by suicide. The sentencing, at the downtown Los Angeles Criminal Courthouse, was the latest example of justice by mob rule. I know, because I was there.
Soon after Nipsey's death, a judge appointed me to be the psychiatric expert witness for Eric's defense. I examined him at the Twin Towers Correctional Facility to analyze his mental state and testify about how his psychiatric problems may have contributed to his committing the crime.
Article continues below advertisement
It was my opinion that he should be found not guilty by reason of insanity, which means that at the time of the crime Eric did not understand the nature of his actions and did not know the difference between right and wrong. However, the public defender, who represented him, went with a different theory. He tried to convince the jury that it was manslaughter, a crime of passion. But, this didn't work. The jury found him guilty of first-degree murder.
So, here we were, on February 22, 2023, at Eric's sentencing hearing. I had been asked by his public defender to write a statement to try to mitigate his sentence. To prepare, I went over all my notes from my earlier psychiatric examinations, as well as thousands of pages of medical and mental health records. I wrote up an eight-page statement and headed to the Criminal Courthouse, which was crowded with spectators and national media.
I went up to the witness stand, sat down and began to read my statement. But, before I could get past the first paragraph, the prosecutor called out, "Objection, your honor!" and went over to the judge with a copy of my statement that the judge had ordered me to give him before I read it. The judge, the prosecutor and Eric's public defender huddled together to review my statement. The prosecutor was pulling out all the stops to get the judge to agree to prevent me from reading it aloud. He didn't want the spectators and the media to hear all of the reasons why Eric deserves some compassion.
However, before Eric fades into the dark shadows and looming dangers of prison, I think it is important that the public knows who he is – beyond a footnote to the murder of Nipsey Hussle. So, since my statement is a public document, an exhibit to the sentencing hearing, I can share some excerpts from it here:
"On March 31, 2019 (the date Nipsey Hussle was killed), Eric Holder, 29, was tormented by auditory hallucinations, the voices that had been tormenting him daily for almost 10 years. He had been diagnosed over and over again, with schizophrenia, which was resistant to countless medications that had been prescribed. As a last resort, he even underwent a series of ECT or Electroshock treatments. Eric was also suffering the residual effects of three traumatic brain injuries, as a result of car accidents and an assault…."
Article continues below advertisement
"First, let's look at Eric's childhood. He was born on November 21, 1989 in California, to parents who were never married, and only stayed together until he was 2 years old. Then he continued to live with his mother, a woman who had mood swings, and was depressed and angry at times. At age 10, his maternal grandmother died. She had been taking care of him like a mother, and her death was the most traumatic event of his childhood. He was shipped off to his father so that his mother could have one less mouth to feed. For the next 10 years, Eric lived mostly with his father, but was tossed back and forth between homes and schools and friends. For awhile, his father was married to a woman who mistreated him…."
"Eric did well in his early years of school. In kindergarten and elementary he was smart…. In middle school, he was the class clown and the most popular kid. But, soon after he began high school, his father made him enroll in home school and go to work. Eric missed going to school, but he managed to do well enough to be graduated from high school in 2008."
"In his late teens, Eric was popular. He made music and had lots of friends. But, in June 2008, at age 18, Eric was involved in a car accident. He was T-boned by a speeding car… causing a traumatic brain injury…. Broken glass went into his eye… necessitating surgery."
"Not long after, in December 2009, at age 20, he was involved in another car accident. He was driving in the rain…. He braked, but the car kept going into a brick wall…. He was trying to turn, but the wheels were bald, so the car kept going straight. He was unconscious… with a concussion…. After this second traumatic brain injury, the auditory hallucinations – the voices – began, and it was the beginning of the end. He's been mentally ill since 2010."
"On May 6, 2010, Eric's father brought him to the Emergency Room of Harbor-UCLA for a psychiatric evaluation because… Eric was behaving differently for the past month, decompensating with hallucinations and delusions. He heard female voices telling him that different celebrities want him to perform with them – including Oprah and Arnold Schwarzenegger. His father heard him crying that morning. The voices made him depressed…. This was the first time that he was diagnosed with a psychotic disorder and prescribed… an antipsychotic."
Article continues below advertisement
This was only the first of an endless stream of psychiatric hospitalizations, locked wards, and involuntary commitments as a danger to self and others. But, none of these stays were long enough to stabilize him on the proper medications, nor to provide psychotherapy to help him understand what was happening to him and how to cope with his mental illness. As a last resort, at 28, he even underwent ECT. But, nothing made the voices or paranoia disappear. Along the way, he was diagnosed with various iterations of schizophrenia and a mood disorder, ultimately resulting in the most accurate diagnosis, schizoaffective schizophrenia.
"In around early 2019, (just months before he shot Nipsey Hussle) his mother died… of congestive heart failure…. He was depressed…. The voices got worse. He would talk and argue with them if they said negative things. He heard his mother's voice 2-3 times a day…. His brain felt as if it were overdosed with voices…. In conclusion, Eric's tumultuous life, from his childhood to his traumatic brain injuries to his schizophrenia, eventually wore him down. And when his mother died, that was the final nail in the coffin. He was lost."
But, no one got to hear these descriptions of Eric's life, cut short by mental illness. They also never got to hear the words I had carefully chosen to end with: "I would like to extend my condolences to the family and friends of Nipsey Hussle. Nothing that I said today was meant to diminish the tragedy of his death in any way."
The mental health system and the justice system failed Eric. The judge announced that he was taking my statement into consideration, but his mind seems to have been made up before he walked into the hearing. After the verdict was pronounced, Eric's public defender walked up to the court clerk and handed her his appeal. It was a welcome sign of resistance and a glimmer of hope. But, once outside the courtroom, I urged the public defender to put Eric on suicide watch, just in case.
Carole Lieberman, M.D., M.P.H., is a Board Certified Beverly Hills Forensic Psychiatrist/Expert Witness who has worked on hundreds of criminal (and civil) cases. She's a bestselling/award-winning author and her upcoming book, Murder By TV: A Descent Into Madness, is the story of the Jenny Jones Talk ShowMurder for which she was the defense psychiatrist.Dr. Lieberman is an Emmy-honored News-Talk commentator. She's appeared on Oprah, Today, Good Morning America, CNN, FOX, HLN, ABC, CBS, NBC, Court TV, Law and Crime and many more. She was trained in Forensic Psychiatry at NYU-Bellevue.(www.expertwitnessforensicpsychiatrist.com)
Become a Front Page Detective
Sign up to receive breaking
Front Page Detectives
news and exclusive investigations.
More Stories