Cold-Blooded Mexican Cartel Members Don Halloween Masks, Announce 'Purge' in Chilling New Video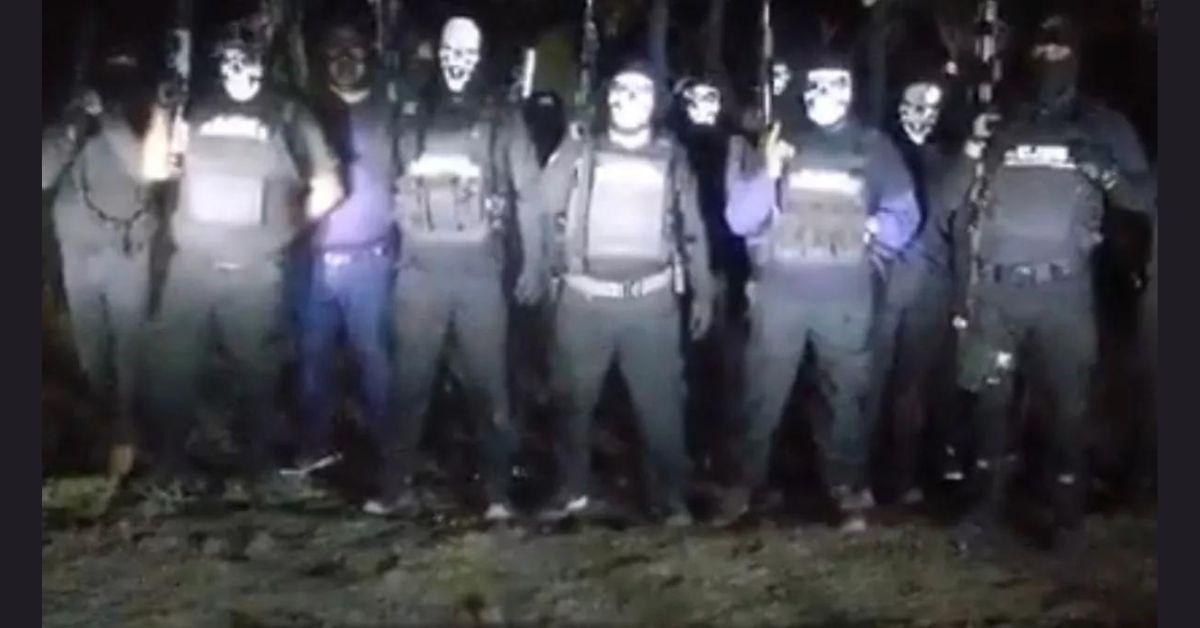 Article continues below advertisement
The Jalisco New Generation Cartel (CJNG) is considered one of the most dangerous criminal organizations in Mexico, as they carry themselves more like well-organized militias rather than gangsters.
In the video, which was shared on X, formerly Twitter, on October 6, one man addresses the camera and calls out residents of the Mexican cities of Otumba, Axapusco, Teotihuacan, San Martín de las Piramides, Tecamac and Acolman, among others.
The speaker announces that the CJNG had arrived at Teotihuacán and that they would be visiting the aforementioned cities during their "purge."
"We've arrived to purge these areas you sons of b------. We are the absolute mob of Mr. Mencho!" he says in Spanish in the October 6 post.
The "Mr. Mencho" mentioned in the message refers to "El Mencho," also known as Nemesio Ruben Oseguera Cervantes, according to the Mexico Daily Post. It's unclear why the purge was announced.
The leader of the Jalisco New Generation Cartel, El Mencho is at the top of both America and Mexico's most wanted lists, with U.S. authorities offering $10 million for information leading to his capture.
The CJNG is a group notoriously known for its propensity for extreme violence. Knewz.com reported about a month ago that the cartel left two decapitated bodies accompanied by ominous epitaphs in the region of Istmo de Tehuantepec, in the Gulf of Mexico.
Article continues below advertisement
The first decapitated body was found near a railway track, with a "narcomanta," a sign commonly left by cartels to explain the motives behind an individual's execution. The message named two men who "feel protected by the Guardia Nacional, the Policía Estatal, and the investigative police."
The message also accused another man of being involved in activities such as "the smuggling of undocumented people, drug sales," and carrying out murders in Istmo de Tehuantepec. "Now all of that is over. Your heads have a price, we are coming for you, go and see how all your halcones [paramilitaries] and sicarios [hitmen] who work for you are dying, we don't kill innocent people."
Never miss a story — sign up for the Front Page Detectives newsletter. Be on the scene the moment news breaks.
The second body was found near the Malatenco River, close to a dirt road in the State of Oaxaca. Police found the bound body first, and discovered the head of the victim after a search of the area.
Another Mexican drug cartel, the Sinaloa cartel, has reportedly recently banned fentanyl use and sales in the state of Sinaloa, and may be responsible for the deaths of as many as a dozen dealers found with pills dumped on their bodies.
Become a Front Page Detective
Sign up to receive breaking
Front Page Detectives
news and exclusive investigations.
More Stories