Inside the criminal mind: Why the mom of an accused NYC cop killer should be charged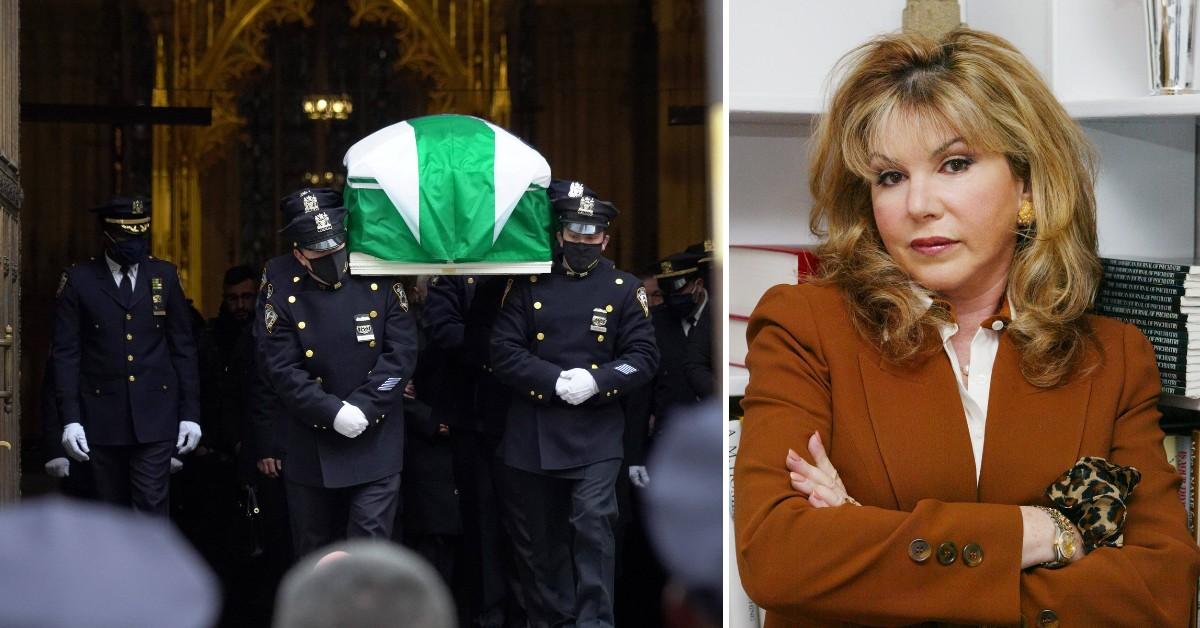 On Jan. 21, at 5:09 p.m., a 911 call came into the New York City Police Department, recorded in their log as: "FEM HAVING DISPUTE WITH HER SON-NO WPNS-NO INJS…. STS HE IS THREATENING TO DO THINGS TO HER… HE IS IN THE HOUSE NOW."
The caller was Shirley Sourzes, mother of LaShawn McNeil, 47, an accused cop-killer, many years in the making.
Article continues below advertisement
When three NYPD officers, Jason Rivera, 22, Wilbert Mora, 27, and Sumit Sulan, 27, responded to this 911 call at the family's Harlem apartment, Sourzes and her other son, Hakim Sourzes, greeted them in the front room.
She told them the son she was arguing with was barricaded in the bedroom. Following her directions, officers Rivera and Mora went down the dark narrow 30-foot hallway to talk with LaShawn, only to be ambushed when LaShawn swung open the bedroom door and fired numerous shots, striking both officers. The third officer, Sulan, who had stayed in the front room to protect Sourzes and her other son, shot LaShawn as he tried to escape.
He later died of his wounds, as did Rivera and Mora.
Article continues below advertisement
Though Sourzes told the 911 operator that her son wasn't armed, LaShawn had a Glock .45-caliber handgun equipped with a high-capacity magazine that held 40 additional rounds and was reported stolen in Baltimore in 2017. He also had an American Tactical AR-15 assault rifle under his mattress.
WHO WAS LASHAWN MCNEIL
LaShawn was born in Queens and raised by his grandmother after his parents divorced. He attended Far Rockaway High School and Beach Channel High School. He traveled to different states and sometimes worked as a barber.
Article continues below advertisement
His thought processes were revealed in his social media postings. For example, he posted the music video entitled "Hands Up" by Uncle Murda and Maino. It was a tribute to Eric Garner, a black man who was choked to death by a white NYPD officer. The video depicts officers getting gunned down and footage of police brutality against black men, as two rappers hold guns to the head of a white officer and sing, "Time to start kill (sic) these coppers."
He also posted a video entitled "Useless Information with Jeffrey Phillips," in which a man at the door of his home is confronted by a Child Protective Services agent and two police officers. It's captioned "Man Destroys Cops and CPS Agent." This may relate to his own childhood and was a foreshadowing of the destruction he created when he later gunned down the two police officers.
Article continues below advertisement
He believed in wild anti-government conspiracy theories and posted such things as, "Stop eating, stop eating McDonald's you're eating human children mainly people of color." He also warned of a coming race war.
LaShawn had a long rap sheet – with five arrests in three states, and prison terms, between 1998 and 2003 that included:
Article continues below advertisement
1998 — South Carolina — - unlawful possession of a gun – The case was later dismissed.
2002 — Pennsylvania — assault on a police officer – for which he was charged with battery.
2003 — Pennsylvania — felony drug arrest and misdemeanor narcotics arrest.
2003 — NYC — felony narcotics conviction – He absconded from probation in
2005 — NYC — and the court issued a warrant for his arrest – which was still active at the time of his death.
WHAT STARTED THE ARGUMENT?
LaShawn was living in Baltimore until November, when his mother collected him and brought him to Harlem, to stay with her and his brother in order to help them with their medical issues.
His mother underwent heart surgery to have a stent put in, and his brother, Hakim, had "lymphoma of the brain." According to a neighbor, and reported by local media, he had part of his brain removed because of a brain tumor, and then had trouble walking.
Article continues below advertisement
From the moment he moved in with them, LaShawn argued with his mother, she later told police. He ranted about anti-government podcasts he listened to, his hatred of police officers and complained about her not having enough food available in the apartment for his vegan diet.
He had long blamed her for his being blind in his left eye. But his mother scoffed at this and denied she had anything to do with it. "This happened years ago. He had a fixation on guns," she told the New York Post.
At age 21, in Edgemere, Queens, "He had a shootout with the Regulators. They are a gang. He shot off a BB gun, and they beat him in the eye with a bottle," she explained to the Post.
Article continues below advertisement
WHY MOM SHOULD BE CHARGED
LaShawn McNeil is dead. So, he can't be charged with the ostensibly cold-blooded murder of two of New York's finest. But, his mother, Sourzes can still be held criminally responsible.
Holding her hands up in a "not-my-fault: manner, she put out a crocodile-tear apology that was too little, too late!
They were partners in crime, so she should be charged with accessory to murder — and here's why:
Article continues below advertisement
His mother left LaShawn to be raised by his grandmother, abandoning him when she got divorced. It's not clear what other traumas he suffered, but no one grows up to be this sadistically violent and anti-authoritarian unless his childhood was a nightmare. LaShawn wanted to rewrite his life story and go out with a "bang," literally, so he could feel like a hero for stepping up to carry out the anti-police cause.
His mother called 911 and told the operator there were no weapons in the house — when she knew — or should have known that her son had a gun. She told police she knew he carried guns and had told him not to come home with firearms while helping out with his disabled brother. She'd warned LaShawn in the past about bringing weapons into her home, but knew he had an affinity for guns.
She undoubtedly knew that her son was steeped in anti-police propaganda — and played such music in their apartment. He had been trying tried to convince his family to share his beliefs. So, it is possible — if not likely — that his mother shared the same anti-police attitude.
Article continues below advertisement
She knew that her son was an angry man, a time bomb waiting to explode. He had been connected to gangs, used drugs and caused a multi-state crime wave of his own. Yet, she did nothing to stop this.
Sourzes told police she believed his rants were proof he was mentally ill. Yet, there's no evidence she ever got him treatment, which she should have done from the time he was young. Sourzes told the Post, "I told him to submit himself to help. At this point, his mental state was incapacitated. He thought he was God and he wouldn't submit himself to no one."
The irony is that if LaShawn hadn't gunned down the police, they might well have brought him to a psychiatric hospital to be committed, so he could finally get help.
Carole Lieberman, M.D., M.P.H., is a Board Certified Beverly Hills Forensic Psychiatrist/Expert Witness who has worked on hundreds of criminal (and civil) cases. She's a bestselling/award-winning author and her upcoming book, Murder By TV: A Descent Into Madness, is the story of the Jenny Jones Talk Show Murder for which she was the defense psychiatrist. Dr. Lieberman is an Emmy-honored News-Talk commentator. She's appeared on Oprah, Today, Good Morning America, CNN, FOX, HLN, ABC, CBS, NBC, Court TV, Law and Crime and many more. She was trained in Forensic Psychiatry at NYU-Bellevue. (www.expertwitnessforensicpsychiatrist.com)
Become a Front Page Detective
Sign up to receive breaking
Front Page Detectives
news and exclusive investigations.
More Stories