Oklahoma elementary school teacher and her husband arrested for allegedly making child porn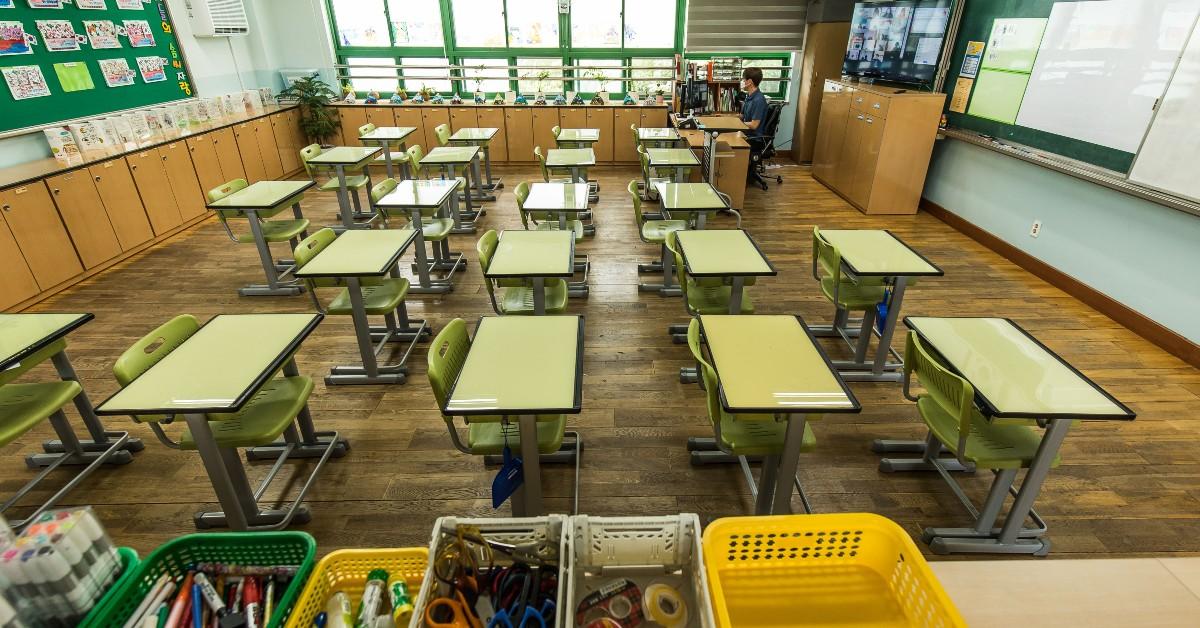 An Oklahoma first-grade teacher and her husband are accused of making child pornography with a child that's just 6-years-old, authorities alleged.
According to a criminal complaint obtained by FrontPageDetectives, in August, Broken Arrow Police Detective Sergeant Ian Buchanan received a tip "indicating that child pornography was observed trafficked to a Dropbox account" associated with Jason Cory Bycroft and included "an approximately twenty-four-minute video, containing an unknown prepubescent female" who "takes off her clothing and masturbates."
Article continues below advertisement
Buchanan obtained a search warrant for the Dropbox account and searched its contents on Sept. 7. "Detective Sergeant Buchanan observed images of the defendant as well as images of his spouse," Heather Nicole Bycroft, the complaint states.
Besides a copy of the 24-minute video, the complaint alleges, the Dropbox account contained additional child pornography of "juvenile females engaging in sexually explicit behavior."
Article continues below advertisement
Buchanan "also observed three videos containing the defendant [Jason Bycroft] in a pool with a prepubescent female," allegedly recorded at a Fourth of July party in 2015.
"During these videos, Jason Bycroft is exposing and attempting to expose the prepubescent female's vagina to a recording device," the complaint states.
According to the document, "the manipulation of the juvenile's shorts is overt, intentional, and not an accident. This is evidenced by the defendant attempting to capture this numerous times over the three videos."
"The recording device is being held by a female and the defendant asks the camera person if they are 'ready' before exposing the victim's vagina to the camera," the complaint states.
Detective Sergeant Buchanan identified the victim in the video as a 6-year-old girl.
Article continues below advertisement
Jason Bycroft's parents allegedly "identified Jason Bycroft as the adult male in the video, and both stated that they believed the female talking in the video was Heather Bycroft based on her voice and Heather Bycroft and Jason Bycroft would have been dating at that time," the document states.
Jason Bycroft's sister allegedly additionally identified Heather Bycroft as the camera operator based on her voice.
Article continues below advertisement
Authorities also "observed multiple other images of child pornography of currently unidentified children" in the Dropbox's contents, according to the criminal complaint.
The legal documents note Heather Bycroft is employed as a first-grade teacher at Bixby East Elementary School. The FBI arrested her on Sept. 22 and she was suspended from her job.
"To learn that a Bixby teacher entrusted with the safety and well-being of children may have been involved in conduct as abhorrent as what has been alleged is highly disturbing," the district said in a statement, according to Tulsa's KOTV-DT. "We strongly condemn any actions on the part of an adult which endangers the mental or physical health of a child."
Jason and Heather Bixby face federal production of child pornography charges.
Become a Front Page Detective
Sign up to receive breaking
Front Page Detectives
news and exclusive investigations.
More Stories