'Bullet holes everywhere': The Amish Schoolhouse Massacre and the reactions of two communities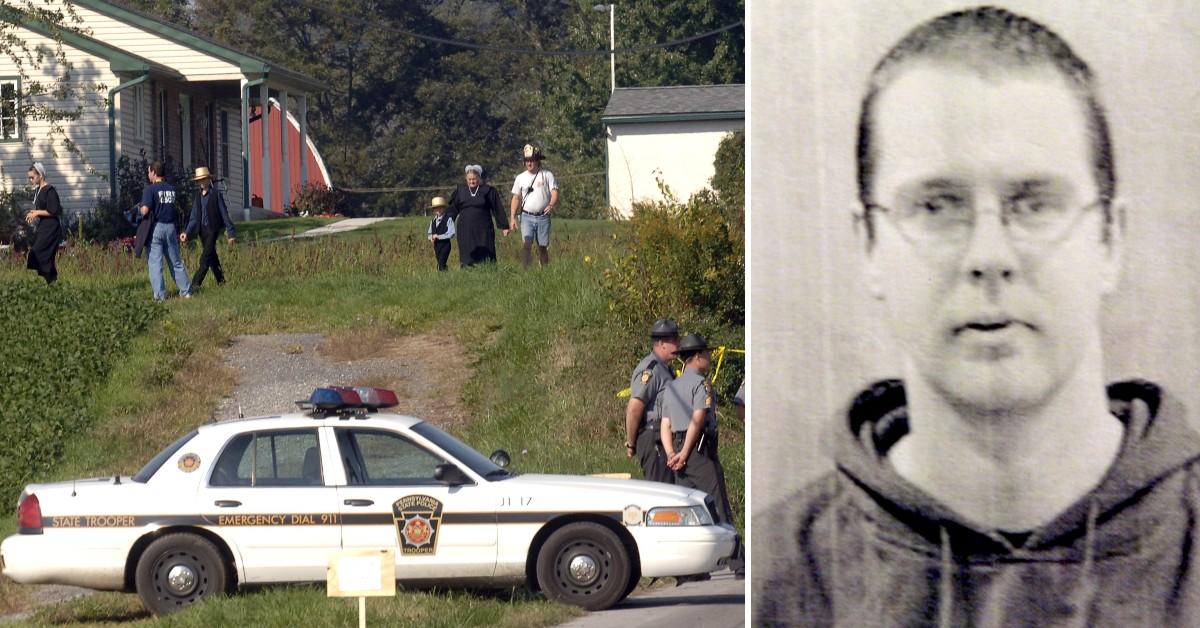 As a gunman held 10 Amish schoolgirls hostage in a Pennsylvania schoolhouse, two asked to be shot first, hoping it would somehow delay the other shootings and might save some of their classmates. After all, dozens of lawmen were just outside the door.
Instead, the classroom turned into a battleground of blood and glass.
Article continues below advertisement
Charles Roberts IV had an arsenal of weapons by the time he carried out his murderous mission in the fall of 2006. In the suicide notes he left to his family, he wrote that his recurring dreams of having molested two girls when he was 12 years old wouldn't stop. In a twisted and bizarre antidote, he took girls of the same age hostage.
Later, his supposed victims from childhood denied he'd ever been a child molester, only deepening the mystery as to his motive.
Article continues below advertisement
The nearby community in Lancaster, Pennsylvania, recoiled in horror, while the Amish families responded with immediate forgiveness. It's a story that is told through various media reports and recounts.
A story of a hail of bullets and a changed community.
TAKING THE SCHOOLHOUSE
When Roberts, who lived in the area, drove up to the Nickel Mines Amish School, it was mid-morning on a mild fall day. He backed his pickup truck to the school entrance and walked inside, greeting the teacher, Emma Mae Zook.
Article continues below advertisement
Mrs. Zook was immediately confused, as his presence was unexpected, but he did not carry any weaponry. He mumbled a question: "Had anyone there had seen his missing clevis pin?" Survivors reported while they weren't concerned, his demeanor was odd — he avoided eye contact. A few of the kids recognized him.
All but one of the 26 children from grades first through sixth were in attendance that day, as well as Mrs. Zook's mother, her sister and two sisters-in-law, one with an infant.
Article continues below advertisement
Roberts left the school, but returned moments later wielding a handgun. He separated the boys, commanding them to return outside with him to his pickup truck. He ordered them to carry various items into the classroom. Zook and her mother, meanwhile, fled for help while Roberts was distracted.
They ran to the nearby farm of Amos Smoker and dialed 911.
The hardware Roberts forced the boys to carry into the classroom hinted at his ghastly plans. They transported lumber, wooden boards, a shotgun, a stun-gun, wires, tools, a small bag and a wooden board with multiple sets of metal eye-hooks, as well as nails and chains. The small bag held a change of clothes, toilet paper, candles, K-Y jelly and flexible plastic ties.
Article continues below advertisement
Roberts' first move was to use one of the wooden boards to barricade the front door of the schoolhouse.
The entire operation had taken less than fifteen minutes, and the 911 call was received about halfway through his set-up, at 10:36 a.m. He then released the boys, along with the two other adult females and the infant.
'I'M ANGRY AT GOD'
On a usual school day, the next hour would be time for a class, followed by a recess. Today, a psychopathic killer had upended their small world. Their teacher gone, the only adult left was a man carrying a shotgun.
Article continues below advertisement
The school grounds consisted of the main building, two outhouses, an enclosed schoolyard and a baseball field. The 15 boys stood outside one of the outhouses, praying.\
The barricaded schoolhouse held 10 girls, ranging between 6 and 13 years old. Judging by the items he brought, Roberts planned to hold them captive for some time. Likely, he didn't count on police showing up so quickly, as the Amish are known to be peaceful and typically avoid involving law enforcement in their problems.
At 10:42 a.m., a Pennsylvania State Trooper drove up and was waved off the road by an Amish man who had come from the Smoker farm. Within 15 minutes, additional police arrived along with emergency medical personnel. A large crowd started to gather.
Article continues below advertisement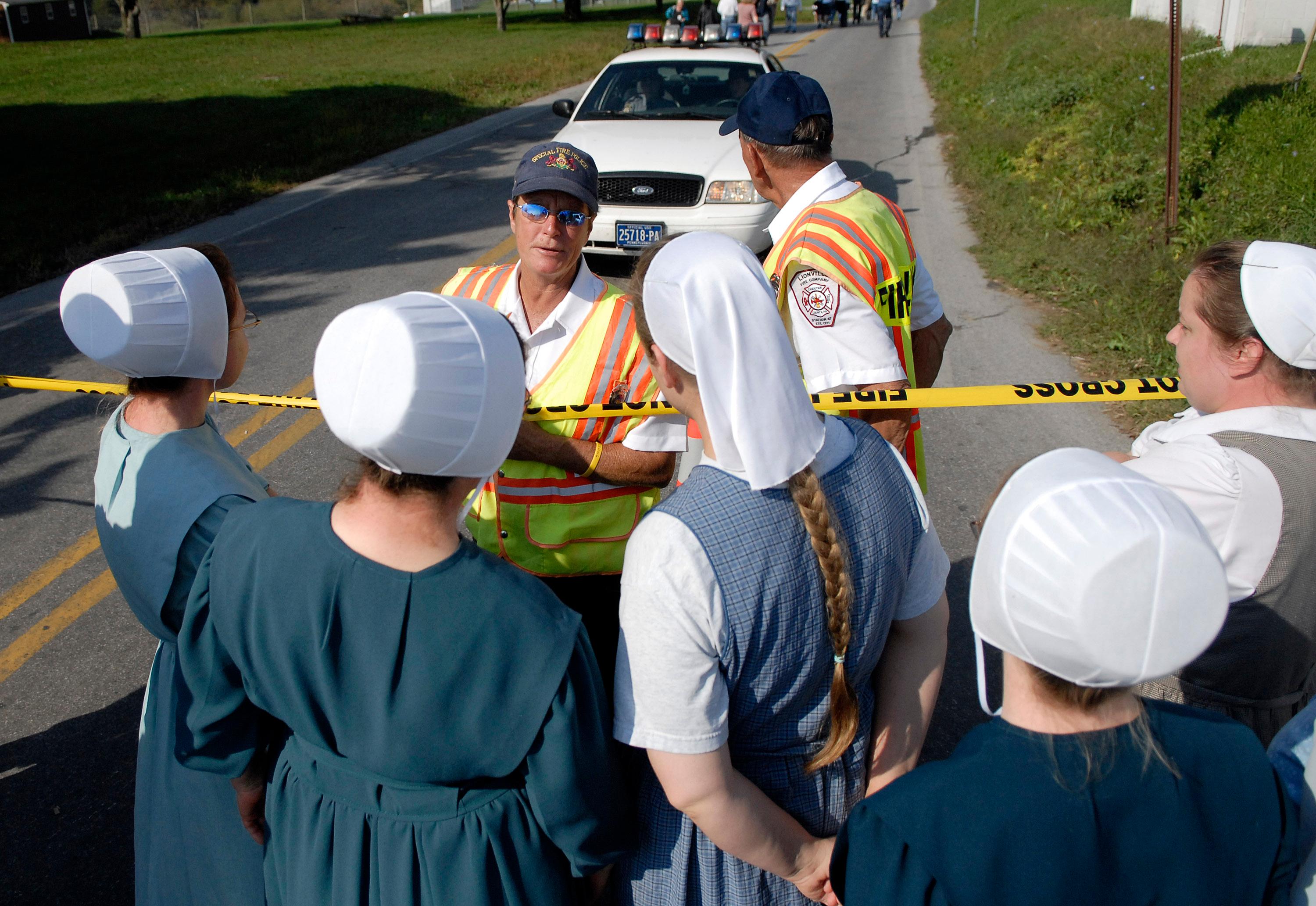 The police used their loudspeaker system to attempt a create a dialogue with Roberts. They first told him to chuck the weapons and walk out the front door. He yelled back he would not do that and told them to leave. For a short period, county and state officials established telephone contact, but the gunman ended the conversation. He yelled at the officers onsite to leave him alone and showed no signs of wanting to talk.
Article continues below advertisement
He spoke to his captives, however. The few who survived reported he said he was sorry for what he was about to do, but "I'm angry at God and I need to punish some Christian girls to get even with him."
Roberts had three healthy children but his first child, a daughter, died nine years earlier after only surviving 20 minutes. Roberts held a grudge against God since.
He also told the girls, "I'm going to make you pay for my daughter."
Article continues below advertisement
CARNAGE AND WITNESSES
Thirteen-year-old MarianStoltzfus did her best to delay the inevitable when all the girls had been lined up at the front of the classroom on their bellies. She told Roberts she wished to be short first, and another girl also volunteered. Both hoped that by talking with him they could at least gain some time while more police arrived.
State and local police were lined up 250 feet from the front door, ready to take action but unable to enter the building without the order of superiors. They were hoping trained SWAT would arrive shortly because they sensed the time was running out.
Article continues below advertisement
At 11:05 a.m., the police surrounded the building and heard a child's scream. They radioed for permission to enter the building, but the response came back saying permission could not be given. They huddled, desperately hoping to be given a command to enter.
The scream faded and shooting began at 11:07 a.m.
With the first shot, 10 state troopers approached the building with ballistic shields. Roberts took at least one shot in their direction. They moved in steadily but cautiously. Just as they reached the window, the shooting stopped. They broke through the glass, finding blood scattered throughout the room and the gunman dead from a self-inflicted head wound.
The 32-year-old-milk truck driver shot several of the schoolgirls in the back of the head, execution-style.
Article continues below advertisement
When the police entered, they immediately began transporting the girls to awaiting medical help and calling in medics. Marian was dead. Naomi Rhodes, 7, died in the arms of a state trooper. She was the only daughter in a family of sons.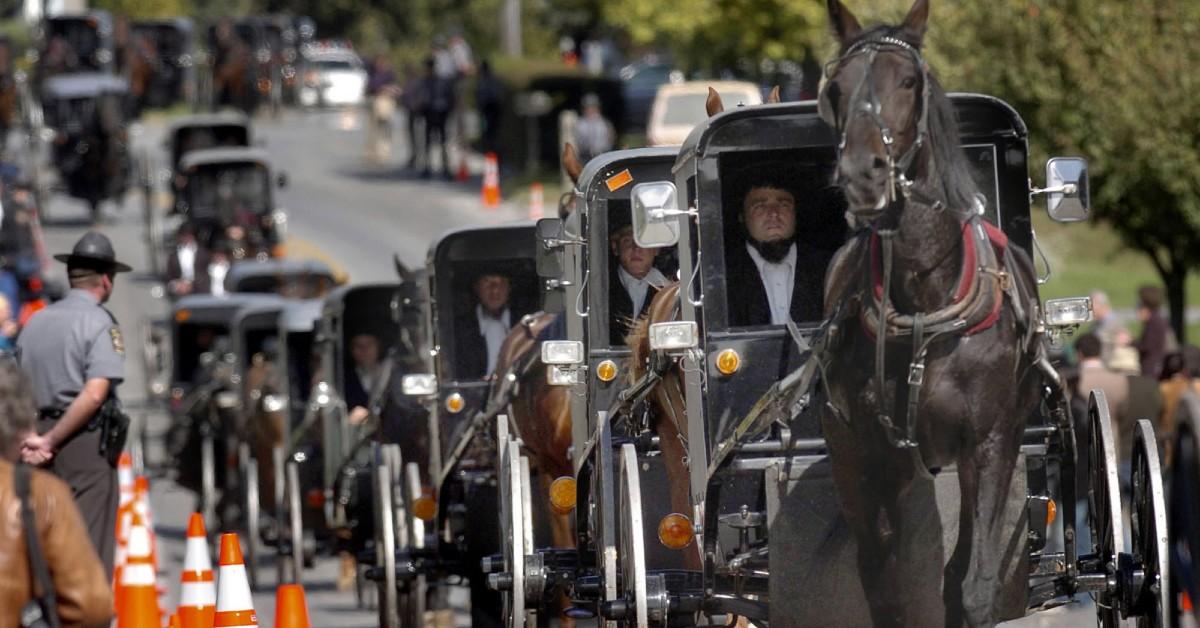 Article continues below advertisement
The victims were lying down, facing the blackboard. In total, five were killed instantly. One girl survived, comatose, and held onto life but lost the ability to speak, ambulate or feed herself. Four others survived with significant injuries but were able to resume a normal life.
The deputy coroner from Lancaster County, Janice Ballenger, showed up on the scene and reported, "there was not one desk, not one chair, in the whole schoolroom that was not splattered with either blood or glass. There were bullet holes everywhere, everywhere."
When she began conducting autopsies, she counted a dozen shotgun inflicted wounds in one girl, then asked a colleague to take over and continue for her while she regained her composure.
Article continues below advertisement
TWO CULTURES, TWO RESPONSES
The "modern" community responded with awards for officers and a review of procedures. They also mourned.
The SWAT team didn't arrive in time, yet officers who wanted to go inside because they were on-scene and could sense the imminent carnage were held back. Little discretion lay with officers who were well-armed and onsite, and who would have been willing to intercede.
The training for such a situation is commonly called IARD (Immediate Action Rapid Deployment) but doesn't always happen because police are often trained to "wait for SWAT." In the absence of a SWAT team, they are unable to act.
In the absence of IARD training, they aren't prepared.
Article continues below advertisement
Retired Los Angeles Police Department officer Clay Searle, who runs PoliceTraining.net, believes that the creation of SWAT in the 1970s changed how patrol officers function. He noted that "creating SWAT was a two-edged sword [as it] would keep officers safe but they eventually would no longer feel obligated or expected to go into dangerous situations to assist the public. They would stand outside and wait for SWAT to arrive and do much of the hazardous police work once required of patrol."
In Roberts' case, there may have been no remedy. He intended to kill schoolgirls, and he meant to do it quickly and efficiently. Yet, officers waited outside for 30 minutes.
The Amish community responded with immediate forgiveness. On the day of the shooting, Amish community members paid a visit to the wife and children of Roberts, expressing their sorrow, sympathy and forgiveness.
Article continues below advertisement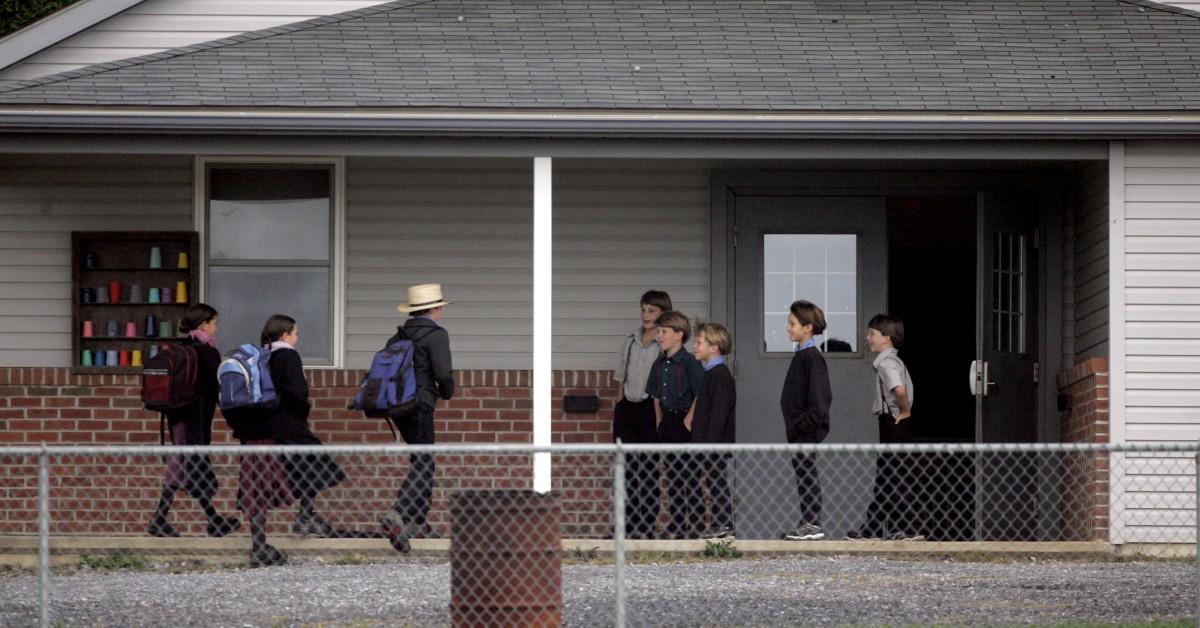 Some attended Roberts' funeral, and at least one family invited his widow to attend the funeral of one of the slain girls.
Article continues below advertisement
An article from a local newspaper summed up the Amish attitude toward violence and life:
"The Amish culture closely follows the teachings of Jesus, who taught his followers to forgive one another, to place the needs of others before themselves, and to rest in the knowledge that God is still in control and can bring good out of any situation. Love and compassion toward others is to be life's theme. Vengeance and revenge is to be left to God."
The modern community held fundraisers to help pay for the medical costs of the injured and the funerals of the dead. The Amish do not use conventional health insurance. The local, state, national and international community raised over $4 million. The Amish community used some of the money to establish the Roberts Family Fund, which helps support Robert's widow and three children.
The West Nickel Mines schoolhouse was torn down ten days after the massacre and rebuilt nearby in a different style. It was constructed in the Spring of 2006 and is now called the New Hope Amish School.
It's a hope that no one has to experience what the Amish community experienced on that 2006 morning.
Become a Front Page Detective
Sign up to receive breaking
Front Page Detectives
news and exclusive investigations.
More Stories