Rolling Stones Target of FBI Drug Sting: Behind the Conspiracy to Destroy 'Dirty' Band with Raid That Jailed Mick Jagger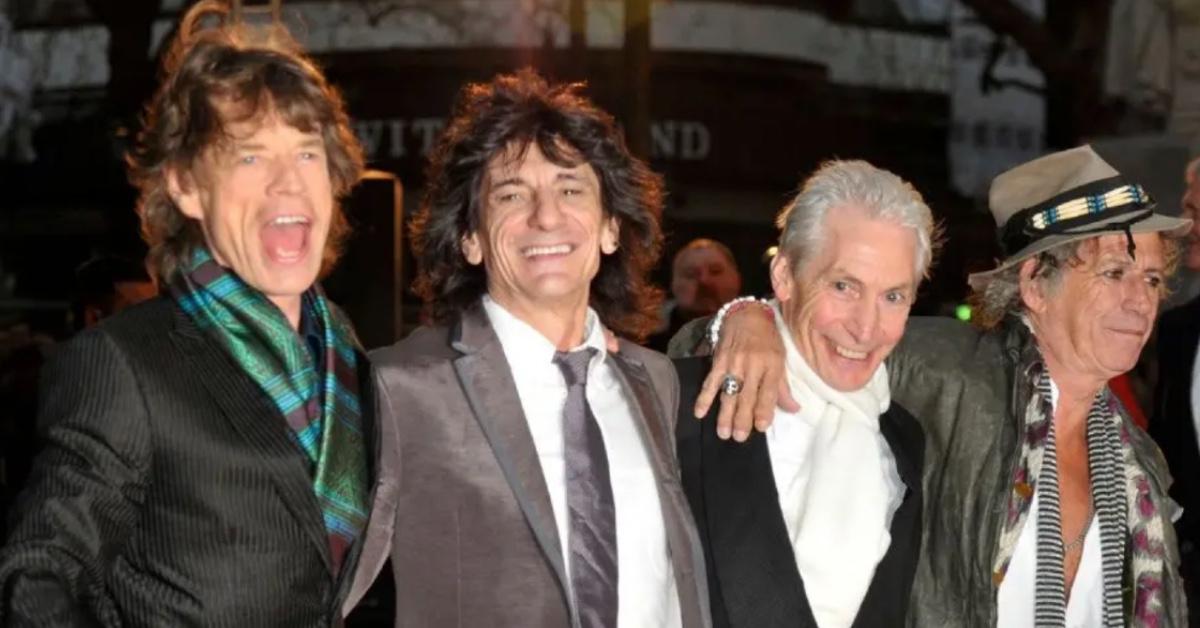 The FBI has been accused of teaming up with British lawmen to destroy the Rolling Stones by hatching a bizarre plot to get the controversial rockers thrown in prison on drug charges.
That's the shocking story behind the Stones' 1967 arrest during the infamous "Redlands Drug Raid" as revealed in author Philip Norman's blockbuster book Mick Jagger, which details the life of the legendary band's lead singer, RadarOnline.com reported.
Although Mick Jagger ended up behind bars after the raid, the trans-Atlantic operation failed to destroy the chart-topping group.
Article continues below advertisement
Formed in London in 1962, the Stones were regarded as a shocking and "dirty" alternative to the mild mop-topped Beatles.
In the button-down era of the early 1960s, the sexual lyrics of their hits like "(I Can't Get No) Satisfaction" and "Let's Spend the Night Together" raised eyebrows. The Stones even had to change their hit to "Let's Spend Some TIME Together" when they appeared on The Ed Sullivan Show in 1967.
The bad-boy band was secretly declared "subversive" by COINTEL-PRO, an FBI Counter Intelligence Program launched by director J. Edgar Hoover to maintain social and political order. Agents reached out to the Stones' homeland for help to ensure they'd never come to the United States again.
Along with their counterparts at Britain's hush-hush MI5 police agency, the FBI tried to set up Jagger and the rest of the Stones – guitarist Brian Jones, guitarist Keith Richards, bassist Bill Wyman and drummer Charlie Watts – in an elaborate drug sting that would put them out of circulation.
The raid was conducted at Richards' cottage called Redlands outside West Wittering, a small seaside resort in Sussex, England.
The police agencies used an American known as "Acid King David" to befriend the band. A failed TV actor whose real name was David Snyderman, the hippie was drifting around Europe when he was caught with drugs in his luggage at London's Heathrow Airport.
Article continues below advertisement
Instead of being thrown into jail, "British Customs handed him over to some 'heavy people' who hinted they belonged to MI5 and told him there was 'a way out' of his predicament," writes Norman. "This was to infiltrate the Rolling Stones, supply Jagger and Richards with drugs, and then get them busted."
Acting on government orders, the dealer befriended the Stones with an ample supply of drugs. Snyderman arrived for a weekend at Redlands with 'a business-like attaché case' filled with LSD.
At 5 p.m. on a Sunday, police got a call from an anonymous male informing them of a "riotous" drug party at Redlands. Officers tore the house apart – but missed the incriminating drug-stuffed briefcase, which was sitting in the middle of a room.
At one point, a young cop started to examine it, but backed off when Snyderman shouted the bag contained undeveloped film.
Richards, now 79, was found guilty of allowing Redlands to be used for smoking pot. Jagger, who recently turned 80, was hauled off in handcuffs and jailed, got a three-month sentence for possessing four amphetamines – even though his lawyers pointed out the pills were freely available to combat travel sickness in mainland Europe. Both were eventually freed on appeal.
Ironically, the FBI's alleged sordid scheme was totally unnecessary. Jones was later busted on marijuana charges and couldn't get a visa, which kept the Stones out of America.
However, Jones drowned in his swimming pool in 1969 – and soon afterward the wild boys launched "a triumphant American tour."
Snyderman died in 2004 as the band was preparing its 40th anniversary tour.
Become a Front Page Detective
Sign up to receive breaking
Front Page Detectives
news and exclusive investigations.
More Stories