'Serial killer' confessed to killing two women in Pennsylvania, connected to third murder, cops say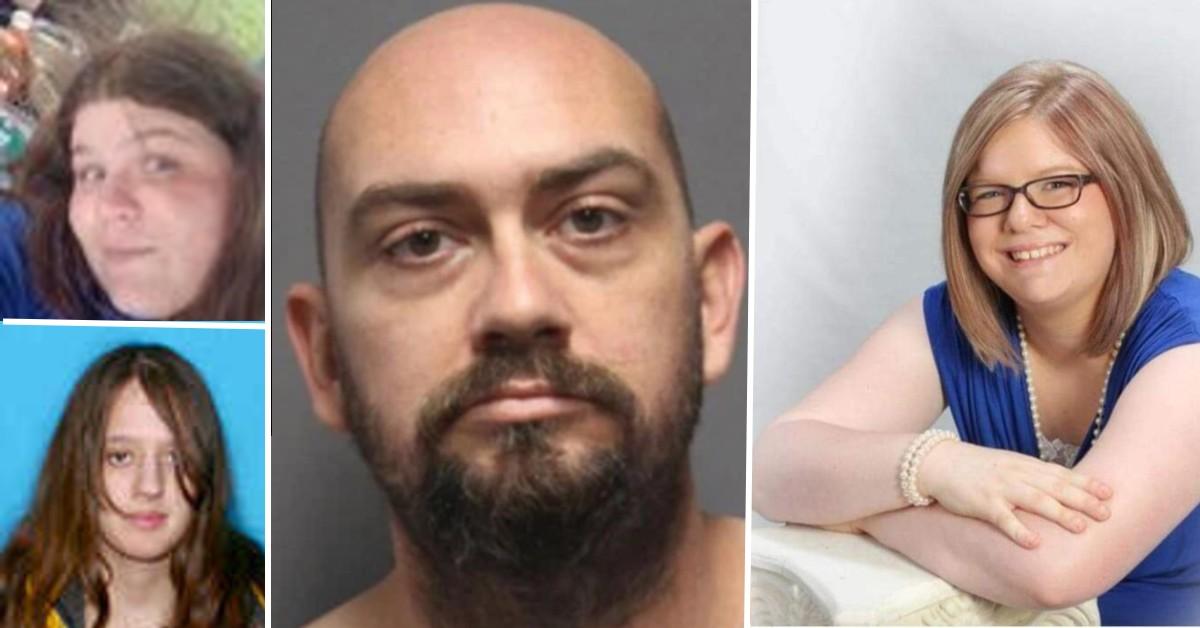 Authorities deemed a transient man a potential serial killer after he was charged with killing two women he met through online dating websites.
Article continues below advertisement
Harold David Haulman III, 43, was arrested on Friday in connection to the murder of 25-year-old Tianna Phillips, of McClure, who went missing in 2018. He was arrested as he walked into the courtroom for a hearing in connection to a December homicide case, where Haulman is accused with murdering Erica Shultz, 26, of Bloomsburg, Pennsylvania.
Authorities said Haulman, a transient with no permanent address, met both victims through online dating applications and bludgeoned and stabbed them in the same patch of woods off Hobbie Road in Butler Township, Pennsylvania, almost two years apart.
Haulman is also a person of interest in Ashley Parlier's disappearance from Battle Creek, Michigan, in 2005, but has not been charged in connection to that case.
Article continues below advertisement
"A serial killer is off the streets," Luzerne County Assistant District Attorney Dan Zola told The Daily Item. Zola said the district attorney's office is considering seeking the death penalty for Haulman.
Phillips was reportedly last seen leaving a friend's home in the 400 block of east 9th Street in Berwick, Pennsylvania, around 11:00 p.m. on June 13, 2018. She reportedly said she'd been in a fight with her boyfriend, and said someone named "Dave" was going to pick her up.
Article continues below advertisement
SHULTZ INVESTIGATION
Haulman was arrested in connection to Shultz's murder, on the day Shultz's remains were found in a wooded area near Hobbie Road in Butler Township, according to The Times Leader.
She was missing since December 6.
Article continues below advertisement
Authorities said Haulman admitted he used "a mallet-type hammer to hit Shultz numerous times and used a three-inch knife and stabbed her several times." Police said she had defensive wounds to her hands and there was evidence of severe trauma to her head.
Schultz was autistic and had the mental capacity of a 13- or 14-year-old, according to PhillyVoice.com.
Court records stated Shultz frequented dating websites where she allegedly met Haulman, who went by "Dave" on the dating sites.
Local investigators, along with the FBI agents, reportedly placed Haulman with Shultz using cell phone records. Their phones stayed together as they traveled west along I-80, connecting to cell towers along the way until her phone became disconnected, officials stated.
Article continues below advertisement
FBI and Pennsylvania State Police interviewed Haulman, who reportedly showed authorities where they could find Shultz's body on Google Maps, in an area off of Hobbie Road in Butler Township near I-80 and I-81, according to WBRE.
Haulman reportedly sent his wife a text message expressing his love for her and regret for failing their marriage. The texts included: "But I have some good news, you no longer have to fear me for any reason. I have made a decision that is just best for everyone," according to court documents.
Article continues below advertisement
A Norfolk Southern Railway Police Officer reportedly confronted Haulman while he was walking on railroad tracks around 11:35 a.m. on Dec. 26.
Police said Haulman pulled out a box cutter and "hacked" his arm, telling the officer, "Let me die; I want to kill myself; I need to die for my sins," according to the complaint. He was taken to a nearby hospital, where police interviewed him.
Authorities said Haulman reported he intended to get hit by a train because he was "tired of living this way."
Haulman reportedly admitted to "surprising" Shultz at her house, taking her for a ride, stopping on Hobbie Road. Authorities said Haulman then asked Shultz to go for a walk in the woods.
Article continues below advertisement
After leaving Shultz's body in the woods, Haulman told investigators he traveled to a bridge on I-80, where he tossed the knife and hammer.
Haulman was charged with criminal homicide, kidnapping and abuse of corpse. He was denied bail.
CONFESSION LETTER
Haulman's ex-wife, Anne, reportedly gave multiple interviews and provided police with information while investigating the Shultz murder, including a letter confessing to Phillip's murder, according to Yahoo.
She and Haulman separated in July 2020, two years after Haulman allegedly forced her to help dispose of Phillip's body.
Article continues below advertisement
The ex was reportedly aware of her ex-husband's extramarital affairs, but when Phillips's boyfriend called and said he knew as well, Haulman reportedly said he would kill either Phillips or the boyfriend.
Haulman reportedly sent his ex-wife a birthday and anniversary card, and told her he authored a confession letter about the Phillips homicide to ensure he would never hurt her. The letter read:
"On June 13th 2018 I drove to Berwick Pa and picked up Tiana Ann Phillips and took her for a drive. We ended up somewhere in the woods east of Berwick Pa. After walking into the woods I pulled a knive from my pocket and attacked her from behind cutting her throat. As she gasped for her last breath of air I stabbed her repeatedly in the side of the neck, back and arms. I then returned to the crime scene months later and retrieved any and all evidence and disposed of it in a dumpster, not sure exactly where. I Harold David Haulman III committed this crime on my own and of my own free will, David Haulman."
Article continues below advertisement
In her statement, Anne claimed Haulman brought her to Hobbie Road in September 2018 to collect evidence from Phillips' body.
The ex reportedly told police she believed she had no choice but to cooperate. She reportedly stayed in the car while Haulman went into the woods, and returned about 20 minutes later with a filled trash bag.
Haulman reportedly told his wife he removed Phillips's skull, clothing and ribcage from the area, which he reportedly dumped in dumpsters behind an AMC Theaters in Scott Township.
Article continues below advertisement
MICHIGAN CASE
Authorities are digging into a 15-year-old cold case in Battle Creek, Michigan, where a young woman with mental disabilities went missing.
Michigan investigators claim Haulman has links to Battle Creek, where a 21-year-old woman went missing in 2005.
"Haulman previously lived in Battle Creek from 2002 to 2009 in the Lakeview section of Battle Creek and the Fairfax Addition in Emmett Township," Calhoun County Sheriff Department Detective Jon Pignataro told the Battle Creek Enquirer.
"He knew the victim and our investigation is ongoing to determine the extent of their relationship."
Article continues below advertisement
Parlier was believed to have been five to seven months pregnant at the time of her disappearance. Family members alleged she may have been suicidal, and is mildly mentally disabled, and functions at the level of a 12- to 14-year-old child.
Article continues below advertisement
FBI agents reportedly interviewed Haulman two days before Christmas in Battle Creek, Michigan, according to the Detroit News.
Investigators placed a tracking device on his gray 1995 Ford Windstar, and tracked Haulman to Duncannon, Pennsylvania, after he failed to show up for a second interview on Christmas Eve.
During a Jan. 4 interview, Haulman reportedly asked if the cases of Shultz, Phillips and Ashley M. Parlier would be combined, according to YahooNews.
Haulman was also charged with burglary in Oliver Township in 2013 and was convicted of manslaughter in Germany in the late 1990s, but got that charge reduced.
"If these situations don't match the definition of what a serial killer is, then nothing does," Zola told the Daily Item.
Become a Front Page Detective
Sign up to receive breaking
Front Page Detectives
news and exclusive investigations.
More Stories