He said he was crazy, and that's why he killed four people in a Tennessee Waffle House. The jury didn't believe him.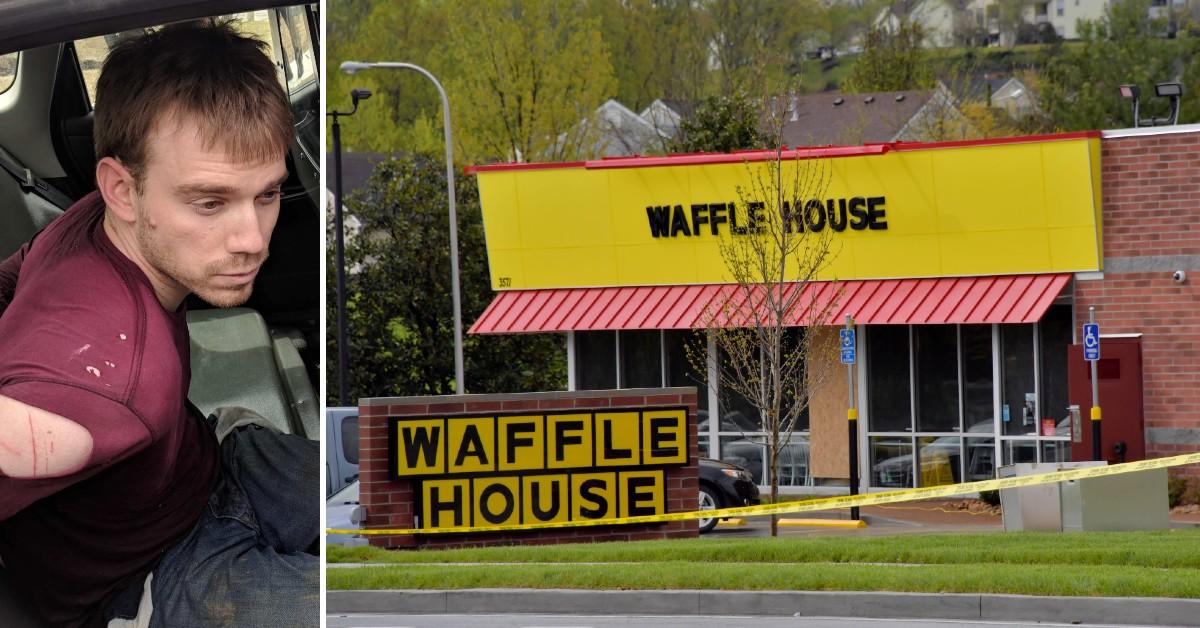 A Tennessee gunman responsible for the Waffle House quadruple murder said he did it because he was crazy.
Now, he will remain behind bars for the rest of his life.
Article continues below advertisement
This week, Davidson County Criminal Court Judge Mark Fishburn sentenced Travis Reinking to life in prison without the possibility of parole for the shooting death of Waffle House employee Taurean C. Sanderlin, 23, Joe R. Perez, 20, Akilah DaSilva, 23, and DeEbony Groves, 21. Reinking was found guilty and convicted of 16 felony counts, including eight counts of first-degree murder.
On April 22, 2018, while naked except wearing a green jacket, Reinking drove his pickup truck to the Waffle House in Antioch, Tennesee wielding a rifle before shooting Sanderlin and Perez, who was a customer outside the establishment. Then, he proceeded into the restaurant and shot DaSilva, who was pursuing a degree in musical engineering, and the college senior, Groves, who had been out celebrating with her sorority sisters.
Article continues below advertisement
During the shootout, another customer James Shaw Jr. who had been dubbed a hero, wrestled the rifle away from Reinking before he ran away. As a result, a manhunt for the defendant ensued, but he was later captured by the police.
The state decided not to pursue the death penalty as part of Reinking's sentencing hearing. However, prosecutors remained adamant as they requested the jury to hand the defendant a life term in prison without the possibility of parole. They argued Reinking had been there to kill everyone in the restaurant intentionally, and despite Shaw's heroic interception, the defendant still caused the loss of four lives.
Article continues below advertisement
Reinking's defense lawyer Luke Evans also acknowledged the loss of the victim and did not deny his client committed the homicides. Nevertheless, he argued his client had suffered from a severe mental illness and delusions, which rendered Reinking unawares of knowing between right and wrong.
"As much as your hearts go out to the victims, nothing you do today is going to make them whole. It's not your job to make them whole. You can't. Law and justice requires you to consider the mitigating circumstances. Justice demands it. No one's asking you to forgive him. No one's asking you to excuse him," said Evans to the jury, according to Tennessean.
Reinking's defense team had hoped for a life sentence with parole, though the defendant would only be eligible for parole under Tennessee law after 51 years. The jury was not persuaded.
Previously, Illinois State authorities, where Reinking had lived, had revoked Reinking's firearm owner identification, which meant the defendant had to turn his firearms to someone with valid owner identification. Then Reinking gave the weapons to his father, who later gave it back it to him.
Article continues below advertisement
In addition, in July 2017, the U.S. Secret Service had detained Reinking for breach of the White House premises, demanding to speak to then-President Donald Trump. He was charged with unlawful entry, and the case was dismissed after the defendant completed his community service.
Families of the victims addressed the court during the victim impact statement.
DaSilva's mother, Shaundelle Brooks, delivered an emotional speech when she told the court how she arrived at the Waffle House after the shooting and identified her son's shoes on the body in the ambulance. She described her son as an intelligent, savvy individual who built his own computer and was aspiring to be a rapper.
Article continues below advertisement
"My son Akilah was a beautiful soul who perfected how to be a son. My sweet baby, my angel, my son was robbed of his life." said Brooks tearfully, Reported CNN.
DeEbony Groves' father, Albert Groves, described his daughter as a mini version of himself and said she was born on Father's Day.
Article continues below advertisement
In May, Reinking will be back in court after Fishburn sentenced the defendant on just one murder count out of the 16 convictions. The judge will then decide whether the sentences for the remaining convictions should be served concurrently or consecutively.
Become a Front Page Detective
Sign up to receive breaking
Front Page Detectives
news and exclusive investigations.
More Stories