A child was found without a head, dumped in 1983. Today she remains "Jane Doe" and her name unknown.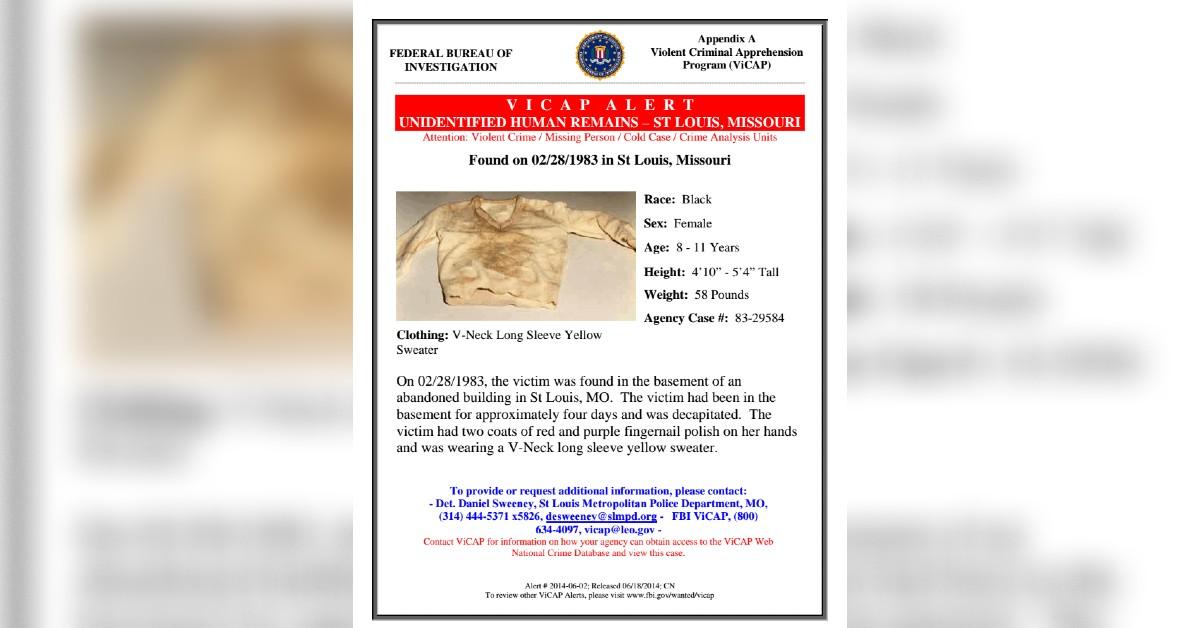 No one could tell her exact age, but they estimated she was between 8 and 11 years old. Without her head, examiners could be sure of her true height, either. She was called "Jane Doe" when detectives couldn't name her after a week of intense investigation.
Article continues below advertisement
Every officer at the murder scene took the image with him for the rest of his life, and several spent their law enforcement careers trying to solve the mystery of the mutilated girl in the basement.
In February 1983, her body was discovered by two men who entered the basement of an abandoned three-story building in St. Louis. They later told police all they wanted was a crowbar to help fix their broken-down vehicle, but authorities suspected they were looting.
When the men lit up the pitch-black basement with a Bic lighter, they found a brutalized, headless body on the floor near the furnace.
Article continues below advertisement
The body at first appeared to be a small Black woman. She wore red and purple nail polish only. On her naked body lay a stained, pale-yellow sweater. The girl's hands were bound with red nylon cord.
The two men hailed the police, and veteran investigators Herb Riley and Joe Burgoon arrived on the scene. Neither homicide detective ever got the image out of his mind, and neither would ever give up looking for her killer.
Riley died in 1996, having solved all the 2,000 cases he was assigned over his career except two. Jane Doe was one, according to the River Front Times.
Article continues below advertisement
The problem soon became apparent: without a head, a face, or any other identity, solving Jane Doe's murder was a fight against the odds. The case stalled at nearly every junction, and along the way her name has evolved to Little Jane Doe, sometimes also known as "Hope" — a child who no one seemed to be looking for.