Could OceanGate Face Criminal Charges for the Titan Sub Disaster?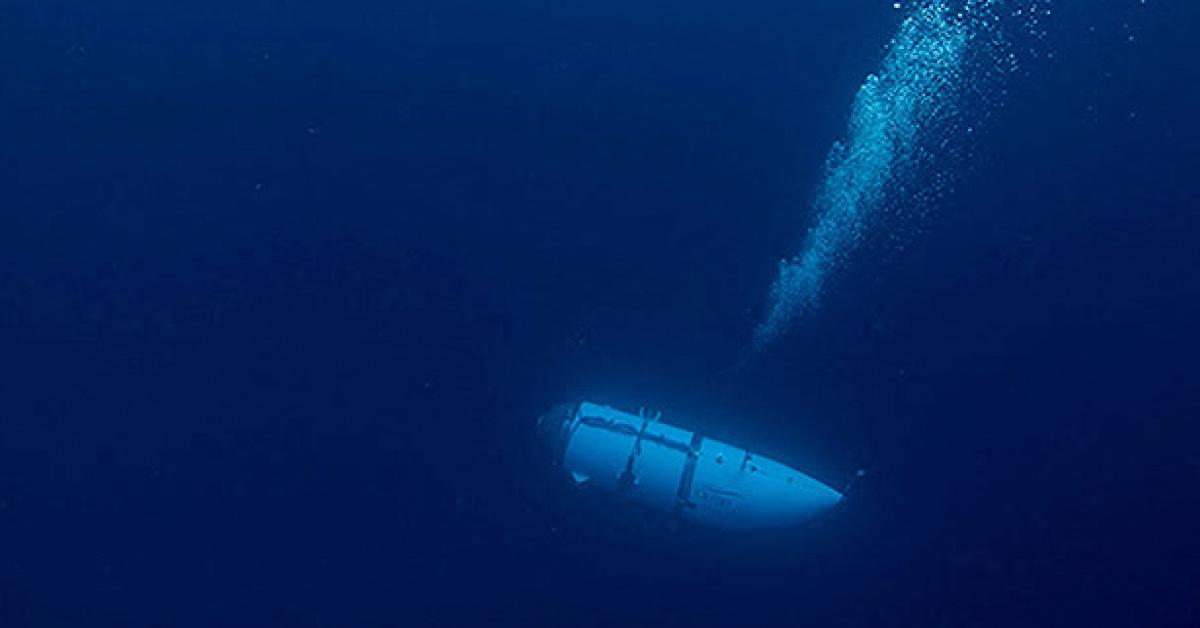 The Titan sub remains missing in the depths of the Atlantic Ocean near the Titanic wreck, but questions are already arising about a potential criminal probe, according to reports.
The 22-foot Titan lost contact with its launching ship on June 18 while descending over 12,000 feet to explore the Titanic on the ocean floor. Passengers who paid $250,000 to be onboard the vessel include billionaire Hamish Harding, French Navy veteran PH Nargeolet, Shahzada Dawood, and Dawood's son, Suleman Dawood. OceanGate CEO Stockton Rush is also on the sub.
Article continues below advertisement
The men signed a waiver that mentioned the possibility of death three times, according to reports, but criminal defense attorney Joshua Ritter claims OceanGate may not be "totally protected from criminal liability."
"The question of whether OceanGate could face criminal liability has yet to be answered, but some government or perhaps a combination of governments will definitely investigate this tragedy," Ritter, a former Los Angeles County prosecutor who now works at El Dabe Ritter Trial Lawyers, told the Daily Mail.
According to Ritter, the United States would be the most logical head of an investigation since OceanGate is based in the state of Washington.
"The U.S. government will most likely conclude that it has jurisdiction to investigate, even though the company operated in international waters," Ritter explained.
The attorney noted that the case is similar, in some respects, to the 2009 deaths of three people in an Arizona sweat lodge.
Article continues below advertisement
"A self-help entrepreneur who ran that sweat lodge was eventually convicted of negligent homicide," he said. "People can give consent to participate in dangerous activities, but that doesn't mean whoever is in charge is totally protected from criminal liability."
"If an investigation reveals the participants were misled about the risks or pressured to agree to activities they would normally avoid, then it can lead to criminal charges," Ritter continued, adding, "For the company to use a video game controller to steer this submarine, that's the kind of thing that makes this ripe for an investigation."
One problem with a possible case, he said, is that the CEO of the OceanGate is also among the missing.
According to Ritter, if "he does not survive this whole episode that will cloud the question of who bears ultimate responsibility."
Another attorney, LA-based personal injury attorney Miguel Costudio, told the Daily Mail that family of the five passengers on Titan could also have a hard time winning a case if the men are not rescued.
"Everyone on board knew this wasn't a vacation or sightseeing, that it was really an exploration into the unknown at one of the deepest points on the planet," he explained. "The price-tag itself is a clear indication that this is something big and serious. The trip itself was dangerous and there was a real possibility that things could go wrong."
"I don't see much recourse for these families in court," however, he added, "the waiver could be challenged if it can be found that OceanGate was negligent in the way it was being designed or operated, and that caused the submersible to be lost."
Become a Front Page Detective
Sign up to receive breaking
Front Page Detectives
news and exclusive investigations.
More Stories