Bodies kept piling up in the pacific northwest. Was it the work of one killer or a coincidence?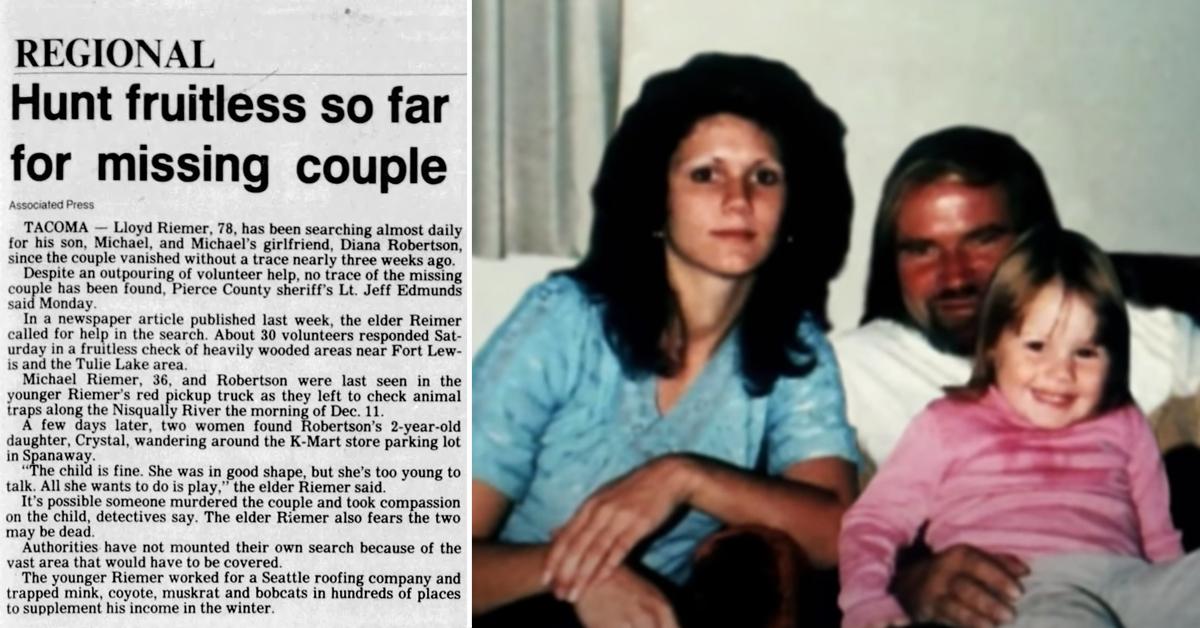 It was a lovely summer's day in Tacoma, Washington, when Ruth Cooper, 42, and her boyfriend, Steven Harkins, 27, decided to make the 10-mile trip to Tule Lake in Pierce County. They planned a weekend of camping during their summer break from the vocational school where they worked. It was August 10, 1985, Tears for Fears was on the radio, "Back to the Future" was in cinemas, and everyone was talking about the crimes of the Night Stalker down in California.
Still, nothing like that ever happened in Tacoma.
Article continues below advertisement
Until it did and bodies of couples started to pile up in the Pacific Northwest. Was it a case of a lover's spat? The work of a serial killer? The work of multiple killers and the timing and victim profiles merely a coincidence?
Four couples ended up dead over several years, while two men are in jails for some of the crimes. The rest remain unsolved.
When Cooper and Harkins didn't return to work on Monday morning, both families reported them missing. It would be four days later that hikers in Pierce County discovered the body of Harkins inside a sleeping bag at a campsite; he'd been shot in the head as he slept. Not far away, the hikers soon found the body of the couple's dog, also shot. Police soon descended on the area to investigate the homicide and begin a widespread search for Cooper, who they believed was likely a second victim as opposed to being a killer.
Article continues below advertisement
With Harkins seemingly executed in his sleep, it seemed like the couple may have been surprised, with Cooper possibly abducted. Ironically, surprising couples in the dead of night and executing the man with a handgun before sexually assaulting the female would be one of the critical aspects of notorious serial killer Richard Ramirez's modus operandi, his killings featuring heavily across cable news channels.
There was, of course, no connection between the cases.
Two months later, on Oct. 26, a skull was found near Harts Lake, a mile and a half away. Dental records showed that it belonged to Cooper, and further searches revealed the rest of the body two days later, near skeletonized and missing her clothing.
Article continues below advertisement
She was shot in the stomach, and a tube sock was tied around her throat. Police believed that the sock, commonly used in athletics and sports, had been used as a restraining method rather than a weapon.
Detective Norm Wiemer said police knew "a lot about what happened" but had no suspects in the case, with some wondering if a double killing the previous year may have been linked.
Article continues below advertisement
NOT THE ONLY CASE
Edward Smith and Kimberly Diane La Vine, a couple from Kent in the Seattle–Tacoma metropolitan area, had also been abducted and murdered.
Smith and LaVine met while attending the University of Southeastern Massachusetts at Dartmouth and were deeply in love. After graduation in 1984, the couple moved to Kent, Washington, and worked as government accountants. Everything seemed to be going well for them as they began their journey in life, and the two were soon engaged to be married. That day never came.
On March 9, 1985, the couple made the fateful decision to have a weekend getaway in Grant County off the I-90. They wanted to explore some of the landmarks and scenery in the area.
Article continues below advertisement
What horror transpired that night wouldn't be known for some years, but it certainly ended in murder as the following day, Smith's body was found in a gravel pit close to the Wanapum Dam. His hands were tied behind his back, and his throat slit. Missing his wallet and ID, it wouldn't be until later that police managed to identify Edward, and his employer raised the alarm that he was missing. A major search was launched to find La Vine, and two weeks afterward, the couples' vehicle was found abandoned 10 miles away from where Smith's body was discovered.
A fingerprint was recovered, but still no sign of the missing woman. It took until August before La Vine was found, the same month that Cooper and Harkins were killed. La Vine's body was found in sagebrush two miles from her fiancee and skeletonized through exposure and predation.
Article continues below advertisement
While still actively investigating the murders, the case took an alarming turn on Dec. 12, 1985, when 36-year-old roofer Mike Riemer and his girlfriend, Diana Robertson, 21, traveled to Pierce County from their Tacoma Home.
Like the first couple, Riemer and Robertson also planned a camping trip and intended to both check trap lines set by Riemer and search for a Christmas tree. The two also brought along their 2-year-old daughter, Crystal Louise Robertson, and it would be her who first raised alarms that something was very wrong after she was found alone at a K-Mart 30 miles away in Spanaway the same night.
Identified through local news, when the young girl was asked by her grandmother where her mom was, she said: "Mommy was in the trees."
Police immediately began searching for Riemer and Robertson, hoping the couple's distinctive red Plymouth pickup truck would be easy to spot from the air but searches found little success.
Article continues below advertisement
It wouldn't be until the cold February of 1986 that Diana Robertson's body was found by a man who had gotten out of his car to walk his dog. Located alongside the couple's truck, the body was just off a logging road not far from Mineral and partially buried in the six inches of snow blanketing the area.
The weather initially hampered investigations, yet bloodstains were found inside the pickup truck, and police also found a note inside the vehicle that stated simply, "I love you, Diana."
Written on a manila envelope, it seems possible that something had been contained inside, perhaps a paper gift or message of some kind. Diana's mother, Louise Conrad, would later say she was sure the handwriting belonged to Riemer.
Article continues below advertisement
However, an FBI expert was not so confident, stating that handwriting analysis was, in fact, inconclusive and no definitive link to the missing Riemer could be made. Also in the vehicle was Riemer's winter coat, an item he would have been unlikely to leave behind. An autopsy revealed that Diana was stabbed 17 times and had a tube sock tied around her neck; forensics would only be able to tell that the blood was human.
"Unfortunately, after two months and about two weeks, some of the characteristics of the blood were lost. And they were not able to tell us what the blood type was. But they were able to tell us the blood was human." - Detective David Neiser, Lewis County Sheriff's Department and reported by Unsolved.com.
Article continues below advertisement
Police suspected Riemer himself might have been involved in his girlfriend's death, with the relationship between the couple described as "stormy" by the press. Riemer was charged with domestic assault and malicious damage in October, and the two had only just reconciled.
Robertson made the initial complaint, alleging her boyfriend had kicked in her apartment door and thrown her to the floor, rubbing her face into the carpet. There were visible marks on her nose and left eye, and there had been two previous complaints of domestic disturbances between the pair. A restraining order was in place, but the couple had ignored it to get back together.
However, while this violence was undoubtedly shocking and criminal, it was classed as a misdemeanor and far from the violence seen in Robertson's killing.
Article continues below advertisement
Despite this escalation, police believed he might have killed his girlfriend before leaving Crystal at the K-Mart and fleeing. Considering the utilization of the tube sock, this also put him in the frame for the killing of Cooper and Harkins, despite no motive being apparent.
"He beat her up. He took everything out on her. He blamed her for things that he did. If he was seeing somebody else, he would turn it around like Diana was seeing somebody else and justify it in his own mind." - Darlene Robertson, Diana's sister and Unsolved.com reported.
Article continues below advertisement
Speaking to the press after his son initially went missing, Mike Riemer's father agreed that foul play might have been involved, adding that his son always carried a .22-caliber handgun when out checking his trap lines, saying, "you couldn't surprise him in the woods. If he was hurt [in the woods], he could get out."
The presence of a gun could be suggestive given that both Cooper and Harkins were shot with a .22. Yet, the weapon would undoubtedly have been utilized to kill Robertson in such a case, and such guns are common.
Interestingly, bullet casings were found a short distance from the pickup truck, yet Robertson wasn't shot, suggesting that somebody opened fire for an unknown reason. Whether these were from a .22 was never made clear.
With little more to go on and their suspect seemingly having fled, police would have nothing new in the case for 22 years.
Article continues below advertisement
RIEMER FOUND
On March 26, 2011, a hiker was in the woods near Mineral, around a mile from Diana Robertson was found 25 years before. Spotting a discarded vacuum cleaner cover, the man curiously lifted it away to reveal the partial remains of a skull.
The skull fragment was positively identified as belonging to Riemer, and a subsequent search revealed a jawbone, minus the teeth, alongside a pair of rubber boots that may or may not have been linked.
No other remains were found, meaning that there was no chance of identifying a cause of death, which may have shed some light on the events of 1985.
All a coroner could say was the skull hadn't suffered trauma such as a gunshot wound as what happened in Steven Harkins's death.
Article continues below advertisement
Whether the discovery of the skull eliminates Riemer as a suspect or not is open to debate.
Found within a mile of Robertson, the corpse had seemingly gone unnoticed during searches at the time of the original killings. If the area was searched, this might suggest Riemer returned to the site and committed suicide, or the body had been well concealed. Equally, if the body was somehow overlooked, the possibility remains again that the murders were, in fact, a second double-killing, and the actual killer walked away.
While he was known to be violent toward Robertson, there seems to have been little indication Riemer was capable of three murders.
Article continues below advertisement
If Diana's killing was preplanned, it seems unlikely he would have carried out the killing in full view of his daughter if he then planned to abandon her a K-Mart 30 miles away. Plus, the vehicle contained clear blood on the passenger seat, and he would almost certainly have been covered in that blood, making any trip from the scene in the car immensely risky.
The presence of a second vehicle seems more likely. Equally, it seems unlikely that Riemer would return to the location of the crime to commit suicide out of remorse and then walk a mile away from the girlfriend he had told he loved.
If his grief at his actions was so immense, would he not wish to die alongside his beloved?
Article continues below advertisement
There were also several coincidences in the case, with both men noted for their outdoor pursuits and both couples' relationships featuring a significant age gap of 15 years. Such a gap would be notable at any time, but featuring two killings by the same individual makes it seem even stranger.
However, after Riemer's death, no more murders featured the signature tube sock, and both his knowledge of the area where he set traps and possession of a .22-caliber revolver cannot be ignored, nor can his history of violence.
He was the only suspect — if the earlier killings of Edward Smith and Kimberly Diane LaVine are discounted.
Article continues below advertisement
ONE CASE SOLVED
In 1989, police solved the Smith and LaVine case when they positively linked the fingerprint found of their vehicle to a truck driver by the name of Billy Ray Ballard Jr. Ballard was arrested months after the killings for the abduction, torture, and rape of two women in Wyoming, his fingerprints finally proving a match.
He immediately confessed to the murder of Smith and LaVine and pleaded guilty at his trial, being sentenced to a mandatory life sentence. He was undoubtedly at large during the time of both sets of murder in Washington, though there is no evidence he was in any way involved.
Article continues below advertisement
No sock was found in the murders committed by Ballard, and given the composition of tube socks, decomposition is highly unlikely.
However, in all three murders cases, the woman was found some distance away from the man, and in two cases, the skull of the victim was found separate from the body. However, this is not unusual due to predators carrying bones away.
A FOURTH COUPLE?
While never linked to other unsolved killings in Washington Ballard's crime, another similar pair of killings took place in November 1987, around 100 miles away on the other side of Seattle.
Jay Cook, 20, and Tanya Van Cuylenborg, 18, traveled from Canada to purchase parts for Cook's father's business. Last seen boarding the ferry in Bremerton, Tanya's body would be found in a ditch near Alger on Nov. 24; she'd been bound, raped, and shot in the head. Her wallet and keys were found thrown away at a greyhound bus station.
Article continues below advertisement
Police initially suspected Cook was responsible for the killing until his body was found nearly 60 miles away from where Tanya had been discovered. He was beaten and strangled.
In 2018, new techniques allowed DNA collected in 1987 to be uploaded to GEDmatch. Two cousins were found, and police soon arrested William Earl Talbott II, a truck driver. Talbott was found guilty of the killings and is currently serving two life sentences at Washington State Penitentiary.
Article continues below advertisement
In a letter to the court, and reported by Seattle Weekly, in 2019, Van Cuylenborg's former best friend, May Robson, said, "The sorrow will remain in my heart for the rest of my life. I miss my friend Tanya."
While it is little comfort, some peace will undoubtedly be felt that Talbott is finally behind bars. However, this is a peace that has been denied to the families of Ruth Cooper, Steven Harkins, Diana Robertson, and possibly Mike Riemer.
It is a near certainty that at least three of those individuals were killed by the same hand in the woods around Tacoma, possibly four, maybe more.
While Ballard admitted two of the killings, there is a possibility he may have been involved in more and equally; Mike Riemer still seems to be the only suspect for the killing of his girlfriend.
Article continues below advertisement
Yet, with significant questions unanswered, it is impossible to conclusively say that he was the culprit.
While 35 years have passed since the brutal summer of 1985, the chances of new evidence being unearthed in the woods or anyone talking are dwindling. While some may rest easy believing the case was concluded all those years ago, somewhere an aging killer may be just waiting to take his deadly secrets to the grave.
Become a Front Page Detective
Sign up to receive breaking
Front Page Detectives
news and exclusive investigations.
More Stories