Washington police officers charged with killing man after what witnesses say appeared to be a respectful chat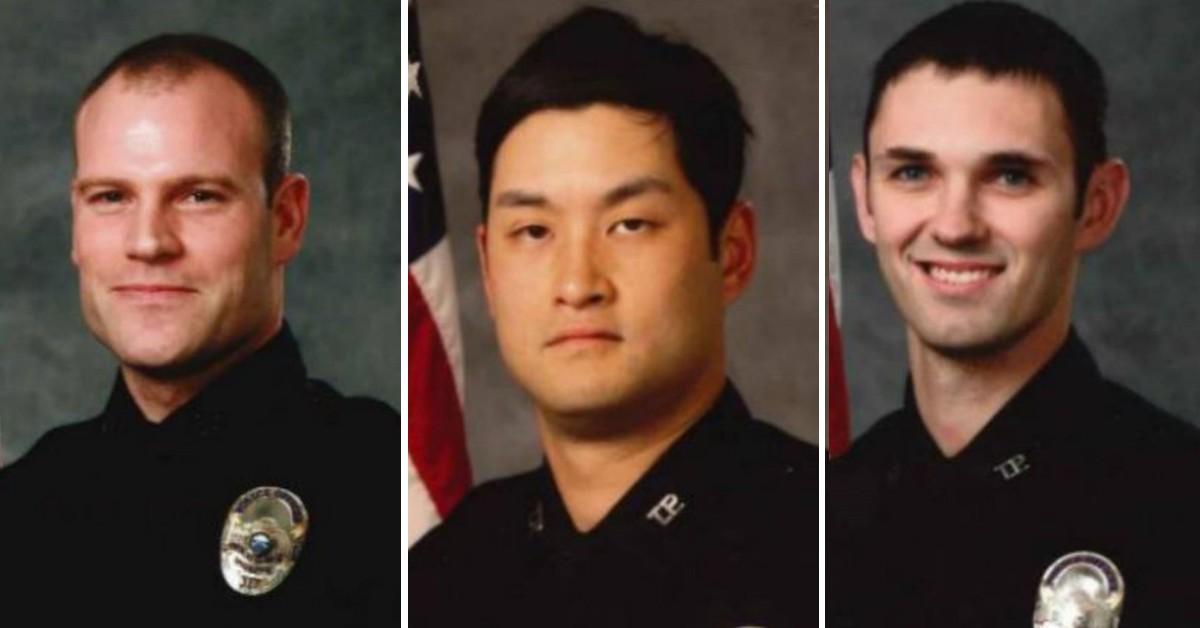 After a six-month review and investigation, three Tacoma police officers are in custody and accused of causing the death of Manuel Ellis, the Washington State Office of the Attorney General announced.
Article continues below advertisement
Christopher Burbank, 35, Matthew Collins, 38, and Timothy Rankine, 32, turned themselves in to law enforcement officials and were booked into the Pierce County Jail on May 27, the News Tribune reported.
Burbank and Collins are charged with second-degree murder and first-degree manslaughter. The third officer, Rankine, faces a first-degree manslaughter charge.
Two other officers involved in the incident, Masyih Ford and Armando Farinas, were not charged with any crimes.
Article continues below advertisement
Around 11 p.m. March 3, 2020, Ellis went to a 7-11 to get a snack. On his way back home, charging documents state, Ellis came upon Takoma officers Burbank and Collins sitting in a squad car.
Witnesses recalled seeing Ellis stop and have an apparently respectful chat with the officers for "10 to 15 seconds" with no signs of aggression, according to the documents.
Article continues below advertisement
"The officers did not let Ellis walk away," the documents state, citing eyewitness accounts, and Officer Burbank "abruptly swung open the passenger door of the car, striking Ellis from behind and knocking him to his knees."
Officer Burbank then allegedly got out of the car and on top of Ellis while Collins exited the vehicle to assist.
In video witnesses recorded, Burbank "can be seen wrapping his arms around Ellis, lifting him into the air, and driving him down into the pavement, striking at him with one of his fists as he does so. Ellis can then be seen curling his legs in towards his body, as Burbank backs away from him," the documents state. "Collins then moves in towards Ellis and brings his weight down onto him. With Ellis underneath him, Collins begins striking Ellis's head with his fist. Meanwhile, Burbank draws his taser gun and walks close in towards Ellis."
Article continues below advertisement
As Burbank aims the taser, another video allegedly shows Collins lock "his hands together while squeezing the arm around Ellis's neck, applying what is called a 'lateral vascular neck restraint,'" the documents state.
Witnesses told investigators it did not appear Ellis fought back and put his hands up.
Burbank then tases Ellis and "video shows Ellis motionless," with Collins still holding Ellis around the neck. "Collins then removes his arms from Ellis's neck, and Ellis's head falls limply towards the pavement," the documents state, adding the officer "can then be seen pushing down with his arm onto the back of Ellis's head or neck, pressing Ellis's face into the pavement."
Article continues below advertisement
When Ellis comes to and begins to writhe around, Burbank tases him a second time. A "doorbell security camera on a house across the street captures the sound of Ellis saying clearly, 'Can't breathe sir. Can't breathe!'" the documents show.
Rankine then arrived on the scene and put pressure on the handcuffed Ellis' back. Ellis repeated he could not breathe multiple times, according to investigators.
Paramedics who arrived noted Ellis was "unconscious and unresponsive," the charging documents state.
Ellis was later declared dead at the scene.
"Ellis died during the course of and in furtherance of Burbank and Collins' felonious assault and/or unlawful imprisonment of Ellis," prosecutors alleged in the charging documents.
If convicted, the officers face anywhere from a minimum of 6.5 to 8.5 years on the manslaughter charges and 10 to 18 years on the second-degree murder charges.
The maximum sentence for both is up to life in prison.
Become a Front Page Detective
Sign up to receive breaking
Front Page Detectives
news and exclusive investigations.
More Stories