Windsurfer Discovers 'What It Feels Like to Die' After Whale Drags Him Underwater Following Brutal Body Slam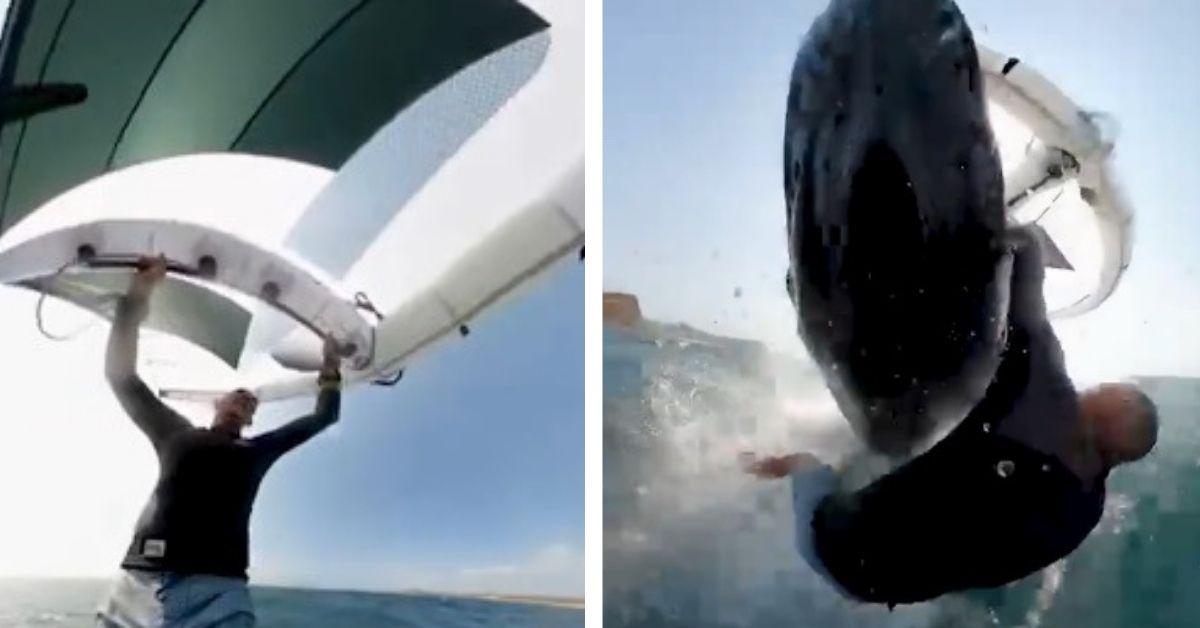 Article continues below advertisement
"I saw it to my right and it just started to come up out of the water and I knew it was a whale," Jason Breen told Australia's 9News." Then as it got higher and higher, it just got bigger and bigger and I thought 'you who what? I'm in trouble.'"
As the whale breached, the GoPro video shows nothing but water, with moments of whale in the background.
Breen, 55, was 30 feet below the surface at one point, tangled in a leg rope.
Breen said he thought to himself, "This is what it feels like to die," in an interview monitored by the Miami Herald. "I was under for probably 30 seconds."
But Breen says he got lucky.
"I felt the leash break, and from there I got released from under the whale's body and was able to come to surface," he explained to 9News. "And thank my lucky stars that something that's not supposed to break broke and ringed the webbing out."
Article continues below advertisement
Breen survived, unharmed except for a small cut. But if the whale had barnacles, things could have been different.
"If it had barnacles rubbing against my face under the water, I would have been ripped apart," Breen said, adding that usually mothers have barnacles and this whale was a juvenile.
"The whole thing was unusual, one in a million - it's a massive ocean and there was a guy on a headland who just happened to be filming by coincidence and my GoPro, I wasn't pointing or filming so to get the footage was amazing," he said.
Breen's buddies on shore heard the man they call "Jaws" explain it, but they could not believe it.
"'No way, you're talking it up, Jaws is telling a story,'" Breen quoted them as saying. "But when I showed them the footage, that's when they realized."
A whale may have caused a death in a separate case off of Sydney in late September.
The Sydney Morning Herald reported a creature struck a boat on a Saturday morning, sending two people into Botany Bay.
A 61-year-old man was knocked unconscious and killed, while another person, 53, was treated for serious injuries at a hospital.
"Right now there are lots of whales out there… it's not unheard of," an acting New South Wales Police Superintendent told Sky News at the time.
Never miss a story — sign up for the Front Page Detectives newsletter. Be on the scene the moment news breaks.
While some locations are filled with whales, one kind of whale remains at risk of extinction.
Smithsonian Magazine reported in recent days that scientists counted 356 North Atlantic right whales last year. That was down by eight from the year before.
The right whale population declined by about 25% during the 2010s, after reaching a 20-year peak.
North Atlantic right whales are blamed for 32 injuries of people so far this year.
Become a Front Page Detective
Sign up to receive breaking
Front Page Detectives
news and exclusive investigations.
More Stories