He killed a couple in a park then went to live a normal life for decades. Now, he'll die in prison.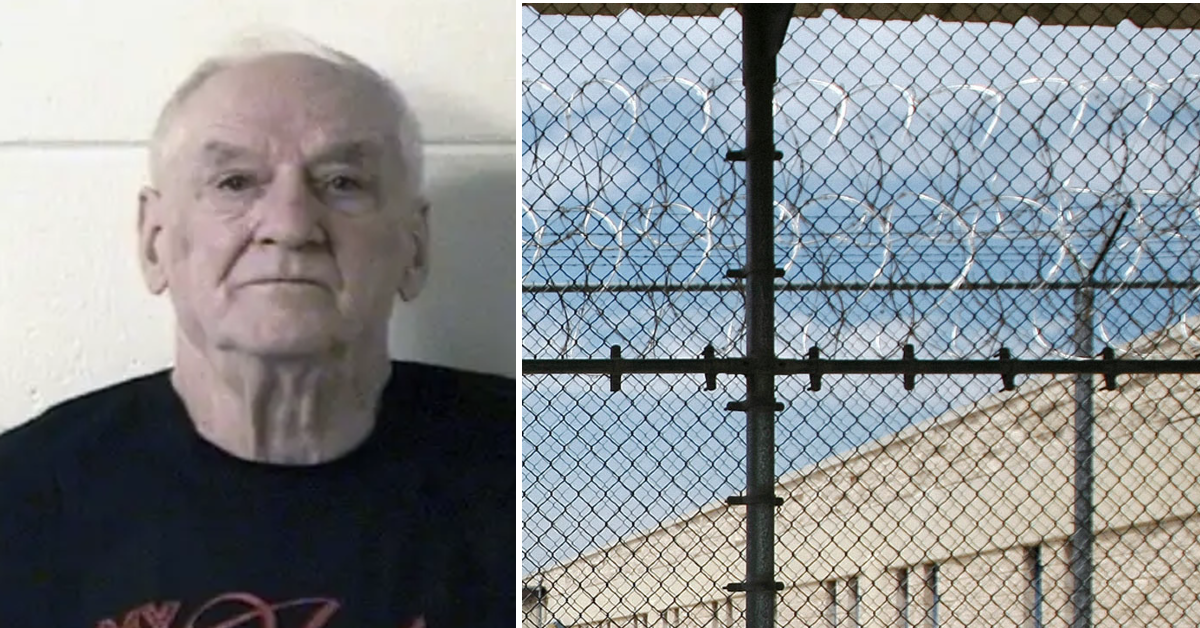 Raymand Vannieuwenhoven, 84, is now a convicted killer in the state of Wisconsin. At his sentencing this week, his daughter read a statement addressing her father:
"You are my dad and you will always be my dad...I will always love you."
Article continues below advertisement
She added she doesn't believe her father is guilty, according to media reports. The court produced DNA evidence tying Vannieuwenhoven unequivocally to the murder of a young couple camping in Wisconsin in the summer of 1976. The crime sent shockwaves through the community and was never forgotten in Marinette County, Wisconsin.
The murders were brutal, unprovoked and nearly impossible to solve.
After 46 years, a jury examined the DNA and other circumstances linking Vannieuwenhoven to the crimes. The families of the victims finally saw justice in the form of two life sentences for the killer.
Article continues below advertisement
The verdict opened waves of emotion, as a crowd of surviving family members attending the trial, with several standing before the court to share the pain of losing two young people with bright futures. At his sentencing, they looked Vannieuwenhoven in the eye, with several making statements directly to him, the reports indicated.
Throughout the decades, Vannieuwenhoven went on to marry and raise a family, while the young couple he randomly shot to death had their lives snuffed out. He randomly targeted both victims in a park near where they were camping on a midsummer day.
He shot the male victim, David Schuldes, then hunted down David's fiance, Ellen Matheys, raped her and shot her twice.
Article continues below advertisement
Marinette County law enforcement collected the rapist's DNA but investigators were never able to match it to a known criminal, although they made several attempts over the years.
In 2018, Parabon Nanolabs, a company that has become world-renowned for using DNA samples to solve cold cases, brought in a forensic genealogist to begin the painstaking process of creating a family tree.
DNA Genealogy
Parabon tied the DNA to a family in the vicinity of Green Bay, Wisconsin — the Vannieuwenhovens.
Article continues below advertisement
Capturing one of three grown sons, Vannieuwenhoven, was the result of excellent police work and textbook procedures in collecting, preserving and analyzing DNA to solve a murder. The only problem in the Marinette County case was the DNA profile couldn't be matched to a known criminal. Law enforcement was motivated, however, to bring justice in the two senseless killings. They never gave up the search to find a match with the perpetrator's DNA fingerprint.
The process of solving murders using genetic genealogy was pioneered in the internationally famous capture of the "Golden State Killer," a shadowy figure who went by many names before he was finally discovered and arrested in April 2018.
He was the "East Area Rapist of Sacramento" and before that the "Visalia Ransacker," a Peeping Tom who committed 85 burglaries between 1974 and 1976, according to The Washington Post.
Article continues below advertisement
When the amateur detective and true crime author Michelle McNamara renamed him 'The Golden State Killer,' the new moniker tied together rapes and murders throughout California, from the Los Angeles area to Sacramento, for more than three decades.
In total, he was believed responsible for 45 rapes and 12 murders.
Joseph DeAngelo was tracked down using the genetic profile of a distant relative. By creating a family tree, a forensic genealogist was able to use specific features, such as his blue eyes and Italian heritage, to narrow possible suspects down to a single individual. Once he was identified, detectives collected DNA from his car door as he shopped at a Hobby Lobby, according to documents released shortly after DeAngelo's arrest.
Article continues below advertisement
The Golden State Killer investigation, trial and conviction opened up a new world of genetic profiling to law enforcement, giving them a powerful tool for solving cases where DNA was the only clue.
By comparing profiles to known individuals who've submitted samples to GEDMatch, an online repository of 1.2 million DNA profiles, genealogy sleuths can find individuals like Vannieuwenhoven, who had no criminal background.
Article continues below advertisement
By combining the known DNA profile with methods for creating a family tree using public records, like birth certificates, baptisms, and public land deeds, a genealogist only needs to find one person who is related, whether it be a parent or distant cousin, to begin the process of building a family tree.
Since April 2018, 70 suspects have been captured using this technique, according to PBS.org.
SMALL WISCONSIN TOWN
In 2018, Marinette County authorities began working with Parabon Nanolabs to process the DNA taken from Mathey's shorts in 1976.
Her fiance, Shuldes, had been shot while he waited outside a park bathroom for Ellie to emerge. After Shuldes fell, Matheys ran. Shuldes' killer chased Mathey's into the woods near the couple's campsite, where he sexually assaulted her.
Article continues below advertisement
The killer shot Matheys twice, according to The Associated Press. She was found in the forest, 200 yards away from the campground bathroom.
Article continues below advertisement
Marinette County law enforcement preserved the DNA sample and created a profile. They compared the DNA profile against others in national databases, hoping the killer had been arrested for another crime. They had no luck, despite several attempts over the years.
When it became clear the individual might never have been arrested for any other crime, they waited, hoping for a technological breakthrough and re-testing the DNA periodically as the database grew.
But decades passed before they would get a better option — using Parabon Nanolabs, the go-to for solving cold case murders with DNA.
Until forensic genealogy, pioneered by CeCe Moore in the Golden State Killer case, detectives had little hope of solving Schuldes' and Matheys' murders. The clues were minimal and stranger-on-stranger murders are the hardest to solve.
Article continues below advertisement
When the DNA came back from Parabon, they had traced the sample to a Wisconsin couple with three sons, all of whom were still living in the state. Law enforcement collected DNA from each man, testing it against their sample. They ruled out one brother, then a second.
Their last stop was in Lakewood, population 800.
Located an hour and a half north of Green Bay, the tiny town was a perfect place to get away from it all — or hide — and it was where Vannieuwenhoven lived with his family for decades. Widowed now, he was known around the neighborhood as helpful if crotchety, sometimes going by the nickname "Mr. Fix It," according to The Associated Press.
The third brother, Raymand, was a perfect match.
Article continues below advertisement
NO REASON
In 1976, one of the witnesses to the shooting was an off-duty Marinette County Police Officer. Lance Timper, who had only been on the job for six months.
Timper and his girlfriend were nearing the campground Dave and Ellie had chosen, having pulled to the side of the road to hunt for blueberries, when they heard a gunshot, according to The Green Bay Press-Gazette.
In July, Timper testified at Vannieuwenhoven's trial as to what he heard and saw that day. When he arrived at the park, the campground caretaker asked him to come and take a look at a man lying near the bathrooms. As he approached, Timper saw the slumped man's hands. They were blue and blood flowed from his neck.
Timper sent the caretaker to the nearest phone to call rescue services.
Article continues below advertisement
During his sentencing hearing, The Daily News reported Vannieuwenhoven mumbled when it was his turn to speak. He was heard to say, "The whole damn works has been rigged," along with nonsensical statements.
His daughter made a statement supporting him, saying "only he knew the truth" and that she believed he was innocent of the crimes.
Vannieuwenhoven was also charged with first-degree sexual assault, but that law has a statute of limitations on sexual assault charges so they were dismissed in May 2019, according to The Daily News.
Become a Front Page Detective
Sign up to receive breaking
Front Page Detectives
news and exclusive investigations.
More Stories