Scientists Suggest A.I. Robot Capable of Generating Oxygen on Mars Using Rocks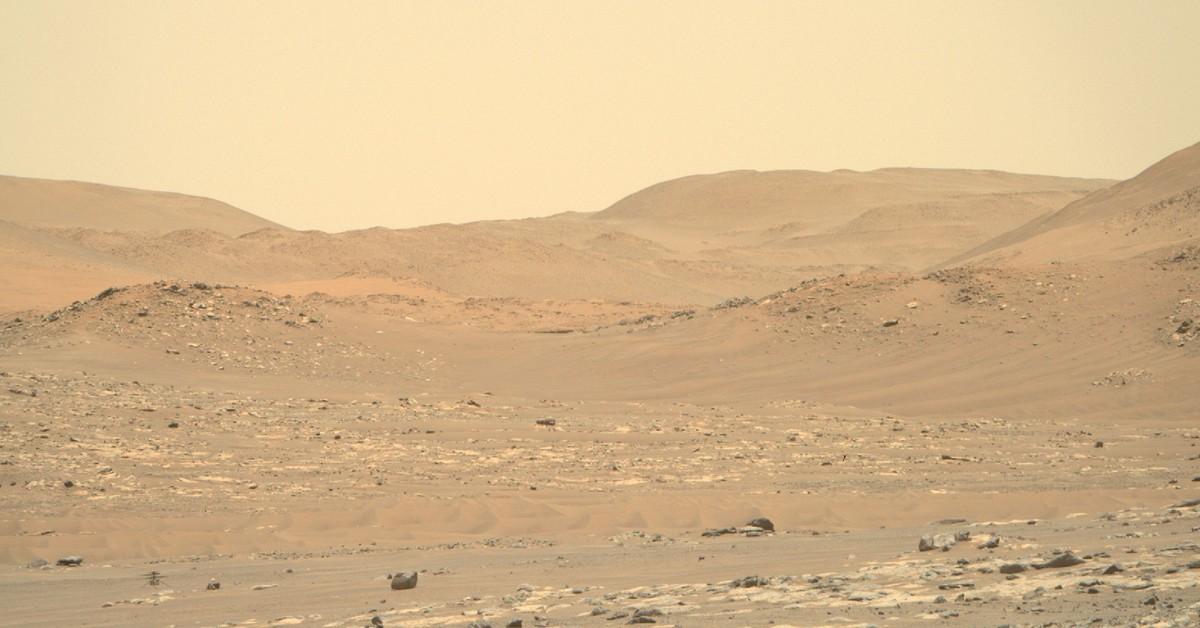 Humans could potentially live on Mars in the future, with scientists being successful in extracting oxygen from a piece of Martian rock.
Knewz.com reported that the complex process of extracting oxygen from the meteorite on Mars has been done by artificial intelligence.
Article continues below advertisement
While a human colony on Mars has long been theorized and imagined in science fiction, scientists kept running up against the issue that it is not quite possible to create a steady supply of enough oxygen on the Red Planet to sustain life.
On the other hand, transporting enough oxygen to Mars in order to make a human colony thrive does not seem very feasible. However, those worries are possibly about to be wiped off the board, as the latest research has been able to "find" oxygen on Mars.
Headed by Professor Jun Jiang of the University of Science and Technology of China in Hefei, the research for extracting oxygen from Martian rock used robotic synthetic systems with artificial intelligence.
The artificial intelligence (A.I.) robot, or the "all-in-one robotic artificial-intelligence chemist (A.I. chemist)," as it was mentioned in the research paper published in Nature Synthesis, is a mobile machine the size of a refrigerator with a robotic arm. The A.I. chemist analyzed five meteorites that had either come from Mars or been collected on Earth but mimicked the Martian surface.
The announcement of the study's findings on Nature mentioned that the original goal of the study was to determine whether it was possible for the A.I. chemist to produce useful catalysts from the rocks or rock samples.
"The A.I.-powered system used acid and alkali to dissolve and separate the material, then analyzed the resulting compounds. These then formed the basis of a search of more than 3.7 million formulae for a chemical that could break down water — known to exist as ice at Mars' poles and under the planet's surface — a process the team said would have taken a human researcher 2,000 years," Nature explained.
However, the A.I. chemist did not extract the oxygen from the rocks itself but rather extracted an oxygen-evolution reaction catalyst that could release oxygen from water. Therefore, if scientists are able to build a similar catalyst on Mars using the technology used by the team of Chinese scientists, it will eliminate the problem of carrying oxygen to Mars from Earth.
While this has a thrilling connotation vis-a-vis the possibility of humans living on Mars and thriving as a colony, this discovery can also have potential applications in future astronomical missions to the Red Planet.
Article continues below advertisement
According to Professor Jiang, the A.I. chemist is capable of making nearly 60 grams of oxygen per hour and it can "work continuously for years," thus eliminating the need for astronauts on future missions to Mars to carry oxygen from Earth.
Furthermore, this technology is capable of producing other useful catalysts on Mars that could be used in various processes. One example Nature pointed out is that the A.I. chemist could potentially synthesize a catalyst that could be used in fertilizing plants, possibly on extraterrestrial grounds.
Jiang also notes that the application of the technology is not limited to Mars, as he is entertaining the possibility of using it on lunar soil.
Never miss a story — sign up for the Front Page Detectives newsletter. Be on the scene the moment news breaks.
On the other hand, Michael Hecht at the Massachusetts Institute of Technology's Haystack Observatory in Westford, who is the lead investigator of the Mars Oxygen In-Situ Resource Utilization Experiment (MOXIE) installed on NASA's Perseverance rover, claims that there are easier methods to extract oxygen from Mars.
Owing to the limited power output of the Perseverance rover, MOXIE has been able to produce a few grams of oxygen at a time from the carbon dioxide-rich Martian air. However, Hecht claims that other than the rover's modest power supply there is nothing stopping his team at MIT from "scaling this up."
According to Hecht, a scaled-up version of MOXIE could be used in the future to produce more than enough oxygen to potentially sustain a human settlement. "You can produce two to three kilograms an hour," he claimed.
Become a Front Page Detective
Sign up to receive breaking
Front Page Detectives
news and exclusive investigations.
More Stories