Amanda Knox and Meredith Kercher's families slam convicted killer Rudy Guede after he's released early from Italian prison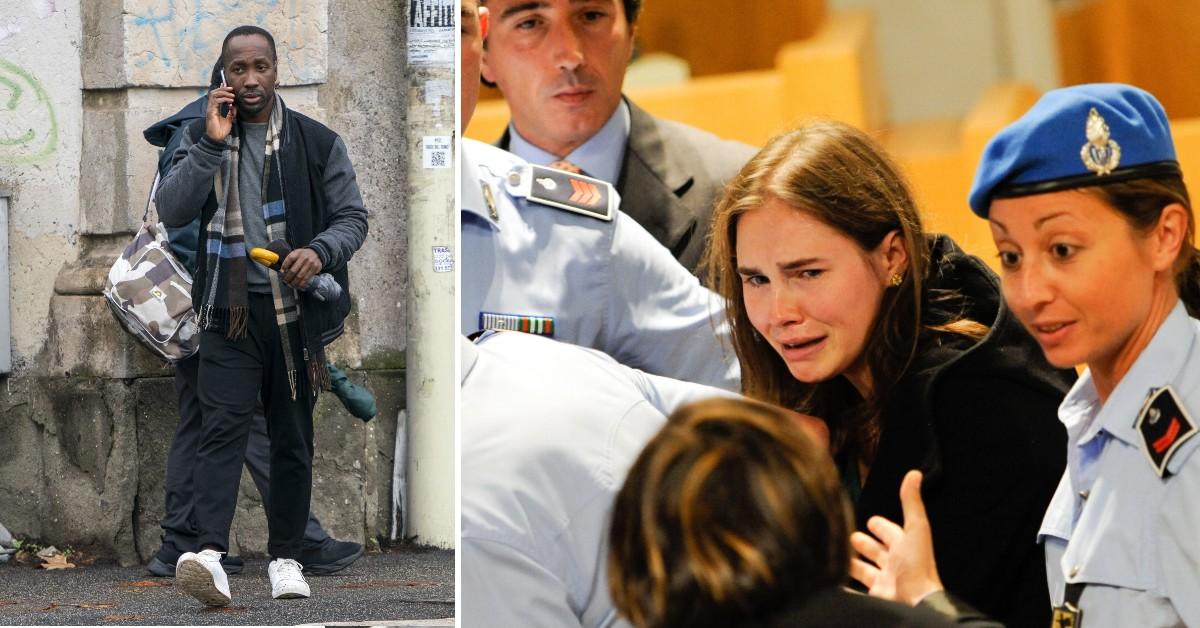 Both Amanda Knox and Meredith Kercher's families are speaking out after the man convicted of murdering Kercher in Italy was freed three years early from prison for good behavior.
Rudy Guede, 34, was released on Nov. 23 after serving 13 years of a 16-year sentence in connection to 21-year-old English exchange student Kercher's sexual assault and stabbing death in the Umbrian city Perugia in 2007. He was recently spotted out in the streets.
Article continues below advertisement
"We knew this day would arrive but the suddenness — and lack of advance warning — has caught us off guard," said the victim's brother, Lyle Kercher.
Guede, a former drifter, initially claimed he wanted to be forgotten, but the convicted killer did an about face, claiming in a new interview that the court "accepted that I tried to save [Meredith] by putting towels on her wounds" and "documents say others were there and that I did not inflict the fatal wounds."
"I don't want to say anything other than she should read the documents," Guede told The Sun in response to the question of whether the "others" was referring to Knox and her then-boyfriend and former co-defendant, Rafael Sollecito. "As I told you, they say others were there and that I did not inflict the stab wounds. I know the truth and she knows the truth."
Article continues below advertisement
Knox, 34, and 37-year-old Sollecito each spent four years in prison after they were initially accused and convicted of her roommate's murder. Both were released in 2011 on appeal and eventually acquitted of the charges against them in 2015.
Knox's husband of almost two years, Christopher Robinson, called out a reporter on twitter for giving a platform to Guede's "lies," calling the ongoing vilification of Knox in connection to the crime "cruel" to both her "as well as the Kercher family."
Knox has said she continues to be "shocked" that Gude continues to be Kercher's "forgotten killer," and "the one who was quietly tucked away, convicted of a lesser crime, and does not have to live with the burden of forever being associated with Meredith's death."
"I do know that many, many people have suffered a great deal because of what he did," she said.
Become a Front Page Detective
Sign up to receive breaking
Front Page Detectives
news and exclusive investigations.
More Stories