He opened fire on a class in his Colorado High School. Here's how long he'll head to prison.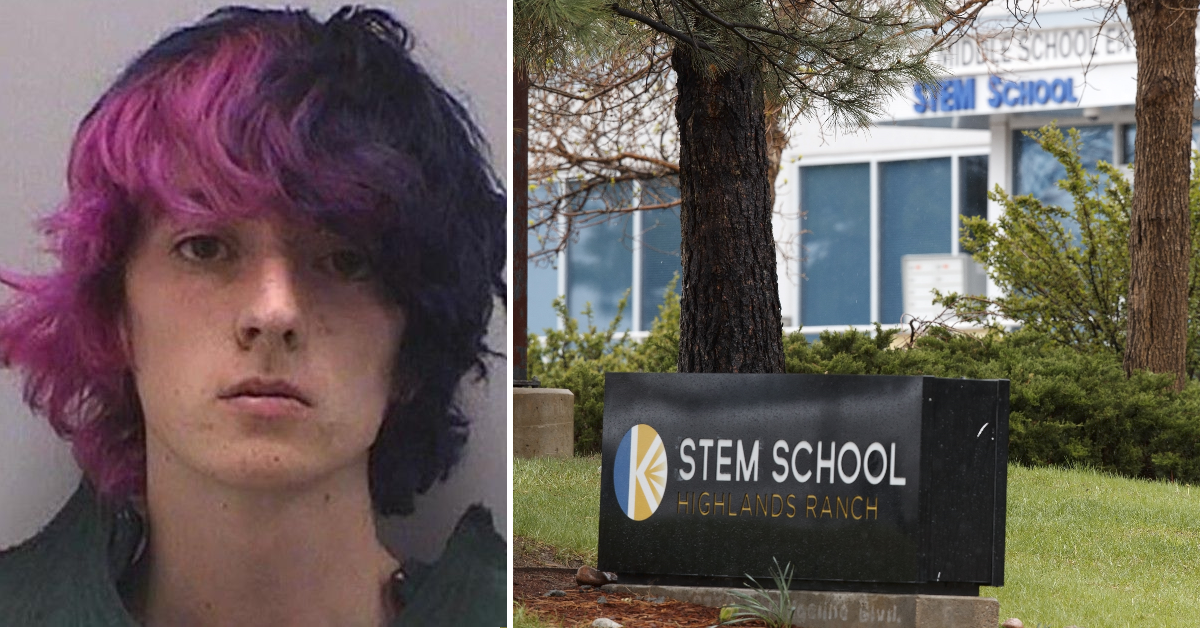 A former student responsible for the mass shooting at a STEM School Highlands Ranch in Colorado, and the murder of a fellow student, will now live in prison for the rest of his life.
Article continues below advertisement
Earlier this month, Colorado Judge Theresa Slade handed Devon Erickson, 20, a life sentence plus 1,282 years in prison for the shooting death of 18-year-old senior Kendrick Castillo. Many in the Highlands Ranch community consider the victim a hero after he attempted to stop the attack and paid with his life. Eight other students were injured in the school shooting.
Erickson was found guilty and convicted in June by a jury for first-degree murder, in addition to 45 other charges, including one count of conspiracy to commit murder and 31 counts of attempted first-degree murder.
Article continues below advertisement
"I have been here for every proceeding in this courtroom and looking at this demonic killer and he shows no remorse. He deserves no mercy. So today, your honor, I ask you for the maximum sentence for this evil killer," said the victim's mother, Maria Castillo, during the victim impact statement phase of the sentencing hearing, according to 9News.
On May 7, 2019, Erickson and another student, Alec McKinney, went to his home during lunch, broke into the parent's safe, and retrieved three handguns and a rifle with other ammunition and magazines.
Later, they entered the school premises with guitar cases loaded with weapons. Investigators believed the motive was based on revenge due to repeated gender taunts.
Article continues below advertisement
Both former students took positions at different areas while graduating students in a darkened room watched a movie. Chaos soon ensued as shots rang out and students ran for cover. Castillo attempted to confront the shooters but was fatally shot.
During the trial, Erickson's defense lawyer claimed the defendant was a victim of manipulation and peer pressure from McKinney, who was 16 years old at the time. However, McKinney, who testified for the prosecution, described Erickson as a friend and a willing partner in the shared objective of unleashing terror at the school.
Article continues below advertisement
Last year, McKinney was sentenced to life in prison plus 38 years and would be eligible for parole after 40 years due to a juvenile offender program of the state.
"I don't think there is anything I can say to you, Mr. Erickson, that would make any difference. I don't believe, Mr. Erickson, at least for now, that it makes a difference to you. So what you do the rest of your life in prison, that's not on me. It's on you," Slade said as she evaluated the devastation to the families and community of the school, according to NPR.
Article continues below advertisement
Eighteen other people gave impact statements during the hearing, including Lauren Harper, the former teacher of the classroom where the shooting took place. She described her struggle with anxiety and fear, which impacted her decision to teach younger students instead of high school students.
Also, Erikson's parents, sister and grandfather apologized to the victim's family and told the defendant they loved him. Immediately, the defendant's voice broke when asked if he had anything to say. Though he declined, Slade remarked, it was the first time she had seen Erikson show some emotions since his arrest.
Become a Front Page Detective
Sign up to receive breaking
Front Page Detectives
news and exclusive investigations.
More Stories