The Top 5 Best Gangster Movies of All Time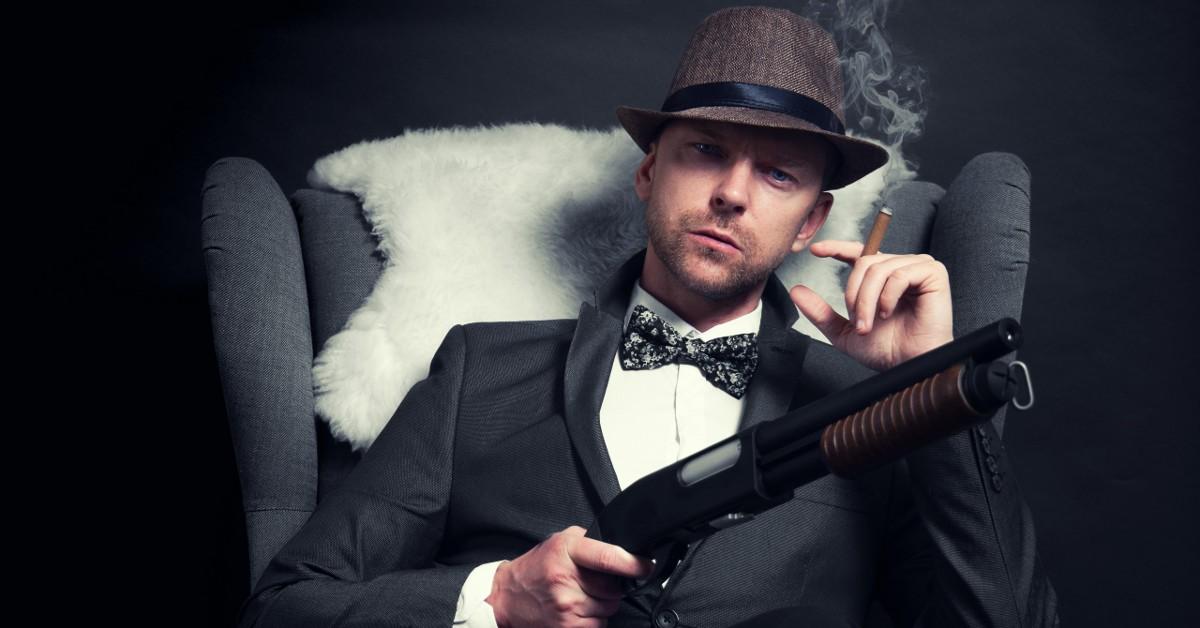 You'll seldom see a discussion about the best-ever movies of all time without at least one gangster movie making the cut. But, with so many gangster movies doubling as bonafide classics, how do you pick out the cream of the crop? In this article, we'll be discussing what we consider to be the five best gangster movies of all time.
Our Favorite Gangster Movies of All Time - and Why We Love Them So Much
Article continues below advertisement
Gangster movies are a favorite among audiences across the globe, and it's not difficult to see why. In North American film culture in particular, gangsters have acquired something of a romantic status, having been glamorized thanks to their key role in several iconic films, like Scarface and The Godfather.
To put it simply, gangster movies pretty much have it all. There's intrigue, suspense, drama, great dialogue, and impressive visual effects. What's more, many of them are exceptionally well made, featuring the top casino scenes in movies, best fight scenes of all time, and so on.
So, whether you're a fan of intense dramas, explosive special effects, gun fights, or something else entirely, at least one of the films on this is almost guaranteed to have something to offer you.
White Heat
It might be the oldest film on this list, but don't be fooled; White Heat is just as relevant today as when it was first released in 1949. Its plot centers around Cody Jarrett, allowing viewers to observe him in the last months of his life as he tries to make a living as a career criminal.
Jarrett's character is a complex one; he is plagued by crippling migraines that stop him from doing just about anything until they pass. His relationship with his mother is a slightly unsettling one; it's fairly clear that Jarrett's attachment is unhealthy and acts as the driving force behind much of what he does throughout the film.
It's this juxtaposition between Jarrett's line of work and his close bond with his mother that makes White Heat so compelling. The film is pretty much essential watching for anyone who enjoys observing less conventional family dynamics at work.
Article continues below advertisement
Goodfellas
Known for being one of Martin Scorsese's masterpieces, Goodfellas follows a group of mobsters as they work their way up the organized crime ladder in New York City and subsequently fall from grace years later.
The movie debuted to rapturous critical acclaim; especially noteworthy is the strength of the ensemble cast in Goodfellas, as well as the highly stylized manner in which the film is cut and put together. It's been a true boon for the careers of pretty much the entire crew who were involved in its production.
The Godfather
Released to rave reviews back in 1972, The Godfather has maintained its status as an absolute classic to this day thanks to masterful performances by its cast, strong writing, and a very memorable soundtrack to boot.
In fact, The Godfather is a film of such deep cultural significance that the U.S. National Film Registry in the Library of Congress selected it for preservation in the 90s; that really says a lot.
The movie focuses on the Corleone family and their exploits, both in New York City and Sicily, as it explores the dynamic between the family members and their rivals, as well as the pressures that come with living a life dedicated to organized crime. It's also noteworthy for featuring Marlon Brando in one of its leading roles; Brando is known for being one of the most established actors in the history of American film, starring in what seems like countless classics across a career that spans decades.
In the end, The Godfather went on to be fleshed out into a trilogy, though the latter films in the series didn't receive quite the same level of critical acclaim as the original.
Article continues below advertisement
Scarface
Dark and brutally violent, Scarface stands out amongst its peers as being an extraordinarily gritty look at the life of a Cuban immigrant named Tony Montana, who is able to work his way up from arriving in Miami without a cent to his name to becoming a rich and powerful gangster, thanks to the drug trade.
Part of the movie's strength is thanks to the strength of its leading actor, Al Pacino, who plays Tony Montana. It's worth noting that Pacino essentially got his big break through his role in The Godfather; clearly, gangster movies are a strength of his.
Pulp Fiction
Quentin Tarantino's gangster classic Pulp Fiction is easily one of the most iconic films of all time. It's extremely stylized, and the interplay between the cast is fascinating and compelling.
Of course, romances in real life can be just as fraught with drama as the will-they-won't-they entanglement between Vincent Vega and Mia Wallace; P. Diddy and J. Lo's arrest at a club in Manhattan is just one example of this.
Hungry for More?
If you've seen all the gangster movies on this list and are hungry for more, then you might want to check out some of the films below:
The Irishman
A Bronx Tale
American Gangster
In Bruges
Reservoir Dogs
Become a Front Page Detective
Sign up to receive breaking
Front Page Detectives
news and exclusive investigations.
More Stories