GHISLAINE MAXWELL DENIES GIVING JEFFREY EPSTEIN MASSAGES IN ALLEGED PERJURED DEPOSITION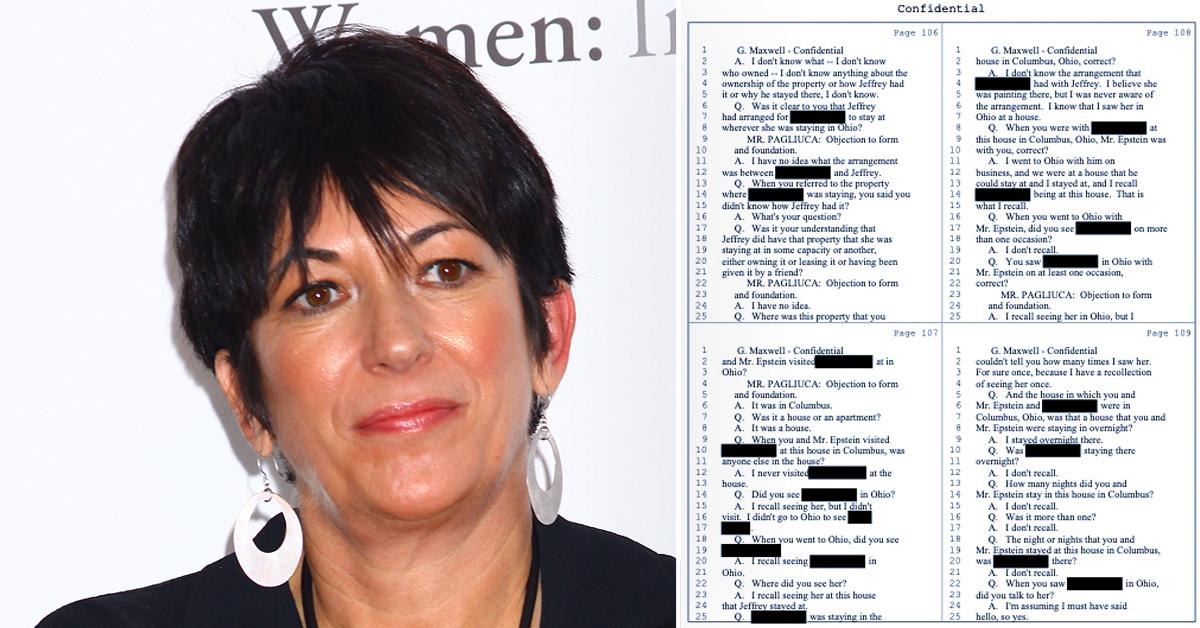 Ghislaine Maxwell claimed under oath that she has never given Jeffrey Epstein or any other individual a massage in a newly unsealed deposition.
Article continues below advertisement
"A very small part of my job was to find adult professional massage therapists for Jeffrey," Maxwell claims in her deposition. "From time to time I would visit professional spas. I would receive a massage and if it was good I would ask them if they did home visits."
Article continues below advertisement
Multiple women, including Virginia Roberts, Chauntae Davies, Jennifer Araoz, and Johanna Sjoberg have said that Maxwell not only gave Epstein massages but also instructed them in how best to please the . The woman also claim that Maxwell did this as a way to facilitate their sexual abuse at the hands of Epstein.
When asked about this instruction and recruiting, Maxwell responds: "I don't know what you're talking about." And when asked about the group sex sessions that multiple women have claimed she was a key participant in, Maxwell replies: "I wasn't aware that he was having sexual activities with anyone when I was with him other than myself."
Article continues below advertisement
Those two responses form the basis for both of the perjury counts that Maxwell faces in the Southern District of New York. Those two charges also look harder and harder for her to defend as women continue to come forward with stories that strongly dispute both of her claims.
Maxwell could have avoided the charges altogether had she not felt the need to run her mouth. "Did you ever give a massage to anyone other than Mr. Epstein at any of Epstein's properties?" asks Boies. "First of all, I never said I gave Mr. Epstein a massage," replies Maxwell. "I don't give massages," she then adds in another response that offers up far more information than the question at hand.
Article continues below advertisement
Prosecutors came down hard on that claim in the 18-count indictment that was filed in Maxwel's case this past July. "Maxwell's presence during minor victims' interactions with Epstein, including interactions where the minor victim was undressed or that involved sex acts with Epstein, helped put the victims at ease because an adult woman was present," states the indictment.
Article continues below advertisement
"For example, in some instances, Maxwell would massage Epstein in front of a minor victim. In other instances, Maxwell encouraged minor victims to provide massages to Epstein, including sexualized massages during which a minor victim would be fully or partially nude. Many of those massages resulted in Epstein sexually abusing the minor victims."
Become a Front Page Detective
Sign up to receive breaking
Front Page Detectives
news and exclusive investigations.
More Stories