'There's no way out. I killed a cop': Career criminal convicted of killing Cape Cod officer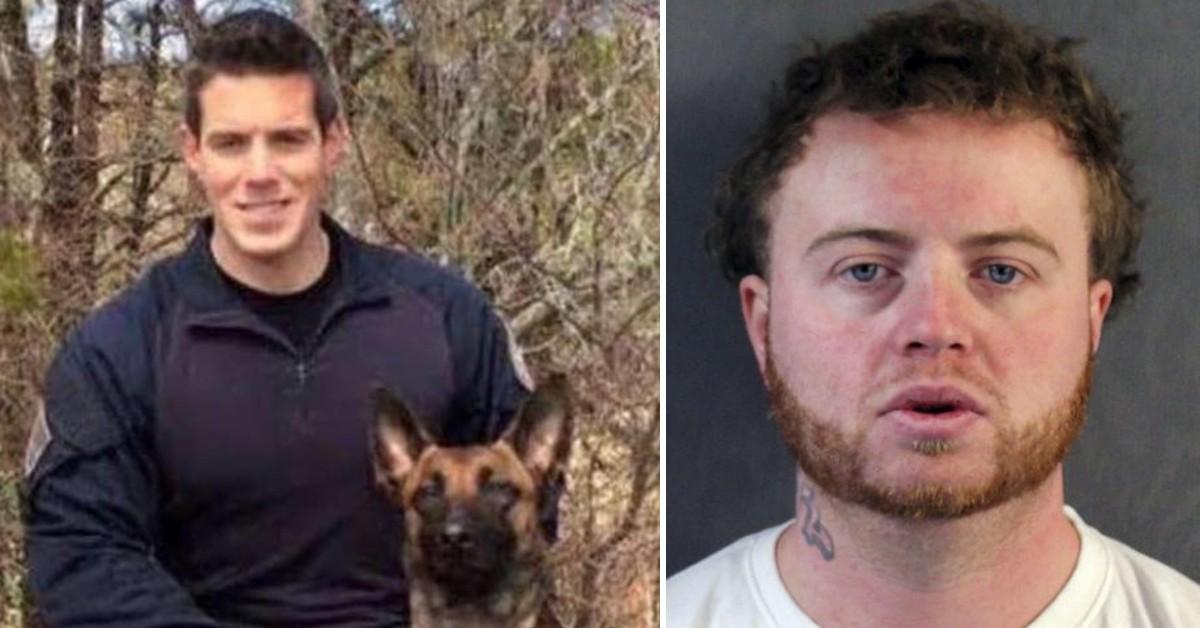 A Massachusetts man with more than100 offenses on his record was convicted of killing a police officer and injuring his K-9 partner during an armed standoff on Cape Cod in 2018.
Article continues below advertisement
Six officers from Barnstable and Yarmouth Police Departments and State Police, including Yarmouth Police Sgt. Sean Gannon and his K-9, Nero, attempted to serve an arrest warrant on Thomas Latanowich for a probation violation issued from a Middlesex County Superior Court at 109 Blueberry Lane in Marstons Mills on April 12, 2018.
Gannon and Nero reportedly entered the house, which was under construction, and found an unfinished attic through a hole in the ceiling of a small bedroom closet. There, they found two backpacks, one of which "contained a large amount of drugs and the other contained clothing," Cape and Islands District Attorney Michael O'Keefe said in a statement.
Article continues below advertisement
Officials said police initially cleared the attic but later went up through the same hole in the closet ceiling and noticed a piece of insulation had been moved. Police reportedly lifted this section of insulation and found an opening into a newly built section of the attic as part of the addition onto the house.
Authorities said Latanowich was hiding there, shot at the officer and Gannon sustained a fatal gunshot wound to the head "immediately upon removing the insulation."
Police cleared the house and carried Gannon's body out to the paramedics, who rushed him to Cape Cod Hospital. Gannon, 32, was pronounced dead at the hospital.
Article continues below advertisement
Officials said an almost two-hour standoff took place, in which Latanowich called and texted his girlfriend, Krystal Bearse, 28, who read their exchanges in court, which included
"I just had to call. I love you. I love you. I killed a cop," "They got me surrounded," I'm shooting it out," "It's too late," "There's no way out. I killed a cop," and "I'm taking as many as I can," according to the Barnstable Patriot.
Bearse said she responded by trying to tell Latanowich "not to do this," and to think of his now 5-year-old daughter, telling him "It's not over," "You can go to jail and stay alive," and "Go outside and turn yourself in," according to the Cape Cod Times.
Latanowich, 32, of Somerville, surrendered and was taken into custody hours later. At this point, officials said they were able to recover Gannon's wounded K-9 partner, Nero.
Article continues below advertisement
Last week, Lantanowich was on trial when a jury found him guilty of second-degree murder and aggravated assault with a dangerous weapon, assault and battery with a dangerous weapon, using a firearm in commission of a felony, possession of a firearm without an FID card, possession of ammunition without an FID card and mistreating a police dog in Barnstable Superior Court.
Latanowich took the witness stand during his trial and said he had been dealing drugs and was "scared" after someone shot at him just days before.
Article continues below advertisement
Latanowich's lawyer, Joseph Krowski Jr., argued his client did not know Gannon was a police officer when he fired on him.
"Thomas Latanowich didn't arm himself with a gun so he could shoot police," Krowski said in court, and reported by local media. "His state of mind is that the people who were going to kill him are there."
A judge sentenced Latanowich to life in prison with the possibility of parole in 25 years for the murder charge, plus 10-to-15 years on other charges.
Article continues below advertisement
Still, Sgt. Gannon's family was not satisfied with this verdict, as they were hoping for a first-degree murder conviction.
"While we are disappointed in the verdict, the fact remains that our Sean is dead. We are completely grateful and extend our heartfelt thanks to the many members of our communities that have reached out to our family in myriad ways throughout these past three years. Their support has been the steel in our spine: you will never be forgotten.Now, we must continue to honor Sean's legacy of service. We will do so through the Sean M. Gannon Memorial Fund as we attempt to make our world a better and safer place. Our family will make no further statements. We need time to quietly reflect and heal," the Gannon family said in a statement posted on the Yarmouth Police Department's Facebook page.
Latanowich had more than 100 criminal charges against him over the last 16 years, ranging from drug possession and trafficking, firearms possession, armed robbery, bombing and hijacking threats, strangulation, assault and battery with a dangerous weapon and vandalism, most of which were either dismissed or not prosecuted.
Become a Front Page Detective
Sign up to receive breaking
Front Page Detectives
news and exclusive investigations.
More Stories