Forgotten Noir: Was a serial killer at work in 1940s LA responsible for the Black Dahlia killing?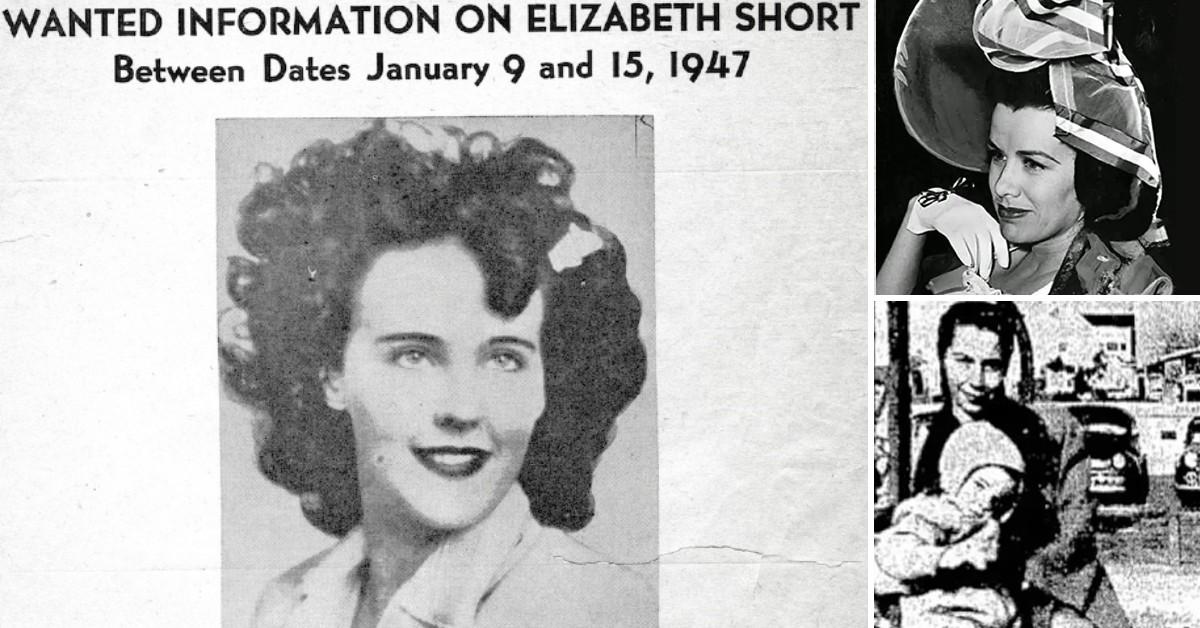 The killing of Elizabeth Short on Jan. 15, 1947, shocked Los Angeles and America at large.
It was a sensation, with the press latching onto the life of the young and attractive victim. However, it was far from the only brutal killing that shocked the city, nor the only case to go unsolved. The Los Angeles Police Department's failure rate to catch killers was so bad a special grand jury was formed in 1949.
Article continues below advertisement
Many of these killings were of women. While police at the time dismissed the theory that the Black Dahlia murder had been part of a series, others have tried to link many other crimes to Short's killer.
While some of these proposed links often seem tentative at best, merely adding to speculation, rumor and falsehood, others show distinct similarities and raise the specter that a serial killer may well have gone undetected in the City of Angels' recent past.
Article continues below advertisement
A KILLER'S PROFILE
Before looking at the cases that are potentially linked to the Black Dahlia affair, it is vital to understand what kind of person killed Short in January of 1947.
An organized killer is a type of murderer who has shown a willingness to hide evidence, move a body and revealed some cunning in their crimes. These killers are often above average intelligence and not categorized as insane.
They can maintain an everyday existence in society. They will often have families and be employed. However, they will be antisocial and show no remorse for their crimes. The murderer will approach the victim in one location, kill them in a second location and dispose of the body in the third location.
Article continues below advertisement
They will follow the case in the press and even engage in correspondence. Notable organized killers include Ted Bundy.
On the other hand, disorganized killers frequently leave the victim at the site of the murder. They will leave significant amounts of evidence, such as blood or fingerprints. They are more likely to be young and suffering some form of change to their mental state, possibly involving alcohol or narcotics.
Article continues below advertisement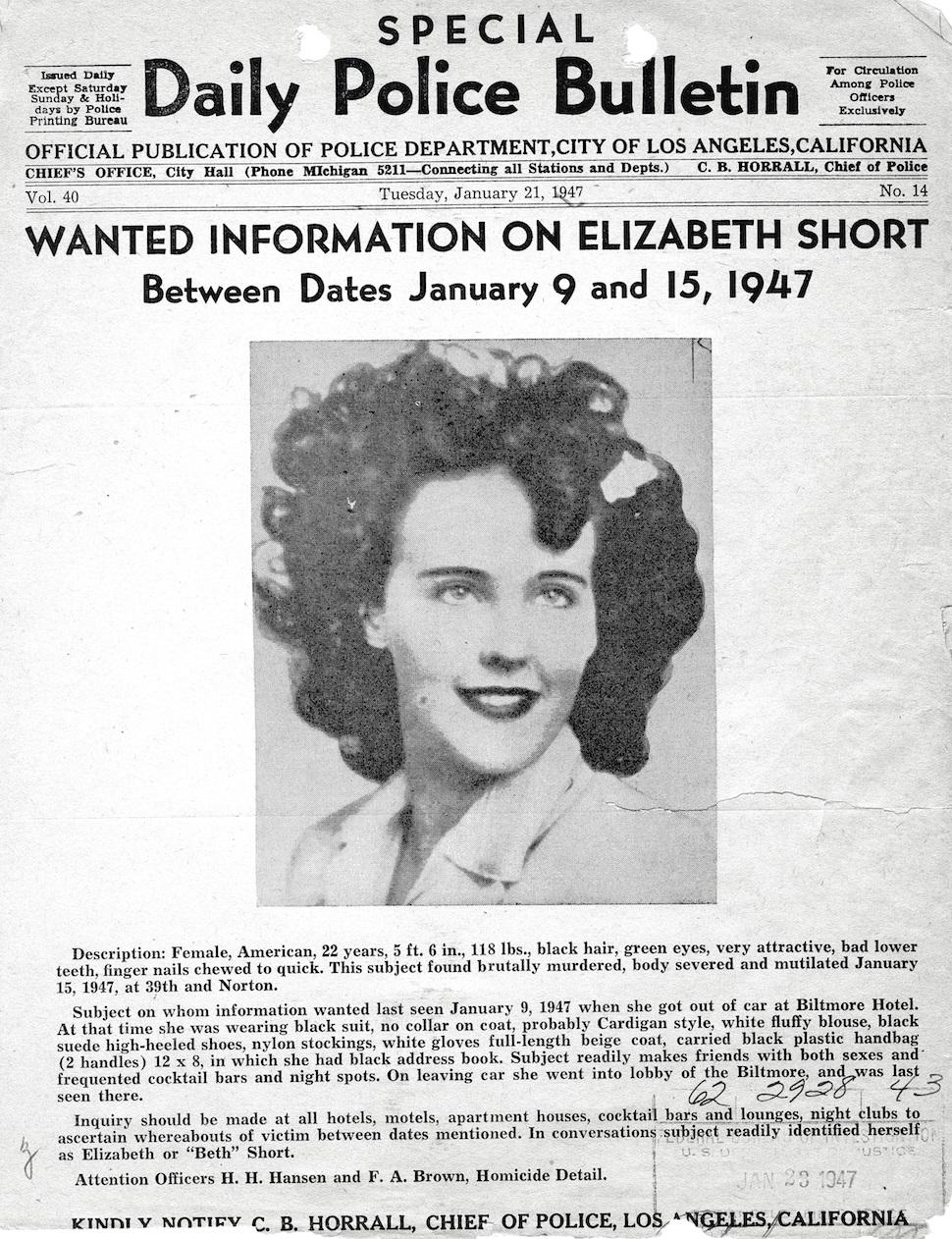 Disorganized killers often come from broken homes and have significant sexual issues. They are often isolated in their community and may not be employed in any official sense, perhaps engaging in some level of criminality. They usually live alone. A critical aspect of disorganized killers is the level of violence, with these types of murderers often killing their victims with overwhelming force.
Article continues below advertisement
One such disorganized killer would be Jack the Ripper. A killer does not wholly have to be one of these things and can show both organized and disorganized elements.
Short was restrained and held prisoner before her death. She was given what is today known as a "Glasgow smile," a facial injury that originated amongst Scotland's street gangs. This is done by making small incisions on the side of the mouth into the cheek's soft tissue. The victim is then stabbed or beaten to force the facial muscles' contraction— this then tears the cuts through the cheeks toward the ear, leaving the victim in unimaginable agony.
Short showed signs of being beaten on the head, which may have been part of the same action as the Glasgow smile. Those receiving the injury would typically survive, and it's possible the killer didn't intend the injury to kill Short.
Article continues below advertisement
On the other hand, the beating to the head might have been entirely separate from the Glasgow smile and show an explosion of anger. The violence is disorganized overkill.
The killer showed signs of clear organization, with the efforts to move Short's body and utilizing gasoline to wipe away traces of fingerprints on her possessions. While utilizing a thuggish Glasgow smile and beating points toward low intelligence, the explicit attempts to hide evidence show an opposing level of cunning.
This change indicates the killer lost control of the situation before coming to his senses after Short died. This, alongside the fact that the Black Dahlia killer was willing to converse with the press, and the locations of the approach, kill and dump all being different points toward the Black Dahlia killer showing both signs of organization and disorganization.
Article continues below advertisement
It is improbable the killer would have happened to think up the "Glasgow smile" independently during the torture of Short without knowing it was a common attack from Scotland. Therefore, many can wonder if the killer had spent time in the United Kingdom either as a youth or during military service during WW II. The injury was common amongst street violence from the 1920s onward, spreading to England.
If not learned during the war, it's possible the perpetrator perhaps had links to organized crime in Los Angeles, knew somebody who did. Maybe the killer was involved with law enforcement and may have had knowledge from training.
Equally, if the killer hadn't intended Short's death, the question becomes whether he had planned to kill her some other way or the entire episode had been designed merely to be torture. In the United Kingdom, the "Glasgow smile" was often utilized to send a message to rivals, yet the sexual mutilation and attempts to disgrace Short as a woman point far away from any organized crime angle.
Article continues below advertisement
Beyond this, investigators also must also look at the modus operandiand signature, two different factors that are often confused.
The MO is the killer's operation method, while the signature is his or her mark. This MO is the steps that a killer must carry out to pull off the crime. This includes, for example, the fact that Short was restrained. The MO of the killer may change over time as it is learned behavior as a serial killer becomes more adapt to his crimes; the signature will always remain.
Article continues below advertisement
The signature was not required to carry out the killing; instead, it serves the psychological need of the murderer. It is derived from fantasy, and it is what the killer wanted from the victim.
In the Short case, that need and signature is sexual anger and involves mutilation and humiliation. Short's public hair was shaved, and the region was covered in slashes, feces were in her stomach, and her body had been posed with her legs spread. Her anus was notably stretched, and while no semen was present, this does not exclude digital penetration or the use of a foreign object.
Article continues below advertisement
Lacerations to the anus may suggest a knife. The flesh was removed from one of the breasts, and the skin removed from the leg where arose tattoo sat, the killer cut it away and gruesomely inserted it into her vagina. It seems likely that the Black Dahlia's killer kept Short bound and hidden in a private location and derived pleasure from the injuries inflicted on her. However, most of the injuries were post-mortem, and some necrophilic arousal elements may have been involved. The killer may have initially intended to carry the mutilations out while she lived.
Whether the bisection of the body is part of the signature or MO is open to debate. One of the well-known facts around the Black Dahlia alongside the body being exsanguinated, it's possible both were done to move the corpse.
Cutting the body in two would have made moving the body much more comfortable, and equally draining the body of blood would have ensured none would have been left along a transport route or in a vehicle. His knowledge that blood and fingerprints could identify him shows at least some knowledge of police methods.
Article continues below advertisement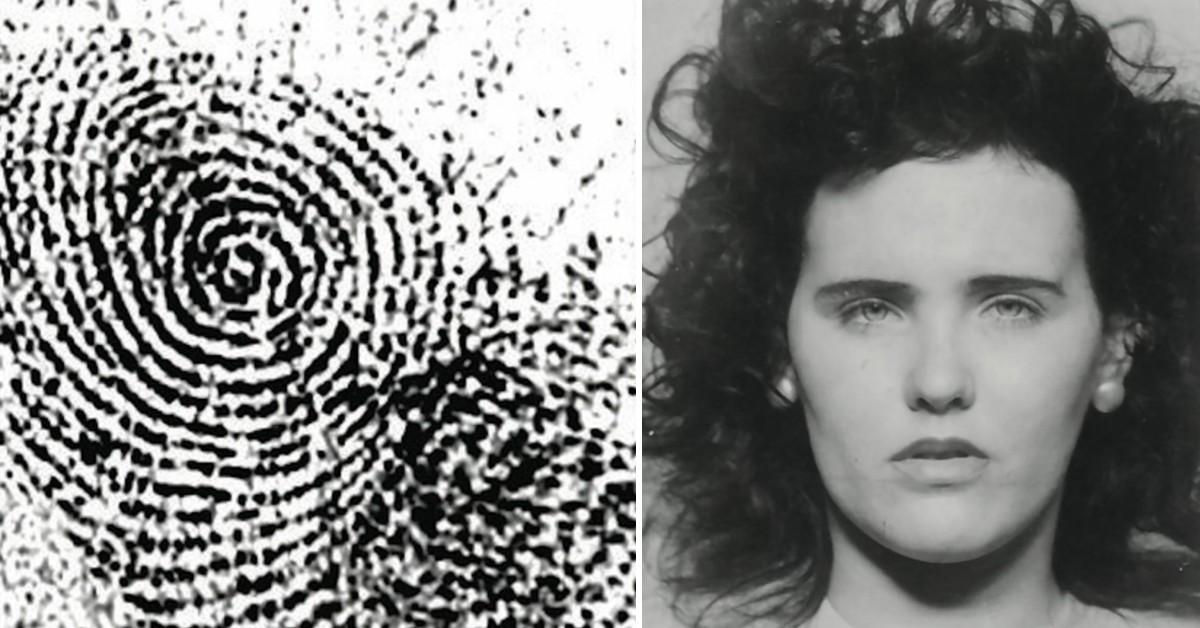 It is important to note that the killer must have had a location private enough to hold Short, carry out the bisection, and drain the body of blood without suspicion. In any case, if the bisection and exsanguination were functional, it is MO and may not be present in other previous killings. However, there is also the possibility that the bisection was part of the staging or posing process.
In many cases, investigators will encounter a crime scene where the victim's body or the surroundings have been altered. If this is done to confuse the police, it is staging.
Article continues below advertisement
If this is done as part of a fantasy ritual, then it is posing. Given that the killer must have had sufficient time and privacy to carry out the killing and dismemberment alongside an evident cunning, it would have been more than possible for him to effectively hide the body elsewhere.
Equally, if the bisection was functional, there was an opportunity to further dismember the body to aid disposal. There is no evidence that the Black Dahlia dumpsite was staged to appear something it wasn't.
Considering all this, it seems certain that the scene was posed, which is part of the signature.
Article continues below advertisement
FINDING A KILLER
When looking to other crimes potentially linked to the Black Dahlia, investigators must seek evidence of disorganized killing and an organized reaction. The killer shows intelligence and cunning but a tendency for explosive violence.
His signature will include mutilation or violence for his sexual gratification, and the body will be posed and displayed. The public will be invited to gaze upon his handiwork. He is confident enough to send the victims' belongings back to the police.
Other crimes will show evidence of the killer covering his tracks effectively. The victims will not be left at the killing location, and if the victim is a stranger, they will have been coerced through superficial charm.
Article continues below advertisement
The suspect will likely be older than Short, perhaps in his late 20s or into his 30s. He will have had a violent upbringing and will have attacked before, likely initially against animals and then against easy prey such as prostitutes.
Short had a known preference for military men.
Given the utilization of what is today known as the "Glasgow smile" speculation was the man was stationed in the United Kingdom during World War II. He probably lived alone and was likely to be charming and persuasive, yet with a sexually violent streak, particularly when inebriated.
He was familiar with knives and may use cutting implements in his profession, which will be respectable. He is a misogynist and considers himself too smart to be caught. The killer would have followed the case in the press and may have spoken with others about it.
Article continues below advertisement
Short would have known her killer for at least a brief time, and there was likely romantic interest from the perpetrator. While there may have been indications given time, Short likely did not know how dangerous this man was, and she was unfortunate to cross his path.
Short was known as "a tease" and for brief relationships, engaging with many men but unwilling to take these relationships to a sexual stage. It seems likely there may have been a brief liaison. On the day before her disappearance, she told her ex-boyfriend she was cutting off contact and going to Chicago.
On the day itself, Short lied to her then-boyfriend Robert Manley that she was meeting her sister, perhaps because she was again moving on from Manley or she was meeting another man.
Article continues below advertisement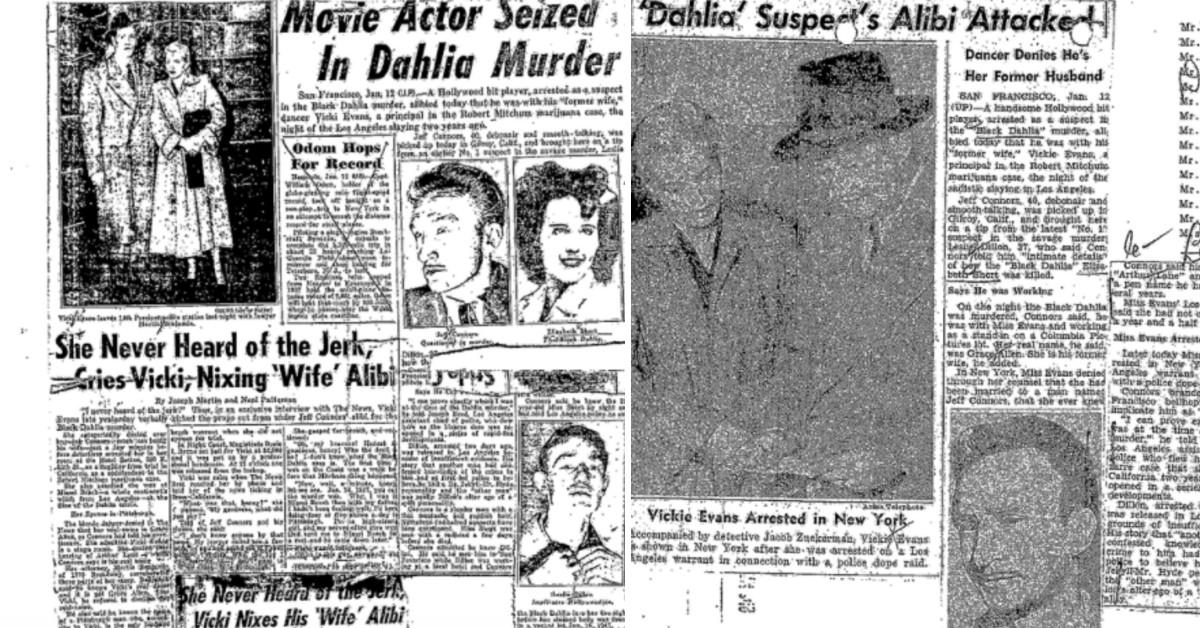 Maybe she angered the killer by flirting with him, raising his interest, and then his desires being unfulfilled when she had denied him sex. Perhaps he thought they were an item and discovered she had been with Manley.
Article continues below advertisement
Maybe he believed she was unfaithful. The removal of the tattoo that she liked to show off and the "Glasgow smile" cut into her face are personal attacks against her femininity. Now she has no tattoo to flash, her face is ruined. Posed with her legs open, the killer is exposing to the world which he believed Short was and what she had done to him.
He hated her and what he saw as "her kind," now he owns her forever.
EARLIER KILLINGS
Ora Murray is often the first victim of such a proposed serial killer. Murray and her sister Latona had gone to a public dance at the Zenda Ballroom on July 26, 1943. At the dance, the sisters had met two men by the name of "Preston" and "Paul."
Article continues below advertisement
"Paul" suggested he and the two women all go for a drive together. Latona had wanted to stop at home to collect her husband and make the trip a foursome. However, once they arrived home, the husband did not want to make the trip, and Latona had decided to stay, leaving her sister alone with "Paul."
The following day, the body of Ora Murray was found at the Fox Hills Golf Course. She was beaten about the head and strangled, which was the cause of death. Her clothes were torn, and her dress had been wrapped around her body. Interestingly, a white gardenia flower had been left on her shoulder, though this has no link to the Black Dhalia.
A few days after the killing, police received a call from a woman who said she had been conned and jilted by a man who matched the description of "Paul." She named him as Grant Wyatt Terry and stated after a whirlwind romance that involved a marriage proposal after just two days, he absconded with a diamond ring, $700 in cash and her car.
Article continues below advertisement
The vehicle matched the description given to police by Latona. It wouldn't be until the following year that authorities eventually located the suspect, the FBI identifying him as Roger Lewis Gardner and arresting him in New York.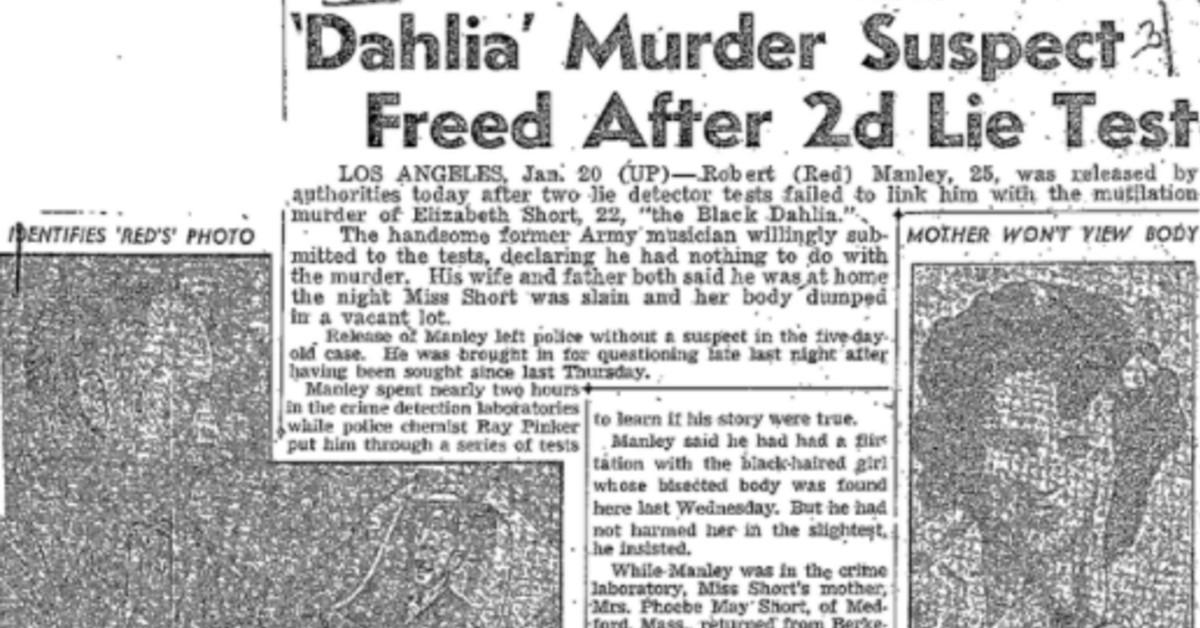 Article continues below advertisement
Gardner was never indicted for the Ora Murray killing, and while everyone agreed he was a con man and swindler, few believed he was capable of murder.
That same year a second killing happened.
Georgette Bauerdorf bears quite the resemblance to Short. Young, attractive and brunette, Bauerdorf was the daughter of an oil tycoon and a known socialite. She had dreams of being an actress, and after graduating, she found work at the Los Angeles Times and at the Hollywood Canteen, a nightclub that catered to servicemen.
Article continues below advertisement
On Oct. 12, 1944, Bauerdorf was found face down and semi-nude in her bathtub by a maid and janitor. She had been ambushed, raped and strangled by an intruder who had unscrewed the night light on the porch to ensure it wouldn't illuminate the area. Fingerprints were found on the bulb. About $100 was taken from her purse, and her car was stolen, yet there were other extensive valuables throughout her impressive abode.
The proposed links to the Black Dahlia are primarily based off the falsehood that Short also worked at the Hollywood Canteen — which closed in 1945 — and the fact that both women were young attractive and dark-haired. There is little here to suggest a link with Short with no mutilation noted and Bauerdorf's body left at the location of the murder, not being removed or posed.
The criminal made no attempt to effectively cover his tracks nor contact the press or police.
Article continues below advertisement
Following the killing of Bauerdorf, there was a lull in the murders that are claimed to be linked to the Black Dahlia, with no more suspected related cases until 1946. That is when the Chicago Lipstick murders took place. The killings of two women and a 6-year-old child were brutal and shocking, with the slaughter of the child, Suzanne Degnan, being particularly repugnant.
The little girl was chopped into six pieces and drained of blood. William Heirens was arrested and found guilty of the murders, yet there has always been significant doubt about his actual guilt. The suspect claimed that he was forced to confess after being tortured by the police.
Article continues below advertisement
Some have tried to link the Chicago Lipstick murders to the Black Dahlia and, in particular, the murder of Degnan. Those people included William Rasmussen, Captain Jack Donahoe of the LAPD, and Steve Hodel
However, the first victim Josephine Ross was attacked in her own home after surprising an intruder, as was the second, Frances Brown. Brown was shot and stabbed. Police found a fingerprint at the scene, and people heard the gunshots.
There is little here to link these killings to the Black Dahlia, and they are often conveniently ignored when the Degnan killing is linked to Short. There was no evidence of sexual motivation, and it seems more likely that Degnan was killed accidentally or in a fit of anger, the original motive being ransom.
Article continues below advertisement
FALSE ALARMS OF 1947
Following the killing of the Black Dahlia in January, three other cases in 1947 raised alarms that the killer may have struck again, those being the murders of Jeanne French, Evelyn Winters, and Lillian Dominguez.
French was found dead on Feb. 10, 1947, just a month after the Black Dahlia. She was beaten to death, hit in the head with a blunt instrument and then stomped. She died of blood loss.
The killer then took her lipstick and wrote the words "F*** YOU PD" on her stomach. Some claim, however, this is actually "F*** YOU BD" and refers to the Black Dahlia. While images show why that could be believed, the police reports clarify this is, in fact, "PD."
Article continues below advertisement
"TEX" was added underneath, a possible nickname for her killer or a reference to Texas. French was from that state and had married an oil tycoon, a coincidental link to Bauerdorf, the daughter of an oil tycoon. Despite claims of a Dahlia link, there was no sexual motive to the injuries inflicted, and despite being found nude, there was no posing of the body.
There was no mutilation, and any link to the Black Dahlia seems tentative at best and based on little more than a misreading of "PD."
On March 12, Winters' body was found along the Los Angeles River. Accounts differ on the woman, with her age variously given as 42 or 43 years old and with previous work in Hollywood, either as a studio musician or legal secretary. With an alcohol problem, she had become something of a drifter and had last been seen in bars the night before.
Article continues below advertisement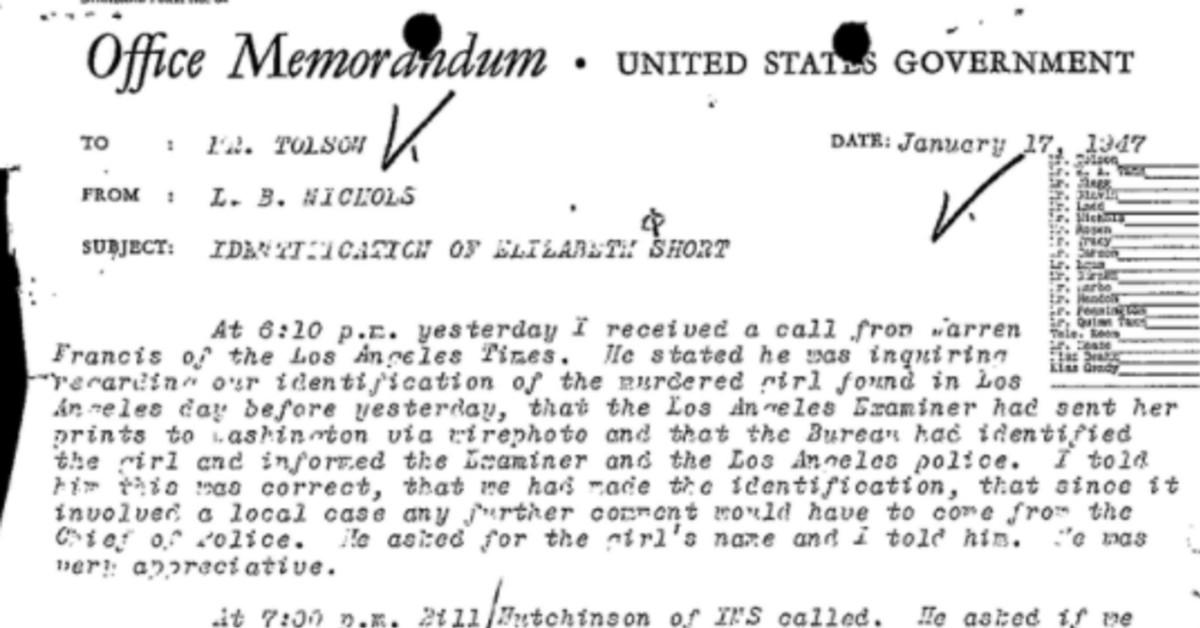 She was beaten and stabbed in the eye. Still fully clothed but with her slip pulled up around her neck, Winters had been discovered by a vagrant, George Franklin Wickliffe. Wickliffe was found with the victim's lipstick on his lips and claimed to have kissed Winters after finding her dead.
Article continues below advertisement
It was after these murders that the killings throughout Los Angeles began to be linked together. On March 14, 1947, the Los Angeles Examiner published an article that listed points of similarity between the murders of Short, French and Winters, despite the clear indication being that Wickliffe was involved in Winters' death.
The article points included all three killings, including the victim being beaten, dumped away from the kill site, and being nude or partially nude. There would also be other killings during this time; the press seemingly reveled in the macabre atmosphere of fear generated for women in the city.
These killings included Mary TateDorothy Montgomery was found nude, raped and beaten in a field, with RosendaMondragon killed on May 8, four days later. Mondragon was dumped just a mile from where Winters was found. On May 11, Laura Trelstad was raped, strangled, and murdered.
Article continues below advertisement
The killing of Lillian Dominguez on Oct. 2, 1947, also raised alarms and was linked to the Black Dahlia by some, yet it truthfully bears little relation to the case. At 15-years-old, Dominguez was walking home from a dance with her sister and friend when they were approached by a man. The man proceeded to stab Dominguez in the heart with a long and thin stiletto blade.
The killing displays neither the MO nor the signature of the Black Dahlia killer. However, the police linked the killing to a case just a month prior when 14-year-old Barbara Jean MorseFrank Elizarras was stabbed with an ice pick. These three attacks were likely by the same person who police believed was Mexican.
Article continues below advertisement
THE SENSATION CONTINUES
The press sensation and circus that had developed around the Short case was box office material. Their involvement in the affair has long been a matter of controversy scandal, and shame, yet there could be no denying that the public was eager to read the latest salacious news on the killing of the young woman.
Half-truths and lies became the norm as differing newspapers looked to one-up their rivals and beat their last scoop for the headlines. With news on Short herself drying up, this attention turned to other murdered women across LA as the "next Elizabeth Short" or "another victim," often with next to no real suggestion that the Black Dahlia killer had been involved.
The years 1948 and 1949 would offer up three more names that have been speculated to be this killer's work with the cases of Gladys Kern, Mimi Boomhower and Jean Spangler.
On Feb. 16, 1948, Kern was stabbed to death while showing a prospective buyer around a vacant house in the Los Feliz area of the city. She was stabbed in the back with a hunting knife, and the killer took her appointment book, likely as it would have given his name.
Article continues below advertisement
He cleaned the blade and left it at the scene. Police only became aware of the killing after receiving a note from a mailbox close to the Biltmore Hotel. The letter, addressed with "hurry give this to the police," gave an account of the killing from a "witness." The writer claimed he drove Kern and "a prizefighter" to the crime scene, and the two entered. Suspicious, he went into the property himself and found the "prizefighter" had killed the woman.
While perhaps unlikely, Kern was interestingly said to have been seen with a tall and stocky man before her death. With her bag and purse open next to her and a watch stolen, the motive was clearly theft, and police identified a second such robbery linked to the suspect.
Article continues below advertisement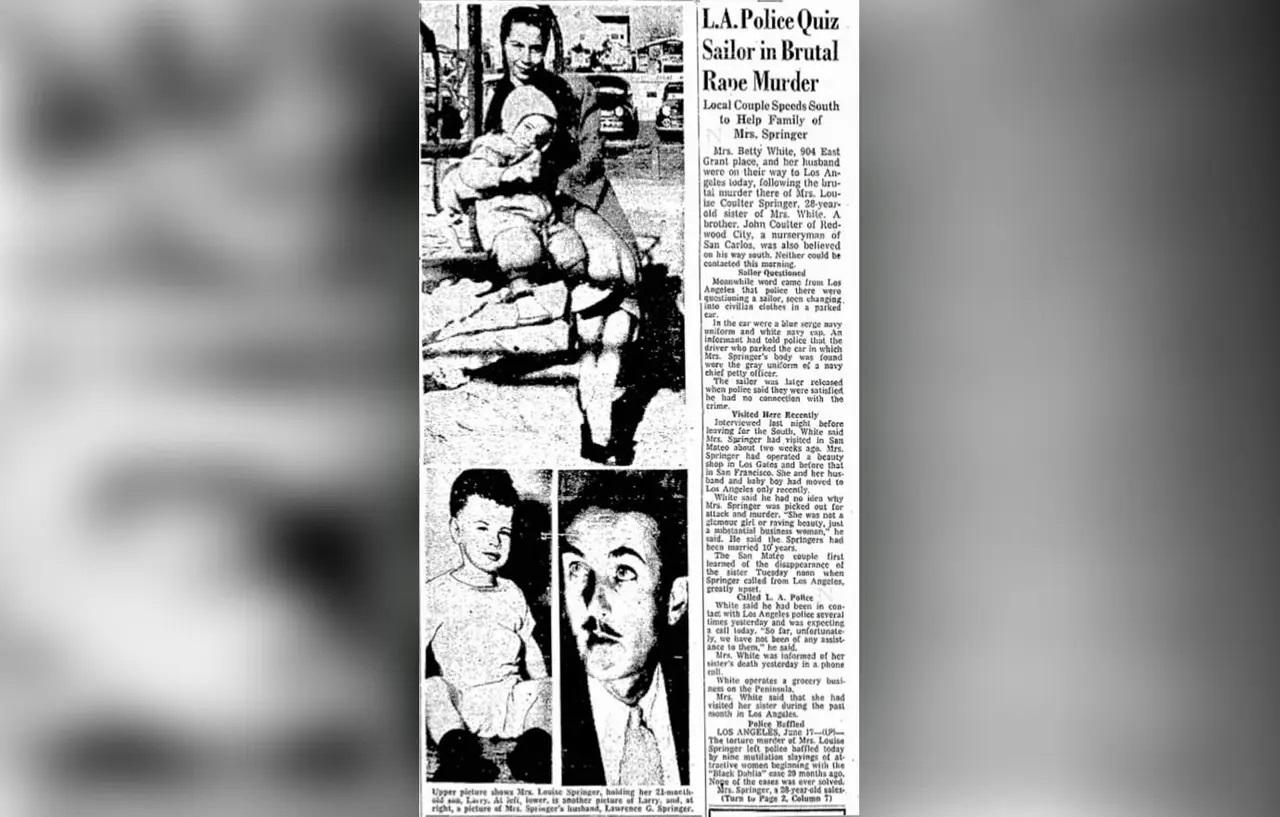 On June 13 of the following year, 28-year-old Springer would be kidnapped from her car waiting in a downtown parking lot. Both Springer and the car would be found three days later, with the victim garroted with a length of clothesline. She was sexually assaulted with a 14-inch tree branch. Her skirt was tangled around her hips, and her jacket had been twisted around her body. Two months later, Boomhower vanished from her home, with most believing she too had been murdered.
Article continues below advertisement
Boomhower was a well-off socialite whose jovial personality had won her the nickname "The Merry Widow." She had inherited a fortune from her linoleum tycoon husband, Novice Boomhower, and the date of his disappearance was the sixth anniversary of her late husband's death.
She told a business manager she was planning to meet "a gentleman" that evening. After making a phone call at 8 p.m. to a friend, presumably before her rendezvous, she was never heard from again. Intriguingly, the door to her Bel Air mansion was locked, and her car was still in the garage. An uneaten salad was ready on the dining room table, and a dress had been laid out on the bed, Mimi seemingly about to get ready for her date when she vanished.
The date of her vanishing being the same as the anniversary of her husband's death may automatically suggest suicide
Article continues below advertisement
On Aug. 24, this theory would seem to be reinforced when her purse was found in a phone booth a few miles away. A message was written on the side of the purse that read: "Police Dept. – we found this at beach Thursday night". Police were highly skeptical, however, with no water or sand being found on the purse. While it might be suggested that the evidence points to the fact that Boomhower was interrupted while getting ready for a date with a man, the possibility of suicide remains.
Boomhower was privately suffering from financial difficulties. While she may have appeared to be "The Merry Widow," those suffering from depression often hide it very well, particularly in the 1940s when a socialite heiress would have been expected to behave in a certain way. Excited for her date on this terrible anniversary, a phone call standing her up could have tipped her over the edge.
Article continues below advertisement
However, there is also the possibility of something more sinister, with rumors of a secret gambling issue, and the involvement of the mob. In any case, the affair clearly has nothing to do with the Black Dahlia nor any potential serial killer. It stands as an excellent example of how some sensationalists have attempted to include isolated cases into a forced narrative surrounding a Hollywood serial killer.
Likewise, Spangler's name is often raised about the potential Dahlia linked cases, yet also has very little to connect it beyond the link to Hollywood and the victim again being young, dark-haired and attractive.
Spangler was a dancer, model and budding actress who vanished on Oct. 7, 1949, after telling her sister-in-law that she would be meeting her ex-husband and then headed to work on a film set where she had found a role as an extra.
Article continues below advertisement
She was last seen at a grocery store several blocks away from her home, and since then, no trace of her has ever been found except the discovery of her purse two days later. Inside the purse, a letter was found that ended in a comma, suggesting it was incomplete. It read: "Kirk: Can't wait any longer, Going to see Dr. Scott. It will work best this way while mother is away."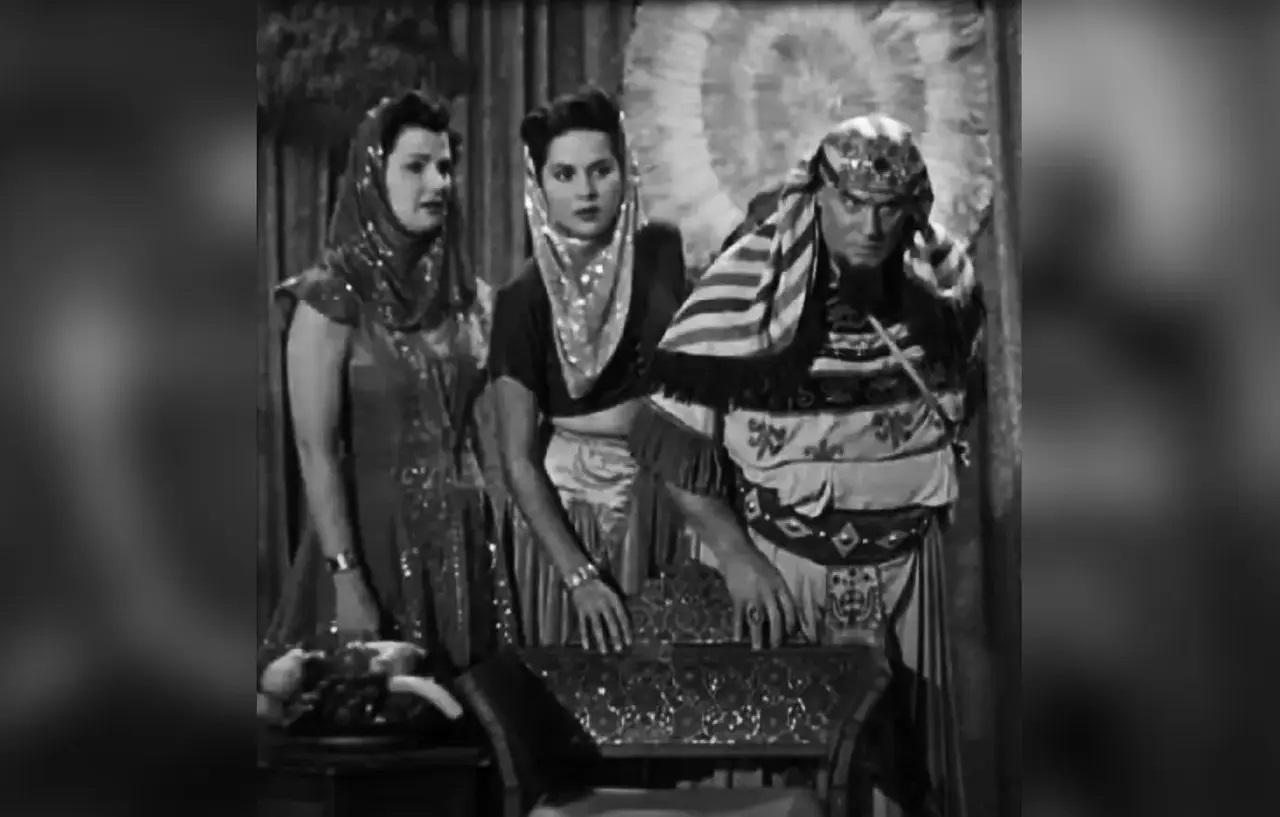 Article continues below advertisement
Spangler had recently appeared as an extra with Kirk Douglas for "Young Man With a Horn," and he immediately contacted police to eliminate himself as the "Kirk" in the letter. He hadn't been in the city at the time, and police looked elsewhere.
Further investigations found Spangler told friends she was three months pregnant and intended to get an abortion, which was illegal. This may have been the point of the note. However, no Dr. Scott in Los Angeles knew who she was, and the name could potentially have been a pseudonym for an abortionist.
Article continues below advertisement
Some newspapers linked the disappearance to the Black Dahlia and other previous killings mentioned here, yet it seems likely that Spangler may have died during an attempted abortion. There is nothing to really suggest her case is linked to any of the others, particularly Short.
LADP FAILURE
Some months before Spangler's disappearance, a grand jury convened to investigate the LAPD's failings. The jury sent down indictments against vice squad officers and the gangster Mickey Cohen. They heard that factions, corruption and competition within the LAPD was responsible for much of the forces' failure to close the book on cases.
They stated that there were: "deplorable conditions indicating corrupt practices and misconduct by some members of the law enforcement agencies of this county."
Article continues below advertisement
The finger was also pointed at the press and the fact that abortionists, drug dealers and illegal gambling rings were allowed to act with impunity throughout the city. In all, the grand jury found that: "The criminals, in many cases, have gone unpunished… because of the character of these murders and sex crimes, women and children are constantly placed in jeopardy and are not safe from attack."
The amount of women murdered in Los Angeles in cases that remain unsolved is shocking. Yet, this doesn't necessarily speak of a serial killer at work. All of the killings and disappearances must be taken in the context of the city's criminal and political climate during this period in Los Angeles history.
Article continues below advertisement
Los Angeles was a cruel city, one where dreams of stardom and better city life often came crashing down amongst the seedy underworld of poverty, bars, clubs and organized crime. Into this atmosphere landed millions of ex-servicemen suffering the World War II's effects, with cases of mental illness, alcoholism and drug abuse skyrocketing.
A rabid press and corrupt police force only added to the problems with investigations. Undoubtedly social norms played a part in just how much attention cases were given, with transients, prostitutes and working-class women given far less attention than the problems of those in Hollywood and Bel Air.
Over the years, many have looked at the Black Dahlia killing as part of a series and attempted to identify linked cases. It seems almost certain some of the unsolved killings listed may have been carried out by the same individual, while others had clear suspects that authorities merely failed to convict.
Article continues below advertisement
However, claims that police in the 1940s were unaware of what a serial killer was and couldn't connect crimes is both incorrect and absurdist, with H.H. Holmes, the Cleveland Torso murders and the Chicago Lipstick killings all being well-known affairs.
That said, while a serial killer may indeed have been at work over several of the deaths, none of the crime scenes can safely be connected to the Black Dahlia murder, which stands apart from the others. Of the killings proposed, none indeed show the same signature sadistic sexual violence, nor the extreme mutilation seen with Short.
The killer may well have struck again, but it doesn't appear to have been in Los Angeles during this period. It seems more likely that Short's murderer was prevented from reoffending through an arrest on a separate matter, being committed to a mental institution, or their own death.
Become a Front Page Detective
Sign up to receive breaking
Front Page Detectives
news and exclusive investigations.
More Stories